easyJet becoming successful hybrid LCC-business airline, annual results show
Analysis
EasyJet, Europe's fourth-largest airline, delivered a strong financial and operational performance in its FY2011 (12 months to 30-Sep-2011), managing to avoid the worst of high oil prices, air traffic strikes, higher taxes, weak consumer confidence and conflict in the Middle East/North African market to deliver a profit before tax of GBP248 million. The result was at the top end of the LCC's guidance.
Strong revenue growth and prudent ex-fuel cost control drove the strong result. easyJet's shares slid on the result, however, as CEO Carolyn McCall came with a downbeat outlook for the current financial year due to slow economic growth, competition, taxes and fuel costs. Ms McCall delivered a strong set of results in her first full year as head of the carrier, the UK's largest. EasyJet increased pre-tax profit by GBP60 million, or 31.5%, to GBP248 million in FY2011, a remarkable feat in light of the myriad difficulties encountered in the period and a testament to the company's new strategy.
EasyJet managed to avoid the worst of the difficult conditions in the period, which have weighed heavily on the recent results of the airline's full-service rivals, many of which are likely to be suffering, if only slightly, from easyJet's successful expansion into short-haul corporate travel markets.
The result, a record full-year result for the airline, was due to strong revenue and yield gains, cost containment and network re-organisation. Strong ancillary revenue growth, which helped offset cost gains, was also a highlight.
easyJet profit before tax (PBT) (GBP millions) and PBT margin (%, RHS) FY2007 to FY2011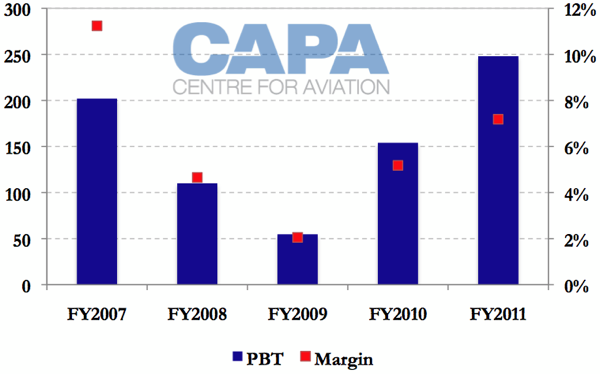 EasyJet's strong result was largely expected following the LCC's recent upgrade to its profit guidance. Of significant importance was the outlook statement for the year ahead, particularly for the looming winter period, which is emerging as a key concern for many European airline chiefs. EasyJet didn't disappoint:
"The macroeconomic environment remains challenging for all airlines as weak consumer confidence across Europe slows the rate at which higher fuel prices and increased taxation can be passed onto passengers," the airline said. "Against this backdrop easyJet is taking a cautious approach to capacity deployment." Winter capacity growth has been frozen and the airline made a point of emphasising the fruits of its new strategy and its ability to quickly react to changing market conditions. Costs are expected to trend ahead of traffic growth again in FY2012 (12 months to 30-Sep-2012) due to increasing costs of oil, airport and air traffic charges and taxes. The outlook for revenue growth is also weaker, with demand likely to be sapped by a deteriorating economic outlook for Europe and the UK, and there is concern that the pricing environment may not be strong enough to offset cost gains, as it was in FY2011.
Nevertheless, despite the gloom, Ms McCall maintained that "the strength of easyJet's network combined with cost control and capital discipline means that easyJet is well placed to succeed. After a look at the airline's performance in the year, it is hard to disagree.
Revenue gains strongly as corporate share grows
Revenue increased strongly in the year, outpacing cost growth, which allowed the airline to sharply increase pre-tax profits. Top line revenue was up 16.1% to GBP3.45 billion in FY2011, a faster rate of growth than the 11.7% increase in passenger numbers as higher yields, significantly from business travellers, bolstered yield.
easyJet revenue (fare, ancillary and total) (in GBP millions) FY2007-FY2011
Ancillary revenue, which increased 26% in the year to GBP719 million, was an important contributor to top line revenue growth. Ancillary revenue contributed to 20.8% of total revenue, which was actually down from 23% in FY2010. This decline was due to systematic fare increases amid a better pricing environment and higher proportion of corporate fares sold. Ancillary revenue per seat was up 13% to GBP11.52. Total ancillary revenue was driven up by the introduction of higher charges for hold baggage on longer sectors, and revised speedy boarding and booking fees.
On a per seat basis, which easyJet prefers to use for unit comparisons, total revenue (per seat) increased 4.1% to GBP55.27. Per-seat revenue growth outpaced total per seat cost growth, led by per seat ancillary gains and maturity of route investments made in previous years. The airline's profit per seat increased as a result to GBP3.77.
easyJet per seat revenue, cost and profit (RHS), on pre-tax basis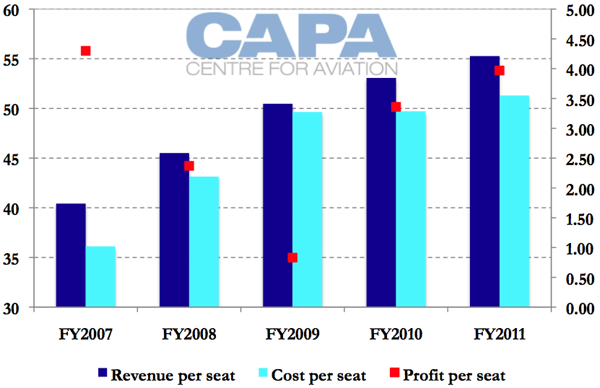 Under more generic metrics, easyJet's RASK (total revenue per ASK) was up 5.4% to GBP4.98 cents, yield (total revenue per RPK) increased 7.5% to GBP5.62 cents and CASK increased 4.2% to GBP4.62 cents. Ex-fuel CASK increased 1.2% to GBP3.30.
Passenger numbers up, led by business pax
Passenger numbers were up 11.8% in the period to 54.5 million.
easyJet passenger numbers (millions) and year-on-year growth, FY2007 to FY2011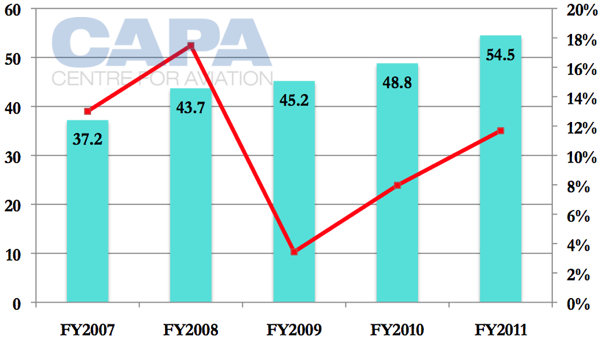 The airline said that passengers originating outside the UK now account for 56% of all passengers, a year-on-year increase of 3ppts. This development is part of the airline's strategy to diversify revenue streams away from its core UK market, where demand in recent years has been relatively weaker than that on the continent, where low-cost penetration is lower. Additionally, the UK has quickly become easyJet's most expensive market due to sharp rises in VAT and APD in 2011, further encouraging the company's expansion abroad. Seats flown on continental Europe services increased 18.6% in FY2011. The move abroad is reflected in easyJet's currency split for total revenue.
Significantly, passengers travelling on business increased in FY2011 by one million to 9.5 million. The move into the corporate market and roll-out of "flexifares" is one of easyJet's key short-term strategic focus. The maturing of the low-cost market in Europe and the airline's desire to better leverage its low-cost base and expand margin by moving into more lucrative sectors of the market, in doing so hurting the competition, is driving the move. EasyJet aims to generate GBP100 million per annum from business passengers, primarily through delivering improvements in product and distribution.
So far it appears it has garnered much success. On-time performance and customer satisfaction, two integral elements in corporate travel, are both up sharply under Ms McCall's leadership. The airline has outperformed all of its key rivals, with the exception of KLM, in OTP, according to data from Flightstats.com.
"Network optimsation" is central to the strategy and easyJet has increased frequency on key business routes from between London, Milan, Paris, Amsterdam, Rome and Madrid, rolled-out flexifares on its website (which were previously available only via GDSs), won deals with major corporate clients and expanded its GDS reach, signing an expanded one-year deal with Amadeus. The airline is also present in all major Western European airports, with the notable exception of Frankfurt, which is one of Europe's largest corporate travel markets but an airport the airline describes as very "expensive". Equally so, Frankfurt Hahn does not fit in with the airline's new product offering. CEO Carolyn McCall said the senior team remains in discussion with Fraport about possible easyJet services. The opening of Frankfurt's new fourth runway sharply increases runway capacity at the facility and may place downward pressure of Frankfurt's pricing, which could entice easyJet.
The airline describes its approach to route planning as "clinical", with the aim of all routes to provide return on capital employed (ROCE) of at least 12%, a line in the sand the company has developed for acceptable returns. The airline provided an interesting graph to demonstrate its FY2011 performance in this area, by anonymously depicting all routes against this 12% benchmark.
All easyJet routes in FY2011, benchmarked against the 12% ROCE target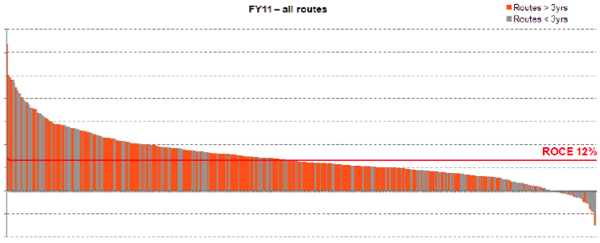 Roughly half of all routes delivered ROCE in line with or above the 12% target in FY2011, indicating that further short-term reorganisation of the network is likely. The airline said that contrary to common market understanding, its "new" routes (defined as those under three years old, shown in grey above, with the orange routes all over three years old) are not always less profitable than old routes. However, it is clear that those delivering negative returns are almost entirely under three years of age. Non-performing routes are evaluated and are likely to be dropped, the airline said, unless there is a strategic rationale behind the route's operation. The market saw this reorganisation in FY2011 as the airline wound down its presence in the competitive Nordic market, taking Gothenburg, Sweden and all of Finland off its route map. It still remains the third-largest player in the Nordic market (behind SAS and Norwegian) and is understood to be considering a new base at Copenhagen.
EasyJet's business strategy is likely to receive a further boost as it launches an allocated seating trial, following LCC rivals Ryanair and Vueling in offering a product more aligned to the higher-yield market. The LCC currently has an unreserved seating system, with passengers able to purchase "speedy boarding", which allows first boarding of the aircraft and subsequent seat selection. Mandatory allocated seating will bring to an end the practice of what has been described as "stampedes" of passengers vying for front or exit row seats, with passengers able to purchase those seats in advance. The trial will commence in spring 2012 on select routes, Ms McCall said, without saying how much the seating options would cost or which routes will be trialled. (It would be safe to assume, however, that the LCC's business-focussed routes such as Gatwick-Milan Linate and Malpensa, Gatwick-Amsterdam, Luton-Paris CDG, Milan Linate-Paris CDG would be the first.)
Cost containment key to FY2011 result
Cost containment was one of the major contributors to the record FY2011 result. Impressively, operating cost growth was below revenue growth in the period, a trend unlikely to be the case for the majority of its peers. Despite the performance, the cost side was one of the key warnings for the year ahead, with cost inflation a key concern for FY2012.
easyJet total costs (in GBP millions), FY2007 to FY2011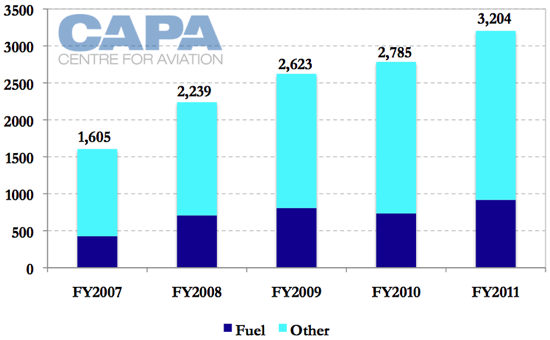 Total operating costs increased 15% in FY2011, led higher principally by fuel. Total costs per seat increased 3.2% to GBP51.30, although ex-fuel per seat costs were flat at GBP36.62.
EasyJet stated that jet fuel prices rose "sharply" over the year, however the LCC was shielded from the full price rises due to its hedging strategy. The average per tonne price paid increased 12% to USD818. The airline is 73% hedged for the current financial year at USD956 per tonne. The airline expects its fuel bill for FY2012 to increase by a further GBP220 million, based on current prices, exchange rates and hedging positions.
Elsewhere, ground operations increased 3% on a per seat basis (14% overall) partly due to unfavourable exchange rate movements, but also due to increase airport charges, most notable at the regulated airports of London Gatwick (easyJet's largest base) and AENA airports in Spain. Per seat crew costs increased 8.6% due to growth in headcount, which is part of easyJet's plan to bolster standby crews to minimise potential disruptions.
EasyJet warned that APD, VAT and the European Union's Emissions Trading Scheme will prove more cumbersome in FY2012, and the outlook for revenue growth looks weaker, which is likely to crimp earnings. The airline said that it "remains concerned that monopoly infrastructure providers across Europe, of both airports and airspace, continue to impose higher charges, despite the uncertain economic climate." EasyJet said that it remains in talks with Western European authorities about its desired changes in regulation, saying that "monopoly airports need to become more efficient, with infrastructure and associated charges built around the needs of passengers on point-to-point carriers such as easyJet." The airline also stated that aviation's entry into the EU's Emissions Trading Scheme means that there is no longer any environmental case for taxes on aviation.
Dividend on the way, but outlook clouded
Despite the clouded outlook for European aviation and desire to keep high cash levels, easyJet plans to return GBP150 million to shareholders, most notably, to vocal shareholder Sir Stelios Haji-Ioannou. The easyJet founder, who continues to hold 38% of the company's shares, is still not appeased by the airline's first dividend payment and continues to publicly disapprove of its plans. Commenting on the airline's results and new strategies, he said by chasing higher-yielding business passengers and offering allocated seating, easyJet is simply "copy[ing] failed strategies used by network carriers over past decades". Sir Stelios called on the airline to cease new aircraft purchases and focus shareholder returns, adding he will not support the re-election of directors who have supported expansion plans.
As a shareholder in a European airline company, however, Stelios would be hard-pressed to find a better airline investment. Net cash flow from operating activities is up 17% to GBP424 million and cash is up 20% to GBP1.4 billion. Debt increased GBP88 million to GBP1.3 billion. Much to Stelios' chagrin, easyJet took delivery of 13 A319s and 12 A320s in the year, and retired the two remaining B737-700s, which will be returned to lessors in 1H2012, leaving the total fleet at 204 aircraft (167 A319s, 35 A320s, two B737-700s).
Looking ahead, however, the outlook is decidedly weaker. "The macroeconomic environment remains challenging for all airlines," easyJet said, "as weak consumer confidence across Europe slows the rate at which higher fuel prices and increased taxation can be passed onto passengers. A "cautious" approach to capacity deployment will be taken, which will see winter capacity held constant, while FY2012 capacity growth will be 4%. The fleet will expand from 204 aircraft to 213 in 2012 and to 218 in FY2013. 45% of winter seats have been sold, in line with last year with revenue per seat to increase over the winter by "mid single digit" percentages. Per seat costs are expected to grow 2% to 3% for the full year and by 4% in 1H2012, driven by price increases at regulated airports and investments in new revenue streams.
With inevitable upward pressure on costs, easyJet's key focus in FY2012 will be yield growth. This is expected to come through further expansion in the corporate travel segment and capacity discipline, which are both positive for pricing developments. Changes made to baggage and fees earlier FY2011, as well as new ancillary initiatives, should continue to see growth in ancillary income, which will help to offset the impact of higher fuel prices. The take-up of the airline's flexifares, growth in the business travel sector and the "trading down" of customers, due to the weak economic environment, will be key trends to watch in FY2012.
More generally, easyJet's shift in strategy (away from the pure LCC model) is a clear signal that the low-cost model in Europe is evolving at a quickening pace. Short-term margin pressure due to cost inflation and probably revenue weakness is undoubtedly management's key concern, which easyJet is seeking to address through higher-yielding business fares and improvements to the product offering. The changes are further evidence that the line between full-service and low-cost carriers is becoming blurred, with many full-service carriers, such as Air France and Lufthansa, seeking to replicate LCC tactics across their network, and LCCs, such as easyJet and Air Berlin, seeking to move into markets dominated by European network carriers. Hybrid carriers are emerging.
EasyJet's result, which follows a strong result from Ryanair several weeks ago, further segregates Europe's low-cost and full-service carriers. The share price performances of easyJet and Ryanair, Europe's two largest LCCs, plotted against the performance of IAG, Air France-KLM, Lufthansa Group and Air Berlin, capture the trend well.
Share price performance of major European carriers, past 12 months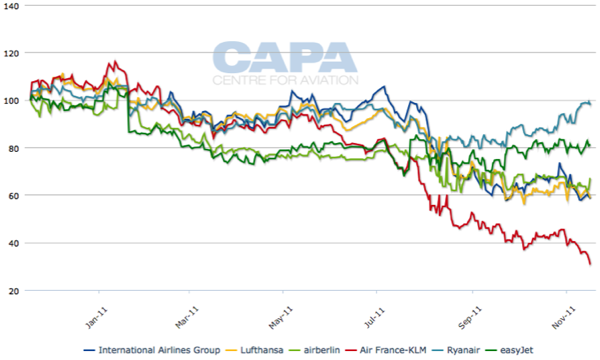 In Europe at least, it seems the further one is from the LCC model, the less in favour you are with investors.
EasyJet must be careful in this sense. While there is a different competitive dynamic between easyJet and Air Berlin, the UK carrier must ensure it does not go the same way as its German rival, who is stuck in a strategic limbo between low-cost and full-service, doing neither model as well as it should. For now at least, easyJet seems to be striking the right mix. The airline has swapped its "low-cost" and "budget" labels for "low-fare carrier" and seems to have found the right cost-revenue balance, something many of its peers are having trouble pinning down.