Delta Air Lines' Shanghai hub plans: replicating the Amsterdam-KLM relationship will be difficult
Analysis
At the same time as Delta Air Lines and its pilots take the lead in anti-Gulf rhetoric and ask for traffic rights to be withdrawn, brief comments by CEO Richard Anderson suggest Delta is considering establishing a hub in Shanghai.
A Shanghai presence would be a logical move for Delta, but establishing a hub will require the blessing of local partner China Eastern.
This Shanghai-China Eastern potential visually has similar building blocks to Delta's existing Amsterdam-KLM partnership; but the same outcome is far from guaranteed.
In the long term, Delta will need China Eastern more than China Eastern will need Delta. In this case the negotiating power does not rest in Atlanta. And, although both are SkyTeam members, China Eastern - and the other Chinese majors - have demonstrated considerable pragmatism in their partnership relations. Star Alliance's Air China for example holds a substantial minority share in oneworld's Cathay Pacific.
A Shanghai hub will not occur without China Eastern's cooperation. China Eastern may have its own plans
Mr Anderson told employees in a recent message, as reported by Bloomberg, that "When you think about what our strategy is long-term, we need to have a hub in Shanghai like the one we have in Amsterdam."
Delta's Amsterdam hub was inherited from its merger with Northwest, as was most of Delta's north Asia presence. Northwest-KLM was aviation's original substantial JV, dating back to 1997. The process was not easy – there were inevitably times it was acrimonious – but Northwest and Delta have learned considerably about the workings of a JV. This may give them the upper hand in a future JV with China Eastern – or another Asian partner. The US however requires open skies in order to permit an anti-trust immunised JV, Delta's preferred modus operandi for long haul international operations. Chinese carriers are forming JVs with airlines from countries that do not have a similar open skies requirement (including China Eastern with Qantas, Air China with Lufthansa and Air New Zealand), but a US JV will be out of reach until US-China open skies.
Even without a JV it would be possible for Delta to establish a hub in Shanghai. However, this will require China Eastern's extensive cooperation. This is for two main reasons. First is simply that a Delta hub in Shanghai needs cooperation with the local carrier to facilitate passenger throughput, transfers and the scale afforded to hub operations. This is no different from Delta's cooperation with KLM in Amsterdam.
The second reason is nuanced to China. Without China Eastern's blessing, Delta will find the regulatory environment unaccommodating to establish a large presence in Shanghai. American Airlines found this with its false start many years ago with its Chicago-Beijing service, which was unable to secure favourable slot times. (United Airlines has postponed its additional San Francisco-Shanghai Pudong service on the grounds of not securing favourable times either.) Delta has previously benefitted from support from China Eastern and China Southern in securing better slots in Shanghai and Beijing.
The mere existence of available traffic rights in China does not afford a foreign airline easy access, as many have learned. If not in the inner circle of favoured airlines, slots can be difficult to come by and there are other tactics that can be employed to stall a carrier's development. In contrast, airlines can somewhat forcibly plop themselves on other markets where they lack strong regulatory and local affairs.
Shanghai Pudong is a powerful base, with a substantial SkyTeam presence
Delta's interest in Shanghai is patent, and soundly based. It is a strong Chinese gateway; Beijing may be its only rival but SkyTeam has a far larger presence in Shanghai than Beijing. China Eastern is based at Shanghai while Guangzhou-based China Southern has a small presence in Beijing. SkyTeam's Chinese members are China Eastern (including wholly-owned Shanghai Airlines), China Southern and Xiamen Airlines. (Xiamen Airlines is partially owned by China Southern.)
SkyTeam accounts for 41% of total available seats at Shanghai Pudong (this excludes Shanghai Hongqiao, primarily a domestic airport), 32% at Beijing Capital.
Shanghai Pudong Airport system seat capacity by alliance: 13-Apr-2015 to 19-Apr-2015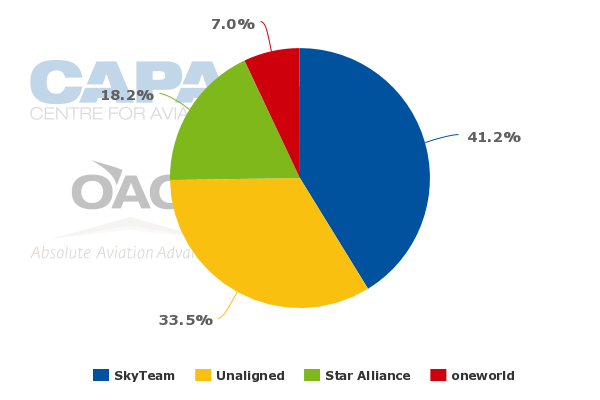 At Beijing, Star Alliance – the alliance of local carrier Air China – accounts for 46% of capacity.
Beijing Capital Airport system seat capacity by alliance: 13-Apr-2015 to 19-Apr-2015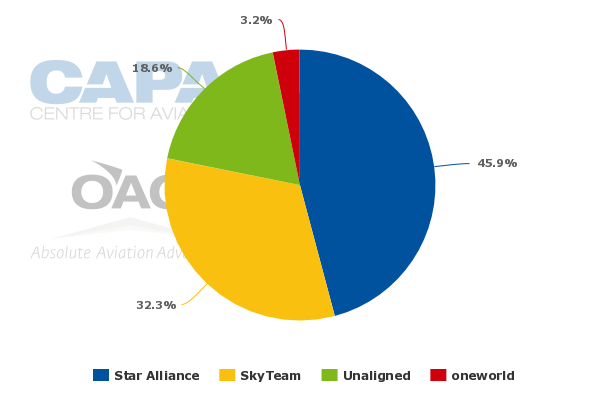 Shanghai offers the opportunity to connect Delta's trans-Pacific flights with numerous beyond gateway Chinese cities. United Airlines is the only US carrier serving a mainland city other than Beijing and Shanghai (it flies San Francisco-Chengdu) but there are numerous cities with trans-Pacific passenger flows that will not amount to a dedicated service. As it is, there are questions how many secondary Chinese city long-haul routes are profitable in the short term at least.
There is much for Delta to gain. The question for China Eastern is what it gains and whether it stands to lose by partnering with Delta. Some may point to China Eastern's proposed JV with Qantas as an example of the airline's willingness to partner. However, viewed another way, China Eastern may be partnering where it is weak (China Southern is larger in the China-Australia market). China Eastern has the potential to have a very formidable position in the China-US market.
For now, China Eastern seemingly needs Delta - both in terms of traffic flow but also strategic learning, such as how to run a hub. However, it could be argued that one day Delta will need China Eastern more than China Eastern needs Delta. China Eastern will have its backyard the domestic Chinese market – soon to be the world's biggest – as well as other Asian countries it can pull traffic from to feed its North American flights. Delta in contrast will offer the smaller and mature North American market, with only small beyond traffic to South America.
CAPA will host a major debate on the Gulf airlines in the US at the Americas Aviation Summit, Las Vegas, 27/28 April

"The Gulf Carriers: Good for the US Airline Industry as well as for Consumers? Or a Threat to Sustainability?"
The Gulf airlines' unique long haul-to long haul model and their global reach have spelled major change for established airlines in Europe and Asia especially. Some major European airline groups – most notably Lufthansa – have stridently opposed expansion of the Gulf airlines. One, IAG has however grown close to Qatar Airways, now a member of the oneworld alliance and owner of 10% of IAG.
Asian airlines, more accustomed to competition for sixth freedom traffic, have fought back.
In the US, whatever the eventual regulatory outcome as the three major airlines seek government protection, the Gulf airlines have already reset the bar for international travel expectations. Turkish Airlines too, although just off the ideal geographic axis, is almost a Gulf carrier - but only in being a highly successful global hub carrier.
North American airlines are less threatened, because of its geography, but even so strident industry voices are raised against allowing them greater access, despite the consumer benefits.
These voices have remarkably included calls from the CEO of the world's largest airlines for the US to reverse the open skies policy that the US has disseminated across the world over the past three decades.
Canada has meanwhile reverted to use of 70-year old bilateral trade restrictions to limit the Gulf airlines' access, while Latin America is gradually welcoming more services.
How real are the threats offered by the Gulf airlines to incumbent airlines?
What is the nature of opposition to the new wave airlines?
What are the implications for consumers, airports and other providers as the Gulf airlines enter the Americas?
Are there partnership opportunities with the Gulf airlines?
Moderator: Pillsbury, Partner and Head Aviation, Aerospace and Transportation Practice, Kenneth P. Quinn
American Airlines, Senior VP Government Affairs, Will Ris
Americans for Fair Skies, President, Lee Moak
Delta Air Lines, Executive VP & Chief Legal Officer, Ben Hirst
Emirates, President and CEO, Sir Tim Clark
Etihad Airways, General Counsel and EVP Legal, Jim Callaghan
FedEx, SVP and General Counsel, Rush O'Keefe
US Travel Association, President & CEO, Roger Dow
World Travel and Tourism Council, President & CEO, David Scowsill
China Eastern has options, as its US services grow
Smaller carriers like JetBlue and Virgin America can provide beyond gateway access, and indeed China Eastern has commenced a partnership with Virgin America. The major US airlines can control beyond US gateway fares by charging foreign carriers high access rates; thus on sample itineraries – Shanghai to Washington DC or Las Vegas – Delta is less expensive than China Eastern. (Between hubs, the disparity is less evident.)
China Eastern has lagged in the North American market. It had pinned growth on 787s, but abandoned the type as delivery dates were pushed back and did not have the operational specification China Eastern anticipated (ability to serve the US East Coast). China Eastern later ordered 20 777-300ERs, and the mid-2014 delivery of the first example has helped jump start growth.
China Eastern in two years has doubled the number of seats it offers to North America. There is still much growth to come, both from aircraft that have been ordered and aircraft that have not yet been ordered.
China to North America (seats per week, one way): 19-Sep-2011 to 27-Sep-2015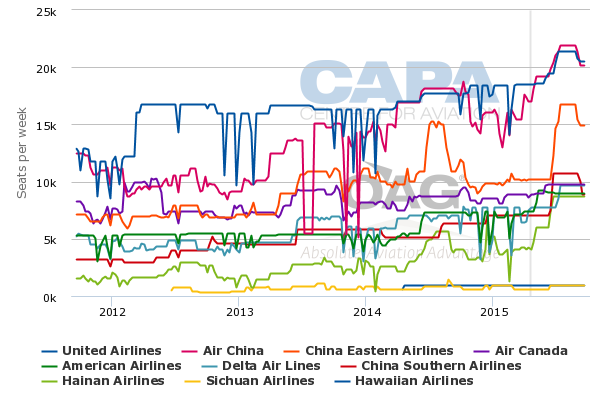 See related report: China Eastern Airlines seeks to revitalise its position with 777 long-haul growth and new brand
A Shanghai hub for Delta will present further evolution of the north pacific airline route development.
See related reports:
Shanghai will be a terminator point for Delta
Mr Anderson was asked if Delta's Shanghai hub plans included flying from Shanghai to other airports (including flying to other Chinese cities – which is no doubt out of the question from all sides concerned). The possibility of fifth freedom flying from Shanghai Pudong, to points in countries other China, is strategically interesting but not a priority. And if there were to be fifth freedom flights, they would likely be a small part of the Shanghai hub story.
Thanks to the very liberal (it was always liberal for US airlines) Delta does use extensive fifth freedom rights to fly beyond from its Japan hub to other Asian points. This traffic carries a mixture of point-to-point demand as well as traffic connecting to/from Delta's trans-pacific flights at Japan. These flights are made possible legally by the aeropolitical environment (which is more open than between the US and China) as well as Japanese airlines sometimes being lax in their own market development, thereby leaving opportunities for third-country entrants. The high cost base of Japanese carriers also works in favour of Delta (and United, which has a small beyond-Japan network). In comparison, Chinese carriers are becoming aggressive about international flying, and have favourable cost bases.
Delta has had a limited programme of flying beyond its Amsterdam hub. (This was all internationally, due to the aeropolitical limits but also the Netherlands having no domestic market to speak of.) Over the last decade, Delta and Northwest have only flown beyond Amsterdam to India, primarily Mumbai with brief service in 2005 to Bangalore. Delta earlier in 2015 ended its Amsterdam-Mumbai service.
Delta links Shanghai with four cities, Amsterdam with nine
Delta's presence at Shanghai is still small compared to Amsterdam. Looking at peak northern summer 2015 capacity, Delta will serve Amsterdam from nine airports (all in the US) with 133 weekly flights and approximately 36,300 seats. To Shanghai, Delta will offer service from four airports (including Tokyo Narita) across 28 weekly flights and 8,300 weekly seats, making Amsterdam four times larger than Shanghai.
Comparison of Delta presence at Amsterdam and Shanghai Pudong: 13-Jul-2015 to 19-Jul-2015
Delta is expanding its presence in Shanghai in Northern Summer 2015 with a new daily Los Angeles-Shanghai service.
See related report: China Eastern, Delta and Hainan Airlines' new routes accelerate US-China aviation development
Although Delta may be growing in Shanghai, it has been growing in Amsterdam as well, with peak 2015 capacity to be larger than in previous years. Shanghai will not overtake Amsterdam as a market for Delta for some time to come - at least as long as Delta is unable to replicate the anti-trust protected operation which it uses on the north Atlantic.
Amsterdam Schiphol Airport to United States of America (seats per week, one way): 19-Sep-2011 to 27-Sep-2015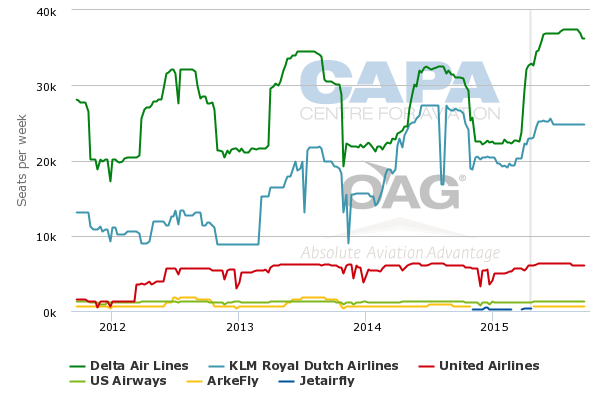 Although not necessarily an indication of what Delta may anticipate for Shanghai, in the peak summer Amsterdam is Delta's third largest international hub, after Atlanta and New York JFK. Delta will offer more international seats from Amsterdam than Detroit or Los Angeles, for example.
Delta Air Lines top 10 hubs/bases/stations/focus cities ranked on international seat capacity: 13-Jul-2015 to 19-Jul-2015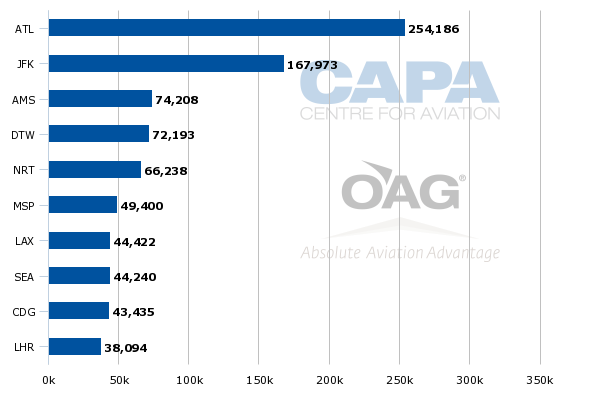 Three of Delta's 10 largest international routes in northern summer 2015 will be to/from Amsterdam.
Delta Air Lines top 10 international routes ranked on seat capacity: 13-Jul-2015 to 19-Jul-2015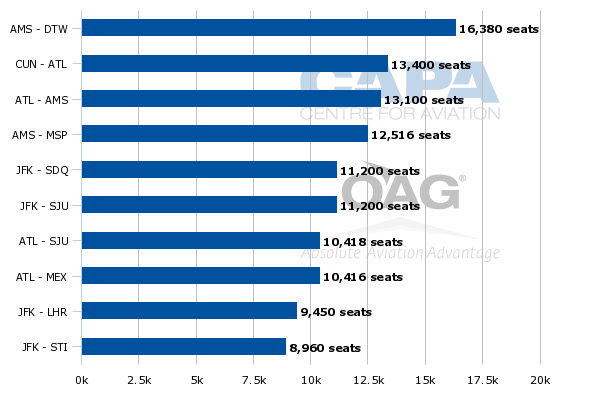 Amsterdam and KLM offer a wide solution for Europe. Delta will need many partners in Asia
Even if Delta one day is able to secure a deeper partnership with China Eastern, that would not be its Asian silver bullet. Europe is a relatively compact market and backtracking from Amsterdam entails short distances, where car and train are alternatives. (Delta's JV with Virgin Atlantic is focused on the London market and not beyond.) Asia is vastly larger, and Shanghai's northern geography means it cannot be a hub for many regions. Seoul Incheon and Korean Air offer opportunity, but Delta has fractured that relationship, as greater direct access to China becomes available.
For Delta, there will need to be new initiatives elsewhere in Asia. Ironically, one group of airlines that can efficiently serve parts like South Asia and Southeast Asia are the Gulf carriers, with whom Delta is currently at war. While Delta sees the benefit of a Tokyo, Amsterdam and now Shanghai hub, the Gulf escapes it.
Delta has significant experience with JVs. That experience can generate higher expectations, with Delta perhaps wanting more from potential partners than it is willing to give. As Delta has found in Japan, adopting a similar bluster in Asia to its approach to the Gulf airlines can be counter-productive. A much subtler style will be needed. Mr Anderson's proclamation he wanted to move Delta's Narita hub to Haneda was too direct, and unwelcome in its presumptiousness for many in Japan; it did little to help Delta's cause.

Asia is a big new market to confront alone, and Delta will need friends if it is to make the sort of inroads it seems to expect. Virgin Atlantic is a recent partner for Delta, and Delta is growing closer to partners in Latin/South America, while its longstanding relationship with Air France-KLM may be experiencing some friction.
Outside these groups, Delta has only limited strategic pull and, where Asian partnerships tend to build on years of respect, Delta's egocentric approach to its international dealings may need tempering.