China Eastern's LCC China United is expected to start international flying, challenging Air China
Analysis
China Eastern Airlines is taking the lead amongst the country's state-owned carriers in developing an LCC presence. This follows Beijing's embrace and active promotion of LCCs, which it sees as spearheading new growth and being in line with the country's increasing austerity and efficiency targets. China Eastern has converted its subsidiary China United Airlines, based at the smaller Beijing airport of Nanyuan.
China United only flies domestically, and mostly to secondary cities, but in Jan-2015 applied to regulator CAAC to expand its business licence to international services. China United is expected to be given the right to fly internationally from its Beijing home but also Shenzhen.
Shenzhen's international development has been stunted – possibly due to lobbying from Air China partner Cathay Pacific, which feeds on the Shenzhen market – and local carrier Shenzhen Airlines has a minimal international presence. Shenzhen Airlines is majority owned by Air China, meaning China United's international expansion could eventually challenge the Air China group at multiple levels. With time there will also be an impact to the Hong Kong market, although crossing the border is still far from seamless.
China United applies for international services. Approval expected for Beijing and Shenzhen
China United in Jan-2015 applied to the CAAC to expand its business licence from domestic services to cover also regional (Hong Kong, Macau and Taiwan) and international services around Asia. China United is apparently to be allowed to operate internationally from Beijing and Shenzhen.
See related report: China Eastern to transform China United Airlines into a LCC; first of China's Big 3 to have a LCC
China United is an all-narrowbody operator based at Beijing's smaller downtown airport, Nanyuan. China United was previously affiliated with the Chinese military and thus allowed to operate from Nanyuan, an otherwise military airport. No other airline uses Nanyuan. Even once China United came under the fold of China Eastern, China United was permitted to continue operating at Nanyuan.
China United ended 2014 having carried 5.5m passengers. This was an 11.2% increase from 2013 and ended China United's streak of growth rates in excess of 20% between 2009 and 2013. The slowing growth is not just because China United is growing from a larger base: the additional 500,000 passengers in 2014 (compared to 2013) is low. In 2013, China United carried an additional 1.4m passengers and in 2012 an additional 700,000 passengers.
China United Airlines annual passenger traffic: 2008-2014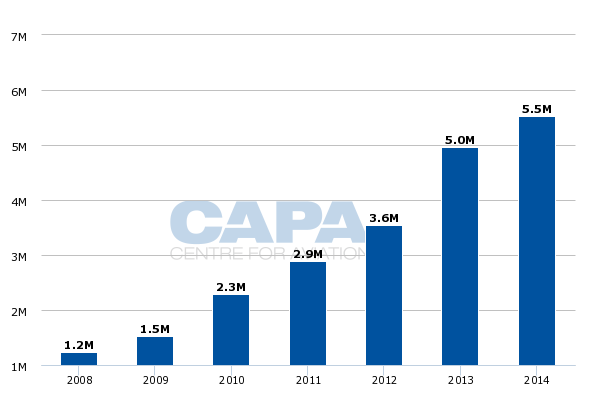 International operations from Nanyuan are therefore unsurprising and relatively straight forward since China United has experience and infrastructure in Beijing. Shenzhen however is more interesting as the city has been neglected from international air route development, to be discussed later.
Presumably there will be changes at Nanyuan to accommodate China United's international expansion. At the main airport Beijing Capital, local carrier Air China has the largest international presence by far, followed by Dragonair and Hainan Airlines.
There is some competition on international routes from Beijing Capital to other Asian markets: China Southern serves Seoul and Hainan Airlines Taipei, but with a small presence compared to Air China. Another popular Asian destination, Tokyo, sees no other Chinese airline serve the city other than Air China.
Beijing Capital International seat capacity by carrier: 13-Apr-2015 to 19-Apr-2015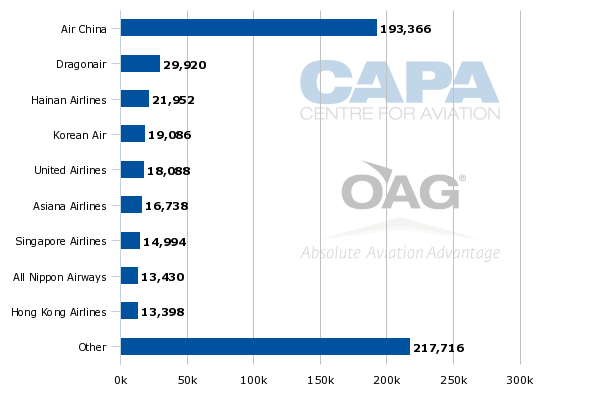 China United's international expansion comes as government policy favours airlines "going out" and reaching international markets. In the case of regional Asian destinations, yields can now be higher than on domestic flights.
Airlines are also challenged to add domestic flights as slots at various airports become difficult to secure, although China United tends to serve smaller Chinese airports. China United's current top destinations ranked on seats do not lean overwhelmingly towards major airports.
China United top 10 hubs/bases/focus cities/stations ranked on available seats: 13-Apr-2015 to 19-Apr-2015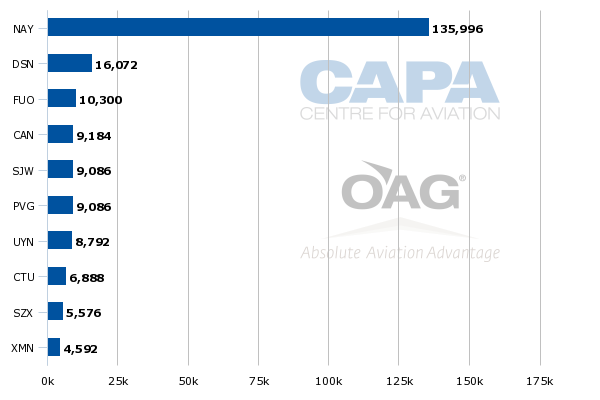 China United avoiding Shanghai market an advantage to Spring
China Eastern is embarking on a dual-brand strategy as it further converts China United to a LCC and seeks to quickly build up the carrier's size. China United on 13-Apr-2015 took delivery of its 31st aircraft and intends to end 2015 with 34 aircraft.
China Eastern's dual-brand strategy is so far limited, focused on deploying its LCC in the backyard of rival Air China. Air China is based at Beijing and has a significant presence at Shenzhen while its majority-owned Shenzhen Airlines is based in its namesake city. This allows the China Eastern group to focus on country-wide market share and expand its footprint beyond China Eastern mainline's main hubs of Shanghai, Xi'an and Kunming. China Eastern mainline has a limited international network from Beijing and no international flights from Shenzhen.
This approach is in contrast to using China United in the Shanghai market to compete against locally-based LCC Spring Airlines (which has the largest international presence at Shanghai after China Eastern), and possibly take over routes not suitable to China Eastern's full-service business. This level of integration may too complex (and political, as China Eastern would need to pull off certain routes) for what are still early days in the Chinese LCC story.
Furthermore, China United will necessarily have a prolonged transformation to achieving a low cost base even if the carrier is officially an "LCC". That means it is unlikely to be able to compete yet with Spring Airlines - but could be a closer competitor to Air China and Shenzhen Airlines.
Shanghai Pudong international seat capacity by carrier: 13-Apr-2015 to 19-Apr-2015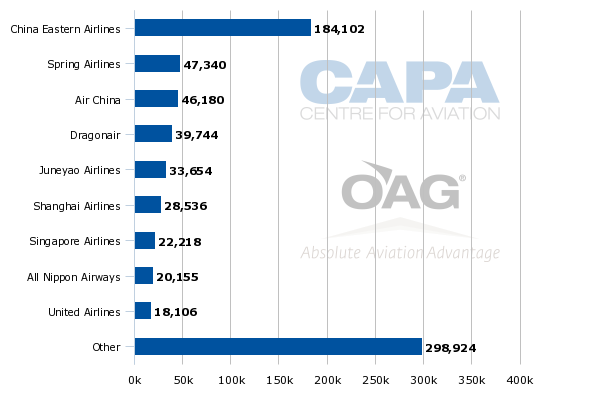 Spring Airlines has already established itself on prime international destinations from Shanghai, although there is plenty of room for further growth and Spring would certainly like more route access (such as to relatively new destination Taipei).
Spring Airlines Top 10 Regional/International Routes from Shanghai Pudong ranked on seats: 13-Apr-2015 to 19-Apr-2015
Rank
Origin
Destination
Total Seats
1
HKG
Hong Kong International Airport
PVG
Shanghai Pudong Airport
7,560
2
PVG
Shanghai Pudong Airport
CJU
Jeju International Airport
6,840
3
PVG
Shanghai Pudong Airport
KIX
Osaka Kansai International Airport
5,040
4
PVG
Shanghai Pudong Airport
BKK
Bangkok Suvarnabhumi International Airport
5,040
5
PVG
Shanghai Pudong Airport
IBR
Ibaraki Airport
2,880
6
PVG
Shanghai Pudong Airport
HKT
Phuket International Airport
2,880
7
PVG
Shanghai Pudong Airport
CNX
Chiang Mai International Airport
2,520
8
PVG
Shanghai Pudong Airport
MFM
Macau International Airport
2,520
9
PVG
Shanghai Pudong Airport
CTS
Sapporo Chitose Airport
1,800
10
PVG
Shanghai Pudong Airport
TPE
Taipei Taoyuan International Airport
1,800
Shenzhen's international development has been stunted
Shenzhen airport for the week of 12-Apr-2015 has approximately 900,000 domestic seats compared to nearby Guangzhou's 1.1 million seats, according to OAG data. However, for international services there is a wide disparity, with Guangzhou having 272,000 international seats to Shenzhen's 35,000.
Guangzhou's figure includes long-haul flights, but looking only at regional capacity, the disparity remains: Guangzhou has 122,000 weekly seats to Southeast Asia while Shenzhen has only 28,000. The potential for expansion is clearly apparent.
Guangzhou international seat capacity by region: 13-Apr-2015 to 19-Apr-2015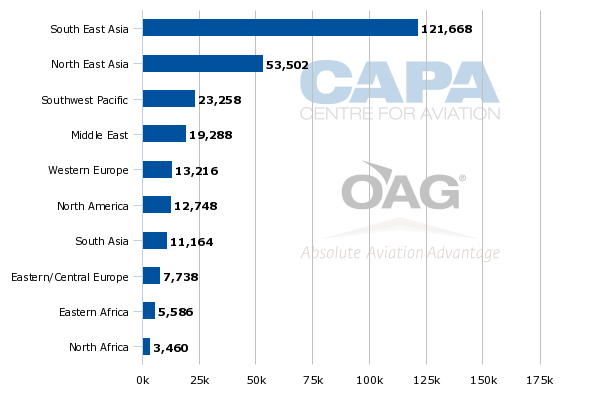 Shenzhen international seat capacity by region: 13-Apr-2015 to 19-Apr-2015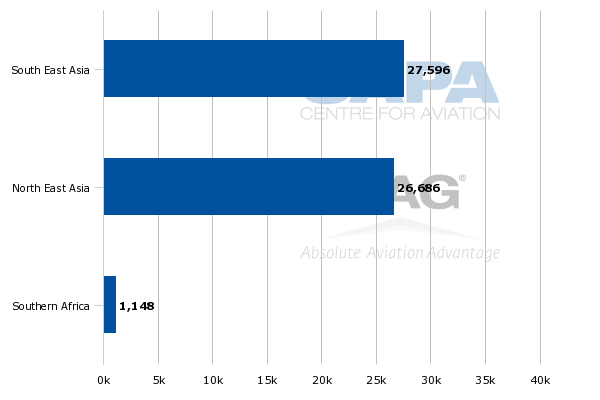 Shenzhen Airlines has not aggressively pursued international expansion. It serves only seven regional international points compared to 14 from Xiamen Airlines, which is a similar size to Shenzhen Airlines but based in a region with a lower GDP than Shenzhen.
Neither Cathay Pacific nor equity partner Air China has any incentive to encourage the international development of Shenzhen Airlines, which Air China owns; the Shenzhen market can relatively easily access Hong Kong International Airport, as a gateway to the world.
China United has not stated its international growth projections. Its build-up will be small, but over time the Hong Kong market could expect some impact from Shenzhen strengthening. Shenzhen is for the time being an important part of Hong Kong International's catchment area. That will inevitably change over time, as the market grows, especially as Hong Kong remains relatively capacity constrained.
Guangzhou airport sees 520 weekly flights to 32 regional destinations compared to Shenzhen's 139 weekly flights to 11 destinations. Only to Taipei and Kaohsiung does Shenzhen have more capacity than Guangzhou.
Guangzhou and Shenzhen airport comparison of seat capacity to Asian destinations: 13-Apr-2015 to 19-Apr-2015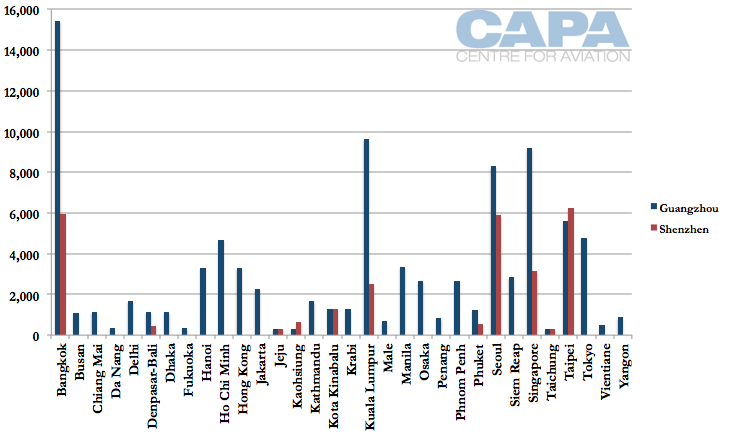 Spring Airlines has been seeking to develop an international Shenzhen hub
An international presence at Shenzhen from China United will challenge Spring Airlines, which for some years has aspired to have an international hub at Shenzhen. Spring is the seventh largest domestic carrier at Shenzhen, but Shenzhen (SZX on the graph below) is where Spring has its third largest presence after Shanghai (PVG/SHA) and Shijiazhuang (SJW).
Spring only serves domestic points from Shenzhen.
Spring Airlines top 10 hubs/bases/stations/focus cities ranked on system seat capacity: 13-Apr-2015 to 19-Apr-2015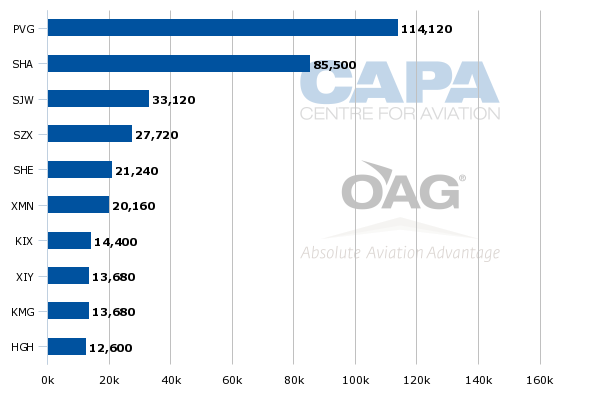 Shenzhen Airport top 10 ranked on system seat capacity: 13-Apr-2015 to 19-Apr-2015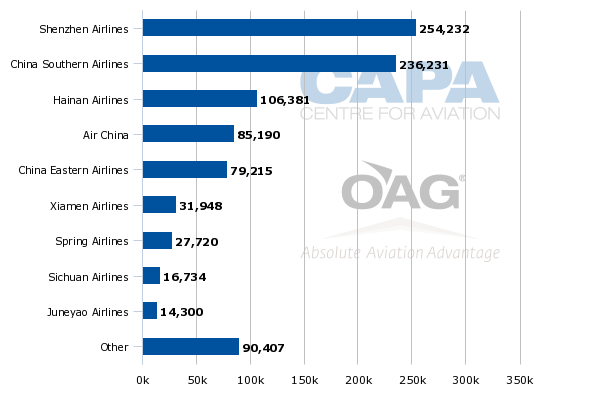 While not commenting in the context of a China United presence at Shenzhen, Spring Airlines remarked reiterated in Mar-2015 that it wants to make Shenzhen its LCC hub in south China.
Spring wants to obtain additional slots to increase the number of overnight aircraft based at Shenzhen. Spring's overnight aircraft at Shenzhen Airport has increased from one at the end of 2013 to six in Mar-2015. Spring envision the base expanding to international services, including flights to Japan, South Korea and Taiwan.
China Eastern is taking the initiative with China United in LCC development. Air China must innovate
China Eastern has taken the most aggressive position of the country's three main state-owned carriers (including Air China and China Southern) in promoting the LCC concept. China Southern has hinted that its subsidiaries will be converted to LCCs while Air China has stood apart from the Beijing-embraced LCC push. The HNA Group is making a larger effort, with West Air having converted and Lucky Air expected to follow.
See related reports:
Air China is doubtless right when it says conditions could be more favourable for LCCs in the domestic market. But that does not mean there is a lack of opportunity – especially when competitors are encroaching on your territory. The risk for not taking the initiative is having to innovate later, while under duress.