China Eastern to transform China United Airlines into a LCC; first of China's Big 3 to have a LCC
Analysis
China Eastern Airlines plans to convert wholly-owned subsidiary China United Airlines into a low-cost carrier (LCC), making it the first major carrier to partake in China's new aviation agenda that encourages LCCs. China sees LCCs – new, converted, private or affiliated with a state carrier – as jump-starting growth, expanding air links in the economically young western region and fighting against inefficiency and wastefulness.
Beijing-based China United is ideal for conversion to a LCC given its point-to-point focus, short routes, operation out of Beijing's second airport at Nanyuan, and small scale that limits potential for corporate travel. China Eastern is larger in Beijing but China United serves more secondary destinations that are potentially more suitable to LCC service.
There is already extensive cooperation between China Eastern and China United, with China Eastern codesharing on nearly every China United flight. There are opportunities for continued cooperation but the two will have to define what this dual-brand strategy entails and how much infrastructure – particularly IT – is in place to support it.
China in Nov-2013 introduced reforms to encourage new growth in its aviation sector, the world's second largest. The reforms encourage new carriers, including private ones and low-cost carriers. Besides having private LCCs, China encouraged state-owned carriers to consider dual-brand strategies and have LCCs. The exact balance between encouragement and subtle request is unclear, but with LCCs being the buzzword with regulators, China Eastern was surely not going to ignore the opportunity. Air China and China Southern are also likely to have LCCs in the future. Private full-service Shanghai-based carrier Juneyao Airlines has proposed a LCC, Jiu Yuan Airlines, to be based in Guangzhou. Spring Airlines has predicted China will see five to eight LCCs in the near future.
See related reports:
China United Airlines' origin is that it was run by China's army, the PLA. After China decided the PLA could not run a commercial airline, Shanghai Airlines eventually took over the modern China United. The merger between China Eastern and Shanghai Airlines saw China United fall under China Eastern. China United still enjoys some affection from the military, which permits it to operate from Beijing Nanyuan Airport, a military facility. China United is the only carrier to operate from Nanyuan, which is closer to most key parts of Beijing city than Capital Airport. Nanyuan Airport offers domestic-only facilities, and it is due to close to commercial flights once the second main Beijing airport opens later this decade.
For now, China Eastern enjoys China United's position in an otherwise heavily slot-constrained destination with critical – and high-yielding – traffic. China United has grown by at least 23% in each of the past four years.
China United Airlines passenger numbers: 2008-2012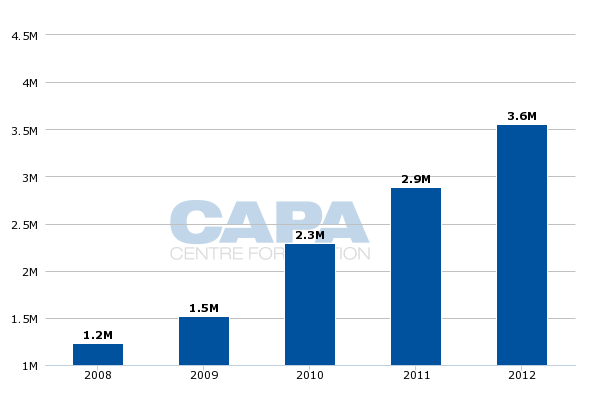 2013 should be one of China United's largest for growth, with the carrier in the first nine months of the year carrying at least 35% more passengers every month than in 2012. The carrier will likely end 2013 with around five million passengers.
China United Airlines monthly passenger numbers: 2011-2013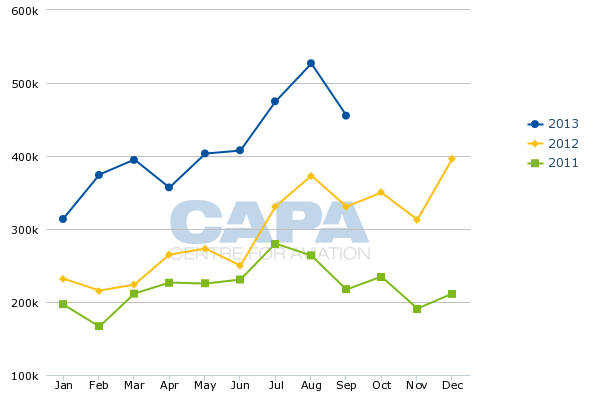 China United Airlines is an ideal vehicle for China Eastern to directly experiment with the LCC concept. China Eastern already has some experience from its involvement with Jetstar Hong Kong, in which it is a stakeholder. Being Beijing based, China United is far enough away from China Eastern's Shanghai home to limit any potential cannibalisation of China Eastern's core business. The Beijing base also means China Eastern can experiment with the LCC model in the backyard of Air China, based at Beijing Capital and China Eastern's competitor.
Finer details of China United's operation also support its conversion to a LCC. China United in Dec-2013 is China's 14th largest domestic carrier. Its network is spread out rather than concentrated, limiting its ability to retain business passengers compared to other carriers with more robust schedules. For example, China United's largest major route based on frequency is Beijing Nanyuan to Shenzhen, one of China's trunk city-pairs: Beijing Capital to Shenzhen is the country's third-largest domestic route based on seats. But China United only offers three daily flights, with its latest flight leaving Beijing at 12:40 in the afternoon. Similarly, China United has two daily flights to Chengdu, but the first flight does not leave Beijing until four in the afternoon.
Of China United's 48 destinations, 21 are served only daily. Three (including Shenzhen) are served three times daily. China United's only destination to see higher frequency is Ordos in inner Mongolia. China United is the second-largest carrier there.
China United Airlines destinations (horizontal axis) served by frequency a week (vertical axis): 23-Dec-2013 to 29-Dec-2013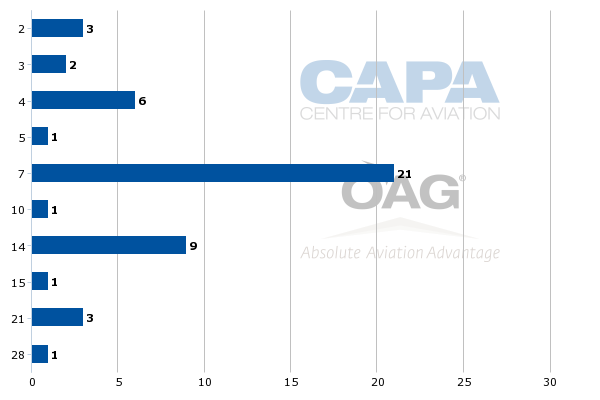 Such scheduling limits the potential for high yields to recoup a comparatively expensive cost base. Connections are also lacking owing to China United's position as well as there being no other carriers operating at Beijing Nanyuan that could feed China United.
China United's network is heavily bent towards short flights, where LCCs have demonstrated their sharpest success – a combination of the market being more willing to embrace LCCs for short flights in addition to short flights being able to achieve a lower cost base than longer flights compared to full-service carriers. (On longer flights, inflexible costs like fuel comprise a greater share of total trip costs.) About 35% of China United's flights are around one hour while 70% are around two hours. This compares to China Eastern having 22% of its domestic flights being around an hour while it too has about 70% of its flights being around two hours.
China United Airlines frequency based on length of flight: 23-Dec-2013 to 29-Dec-2013
China Eastern Airlines domestic frequency based on length of flight: 23-Dec-2013 to 29-Dec-2013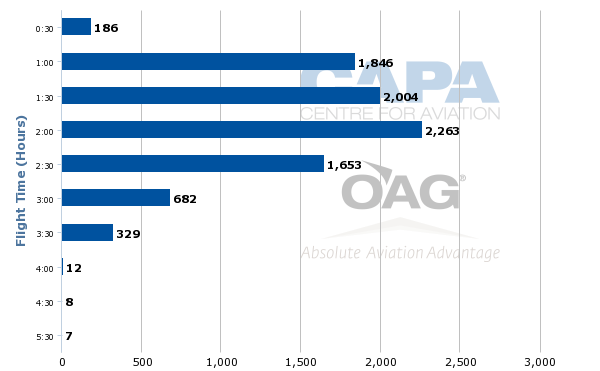 Meanwhile the small nature of Nanyuan airport gives it similar characteristics to an alternative airport. Indeed, Nanyuan may be one of the few airports in Asia that is a viable secondary airport. Nanyuan's small size also makes it an efficient airport to fly in and out of, as well as turn aircraft around at. Nanyuan, which received a new but basic terminal in 2013, does not have jetways.
China Eastern is twice the size of China United in Beijing, with China Eastern offering about 126,000 weekly seats to China United's 58,000. But overlap is at an absolute minimal: of China United's 38 destinations from Nanyuan, all but four are not served by China Eastern.
China United and China Eastern route comparison from Beijing (Capital and Nanyuan airports) ranked on each carrier's largest routes by seat capacity: 23-Dec-2013 to 29-Dec-2013
System Rank

Airport

Total Seats

Movements

China Eastern Rank

System Rank

Airport

Total Seats

Movements

1

50

4,256

28

1

3

34,537

117

2

2

3,192

21

2

6

12,243

70

3

4

3,192

21

3

7

10,303

58

4

49

3,066

21

4

17

6,165

35

5

51

2,280

15

5

28

5,820

36

6

72

2,128

14

6

8

5,403

27

7

65

2,128

14

7

12

4,562

28

8

86

2,128

14

8

18

4,463

29

9

10

2,128

14

9

11

4,312

21

10

61

2,128

14

10

33

3,849

24

11

5

2,128

14

11

29

3,767

23

12

16

2,128

14

12

37

3,002

19

13

35

2,128

14

13

22

2,465

15

14

66

2,128

14

14

36

2,427

14

15

13

1,520

10

15

25

2,345

14

16

81

1,064

7

16

44

2,212

14

17

87

1,064

7

17

42

2,111

13

18

136

1,064

7

18

78

1,869

14

19

112

1,064

7

19

43

1,738

11

20

162

1,064

7

20

39

1,738

11

21

157

1,064

7

21

99

1,239

7

22

105

1,064

7

22

30

1,148

7

23

115

1,064

7

23

31

1,106

7

24

68

1,064

7

24

96

1,106

7

25

48

1,064

7

25

82

1,106

7

26

30

1,064

7

26

23

948

6

27

9

1,064

7

27

51

866

5

28

102

1,064

7

28

81

854

7

29

62

1,064

7

29

61

854

7

30

124

1,064

7

30

95

536

4

31

92

1,064

7

31

126

474

3

32

128

1,064

7

32

139

435

3

33

76

760

5

34

127

608

4

35

137

608

4

36

150

608

4

37

156

456

3

38

46

304

2
China United's network is more populated with smaller cities that are still emerging economically. This makes them more suitable to LCC service since LCCs should have lower cost bases. This means not just growing price-sensitive traffic more than full-service carriers can, but profitably operating thinner routes. China's main carriers have struggled to make smaller destinations profitable.
China Eastern and China United are closely integrated: China Eastern codeshares on almost every China United flight. China Eastern and China United will have to work out what the cooperation will be between them. Every dual-brand strategy largely in place today varies from one to the next. This is not an impossible task for China Eastern and China United, but they are venturing into unchartered territory in China. Thankfully, there are numerous examples to learn from, ranging from low to no integration between Peach and All Nippon Airways to the high integration between Jetstar Japan with Japan Airlines or Jetstar (Australia) and Qantas.
But before this can be considered, China United has to define how exactly it will be different as a LCC. There are a number of network changes that could improve its cost base without impacting what passengers directly experience. Other changes could impact the passenger experience: currently luggage and meals are complimentary while aircraft are in two classes: there is a small, and often unoccupied, premium cabin. Simply making better use of the existing fleet will not change the partnership with China Eastern, but taking away luggage and meals may require China Eastern to re-consider how – or if – it sells China United flights. China's airlines are largely dependent on TravelSky for distribution, which has limitations for LCCs and product un-bundling.
The plan for China United's transformation is unknown. One of many questions will be how to gain greater fleet efficiency since China United operates 737-700/800s alongside a small number of young A319s.
China United Airlines Fleet Summary: as at 27-Dec-2013
Rapid fleet growth is planned – perhaps optimistically – as China United expects to nearly double its fleet to 50 aircraft by the end of 2015, by which point it expects to carry 10 million passengers per annum. To show the gap in efficiency China United must close, Spring Airlines passed the 10 million p/a passenger mark with less than 40 A320s.
One smaller aspect of China United's transformation into a LCC is possible changes to the competitive outcome at Shijiazhuang. Shijiazhuang, about 250km southwest of Beijing, is a base for Spring Airlines, which is the largest carrier there. China United also has a base at Shijiazhuang but is the seventh largest carrier there. Shijiazhuang will be one of the first airports to see domestic LCC competition.
Spring Airlines overlaps on every China United flight from Shijiazhuang except China United's Shijiazhuang-Sanya service. Spring and China United both operated from Shijiazhuang to Chengdu, Hangzhou, Kunming and Xiamen. Spring also serves Chongqing, Hohhot, Hong Kong and Shenyang from Shijiazhuang.
Shijiazhuang Daguocun Airport system seat capacity by carrier: 23-Dec-2013 to 29-Dec-2013
China United's transformation is a small but important first step for China Eastern
China United's transformation into a LCC may be small but it is not insignificant. China United is an effective medium for China Eastern to test the LCC model. Some details await, but overall the top-level strategy is rather clear and logical. As details unfold and the carrier re-launches, it will be interesting to see what, if anything, China United learns via China Eastern's involvement in Jetstar Hong Kong, which has not launched but already shown China Eastern a very different – and more efficient – kind of operation.
There are seldom big bang moments or developments in China; gradual progression with experimentation is the rule of thumb. This is encapsulated in Deng Xiaoping's proverb that is increasingly making the rounds following announcements of limited de-regulation. Deng spoke of "crossing the river while feeling the rocks".
There is limited room for innovation in aviation, so it is likely China Eastern will not be alone amongst the country's major carriers in taking smaller subsidiaries for a walk to the riverbed.