China's West Air grows 33% in 2014 as it transitions to the low-cost model
Analysis
China's West Air is the first example of an airline in China fully to transition to the low-cost model. Other carriers like China United have become LCCs but they have yet to make the transition. West Air charges for meals and lounge access. It has boosted utilisation rates, partially by using earlier slots, and has decreased turn-around times.
Based in Chongqing (where a China Southern unit may also become a LCC), West Air's impetus to adapt the LCC model was that the lower incomes in the west were better suited to a low-cost model. West Air is the fourth-largest LCC in China and sixth largest in Northeast Asia.
The entirely domestic carrier, sporting a new modern logo, is expected to carry over four million passengers in 2014. West Air hopes to maintain growth momentum as it grows its fleet from 16 aircraft in 2014 to 40 within three to five years and later 100 aircraft.
West Air traffic up 35% in 2014, expected to carry 4 million passengers
West Air has achieved double-digit passenger traffic growth every year of its existence. West Air was founded as a full-service airline in 2005 and flew for the first time in Jun-2007. In mid-2012 it started transitioning to the low-cost model.
West Air annual passenger growth: 2007-2013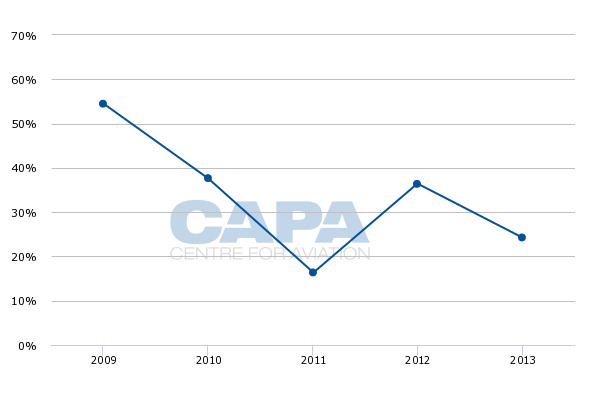 2014 growth should be higher than 2013, with traffic in the first nine months of 2014 up 35%. (In the first nine months of 2013, traffic was up 22% from 2012 levels.) Having carried 3.3 million passengers in the first nine months of 2014, West Air is on track to carry over four million passengers in a year for the first time.
West Air annual passengers carried: 2008-2013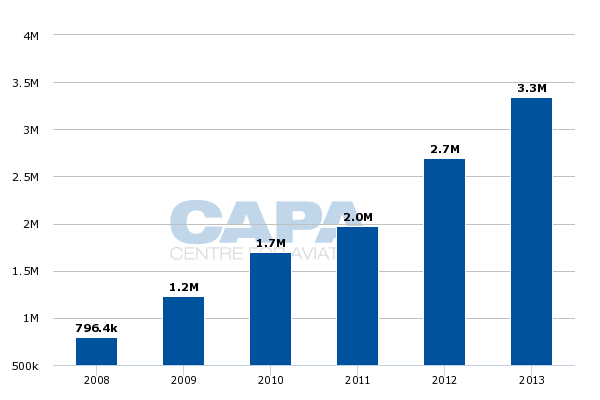 West Air monthly passengers carried: 2012-9M2014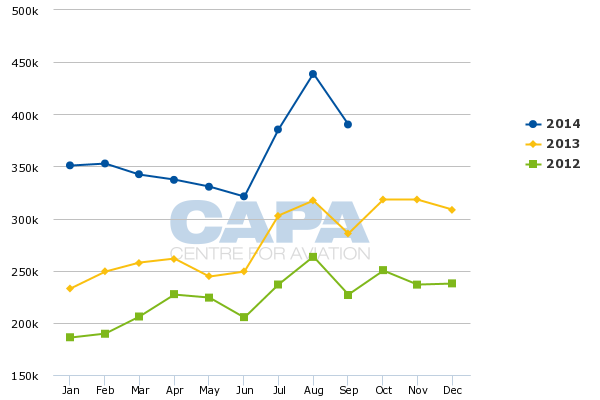 West Air plans for 16 aircraft fleet to grow to 40 aircraft in 3-5 years. Later: 100 aircraft
West Air operates 16 A320 family aircraft and its website says it intends to grow this to 40 aircraft in three to five years. Later at an unspecified time West Air intends to have 100 aircraft.
On fleet size alone, West Air is the 24th largest LCC in Asia (all areas). Looking only at Northeast Asia, West Air is sixth largest. Within China, West Air is the fourth-largest behind Spring Airlines, China United and Lucky Air.
See related report: China Eastern to transform China United Airlines into a LCC; first of China's Big 3 to have a LCC
West Air has transformed into an LCC in a difficult environment
HNA made a logical move to transform West Air into a LCC. West Air's base in western China is still growing economically. Incomes are lower, so the low-cost model is logical. West Air's transformation bears hallmarks of typical LCC characteristics. It has moved to a a single fleet type (although anything else would have been challenging even as a full-service airline given its small size), single-class configuration, cut commission for travel agents, grown direct sales (up from 10% in 2012 to 40% in 2014), and started charging for priority boarding (CNY25, USD4) as well as meals (CNY46, USD 7.50) and lounge access (CNY100, USD16).
West Air has not disclosed full accounts or its CASK but says its unit cost decreased 14% in 2013, the first year of its transformation to be a LCC. (These decreases however did follow notable increases.)
West Air unit cost change: 2011-2014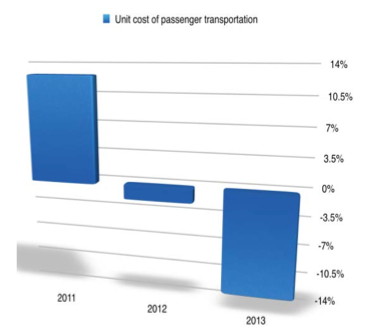 The regulatory environment is not conducive to LCC transformations. Fixed costs are still high with airports still adapting to LCCs; West Air's priority boarding for example is only available at some airports. Ancillaries are difficult to implement, one reason why West Air is perhaps a bit lacking in this area (news reports say 3% of revenue is from ancillaries), although it makes clear it wants to grow this channel.
More competitive environment may emerge with Chongqing Airlines also becoming an LCC
West Air's largest base by far is at Chongqing, where it is the fifth-largest carrier with an approximately 9% share of the domestic market. West Air however may face greater competition if Chongqing Airlines, as reported, also transitions to become a low-cost carrier.
Chongqing Airlines flies under parent China Southern's CZ code so its presence is accounted within China Southern on the graph below. Comparing West Air to Chongqing Airlines is difficult, but one metric we can judge them on is that West Air has 16 A320 family aircraft while Chongqing Airlines has 11.
Chongqing Jiangbei International Airport domestic seat capacity by carrier: 10-Nov-2014 to 16-Nov-2014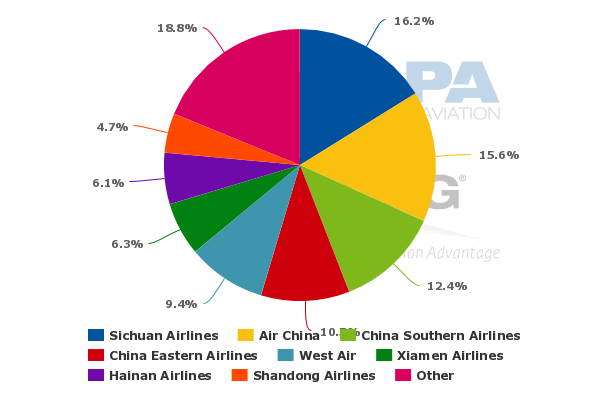 Chongqing has two other bases, at Sanya (on Hainan, a tropical island in China's south known for its warm weather and cleaner environment) and Zhengzhou (an industrial city looking to become an air hub, and which has resources available to try to achieve that).
Zhengzhou (CGO) is West Air's second-largest hub/base/focus city based on frequencies while Sanya, its other hub, is actually West Air's fifth largest. West Air is not among the nine largest carriers at either airport.
West Air top 10 hubs/bases/focus cities ranked on frequencies: 10-Nov-2014 to 16-Nov-2014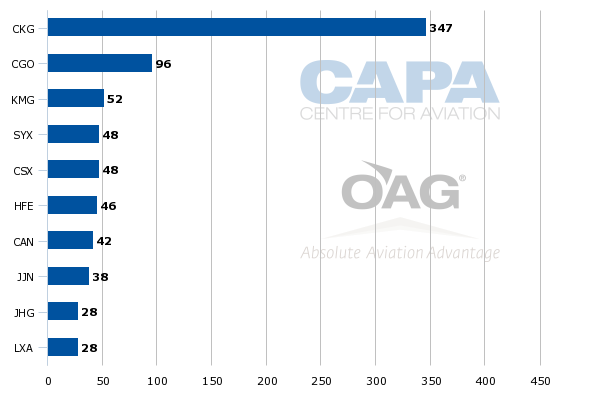 Load factors have increased while turnaround times have decreased
Since 2008 West Air's load factor has performed above the industry average. West Air says its load factor in the first four months of 2014 was 90%.
West Air load factor compared to China industry average: 2007-4M2014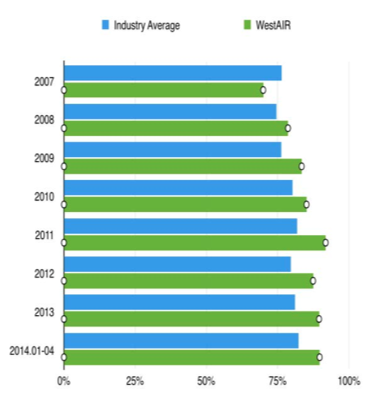 West Air's turnaround time of 33 minutes was better than half that of the industry average.
West Air turnaround time compared to China industry average: 2014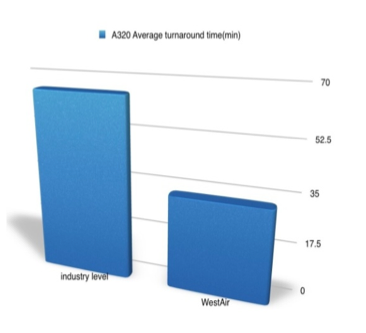 West Air uses early morning slots
West Air has looked to use early morning slots at its bases. While this helps increase aircraft utilisation (approximately 12 hours in 2014), West Air may be having to use these slots as others are unavailable and/or slots later in the day are impractical because of air traffic congestion.
West Air has four flights departing between 06:00 and 07:00, a quiet time at Chongqing (and indeed most Chinese airports).
West Air slots at Chongqing Jiangbei International Airport: 15-Nov-2014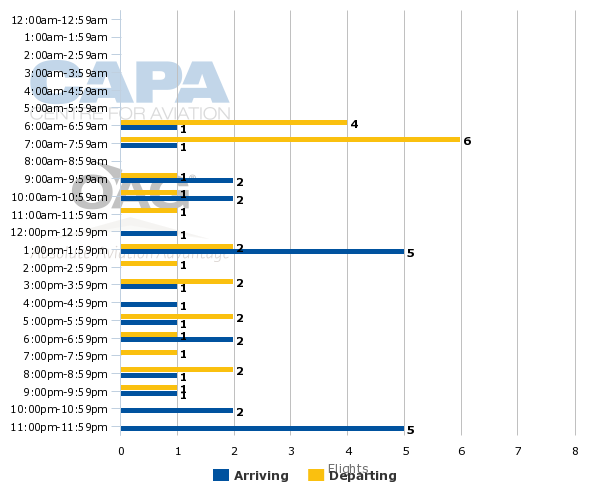 Chongqing Jiangbei International Airport movements by hours: 15-Nov-2014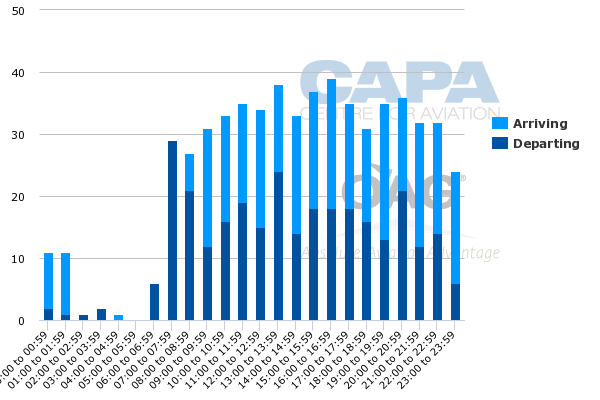 At Zhengzhou, West Air also has a bent towards early morning flights.
West Air slots at Zhengzhou Airport: 15-Nov-2014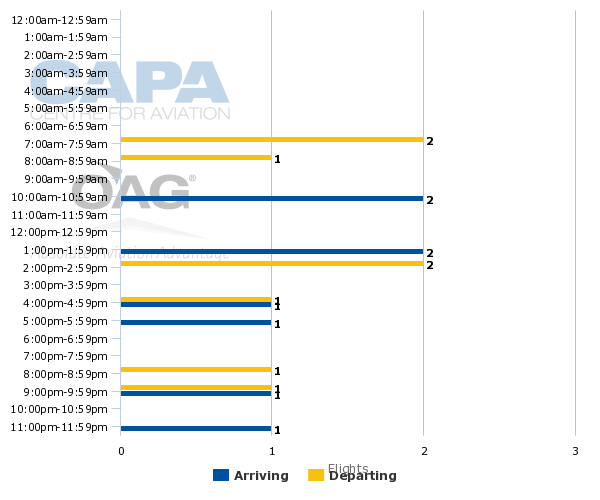 Only half of West Air's routes are served more than daily
West Air says it aims to connect its bases with secondary cities; nearly two-thirds of its flights are to non-capital cities.
West Air share of flights to non-capital cities: 2011-2014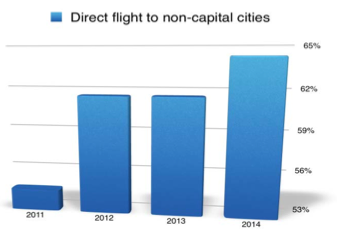 Focusing on secondary cities has many valid reasons: competition with high-speed rail to secondary points is lower, slots are more plentiful and subsidies can be greater on thinner routes. Routes from China's west can be lower-yielding, and those to secondary points even lower-yielding. As a non-state-owned airline, West Air may also face difficulties securing approval for prime routes.
In some instances this could be due to favouritism shown towards state-owned carriers. In other instances it could be because West Air does not operate large aircraft. Some route permissions have been known to be granted on the condition a large aircraft is used. Just under half of West Air's routes see daily service or more.
West Air routes served by frequency/week: 10-Nov-2014 to 16-Nov-2014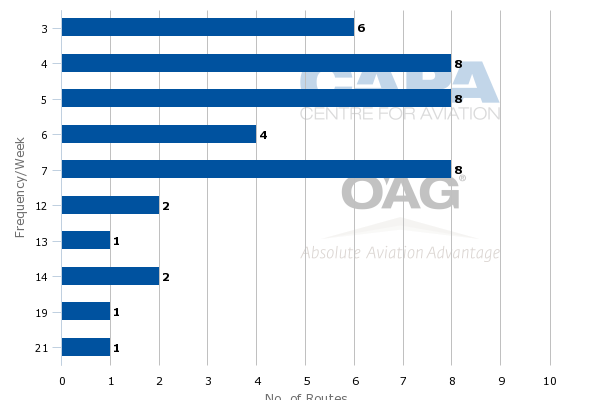 West Air is part of HNA's group segmentation strategy. More growth will come with regulatory permission
Many airlines in Europe and Asia are embarking on dual-brand strategies that comprise a full-service airline with a low-cost airline. For China's expansive HNA Group that has multiple airlines, the strategy is not simply multi-brand but multi-type.
HNA aims to have full-service airlines (such as Hainan Airlines), low-cost (West Air) and regional (Tianjin Airlines). West Air and sister LCC HK Express lead the charge for LCC development at HNA. HNA may lack the advantages that government favouritism delivers, but it can make up for that with agility.
HK Express has had a bolder and more thorough transformation to the low-cost platform, but its operating environment in Hong Kong is more conducive to that. West Air is already a positive example within the HNA Group. HNA's LCC portfolio will undoubtedly expand in depth and quality, supported by further regulatory loosening.