CAPA Global Aviation Industry Outlook 2013 - Pursuing certainty in an uncertain world - Part 2
Analysis
New partnerships, global alliances and cross-border ownership are changing traffic Flows – and hubs. This global shift was dealt with in some detail in the Feb-Mar 2013 edition of Airline Leader ("A seismic upheaval opens the way for next-generation alliances"). The impact of the Emirates, Qatar and Etihad agreements in Sep/Oct-2012 have irreversibly altered the evolution of the world industry.
Branded global alliances – Star, SkyTeam, oneworld – remain important, but the evolutionary direction has shifted towards alliances becoming much more pragmatic. This not only affects the airline industry, but goes also to the efficacy of airports and even national economies. Airport hubs will be dictated by these trends, shifting away from the traditional gateway transfer points to Gulf airports and, progressively to markets like China.
This is Part 2 of two parts: CAPA's Global Aviation Industry Outlook 2013, extracted from CAPA's Airline Leader, Issue 17, Apr/May 2013, to be released online shortly.
An industry-first, a 1,000-page report, "CAPA's Global Aviation Industry Yearbook 2013" will shortly be issued for free download to the aviation industry.
To ensure you receive a copy of this uniquely comprehensive report, please watch this site like a hawk.
As these changes are digested and their repercussions spread in 2013, the global map will look increasingly different, especially as new radial alliances take on more entrenched status, delivering enhanced profitability.
In this evolution, on current trends US airlines look very likely to be sidelined, raising questions, for one thing, on their likely value as international partners in the global alliances – beyond providing access to the protected US domestic market.
Boeing's long term forecasts, which have a habit of being remarkably reliable, have Asia-Pacific, Europe, and the Middle East regions accounting for more than 90% of widebody, long-haul aircraft demand in the 20-year forecast to 2031. Of the total, an astonishing 65% of aircraft will head to the Middle East and Asia alone. (Boeing Current Market Outlook 2012)
A snapshot of the future: Where tomorrow's aircraft are going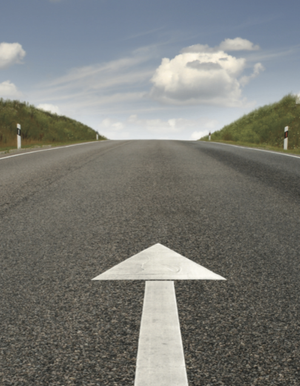 The countries whose airlines industries are growing faster – and the ones that are buying aircraft for the long-haul international markets. The graphs on these two pages illustrate broadly the direction of various national industries in the next two years and beyond.
It can be no more than a general direction, as orders change, especially beyond 2014 and because a third of all aircraft operated by airlines are through lessors, where these data address only direct manufacturer orders and delivery dates.
Certain features emerge clearly in focus however:
• The new aviation countries are expanding exponentially faster than the established world, whose orders often suggest little more than replacement; the US for example has a very elderly fleet, which is increasingly sensitive both to fuel costs and growing environmental pressures;
• Despite the more competitive territory on short-haul markets, European and North American airlines are buying predominantly single aisle aircraft; long-haul aircraft are mostly the domain of the Gulf carriers; and
• The surge in growth of the Asian short-haul low-cost airline market could not be more apparent
Unites States: Current fleet: 7426; Orders: 1868
Projected delivery dates for aircraft on order
UAE: Current fleet: 387; Orders: 331
Projected delivery dates for aircraft on order
Germany: Current fleet: 704; Orders: 256
Projected delivery dates for aircraft on order
Indonesia: Current fleet: 497; Orders: 742
Projected delivery dates for aircraft on order
China: Current fleet: 236; Orders: 446
Projected delivery dates for aircraft on order
Russian federation: Current fleet: 1,134; Orders: 243
Projected delivery dates for aircraft on order
Brazil: Current national fleet: 528; Orders: 266
Projected delivery dates for aircraft on order
Turkey: Current fleet: 368; Orders: 230
Projected delivery dates for aircraft on order
India: Current fleet: 383; Orders: 475
Projected delivery dates for aircraft on order
Asia rising: The contrast between the old world markets and Asia could scarcely be more stark

The rising middle classes of countries across the Asian region are creating demand levels that influence policy changes, hastening liberalisation and encouraging new airlines to order aircraft – a potentially self-fulfilling cycle.
In particular China's impact on world aviation simply has no precedent. Consequently, forecasting growth levels and their patterns is near impossible.
Predicting the specifics of an avalanche is beyond most means, other than to recognise that it will be bigger than anything that has preceded it.
Some potential hotspots may be guessed at, for example where there has been only limited growth to date. And, with a centrally controlled aviation policy that can influence airline behaviour, further hints may be inferred.
For example, encouragement from Beijing to go international has shaped management thinking of the larger airlines. The country's aviation leaders are well aware that fundamental changes are occurring in the global market and of the dangers of not taking part in reshaping the industry, outside as well as domestically.
This go-international edict is also consistent with the national trade priorities of securing resources for the long term, in Africa and elsewhere.
The result: to add international capacity, but also, where economic realities have restricted expansion options, to work more at enhancing partnerships with foreign airlines. This is not an area where Chinese carriers have been active, other than in a largely superficial way; they are frequently described by would-be American and European partners as difficult to work with. But the partnering direction is becoming more pressing, if only because, in the new world order, many airlines are seeking close bilateral links with one or other of the Chinese airlines.
Now though, even equity acquisitions in foreign airlines are very much on the radar, albeit led by the independent Hainan Group, rather than Beijing's chosen three, Air China, China Eastern and China Southern.
To date, the great bulk of Chinese international seats are understandably dedicated to Northeast Asian near neighbours and elsewhere in Asia. Europe and North America account for paltry single figure percentages. These will only increase, perhaps quickly; meanwhile resource rich Africa, where China is one of the world's three largest investors, is also firmly a destination for expansion.
There is another facet to China's industry maturing: the sheer volume of Chinese travellers means that China can become the most powerful transit country in the region – and probably the world. With the added advantage of high levels of end-to-end traffic flows, the sixth freedom opportunities mean Chinese airlines will be able to price very competitively on their transfer routes.
China International capacity seats by region
Aviation and the environment in 2013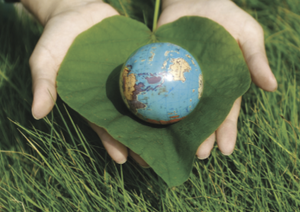 The environment was relegated to the back burner in late 2012 as the European Commission predictably (in retrospect) delayed implementation of its punishing threats included in its extra-territorial environmental tax and as economic pressures diverted attention.
But the issue is scheduled to recapture the headlines later this year as ICAO recommences its search for a multilateral compromise at the 38th triennial Assembly of ICAO in Sep/Oct-2013.
ICAO's wide democracy is unlikely to deliver a solution sufficiently strict and far-reaching to please the Brussels hierarchy. So some sort of collision appears inevitable, again; but lessons will hopefully have been learned on all sides, sufficient to avoid a repeat of the past highly damaging confrontation.
Meanwhile, high fuel prices have achieved what governments could not. The discipline imposed by US100 oil has forced airlines to (i) use more fuel efficient and younger aircraft and (ii) restrain capacity growth and increase load factors.
These measures – largely unrecognised by Brussels – have been far more effective in reducing emissions than any carelessly and unilaterally imposed tax was ever likely to have.
The Battle for control of product distribution has continued unabated in 2012 and will continue to occupy the "background" headlines in 2013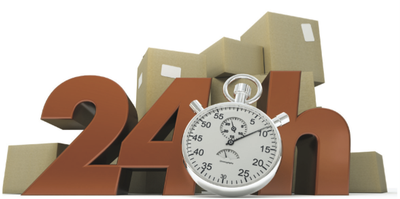 There are other issues in this always complex and many layered industry. IATA's controversial entry to the distribution scene with its New Distribution Capability, while more constructive than the organisation's previous attacks on the GDS, is meeting stiff headwinds, as any new initiative is sure to have where vested interests abound. Whether it is a Trojan horse, or simply a sheep in wolf's clothing, existing distributors are cautious-to-staunchly opposed, while corporate account managers and OTAs have been anything but equivocal in their opposition.
All the while new forces are gathering strength in the information, Big Data, travel and associated areas; these new entities are much more tech savvy than the airlines and seem destined to collide with the existing system at some time in the next five years.
As low-cost airlines exploited the internet to reshape the online sales model, so the new data-hungry entities will explore new opportunities. The combatants are not clearly defined at this stage, but there is sufficient interest in aggregating information from the top 10% of the world's economy who can afford to travel that it is not a matter of whether, but of how and when.
Just as inflight Wi-Fi opens new and mostly unexplored avenues for new sales models, airports too should be watching warily as retail opportunities emerge – or threaten the status quo.
The Aircraft financing disconnect and the vital role of lessors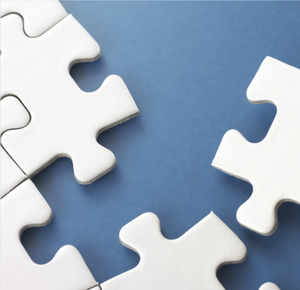 A growing part of an airline's financial risk management strategy is assessing its best profile of leased to owned aircraft. Gone are the days when owning long term valuable assets was a serious airline business play. The need to preserve balance sheet appearance is part of this, but also the highly effective role of leasing companies, with attractive lease and tax propositions has provoked major shifts in ownership strategies in the past decade. For example, over half of all A320s are owned by leasing companies.
For many years the major aircraft manufacturers sought to limit sales "leakage" through leasing companies, with their buying power and their ability to intervene between the manufacturer and the end client. But the realities of financial markets and a host of new airlines has refashioned the marketplace.
Another feature now appears. When a change in the world order occurs it is hardly reasonable to expect that everything will adjust in sync to the new situation.
As the old world's economies stagnate, and traditional bankers pull down the shutters and slowly migrate their attention to Asia, a considerable disconnect is created in the area of aircraft financing.
It will be rectified, but meanwhile there is a divide between the demand for funding and the reality of current needs. The maladjustment has several layers.
Simultaneously with the downturn in global economies and the consequent nervousness of debt funders, this once in history shift in the balance of aviation powers inevitably creates a gap in the supply chain. The confluence of these events has been entirely coincidental, but that does little to help the airlines caught in the middle.
The majority of airlines now buying aircraft and needing the funding are Asian, not American or European. Lenders were beginning to get used to that a decade ago. But the traditional banking roots are Euro-American and they are familiar with the long-established airlines, the flag carriers.
Now however, like other markets, it is not the recognised airlines that are expanding. It is the new names. And, in Asia and the Middle East they are ordering unprecedented quantities of new aircraft.
For increasingly cautious credit committees buried in the vaults of venerable London and New York banks, names like Tiger, Lion, IndiGo, even AirAsia, have little history. The oldest of them is less than 10 years of age. They may have a future, and almost certainly do, but they do not have a history to compare with the numerous 50+ year-old flag carriers that dot the region. Yet just this handful has 1,100 aircraft on order. Some 500 of them are for delivery in the next two years alone.
These new airlines are certainly not household names outside the region and, so long as the current underlying credit cautiousness continues, the disconnect between demand and supply is inevitable – one reason aircraft lessors have become more active in these transactions. But lessors too have to fund their acquisitions; they can rely to some extent on their own credit ratings, but increased use of non-traditional sources will be vital.
In short, until a substantial lending capability is developed in Asia itself, there may be constraints on funding sources for the new growth.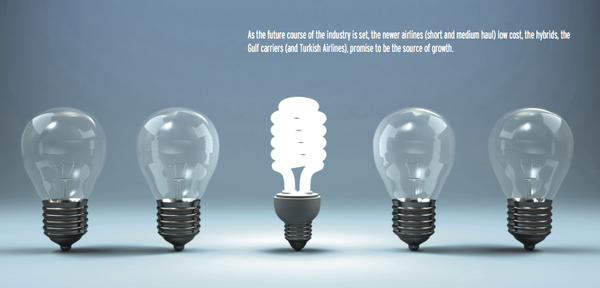 Living with uncertainty. It is not only the aviation industry that is affected by economic and social uncertainty. But aviation is the handmaiden of those forces; and what is bad for the master is typically worse for the servant.
Older airlines are adapting to this new world as best they can, assuming cautious profiles that reduce risk, shaving costs and capacity, accumulating cash as far as possible. Having pulled most of the strategy levers, the more successful have prepared themselves reasonably well for the short term.
But for the medium to long term, the outlook becomes different. As the future course of the industry is set, the newer airlines (short and medium-haul), low-cost, the hybrids, the Gulf carriers (and Turkish Airlines), promise to be the source of growth.
The longer established airlines will not readily allow a process where they decline steadily, but there may be little they can do to arrest a process that is already advancing fast. One option, as regulatory controls loosen, is to forge mergers and entrench their roles through acquisition.
Meanwhile though, the very strategies employed to secure airlines' short term survival may be those that stifle the future. There is a whole new breed of airline thrusting remorselessly to the front of the queue.