California expansion by Alaska and Southwest reflects healthy competition in a dynamic market
Analysis
In the mature US aviation market expansion opportunities tend to centre on airlines playing to their strengths, connecting the dots in their respective networks to maximise geographical value. That is the path Southwest Airlines is adopting with its recent expansion in California, adding service from airports where it has a commanding presence into markets where it is equally strong.

Of course, Southwest's expansion from California is occurring as Alaska Airlines leverages its newfound strength in the state after acquiring Virgin America. The message the new routes send is not subtle – Southwest has no intention of allowing its strength in California to wane.

However, the competitive overlap with Alaska on Southwest's new flights to the Californian cities of San Jose and Sacramento is minimal, and the push appears to be an offensive move by Southwest to fill in network holes and capitalise on the stable economy of Northern California.
Buoyed by a strong economy, San Jose enjoys robust passenger growth
With the rollout of the latest schedule changes for 2018, in particular Southwest is making a push from San Jose in Northern California, home to the Silicon Valley technology hub located 89km from San Francisco and 65km from Oakland.

Although job growth in Silicon Valley slowed in 2016, according to the news outlet The Mercury News, average annual earnings per capita continue to grow, having reached a high of USD125,580.

During May-2017 San Jose reached a milestone when one million passengers travelled through the airport during the month – a 17% increase year-on-year. The airport posted 10.8% passenger growth in 2016, to 10.8 million. San Jose's passenger growth in 1H2017 was 13.5%.
San José Mineta International annual passenger numbers from 2012 through 1H2017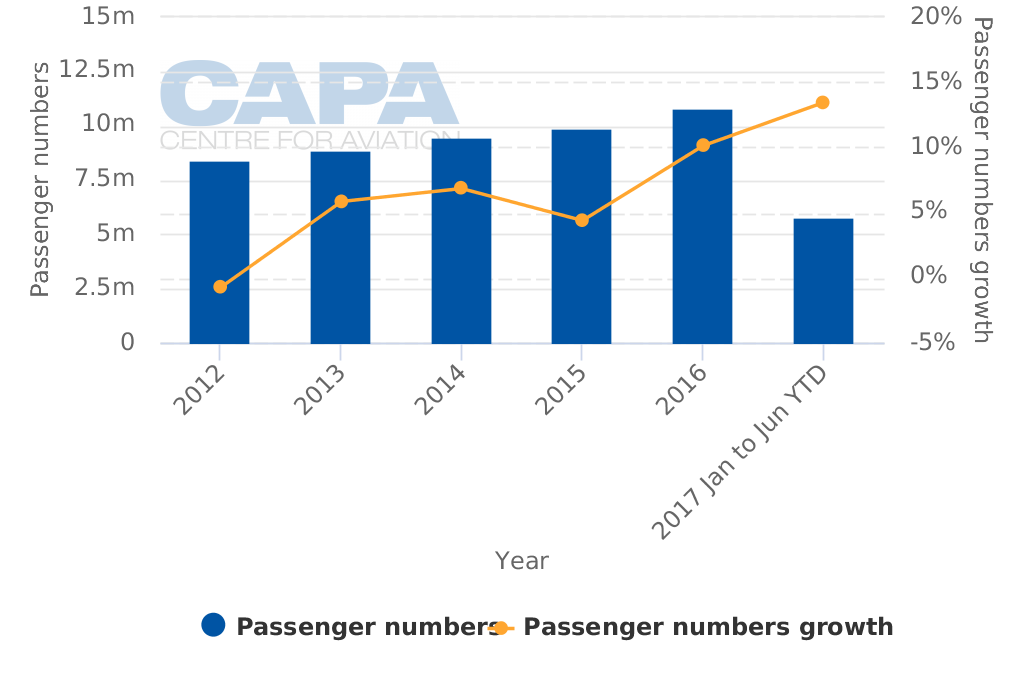 The airport has drawn a mix of new international and domestic service during the past year, including new flights from Guadalajara operated by Aeromexico, Lufthansa's new service from Frankfurt, British Airways' service to London Heathrow, Air China's flights from Shanghai, and Air Canada's new service from Vancouver.
Alaska expands from San Jose to bolster its relevance in California
New domestic service added at San Jose during the past year has included Southwest flights to BWI, Salt Lake City and Reno, United flights to Chicago O'Hare and Newark, and JetBlue's service to Long Beach.
Alaska has also made a push from San Jose, adding flights to Austin, Burbank, Los Angeles (beginning in mid-Sep-2017), Newark and San Diego. It plans to launch flights to Dallas Love Field in 2018. Alaska gained access to Love Field through its purchase of Virgin America, the second largest airline presence at San Francisco International airport.

Alaska is competing with Southwest on nearly every new route it is adding from San Jose.
Although the airport's proximity to the larger airports of Oakland and San Francisco would (in theory) preclude airlines from building a presence at San Jose, the reality is that the economy of San Jose is too robust to ignore, and traffic to either one of those larger airports becomes heavy. Those dynamics, among others, make San Jose its own distinct market.

Alaska's build up in San Jose is notable, given its prime reason for acquiring Virgin America was an ability to grow instantaneously in San Francisco and Los Angeles (Virgin America's two largest bases). Those airports are now the combined airline's third and fourth largest bases, respectively. Indeed, five of the group's top bases are California airports, reflecting the role the state will play in Alaska's network in the future.
Alaska Air Group system top ten hubs/bases/stations by seats for the week of 28-Aug-2017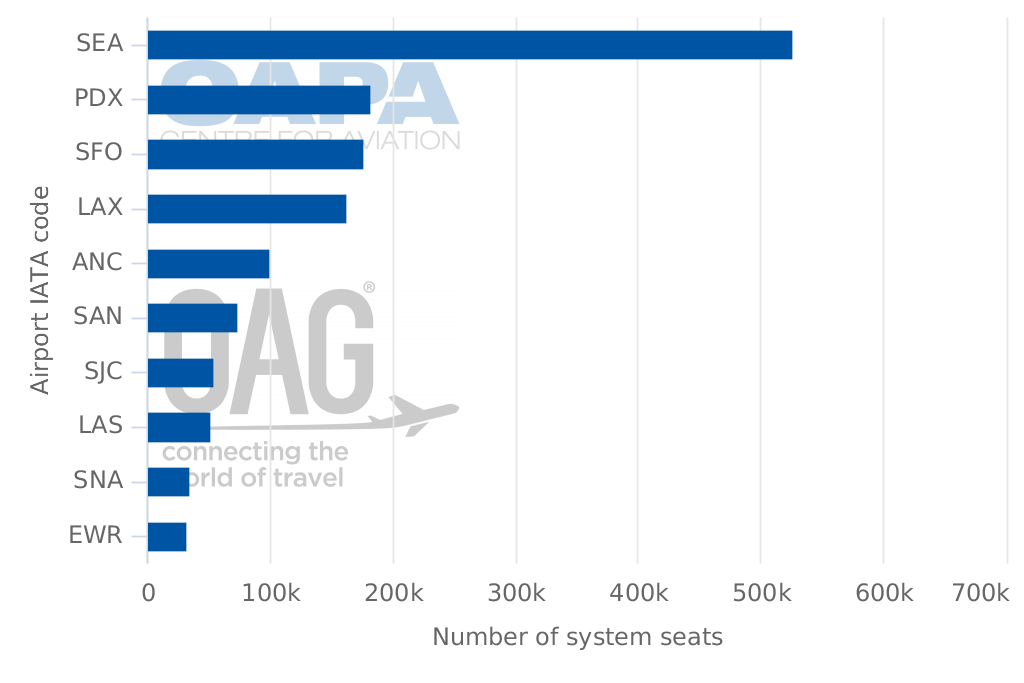 Previously, Alaska has modelled that its relevance on the US west coast would reach 47% in 2017, and it defines relevance as the percentage of North American O&D passengers in markets that each airline serves with nonstop service.
Alaska Air Group measured relevance on the US West Coast: 2017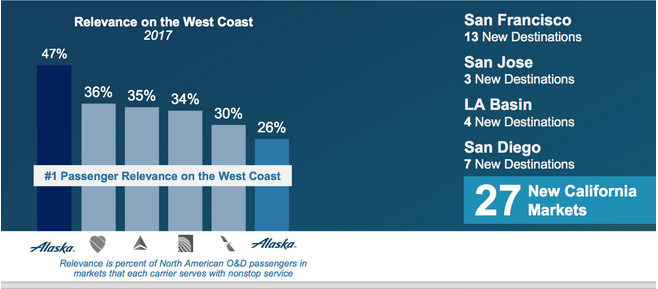 See related report: Alaska Air Group ups merger synergy targets as the margins for 2017 compress
Southwest boasts its own significant relevance in California
Southwest is more than twice the size of Alaska based on fleet size alone, and held an 18.4% market share in the domestic US for the 11 months ending May-2017 – second behind American's 18.7% leading share.

By sheer numbers, Southwest's network is denser than Alaska's, but California is also a strategic region for the larger airline. It has a 68.5% seat share at Oakland International, the second largest airport serving the Bay Area, and holds a 12% share in the highly fragmented Los Angeles market, where no one airline has a seat share of more than 20%.

Southwest also serves Southern California from Orange County, where it holds a 39.7% commanding seat share, and from Burbank, with a seat share of 74.6%.
The airline launched flights from Long Beach (38km from Los Angeles) during 2016, and currently operates services to Denver, Las Vegas, Oakland and Sacramento. At Ontario, Southwest holds a 57.6% seat share. The airline is also the largest operator at San Diego, with a 38.9% seat share. (All calculations are based on data from CAPA and OAG for the week of 28-Aug-2017).

In addition to serving Northern California through Oakland, Southwest offers flights to numerous destinations from San Francisco – Burbank, Chicago Midway, Dallas Love Field, Denver, Orange County, Las Vegas, Los Angeles, Milwaukee, Phoenix, Portland and San Diego.
Southwest plays to its natural strength with the latest moves in California
Southwest's seat share at San Jose is 46.5%, and given the region's economic strength, as well as Alaska's general build up in California, it makes sense for Southwest to grow from the airport.
San Jose Mineta International capacity by airline (% of seats) for the week of 28-Aug-2017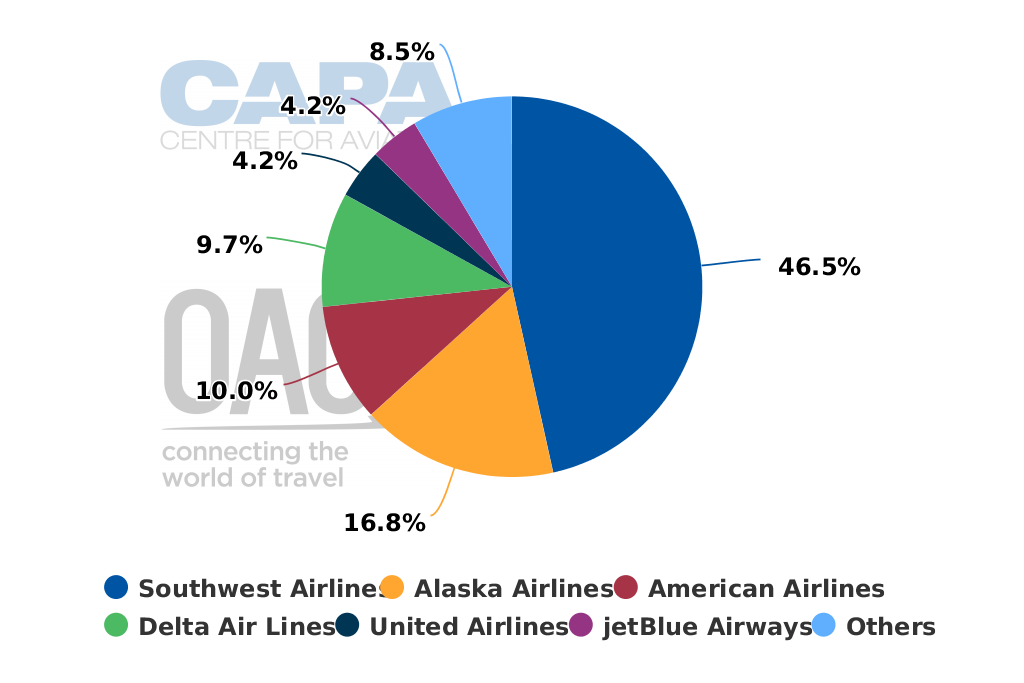 The service pattern for the new flights shows that Southwest is playing to its strengths: in all the new markets Southwest is serving daily from San Jose it is the leading airline measured by seat share, with the exception of Spokane, Washington.
It is also the leading airline in New Orleans and Albuquerque, two airports it plans to serve weekly from San Jose. Southwest is also operating Saturday only flights to Los Cabos from San Jose in 2018.
Southwest's seat share and rank on routes it is adding from San Jose in 2018
From Sacramento, where it holds a 53.6% seat share, Southwest's planned new service for 2018 includes Austin, Los Cabos, St Louis, Orlando and New Orleans (one weekly flight).
Sacramento International capacity by airline (% of seats) for the week of 28-Aug-2017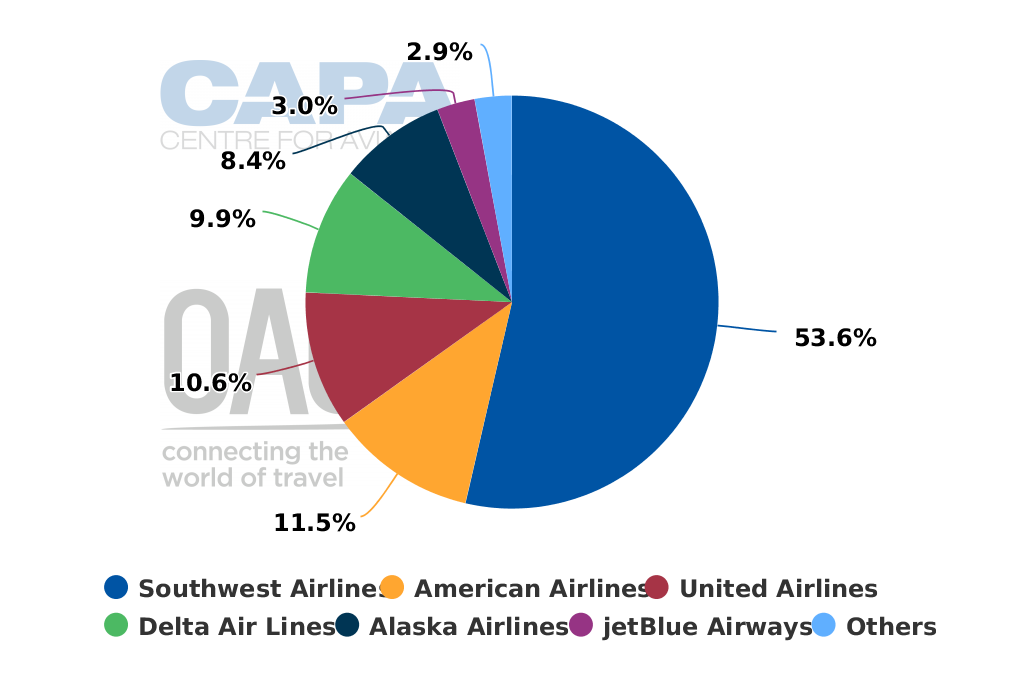 Southwest is only competing with Alaska on service from San Jose to Boise. United also serves its Houston Intercontinental hub from San Jose. From Sacramento, Southwest is adding weekly flights to Los Cabos and New Orleans and daily service to Austin, St Louis, and Orlando.

The moves by Southwest in San Jose and Sacramento reflect its aim to add depth to its already extensive US domestic network, connecting smaller markets in California to mostly medium sized markets.

Alaska's latest route additions from San Jose underpin the company's efforts to grow its relevance in California, after the acquisition of Virgin America instantly allowed it to attain a 22% seat share on the US West Coast, of which California is the largest market.

Southwest's planned expansion from San Jose and Sacramento during 2018 is a natural evolution as the region's economy remains robust and market dynamics change, with a larger Alaska prepared to inject new competition. Alaska is fulfilling is goal through its purchase of Virgin America to become a viable, long term competitor both in California and in the broader US market.
Californian expansion by Alaska and Southwest represents consolidation's upside
Inevitably there are negatives when an airline is removed from competition. But the goal of most forms of oversight are that countervailing benefits outweigh those disadvantages. In the case of the Alaska-Virgin American combination, this equation seems to be fulfilled.
Alaska's new found relevance in California after its acquisition of Virgin America arguably is a positive development of that particular tie-up, resulting in other airlines examining their respective networks in order to maintain a level of superiority.

Southwest is leveraging its heft in the US domestic market place to maintain and grow its leading position in San Jose and Sacramento; this is a natural and positive byproduct of changing business dynamics in one of the US' most important geographies.
The expansion by both airlines adds credence to the logic that a larger Alaska/Virgin America benefits consumers by expanding choices, rather than shrinking options.