Alaska Air Group ups merger synergy targets as the margins for 2017 compress
Alaska Air Group has revised projected synergies from its merger with Virgin America upwards in both costs and revenue as it leverages the power of a larger network with a broader footprint in California, and uses the combined fleet to maximise profitability on transcontinental routes by placing higher gauge aircraft in those markets.

The existing Airbus narrowbodies operated by Virgin America will remain in the combined airline's fleet for the foreseeable future. As a result, those aircraft are being reconfigured to offer standard interiors, including Alaska's first class seat.
Similarly to Virgin America prior to the merger, Alaska has decided that a lie flat seat offering does not fit into its strategy in the contested US transcontinental market. In fact, choosing not to develop a lie flat product could put Alaska in a more favourable position when an (inevitable) economic down cycle occurs.

Despite the more favourable synergy estimates, Alaska will face some margin pressure due to Virgin America's overall lower margin business. However, even though its margins are likely to drop in 2017, Alaska is stressing that its pretax margin performance will best the industry average.
Alaska rapidly ups its relevance in California after closing Virgin America deal
Alaska recently raised its projected revenue synergies from the Virgin America merger from USD175 million to USD240 million. The increase is driven by seven different categories – network presence, network growth, fleet deployment, alliance portfolio, aircraft retrofit, loyalty and cargo.

The power of the combined network and the focus on California play a major role in the projected increase from synergies. One of the major reasons Alaska pursued Virgin America was to grow its presence in the strategic markets of San Francisco and Los Angeles, which are now the combined airline's third and fourth largest bases measured by frequency deployment.
Alaska Air Group global top 10 hubs/bases/stations by frequency (to/from): 10-Apr-2017 to 16-Apr-2017
'Relevance' is defined as an ability for a passenger to travel nonstop from an originating point to any market in North America.
Alaska recently outlined its network strategy for California to investors. The company uses its relevance in the Pacific Northwest – Alaska, Oregon and Washington – as a blueprint for its network management in California. Combined, Alaska and Virgin America achieve 69% relevance in the Pacific Northwest. Relevance is defined as an ability for a passenger to travel nonstop from an originating point to any market in North America.

The company's combined relevance on the US West Coast is now 47%, since Alaska has added a raft of new routes after the close of the merger.
Alaska Air Group measured relevance on the US West Coast: 2017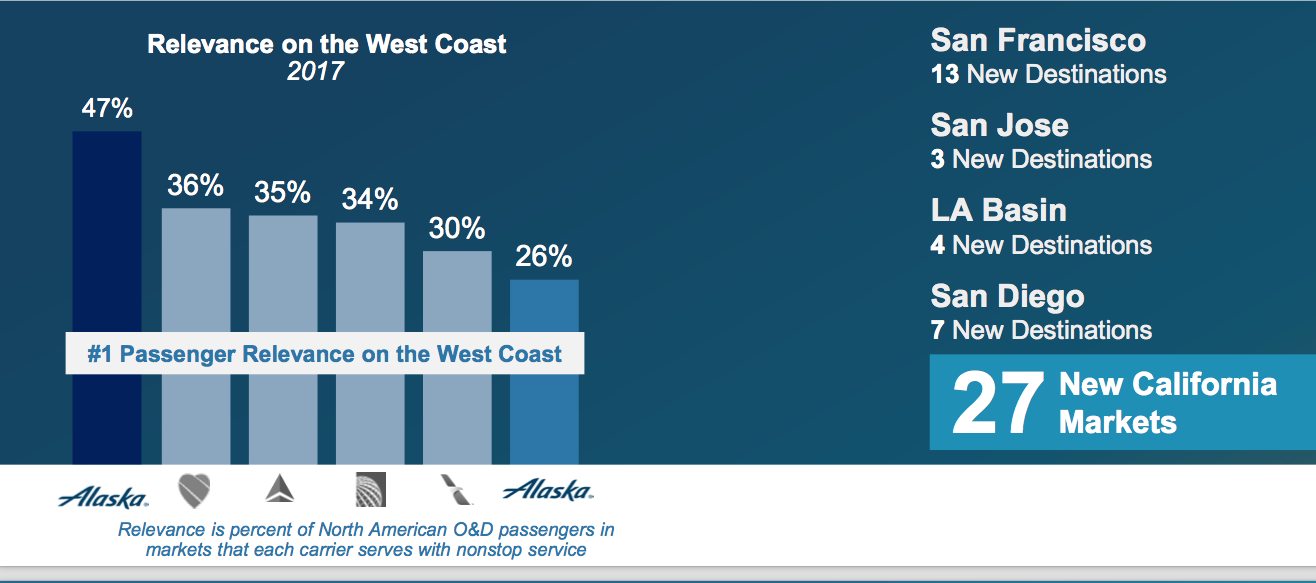 Alaska has outlined plans to launch 13 new routes from San Francisco, three from San Jose, four new routes from the LA basin and seven from San Diego for a total of 27 new markets from California. With the new route additions, Alaska has concluded that is customer relevance in San Francisco will reach 70%, compared with 59% in 2016.
Alaska Air Group measured relevance in San Francisco: pre merger to 2017
Alaska uses combined network power: quickly builds up its breadth from California
Through the combined network, Alaska's strategy is that Seattle to Los Angeles, Seattle to San Francisco and Portland to San Francisco become powerful drivers of connectivity, generating solid revenue.

Alaska executives offered Kansas City as an example of the network breadth the combined airline could take advantage of. Service from San Francisco to Kansas City would not be a logical choice for Virgin America, given that the market may not be large enough for a mainline narrowbody aircraft. But it is an existing station in the Alaska network that can be opened with little incremental cost using a smaller aircraft – the Embraer 175. The route is an example of combining the network, adding more nonstop service to generate revenue.

See related report: Virgin America acquisition gives Alaska the arsenal to up the stakes against United in SFO

The 27 new markets Alaska has announced since closing the acquisition of Virgin America allow the combined airline to connect network dots and build relevance at low station costs.

Alaska is competing with United on most of the new routes from San Francisco, as well as other airlines in some other specific markets, including Delta and American. Although Alaska acknowledges the routes are competitive, fares in those markets are not necessarily low. Alaska has calculated that its average fare of USD160, and Virgin America's average USD161 fare, for the 12M ending 3Q2016 (based on an average stage length of 1,845km) are 20% lower than those of legacy airlines, and in line with other low cost airlines.
Aircraft interior changes help drive expanded revenue synergies for Alaska
Alaska has opted to retain Virgin America's existing Airbus narrowbodies that have lease expirations ranging from 2019 to 2025. It has slowed deliveries of ten A321neos scheduled for delivery during the next two years, and expects to make a decision on the remaining A320neos on order by YE2017.
Alaska Air Group fleet summary as of 13-Apr-2017
The company plans to expand premium seating on Virgin America's existing A320 fleet, which it anticipates should increase revenue by USD40 million and lower unit cost due to higher density.

Alaska is adding a net of seven seats to Virgin America's A319s – four in first class and six in premium class, with a three seat reduction in the main cabin. On the A320s, six seats are being removed from the main cabin, while four additional seats are joining first class and six are being added to premium class. The premium class is the extended legroom product offered by Alaska.

First class pitch is being standardised at 41in (104cm) across the fleet, versus 55in (140cm) pitch in Virgin America's current first class cabin. Perhaps unsurprisingly, after evaluating the possibility of offering lie flat seats Alaska decided not to anchor its first class product to a lie flat seat.

Executives have explained that the company "went through a lot of pain" twelve years ago to get its cost base to a point where it could compete with low fares.
Opting for a lie flat seat would reduce aircraft density, and one of Alaska's transcontinental flights is an overnight service. Another element that drove the decision was Alaska's assessment that its first and premium class offerings do not pose as much risk in an economic downturn, compared with a higher priced lie flat, premium offering.

Alaska is also working to maximise the efficiency of the combined fleet, opting to deploy higher density 178-seat Boeing 737-900ERs on transcontinental flights and place 146- to 149-seat A320s on north-south West Coast routes. The changes allow Alaska/Virgin America to increase revenue in high demand markets and sustain revenue on the north-south West Coast routes.
Alaska braces for lower margins, but stresses its continued outperformance
Alaska now believes it will attain USD300 million in run rate annual synergies from the Virgin America merger by 2021. It is an increase from original estimates of USD225 million, fuelled by a USD75 million rise in revenue synergies and an increase of USD10 million in cost synergies.

But in the short term Alaska's margins will drop, given that Virgin America produces a lower pretax margin than stand alone Alaska. However, if the USD300 million in synergies are layered in, Alaska's pretax margins would be among the best in the industry. And the airline stresses that although its 2017 pretax margins will be lower, its performance will rank among the best of the US industry.
Alaska Air Group stand alone and combined pretax margins vs the industry: 2016

Most US airlines will face margin pressure in 2017 as labour cost increases create pressure for most of those companies.
The market consensus is that Alaska's pretax margin will fall from 22% to 19% in 2017, which is higher than the 16% for low cost airlines excluding Alaska, and the 10% for legacy airlines. But Alaska could continue to face margin pressure during the integration while it works to achieve its targeted merger synergies.
Alaska's margins could get scrutinised as its network blitz continues
Alaska Air Group is moving quickly to capitalise on the network opportunities that drove its pursuit of Virgin America, at the same time as the company moves forward with other complex integration tasks that will take some time, including achieving a single operating certificate.

Alaska remains in the early stages of its merger integration, but it is moving to emphasise the opportunities inherent in its tie up with Virgin America, including expanding estimates for synergies. The realisation of those synergies in 2021 is somewhat off in the distance, and in the short term markets could be gearing up to monitor Alaska's margin performance closely as the company advances its network goals.