Bohai Leasing signs definitive agreement to acquire Avolon at an enterprise value of USD7.6 billion
Analysis
HNA Group unit, Bohai Leasing has taken another step towards becoming a major global aircraft lessor, with the Chinese company signing a definitive merger agreement with Avolon earlier in Sep-2015.
The deal prices the publicly listed Irish lessor at USD31 per share, representing a purchase price of about USD2.6 billion. The transaction has a total enterprise value of approximately USD7.6 billion.
Bohai agreed to a modest discount to the USD32 per share commitment the parties announced when they entered an exclusive negotiating agreement in early Aug-2015. The price cut, totalling about USD82 million, is due to "significant volatility across global equity markets", which have particularly affected markets in China. A formal agreement is due to be signed in 1Q2016.
The deal remains subject to customary regulatory approvals, although shareholders from both parties have already expressed their intention to approve the deal.
The private-equity owners of Avolon - CVC Capital, Cinven, Oak Hill Capital, GIC and their syndicate investors – have committed to vote in favour of the agreement at the upcoming shareholders meeting on the transaction. HNA Group, the majority owner of Bohai Leasing, has also announced it will vote in favour of the transaction.
The takeover is not subject to any conditions related to financing or Chinese capital control approvals.

When the deal concluded, it will be the biggest Chinese acquisition in the aircraft leasing market in a decade. It will also end a run of unsuccessful attempts by Chinese investors to buy into major western lessors.
In 2012, an ambitious attempt by a private Chinese consortium to acquire ILFC for USD4.8 billion failed to come to fruition. A 51% bid for Avolon by AVIC Capital and its parent China Investment Corp - the Chinese sovereign wealth fund – made in 2014 also fell apart, when the parties could not come to terms. Avolon then went ahead with its IPO at USD20 per share in Dec-2014.
Unwelcome competition forced Bohai Leasing to go all in for Avolon
Bohai's original plan concerning Avolon was limited in scope. In Jun-2015, the Chinese company made a bid to acquire a 20% stake in Avolon. At a price of USD26 per share, the bid was worth USD429 million, valuing Avolon at about USD2.1 billion.
The deal looked to be a win-win. It would allow Bohai rapidly to expand its exposure to the global aircraft leasing sector, while Avoion would gain better access to the fast growing Chinese market.
The deal had the unanimous support of both boards. However, as Bohai commenced its cash tender offer at the end of Jul-2015, a wrinkle emerged. Avolon received an all-in offer from an unidentified third party for a 100% stake at USD30 per share, valuing the company at around USD2.5 billion. The unsolicited bid was reportedly made by AVIC International, a unit of one of the many Chinese lessors backed by state-owned financial institutions.
This competing bid forced Bohai to respond with its own 100% bid, priced at USD31 per share. As the parties entered a one-month exclusive negotiating period, it then upped the bid to USD32 per share, pushing the deal price to over USD2.6 billion.
To ensure the agreement is finalised, Bohai has been willing to provide significant financial security. The company had already made a USD75 million good faith deposit when it entered the negotiating lock-up and paid another USD200 million in early Sep-2015 with the signature of the merger agreement.
A final USD75 million deposit will be paid later in Sep-2015. The total USD350 million deposit will be forfeit to Avolon in certain circumstances, if the deal is not consummated. These include if Avolon is willing to execute a definitive agreement and Bohai is unable or unwilling to do so.
HNA Group is thinking big in aviation, finance and leasing
Bohai Leasing is a unit of HNA Group, a privately held Chinese transportation, logistics, tourism and capital concern with annual revenues of more than USD25 billion p/a. The company has total or majority control of a dozen Chinese carriers, which collectively operate more than 400 aircraft. In addition, it has major interests in transportation leasing.
Even prior to the Avolon bid, HNA Group and Bohai Leasing had already committed to a number of significant investments in the aviation leasing sector. Bohai Leasing accelerated the development of its aviation leasing business in 2013 through its wholly owned subsidiary Tianjin Bohai Leasing Co.
In early Jun-2015, Bohai launched a CYN16 billion (USD2.6 billion) capital raising, to be conducted via a non-public share offering with HNA and consortium partners Shenzhen Xinghang and Tianjin Tongwan. Around 50% of the funds are to be dedicated to increasing capital at Hong Kong Aviation Capital (HKAC), the primary aviation leasing arm of Bohai.
The USD1.3 billion in financing will allow HKAC it to develop its aircraft leasing business. The company will primarily use this financing on deals in mainland China.
In addition to this, Bohai arranged an additional USD300 million in Jul-2015, to further grow the HKAC business internationally. The new funds will be provided by a Bohai affiliate for a stake in an aircraft leasing investment vehicle. At the time, Bohai stated the investment "represents another step in Bohai's strategy of quantum increase of its leasing operations and particularly the development of its offshore businesses and revenue base."
Hong Kong Aviation Capital completed a USD725 million secured limited-recourse warehouse facility in Aug-2015. The facility provides HKAC with significant flexibility, allowing 100% blind capacity for financing its future aircraft deliveries or refinancing existing aircraft. The facility was oversubscribed, with pricing at a margin of 2.00%.
HNA Group has been on something of a spending spree in aviation and leasing over the past few years, purchasing foreign companies to increase its international reach. Apart from the USD2.55 billion Avolon deal, the company agreed to acquire Swissport, the world´s largest ground and cargo handling company, from PAI Partners in Jul-2015 for USD2.8 billion.
In 2014, it acquired container lessor Cronos for USD580 million, making it the world's largest container leasing company. In 2011 it acquired GE SeaCo from General Electric in a USD2.5 deal in partnership with Hong Kong's Bravia Capital.
See also:
China's airlines and foreign investment. Part 1: Cashed up - are foreign airlines targets now?
China's airlines and foreign investment Part 2: Foreign acquisitions already an established strategy
The purchase will create a new global leasing player as China asserts its role
Chinese lessors have not historically had a major presence in the international leasing market. Due to a combination of official neglect and regulatory limitations, the domestic leasing market remained virtually ignored by Chinese companies until the mid-200s.
The development of the local aircraft leasing and financing market received a major push in 2006 and 2007. Policy decisions from the State Council and action from the China Banking Regulatory Commission (CBRC) encouraged state-owned banks to participate in the sector, which was more than 90% controlled by foreign companies at the time.
The CBRC relaxed a number of restrictions and limitations in the financial leasing sector, and encouraged the creation of state bank-owned aircraft leasing companies.
Within 18 months all of China's five state banks, as well as one of the three major 'policy' banks, had set up aircraft leasing arms.
Chinese lessor share of domestic aircraft leasing market: 2007 to 2018 forecast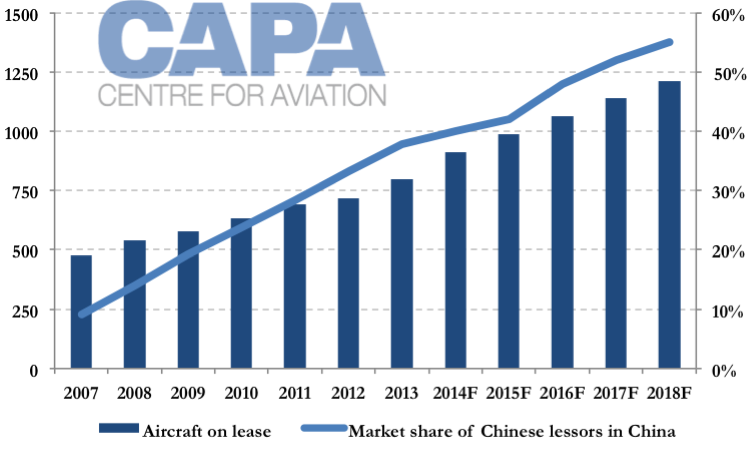 Between expanding their own market share and the double-digit growth of airlines in the local market, the new Chinese lessors were mostly content to focus on the domestic market. Benefiting from the comparatively tight local regulatory regime, as well as the somewhat cosy relationship between Chinese state-owned corporations, bank-backed leasing companies quickly pegged out stakes in the market in concert with Chinese airlines.
Between 2007 and 2013, the Chinese-controlled share of the domestic market climbed from just 7% of leased aircraft to nearly 40%. The number of aircraft leased by lessors to Chinese carriers has also doubled in the past decade, and now stands at around 1000 aircraft.
There are a few exceptions to this domestic focus, chief among them BOC Aviation and IBCB Leasing. These companies have a significant presence in the global leasing market, with both counted among the ten largest aircraft lessors globally by fleet size and value.
BOC Aviation formed when Bank of China took over established international lessor Singapore Aviation Leasing, handing it a ready-made global presence. IBCB Leasing has held an unusually international outlook since it was formed in Nov-2007, quickly adding offices in Dublin and Bangkok to facilitate global reach. Of its 43 customers, 28 of them are based outside China.
If a merger between Avolon and Bohai Leasing does eventuate, HKAC will be catapulted alongside these two into the ranks of the top ten largest leasing companies globally. Avolon is already the world's eleventh largest aircraft lessor, with a portfolio covering 152 owned and managed aircraft, and commitments for another 100 or so new aircraft. HKAC has a portfolio of 74 aircraft, making it around the twenty third largest lessor globally, but has orders for 70 A320neo family aircraft.
Like BOC and IBCB Leasing, HKAC is somewhat unusual for a Chinese lessor in that it has a significant international leasing presence and a broad range of clients, with the majority of its aircraft placed outside China. Avolon also has a broad portfolio base, with 50 airlines in 30 countries. It also has strong forward positions in fast-growing markets such as the Asia Pacific and China.
The combination of these two lessors, along with the financial power of HNA Group, has the potential to create a major new player in the global leasing market. Along with greater economies of scale and synergies through the interaction with the platforms under the HNA Group, the Irish company's management experience and broad market exposure are a complement to HNA Group's financing muscle and its expansion ambitions for China and globally.
HNA Group expects that the acquisition of Avolon will "bring lucrative financial returns as well as enhance Bohai Leasing's bargaining power and influence in the global aviation industry."
China's leasing focus is shifting from domestic to international
China's aircraft leasing market is forecast to expand by better than a third over the next three years, with the leased fleet projected to reach 1400-1500 aircraft. However, even with this rapid growth forecast, China's bank-backed lessors are increasingly encouraged by the state to diversify internationally.
Chinese regulators relaxed leasing rules through 2013 and 2014. As a result, Chinese companies found themselves squeezed by large western leasing firms and the formation of a large number of independent domestic firms. Nearly 500 new leasing firms entered the Chinese financial leasing industry in 2014.
ICBC Leasing managing director of aviation financing Lin Feng commented in Jun-2015 that the Chinese market alone "cannot support the company's development ambitions" and that offshore leasing deals "will become increasingly important for us". The company, along with Chinese state-bank aligned and independent lessors, is increasingly making leasing deals with carriers in the Asia Pacific region, and even further afield.
This year alone, ICBC has announced leasing deals with Himalayan Airways, Garuda Indonesia, TransAero Airlines, Aeroflot, Azul and Turkish Airlines.
It has also made aviation financing deals with major international financial institutions, including the Russian State Transport Leasing Company, Islamic Development Bank Group, the Export-Import Bank of the US and a group of three French banks (BNP, Natixis and CIC).
In 2013, Chinese financial institutions provided around 9% of the USD105 billion in global aviation financing for commercial aircraft. Almost 75% of this financing by Chinese lessors was concentrated in the domestic market.
As Chinese banks internationalise and lessors make more deals outside mainland China, the Chinese contribution to global aircraft finance is expected to increase.
Boeing Finance projecting that Chinese banks will provide the largest share of commercial bank debt for aircraft financing in 2015, at 22%.
Boeing Finance forecast for sources of commercial bank debt for aircraft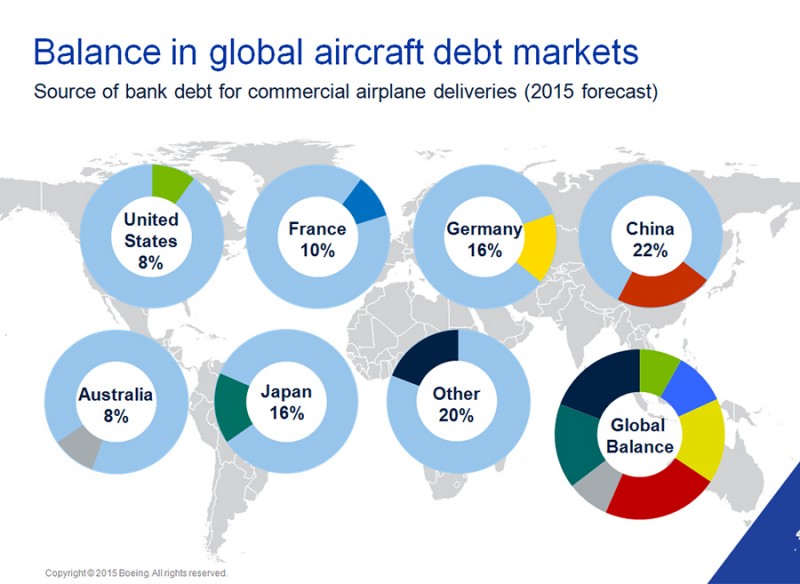 Lease activity in China has also typically been concentrated on sale-and-leaseback and financial lease deals with local carriers. The agreements provided much needed aircraft financing for local carriers, while providing a low risk path for allowed the state banks to diversify their financing activities.
Chinese lessors, particularly the larger and more globally inclined companies, are also starting to break this pattern. Instead of sale-and-lease backs, they have been placing large numbers of orders directly with Western aircraft manufacturers.
Chinese leasing company orders with Western aircraft manufacturers
Lessor

Airbus orders

Boeing orders

Narrowbodies

Widebodies

Narrowbodies

Widebodies

96

5

80

2

118

48

70

6

Total

332

5

86

2
More than 450 aircraft are now on order by Chinese leasing companies, primarily next generation narrowbodies. These aircraft are mostly headed for the domestic market, where demand for narrowbodies is projected at 4200-46000 aircraft over the next.
Chinese bank affiliated lessors have also been the most active buyers for the Chinese commercial aircraft programmes, such as the ARJ-21 regional jet and the COMAC C919.
LCCs, which account for about 8% of the Chinese narrowbody demand, typically lease rather than buy their aircraft. Boeing forecasts that the market share of LCCs in China will increase to 25-30% over the next 20 years, triggering more demand for leasing in China.
As they move into the global market, China's leasing companies are likely to face a steep learning curve and fierce competition from their more experienced Western counterparts.
Foreign acquisitions such as the Bohai Leasing-Avolon deal will provide an important mix of customer base, experienced staff and financial relationships as China develops itself as a centre for aviation finance and leasing.