Atlanta's airport belies the city's relatively low ranking on the global economic scale
Analysis
Atlanta's Hartsfield-Jackson International Airport retained its position as the world's busiest for passenger traffic in 2016, having become the first airport in the world to serve 100 million passengers in a year in 2015, and looks set to remain in that position in 2017, even though Beijing Capital Airport is narrowing the gap.
In many ways, it dominates the aviation scene in the southeastern part of the U.S. in terms of its sheer domestic size and scope, an increasingly important role in international transportation, and as a competitor to well-established cargo hubs like Miami.
This report looks at present and future growth trends at the airport, local airport statistics, how it matches up to other airports in the vicinity across a range of metrics, at any construction activities, and at its ownership.
Atlanta's airport suggests the city ought to have a higher GaWC ranking
Atlanta, the capital of the state of Georgia, is the cultural and economic centre of the Atlanta metropolitan area, with a population of 5.7 million – the ninth largest in the U.S. – though the city itself is small by U.S. standards.
Founded at the intersection of two railroad lines, and very much at the centre of the American Civil War, the city rose to become a national focus of commerce, establishing itself as a hub for progressive politics in contrast to some other areas of the South. It went on to attain international prominence, becoming the primary transportation hub of the southeastern U.S. in railroad, highway and subsequently air transportation terms, and its airport (helped perhaps by the fact that it is one of few major U.S. city-regions to have only one airport) became the world's busiest in 1998, retaining that title until the present day.
Atlanta is rated a 'Beta +' world city according to the Globalisation and World Cities (GaWC) Research Network, ranked alongside cities such as Houston, Dallas, Munich, Bangalore and Auckland, exerting a 'medium impact' on commerce, finance, research, technology, education, media, art, and entertainment. The size of its airport does not exactly reflect 'medium impact'.
Atlanta's economy is diverse, with dominant sectors that include logistics, professional and business services, media operations, and information technology.
Atlanta competes with several other hubs in the southern U.S.
The table below compares Atlanta Hartsfield Jackson International Airport (hereinafter 'ATL') with peer and neighbouring airports in the southeastern U.S., both O&D and hub airports, using a variety of metrics that include aviation and population statistics.
(N.B. population figures in this instance are for metropolitan areas, not cities. For example, the city of Atlanta numbers only slightly less than 500,000 people, whereas the wider metropolitan area's population is 5.7 million).
Ranking of Atlanta and peer/neighbouring airports by assorted metrics: 2016
Airport/metric

Hub or O&D (primary role)

ASKs

Seats

Frequencies

Cargo payload

Pax (million)

(2016)

Metro City population (million)

Atlanta International

Hub

20

2

2

18

104.3

5.7

Hub

29

39

37

23

44.6

5.5 *1

Fort Lauderdale-Hollywood International

O&D

73

67

60

104

29.2

5.5 *1

O&D

48

42

44

60

41.9

2.4

O&D

347

296

259

332

5.6

1.6

Charlotte Douglas International

Hub

72

31

8

70

44.4

2.4

Tampa International

O&D

124

121

116

151

18.9

3.0
This table shows that all the airports except that of Jacksonville serve extensive metropolitan areas of over two million people, and that there are two other important hub airports – Miami and Charlotte-Douglas. The others are primarily O&D airports.
ATL is more than twice as busy by total passenger numbers as its nearest competitor (Miami), and in terms of total seat capacity and flight frequencies it ranks second in the world.
It also ranks surprisingly highly for cargo payload, at #18 globally, which is five places higher than Miami. Its lower ranking for ASKs is dictated by the lesser distances flown; it is first and foremost a domestic hub, with far fewer long distance international and intercontinental services than some of its peers.
Location map of Atlanta in relation to Orlando, Tampa, Jacksonville, Miami, Fort Lauderdale (co-located with Miami) and Charlotte
These tables are a summary of destinations flown from ATL.
ATL Network Summary (at week commencing 13-Nov-2017)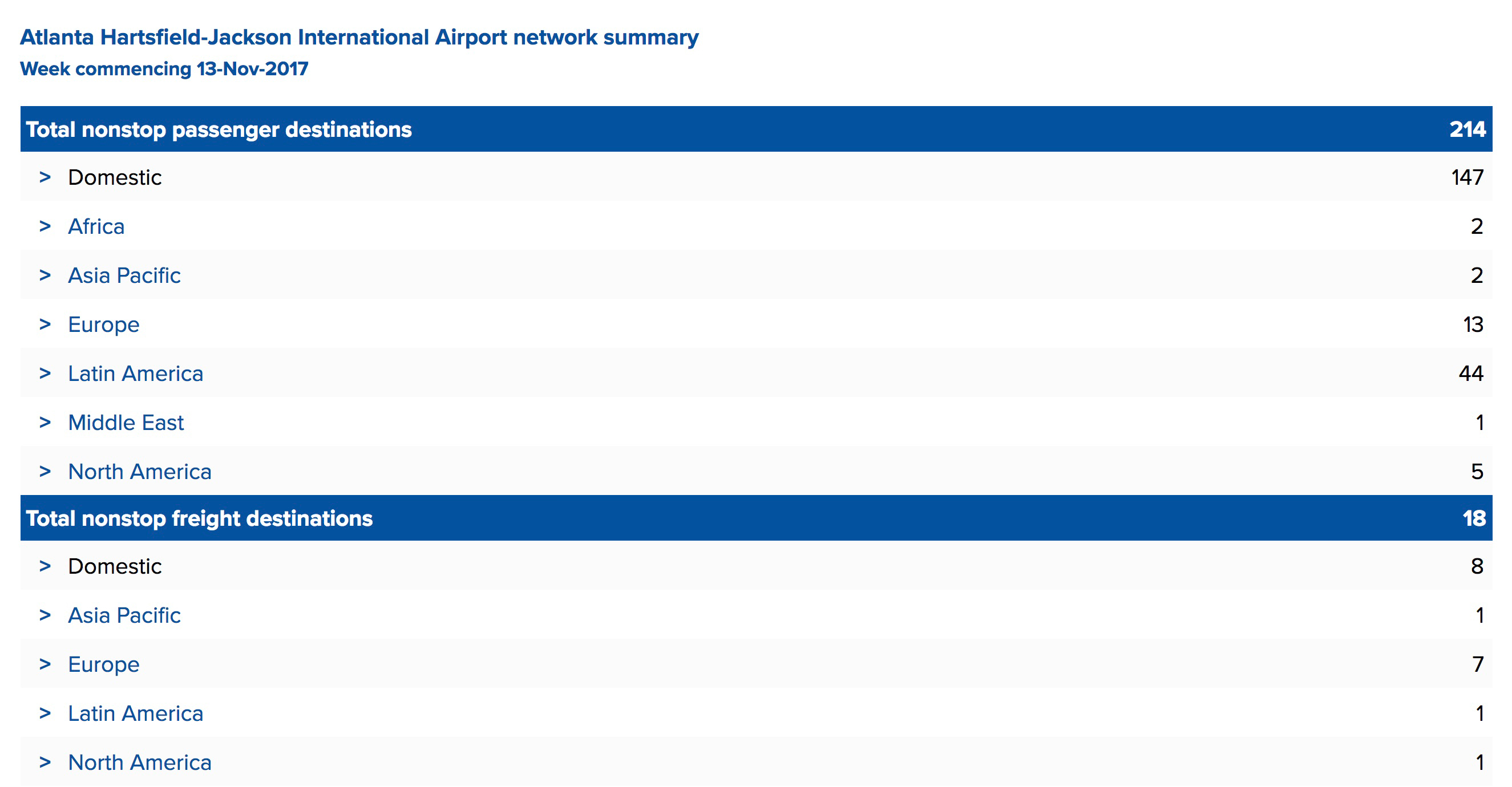 ATL outpaces rival hubs in passenger growth; not doing so against O&D airports
The table below, using similar data for peer airports, shows how ATL compares alongside a selection of neighbouring US airports, i.e. the ones compared in the previous table, and which comprise LCC-oriented, regional and large hub facilities, in terms of overall connectivity.
The statistics are illuminating and indicative of the complexity of the US airports system.
Comparison of airports by total airlines and nonstop destinations: 2015 and 2016
Airport

Passenger traffic 2016 (in millions)

Passenger growth 2015-16 (%)

Nonstop passenger destinations

(Of which domestic)

Ratio of domestic to total passenger destinations (%)

Nonstop freight destinations

(Of which domestic)

Atlanta International

104.3

2.7

213

149

70

19

9

(Hub)

44.6

0.5

160

56

35

63

10

Fort Lauderdale-Hollywood International

29.2

8.4

123

68

55

0

0

41.9

8.0

114

73

64

2

2

5.6

11.5

28

27

96

0

0

Charlotte Douglas International

(Hub)

44.4

(0.1)

149

131

88

0

0

Tampa International

18.9

0.6

69

58

84

4

4
Three interesting facts arise out of this table.
Firstly, ATL is not growing as quickly as most of the point-to-point airports, and by some margin. On the other hand, in 2016 it outpaced Miami and Charlotte Douglas – the other two hubs.
Secondly, while the relation of domestic to total destinations is high at ATL (70%), it is higher still in the case of at least one of the 'competing' hub airports, Charlotte-Douglas. Miami, though, is clearly the more significant international hub for the region.
Thirdly, while ATL does not compete directly with Miami on freight, it at least holds its own as by far the second most important regional airport in terms of cargo destinations.
International connectivity – a minor hub
The route map below shows destinations that can be reached by direct or connecting flights. A very heavy concentration of domestic services is evident, but international services have been established in Europe (13 cities), Latin America (nine cities) Asia Pacific (five cities), Africa (two cities and the Middle East (one city), to the extent that Atlanta could be considered to be a minor international hub.
Note that not all the cities can be shown on the map here.
Direct and indirect (connecting) routes from ATL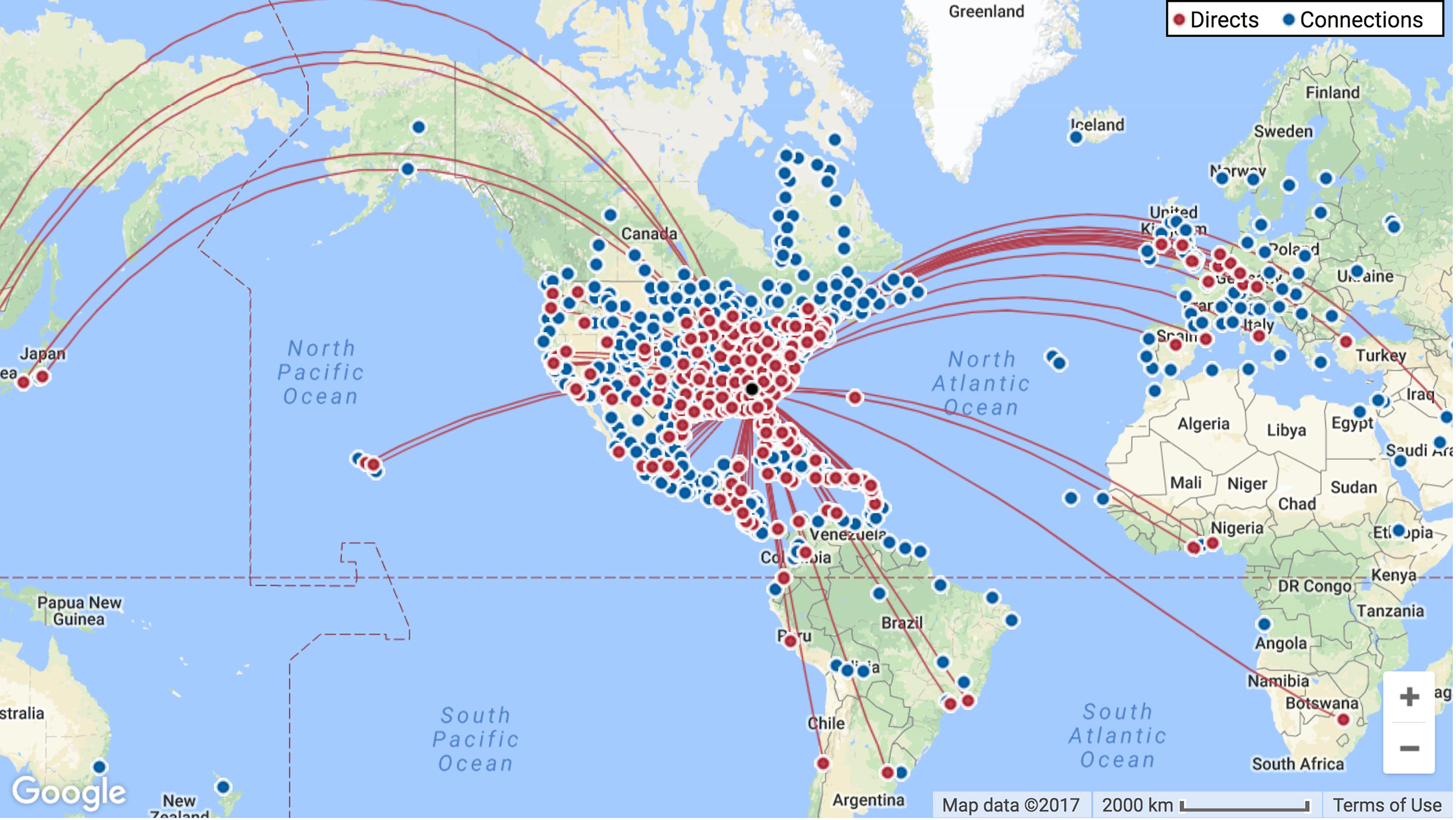 Delta has over three quarters of all seat capacity
Much of that hub capacity in both the domestic and international domains falls to Delta Air Lines, which has over 78% of all seat capacity (in both measures), as of the week commencing 06-Nov-2017.
Atlanta Hartsfield-Jackson International Airport total system seats for all business models: week commencing 13-Nov-2017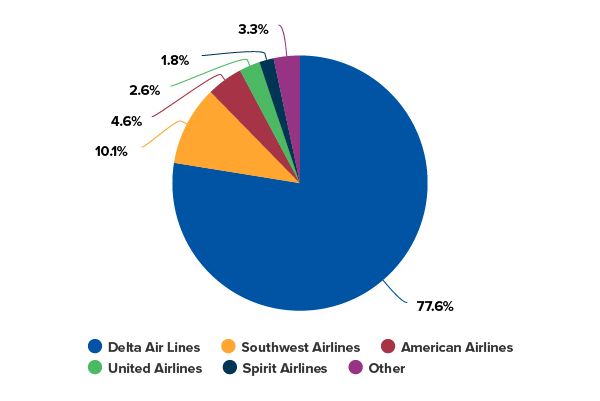 Indeed, it is not just all Delta, but foreign airlines have little representation at ATL, with less than 20% of international seats (and zero domestic seats of course).
A good seat balance between regions
One factor in ATL's favour is that the balance of international seats by region is not weighted in favour of any one region.
Atlanta Hartsfield-Jackson International Airport international departing seats by region: week commencing 13-Nov-2017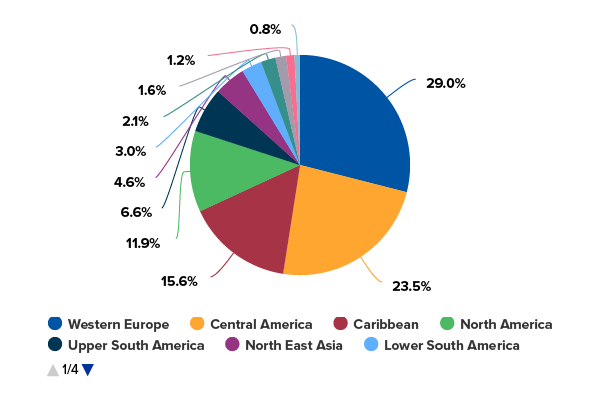 Drilling down to individual countries, those with the highest proportion of seats (top 5, in order) are: Mexico, Canada, France, the Netherlands and the UK.
Low impact of LCCs at ATL
Just 14% of seats at ATL are on low cost airlines.
ATL capacity, seat share by airline type: week commencing 13-Nov-2017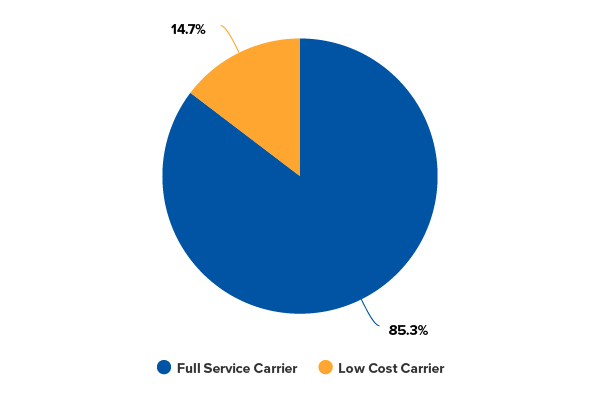 It is interesting how this compares with some of the airport's peers; again, the two hub airports at Miami and Charlotte Douglas, as well as Fort Lauderdale (which attracts LCCs), Orlando, Tampa and Jacksonville.
Comparison of selected airports by airline type – seat availability: week commencing 06-Nov-2017
| | | | | |
| --- | --- | --- | --- | --- |
| Airport | % of seats on FSCs | % of seats on LCCs | % of seats on other modes (e.g. regional, charter airlines) | Clarification of the previous column |
| Atlanta International | 85.8 | 14.2 | - | - |
| | 95.0 | 4.3 | 0.7 | Regional/commuter/charter |
| Charlotte Douglas International | 96.9 | 2.7 | 0.4 | Charter |
| Fort Lauderdale-Hollywood International | 24.8 | 73.0 | 2.2 | Regional/commuter |
| | 39.2 | 59.9 | 0.9 | Regional/commuter/charter |
| Tampa International | 42.4 | 56.1 | 1.5 | Regional/commuter |
| | 66.8 | 32.6 | 0.6 | Regional/commuter |
While the impact of LCCs is fairly low in ATL, it is, in fact, considerably higher than at the other two hub airports, Charlotte-Douglas and Miami, where Fort Lauderdale serves as the primary budget airport. The main provider is Southwest (11% of seats).
The relatively low impact of LCCs here is still evident though. By comparison, all the predominantly O&D airports have LCC seat ratios in the range of 32% to 73%.
Alliance penetration is very strong, led by SkyTeam
Airline alliances are very much in evidence at ATL, in the form of SkyTeam, of which Delta Air Lines is a principal contributor. Only 14.5% of seats are on unaligned airlines, though the penetration levels of the Star Alliance and of oneworld are very low.
MIA capacity, seat share by alliance/unaligned: week commencing 13-Nov-2017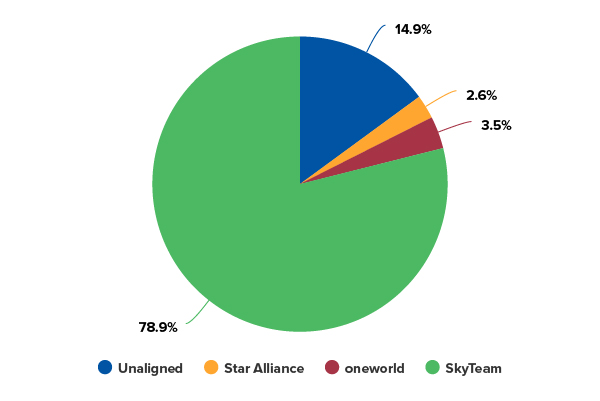 How does this compare with peer airports?
Comparison of ATL with selected airports by alliance penetration – seat availability: week commencing 06-Nov-2017
| | | |
| --- | --- | --- |
| Airport | % of seats on unaligned airlines | % of seats on aligned airlines |
| Atlanta International | 14.5 | 85.5 |
| MIA International | 7.8 | 92.2 |
| Charlotte Douglas International | 3.1 | 96.9 |
| Fort Lauderdale-Hollywood International | 77.3 | 22.7 |
| | 64.5 | 35.5 |
| Tampa International | 58.6 | 41.4 |
| | 33.2 | 66.8 |
A similar theme can be observed here, with the three main hub airports having a much smaller proportion of seats on unaligned airlines than the O&D airports, while at the same time Atlanta's exposure to them, mainly because of Southwest Airlines, is higher than it is for its 'hub' peers.
Consistent passenger traffic growth figures
Passenger traffic growth has been consistent, even during the period following the financial crash in 2008, with the exception of 2013. On the other hand, an airport of this size is never going to grow spectacularly, and +5.5% (2015) of growth was the highest figure attained during this period.
As of the first eight months of 2017, growth is +1.0%.
ATL annual passenger numbers 2009-2017 ytd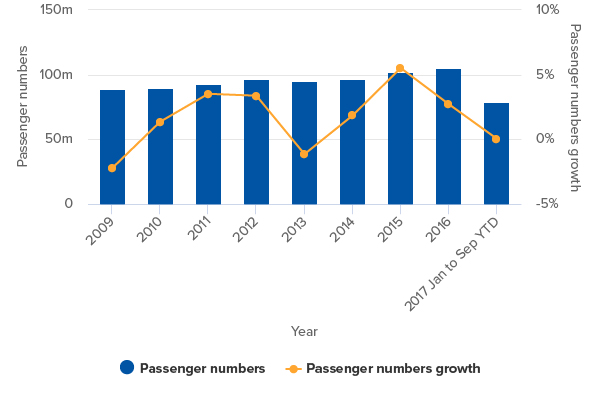 Traffic growth was impacted by Hurricane Irma in Sep-2017, falling by 7.7% overall, although international traffic actually grew by 3.7%.
Cargo capacity is higher than ATL is given credit for
By comparison with Miami International Airport, ATL is not usually regarded as a cargo airport. The high number of (connecting) passenger flights, however, together with over 20 cargo and parcels airlines, ensure that its capacity is surprisingly high – higher, in fact than that of Miami (2.8 billion kg vs. 2.3 billion in 2017).
Of that capacity, 77.6% is domestic, and most of it in the belly hold of domestic passenger jets, though the fact that international capacity (provided by both passenger jets and dedicated freighters and parcels flights) is as high as 22.4% may come as a surprise.
Delta is by far the largest capacity provider, as it is for passengers, though not to quite the same extent, with approximately 67% of that volume capacity. The largest foreign airline for cargo is Korean Air, but it has only 3% of capacity.
Atlanta Hartsfield-Jackson International Airport total system cargo payload: week commencing 13-Nov-2017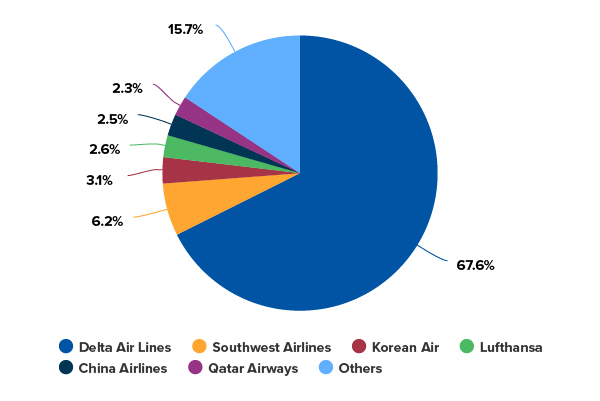 Construction – USD10 billion in infrastructure expenditure
ATL has four main runways, 08/26 and 09/27 right and left, as follows...
3,624m × 46m
3,048m × 46m
2,744m × 46m
2,743m × 46m
...with a fifth, 10/28 brought into play as needed.
There are two domestic terminals, North and South, together with the Maynard H. Jackson Jr. International Terminal.
The Domestic Terminal is on the west side of the airport, and the International Terminal is located on the east side. Between the North and South domestic terminals is an Atrium, which includes concessionaire facilities, conference rooms and a railway station – the southern terminus of two lines of the MARTA rapid transit rail system.
See the CAPA report https://centreforaviation.com/shop/air-rail-report https://centreforaviation.com/shop/air-rail-report for further information.
As the chart below shows, the domestic South Terminal, the main home of Delta, is the busiest as measured by the seat capacity of the single airline that uses it.
Atlanta Hartsfield-Jackson International Airport, total system, seats share by terminal: week commencing 13-Nov-2017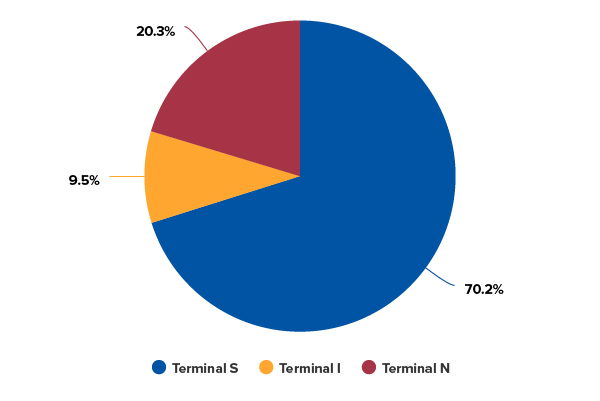 According to the CAPA Airport Construction Database, ATL is in the process of implementing a USD10 billion investment in infrastructure through to 2025, which will provide a passenger capacity of 121 million ppa. The projects include a new (sixth) runway, a car park expansion, terminal enhancements, an airport hotel, and an airport city development.
An additional 20-year modernisation and expansion project has also now come into play.
Ownership – a traditionally city-owned airport, possibly too big to be privatised
ATL is owned by the City of Atlanta and operated by the Atlanta Department of Aviation. It is regarded as a prized possession locally, and there have been few attempts even to identify it as having the potential for privatisation.
In any case, its sheer size and scope would deter all but the most well-financed of organisations from taking it on. An outright sale is not permitted, but even if the terminals alone were leased out, the price might be in the order of over USD10 billion.
A privatisation discussion paper was put forward by the Georgia Public Policy Foundation in 1994, based on figures from the Reason Foundation and taking into account evidence from the then smattering of airport privatisation deals (comparatively) across the world. At that time, ATL was anticipating 44 million passengers in 1994.
The paper made the case that while airport privatisation was still relatively new, evidence from existing transactions supported the argument that it could make a significant difference in operating efficiencies and revenues. Furthermore, options similar to those proposed for privatisation of Los Angeles International (LAX) Airport by lease would bring substantially greater revenues to the City of Atlanta from ATL. Those revenues would be in the neighbourhood of USD5 billion over a 30-year period – an average of USD166 million per year (at 1994 prices).
The paper concluded that given Atlanta's "desperate need" for cash to shore up its deteriorating infrastructure, the option of private ownership and/or operation of Hartsfield should no longer be ignored, and that the feasibility of privatisation options for Hartsfield could be assessed by inviting proposals from qualified development teams. Significantly increased revenue to Atlanta and non-political, professional airport management were considered to be in the long term interest of the airlines, airport vendors, ATL passengers and Atlanta taxpayers.
While Atlanta remains the U.S.'s most unequal city, with huge disparity between rich and poor areas, there is no evidence that these proposals were ever discussed again. The popularity of airport privatisation in the U.S. has remained low ever since, but just recently several airports have been thrust into the limelight as potential recipients of private investment.
They include the important cities of St Louis and Nashville, both of which are considering an application to go onto the FAA's little-used Airport Privatisation Pilot Programme, as 'hub airports'. Interestingly, in both cases, for these cities there is the opportunity to recycle assets for other infrastructure projects.
While that might be attractive to some in Atlanta, it is still unlikely to reignite a debate over privatisation there.
One way in which private capital could find its way into ATL is through one or more public-private-partnerships, in which there is no loss of control over the airport experienced by the city or county authority and there is mutual benefit, permitting the construction of new facilities out of which both parties profit. There are in excess of 10 such schemes taking place across the country at this point.
ATL's nascent airport city project might qualify for such an accord. For example, Amazon is seeking a U.S. city for its second headquarters, and Delta's CEO Ed Bastien recently said he would "love to see" Amazon situated there.
Summary and conclusions
Atlanta has always been a major transportation hub and it is at the heart of one of the most significant economic clusters in the city
Nevertheless, it has quite a low ranking in an important global economic table, and has the image more of a transit point than of a place where business is done
This is despite the importance of the airport, which is the premier domestic passenger hub, growing in importance in the international sphere, and with more cargo activity than it is given credit for
ATL competes with hubs at Miami to the south and Charlotte-Douglas to the north, but is busier by 20 million ppa than both of them combined
It is also outpacing those airports in terms of growth (2016)
Connections to 30 cities across five continents means that it can be considered as a minor international hub
Delta Air Lines is the major presence, with over three-quarters of seat capacity
There is a good seat balance between regions
There is a low penetration of LCCs, but it is higher than at Miami and Charlotte-Douglas
Airline alliances have slightly less influence at ATL, compared with Miami and Charlotte-Douglas
Traffic growth has been consistent over eight years but never spectacular, though that is hard to achieve at this size
Cargo capacity is higher than might be expected, and even higher than at Miami
There is a USD10 billion infrastructure programme in place, with another plan for what follows it. In keeping with its status, ATL plans well in advance
The airport is owned by the City and looks as if it will stay that way. There may be some potential for the private sector to become involved through selective PPP deals