Asia-Seattle airline market: Cathay Pacific's opportunity to match JAL
Analysis
At Seattle Tacoma airport there are already almost as many international seats to Asia as to Europe but the airport could soon gain more, with Japan Airlines considering the Pacific Northwest city.
Media reports indicate that JAL has decided to serve the airport, but JAL has not yet announced its decision. A JAL service will be accompanied by further growth of its codeshare partnership with Alaska Airlines, which is the largest airline in Seattle by far. JAL is able to partner with Alaska Airlines in a number of cities, despite JAL having a JV with American Airlines.
A JAL service to Tokyo should be followed by a Cathay Pacific Hong Kong-Seattle flight. Seattle has long been a consideration, but Cathay already has an extensive footprint in Vancouver, is hesitant to send the wrong message to its (non-JV) partner American Airlines by partnering with Alaska Airlines, and needs to decide on aircraft selection.
The debate is less about commercial practices and more about optics.
Summary
Japan Airlines considers new service to Seattle
In Mar-2018 the Puget Sound Business Journal reported that Japan Airlines had informed Seattle area travel agents that it had internally decided to launch a Tokyo Narita-Seattle service on the 787, then later to move the service to Tokyo Haneda once additional international slots open in 2020. JAL has said publicly in 2018 that it is planning to announce service to a new West Coast destination.
Japan Airlines VP marketing and strategy research Asia and Oceania Region Akihide Yoguchi spoke to CAPA TV at CAPA's Americas Aviation Summit in Houston in Apr-2018. He reiterated that JAL had not made a decision, but that "of course Seattle is one of the very preferred candidates, because we have a strong relationship with Alaskan Airlines now."
Japan Airlines Update: recorded at CAPA Americas Aviation Summit, 16-17 Apr 2018
The Tokyo-Seattle market is served locally by ANA and Delta Air Lines. United previously served the market but has now left service to JV partner ANA. Delta has a hub in Seattle but no notable network beyond Tokyo.
JAL would arguably have some of the best positioning in the market, since it is a local airline for Japan (unlike Delta) and has connections both behind Tokyo and beyond Seattle. JAL would partner with Alaska, which is larger in Seattle than ANA's partner United.
Tokyo to Seattle-Tacoma seat capacity by airline: weeks from 19-Sep-2011 to 01-Oct-2018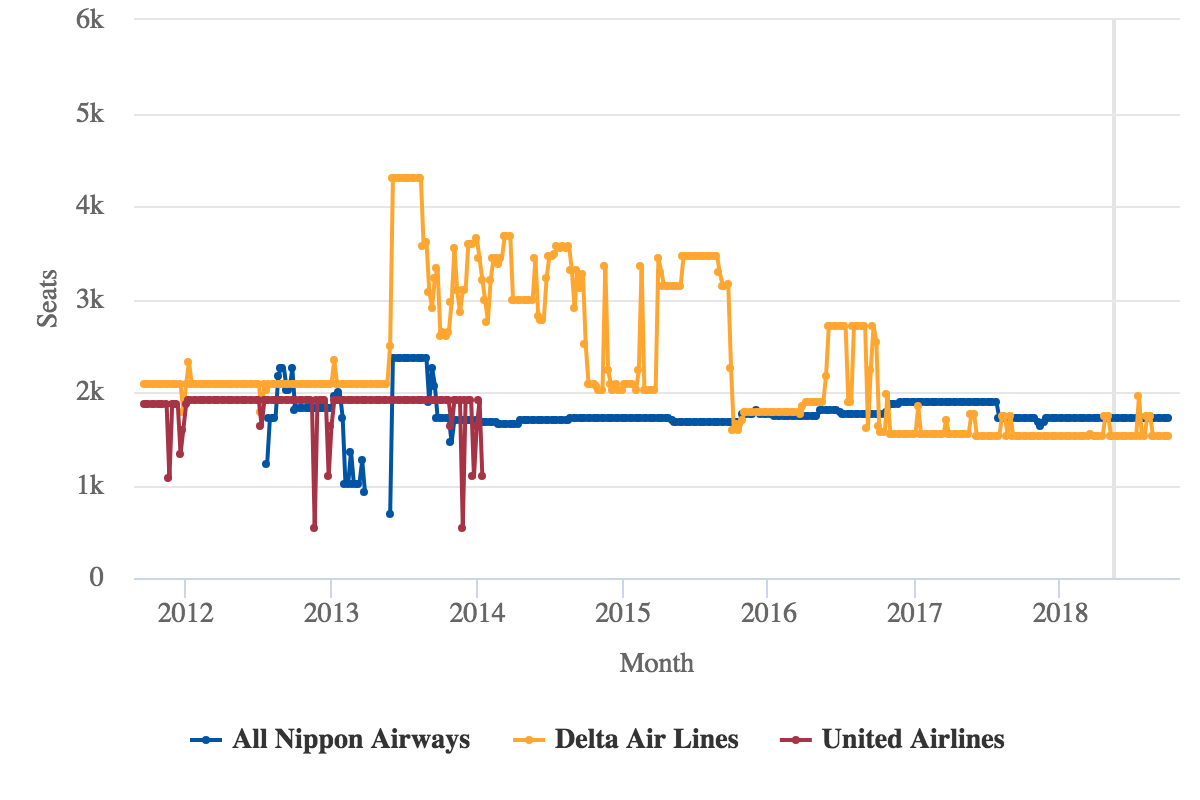 A JAL Tokyo service would further grow Seattle's already larger Asian footprint. Seattle has almost as many non-stop seats to Asia as it does to Europe – a unique (although not exclusive) characteristic for a North American airport.
Seattle-Tacoma International Airport international departing seats by region: week commencing 14-May-2018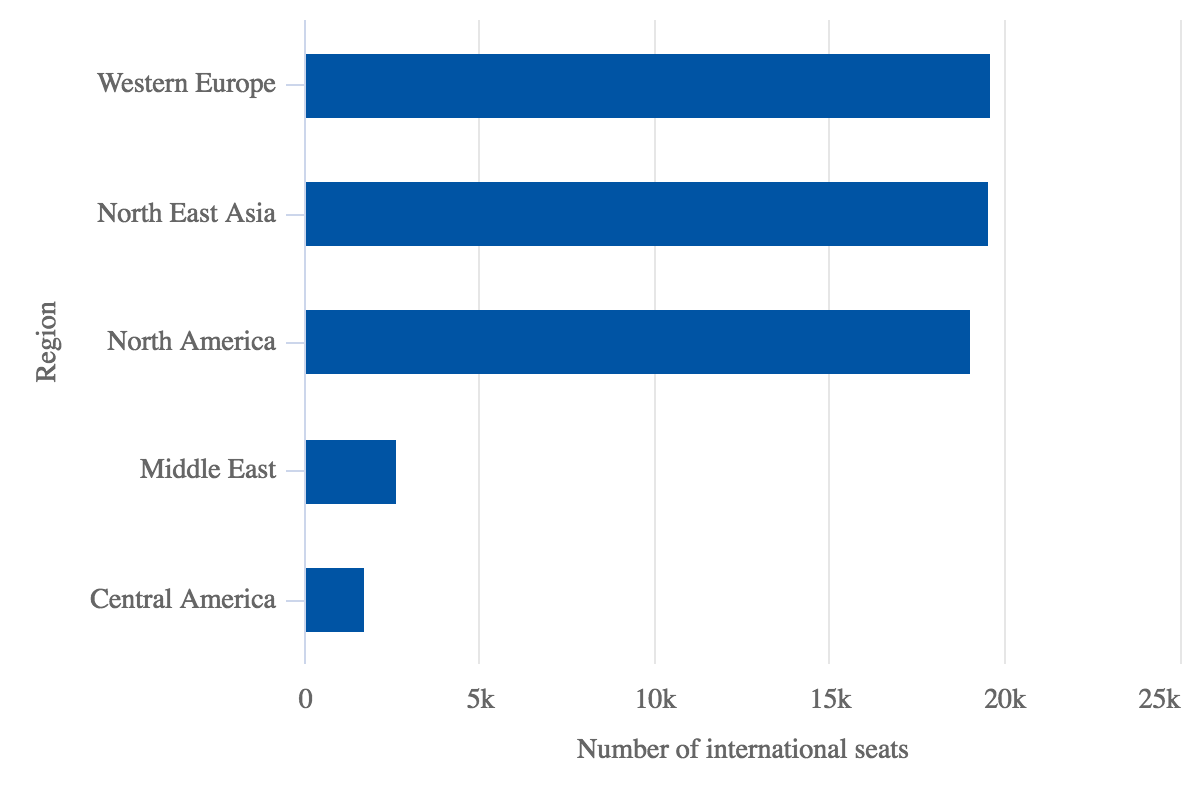 Japan Airlines began its partnership with Alaska Airlines in Jun-2016 – well after the formation of JAL's JV with American Airlines. JAL and Alaska expanded their partnership in Feb-2018 to replicate former Virgin America routes, providing connections such as from San Francisco to Boston, Denver and Newark. The partnership provides JAL with beyond gateway access at its west coast North American destinations: Vancouver, San Francisco, Los Angeles and San Diego.
JAL primarily uses Alaska Airlines as a supplementary partner to American, and codes on Alaska where there is no service from American or there is no suitably timed service. For example, JAL does not partner on Alaska's flights between Los Angeles and San Francisco, a market American Airlines serves.
JAL and Alaska Airlines codeshare partnership: Feb-2018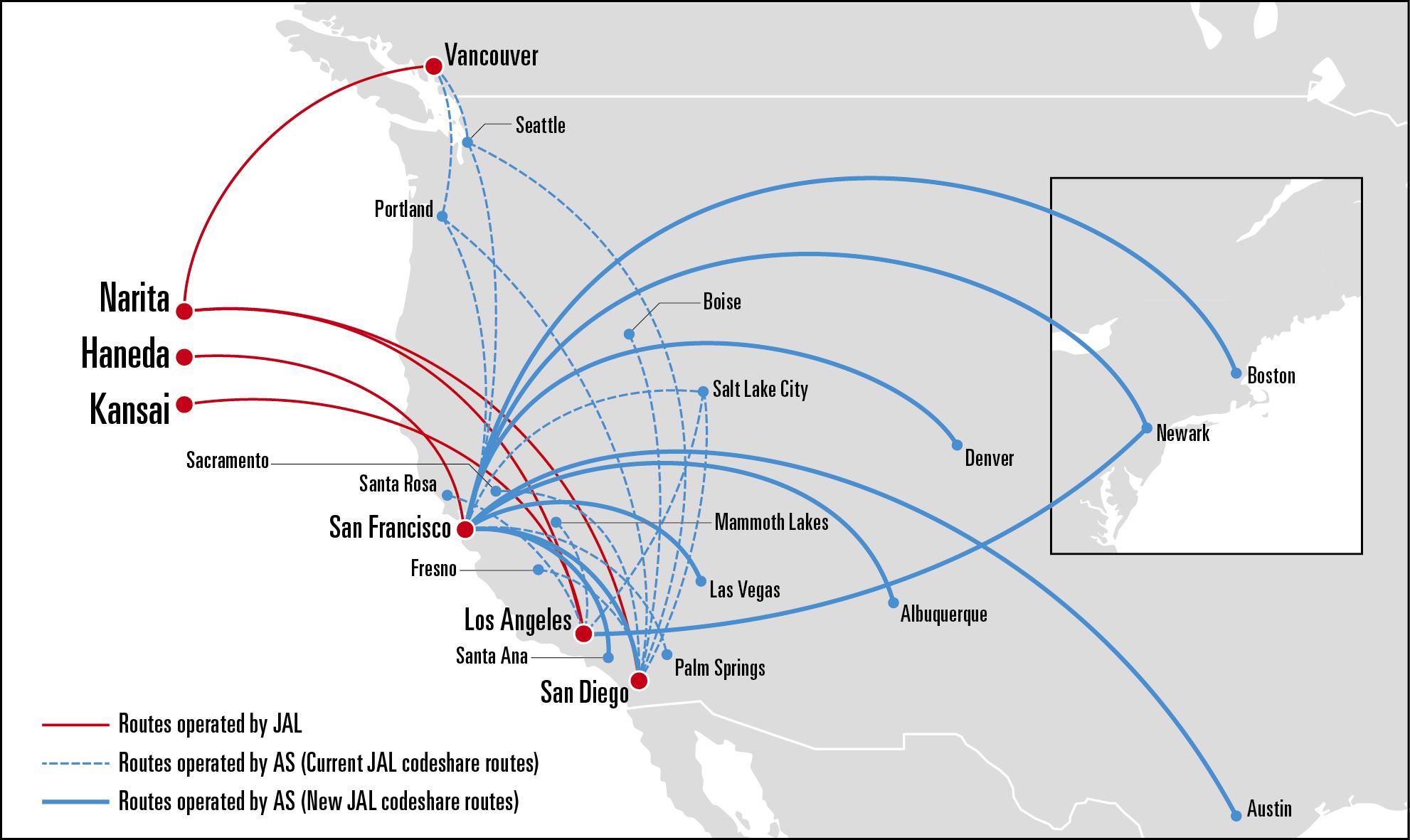 In Seattle, American accounts for approximately 6% of domestic seat capacity, compared to 54% for Alaska Airlines. American's presence at Seattle consists mostly of flights to other American hubs – Chicago, Dallas and New York – which are also served non-stop by JAL, so JAL would gain little new connectivity with American in Seattle.
In comparison, Alaska opens new destinations as well as improved connectivity to existing codeshare markets (such as Portland).
Seattle-Tacoma domestic seat capacity by airline: week commencing 14-May-2018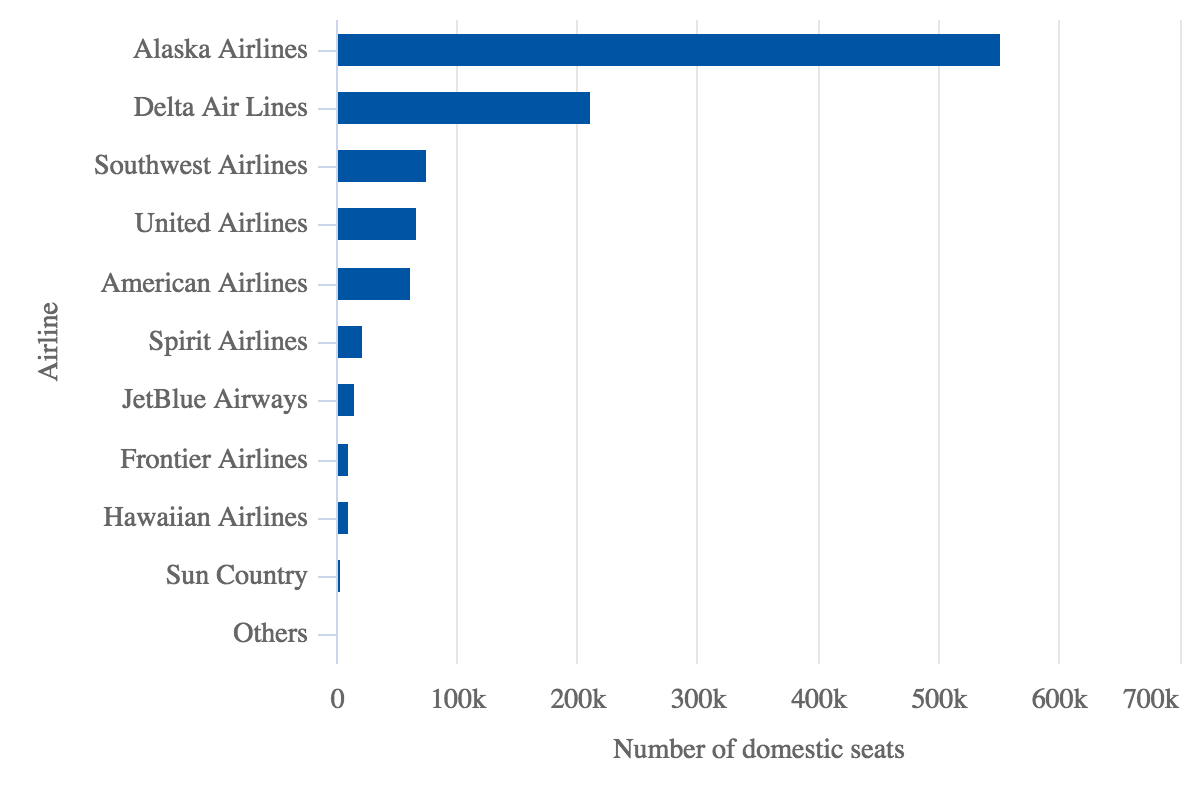 Cathay Pacific should consider Seattle service
Prospective service from JAL highlights the lack of a Seattle flights from Cathay Pacific. Cathay has been extending its North America passenger network, including the start of non-stop service to Washington Dulles in Sep-2018, but Seattle has remained off its network even as other Asian airlines have added new services, or grown existing services.
Cathay is partially present in the region via service to Vancouver that is upwards of three daily flights. Cathay is Vancouver's fourth largest airline and second largest foreign airline, although part of this capacity reflects Cathay's Vancouver-New York fifth freedom service. With so much capacity in Vancouver, Cathay may be reluctant to add service to a competitive Seattle market.
Vancouver international seat capacity by airline: week commencing 14-May-2018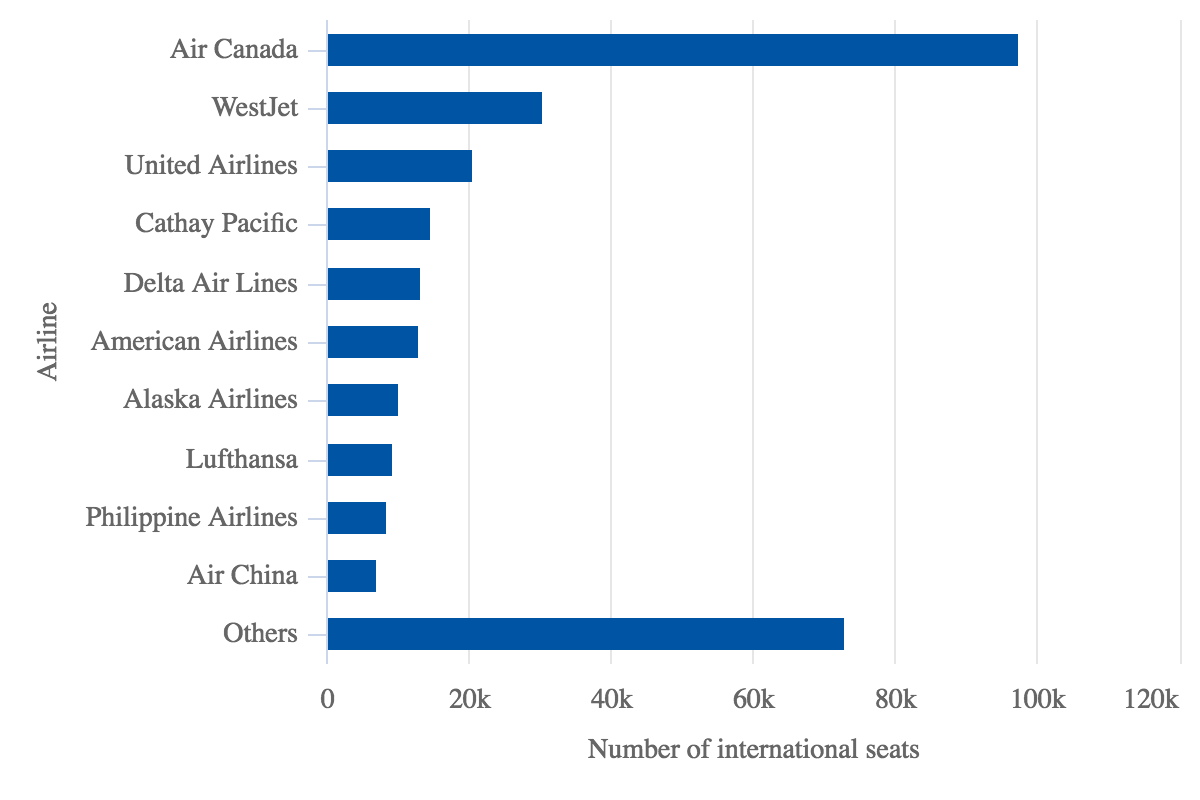 Seattle's VFR traffic is not comparable with VFR traffic to Vancouver. But Seattle is home to significant corporations, including Amazon, Microsoft, and Starbucks, all of which are growing in Asia. And, of course, there is Boeing.
Behind Hong Kong traffic is important for new routes but would be challenging, since EVA Air aggressively pursues Southeast Asia-North America traffic and offers low fares. India-Seattle connections via Hong Kong are geographically efficient – more so than via the Gulf – but Emirates has a large presence in Seattle and offers low fares.
Seattle may not be a clear-cut service in Cathay Pacific's mindset, but the airline is undergoing a transformation to shed its legacy ways and be innovative. A new paradigm should enable Cathay to serve Seattle.
Firstly, Cathay will need to feel comfortable to partner with Alaska Airlines. It is standard for airlines to want a partner in a foreign long haul destinations and an Alaska partnership would help significantly.
For example, Seattle to Portland via an Alaska codeshare opens up travel to Nike's global headquarters in Portland. (Cathay already has twice weekly freighter service to Portland.)
Cathay feels a sense of loyalty to American Airlines, but American is not notably relevant in Seattle; Cathay would not overlooking American Airlines for Alaska. British Airways, Finnair and JAL – with all of whom American Airlines has a JV – partner with Alaska. Fellow oneworld carrriers Qantas and LATAM also partner with Alaska. Pragmatism prevails when it comes to partnerships (American has for example also purchased an equity stake in SkyTeam's China Southern).
Secondly, Cathay may find its 777-300ER too big for Seattle. Cathay also has the A350, the -900 used to Newark and some Vancouver services, and the -1000 will open Washington Dulles.
Yet there may be concern that deploying the A350 in Boeing's backyard is inappropriate. There is certainly a strong widebody Boeing contingent at Seattle, but out of default: ANA and EVA only fly Boeings long haul. Emirates would consider deploying the A380 to Seattle, but Seattle is not yet compatible with A380 services. Again, pragmatism must prevail.
As JAL appears ready to finalise a new Seattle service, it gains an important development in its post-restructuring strategy. So too could Cathay.