ANA establishes superiority in its home market
To much of the outside world, All Nippon Airways (ANA) is Japan's quiet achiever. Privately owned and again profitable, ANA has in the past been overshadowed by its more conspicuous competitor and flag carrier, Japan Airlines (JAL) – until now. While JAL has been struggling back to its feet after its stint in bankruptcy protection, ANA has picked up the mantle, overtaking JAL as Japan's dominant carrier, proving itself a versatile and dynamic competitor in the wider Asian market, as well as domestically.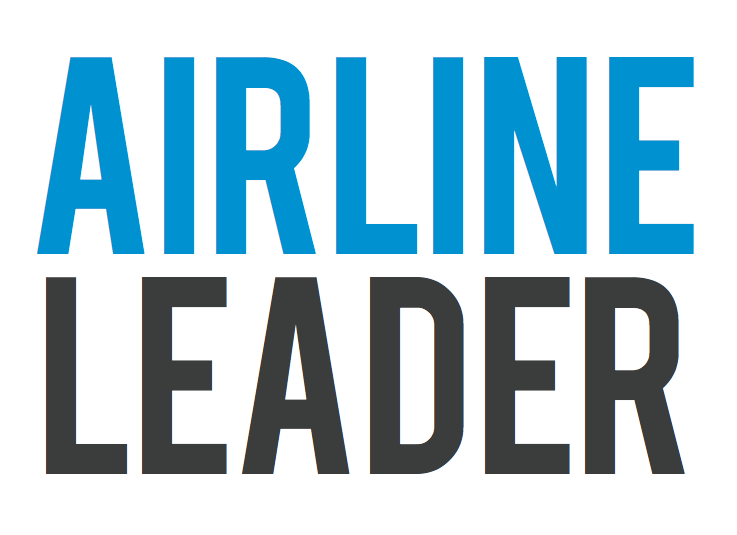 This article appears in Airline Leader, CAPA's strategy journal for airline CEOs.
Go to www.airlineleader.com to view or download the latest edition.
2011 will again be a year of great change for ANA, despite the devastating 11-Mar-2011 earthquake and tsunami dampening its prospects. ANA reported a recovery in annual profit and revenue in FY2010, pursuing a strategic growth plan as it prepares to become the world's first B787 operator in Sep-2011 and to launch its long-awaited LCC subsidiaries in early 2012.
Not surprisingly, JAL's slide into bankruptcy provided a considerable boost for ANA, giving the carrier the opportunity to change its operations, network and image. It also prompted an overdue realisation from the Japanese Government that a new approach to the nation's aviation strategy was needed.
A quarter of a century ago, although it was the world's largest airline measured in passenger numbers and now the eighth largest airline in the world by revenue, ANA was almost solely domestic and few outside Japan had even heard of the airline. MLIT, the Transport Ministry, ensured JAL a monopoly on international scheduled services until 1986. Today ANA is Asia's largest publicly listed carrier, but even after 25 years of international flying, this accounts for only 12.5% of its total capacity, even following double-digit international growth in 2010.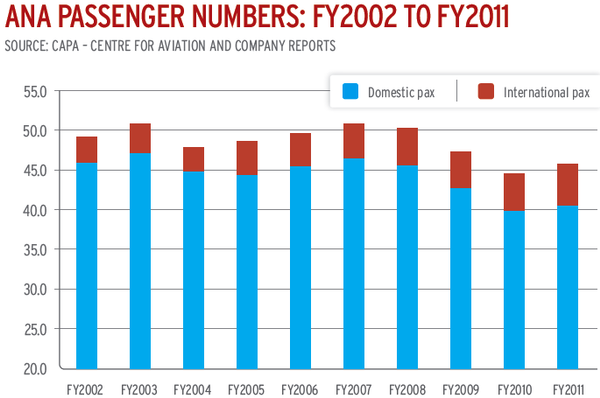 ANA is, however, now firmly focussed on pushing ahead with its international expansion plans. JAL's brutal network contractions make the going easier and the lethargic nature of the domestic economic recovery and its still-slow aviation business in the aftermath of the 2008 financial crisis all encourage outward looking strategies for ANA. Other external factors are prodding the carrier in its expansion mode too, such as the recent capacity increase in slots at Tokyo Haneda and Narita airports, the scheduled imminent delivery of the B787, a series of JVs with its alliance partners – notably the "metal neutral" antitrust immunity it received for trans-Pacific operations following the landmark open skies agreement between Japan and the USA – and a newly approved partnership with Lufthansa to be launched in the Autumn schedule. All have helped open the door wide for ANA to expand.
ANA had planned to increase FY2012 capacity by a remarkable 33%, anticipating a 40% expansion of international passenger revenues over FY2010 levels. Following more sombre post-earthquake Jun-2011 quarter figures however, ANA is looking at a reduced expansion rate and even of slowing the B787 delivery schedule.
Much of the forecast growth is to be generated through a full offensive in the growing Asia Pacific region. ANA, as part of this, also plans to boost its cargo focus, notably Asian shipments from its hub on the Pacific island of Okinawa. This strategy has already helped the carrier win business connecting China, Japan and Southeast Asia, leading to expectations of the first profit at its cargo unit in this fiscal year.
Membership of the Star Alliance since Oct-1999 has also delivered substantial benefits, now being exploited more effectively through deeper coordination with its alliance partners. This has provided strong additional domestic connections, opened up new capacity through codeshare opportunities and significantly boosted ANA's network and revenue potential.
Metal neutral antitrust immunity with United Continental on trans-Pacific routes has also enabled the carrier to fully exploit the bilateral expansion potential. ANA will also launch a strategic JV with Lufthansa as part of the winter 2011 timetable between Japan and Europe. This breakthrough development was facilitated by the approval, on 01-Jun-2011, of what was the first Asian-European antitrust immunity.
ANA's focus on expanding its network through alliances and JVs will allow US services to increase from 125 cities in FY2010 to 310-330 cities in FY2012 through agreements with United, Air Canada and TAM. Asian services will increase from 59 to 80-85 cities through agreements with Singapore Airlines, Asiana, Air China and Thai Airways and Europe services will increase from 60 to 70-75 cities through agreements with Lufthansa, SWISS and Austrian Airlines, as a result of the JV with Lufthansa.
International growth is largely predicated on the much-anticipated delivery of the world's first commercial B787 in Sep-2011, with the first commercial service to take place approximately one month later. ANA has labelled the aircraft "a game-changing aircraft" marking a "new horizon for aviation and the company", and is expected to commence operations a month after delivery. Operating from Tokyo Haneda, the aircraft will expand the carrier's network for its existing 76 destinations. As soon as the first one is operational, things should move quickly, although the carrier has deferred delivery of four B787s as it turns capacity growth in line with post-earthquake demand levels. Twelve B787s – two a month – are due for delivery by Mar-2012, to be followed by eight B787s in the following year. ANA, the launch customer for the aircraft, has ordered 55 of the type for deployment on both domestic and international routes.
Coinciding with the B787 deliveries, ANA is taking advantage of the increased number of slots at Tokyo Haneda it believes will further enhance its competitiveness and provide the opportunity to regain international travellers from its Asian rivals. Tokyo Haneda Airport is ANA's "biggest source of revenue", having undergone a once-in-a-generation expansion in 2010 as a new fourth runway opened for the winter 2010/11 schedule. The result was a massive increase in the number of available slots, notably for international long-haul services, where previously the airport had been limited to domestic operations. The newly available capacity at Haneda, as well as at Narita, along with JAL's downsizing, conveniently made expansion and new entry possible for ANA. A further increase in runway slots is planned in the medium term, representing an opportunity for ANA group to expand operations in what is becoming an intensely competitive business environment.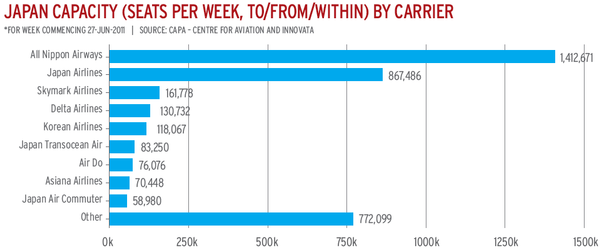 WHILE TOKYO HANEDA IS KEY TO THE CARRIER'S INTERNATIONAL AND BUSINESS-FOCUSSED ASPIRATIONS, ANA finally made the plunge to establish Japan's first full service branded low-cost subsidiary in Jul-2011, to be based in Kansai Airport, where ANA has a limited network. It took years of deliberation to spawn "Peach", as the new airline is to be called, but seemingly only moments after the announcement, ANA said it would also establish a low-cost joint venture with AirAsia, "Japan AirAsia", to operate out of Narita Airport. It had taken five years to get to Peach and only a twinkling to progress to AirAsia.
The subsequent confusion suggested that unusual competitive forces were at play – in this case an imminent tie-up between AirAsia and Japan's third airline, Skymark, which has pretensions to become a major force in the market. ANA recognised that it needed to head off this threat, but in doing so has created a bundle of complexity, as Peach was already all but launched. Despite clarifications about the compatibility between the two new subsidiaries, there was clearly no initial strategy to establish two such similar operations. ANA has only agreed to a 33.4% stake in Peach, the consequence of having to tread carefully with its unions, yet the AirAsia JV has ANA holding 67% and AirAsia 33%.
Peach was announced with plans to operate initially with 10 A320 aircraft leased from GE Capital, commencing operations in Mar-2012. It would first operate domestic services between Kansai and Sapporo and Fukuoka and Seoul in May-2012. The airline was to carry six million passengers by 2015, with fleet of 15-20 aircraft. China and Taiwan were to be its main targets.
Despite having a clear goal of lowering costs to half the levels of network carriers, Peach would face an uphill battle in Japan, where high landing fees and personnel costs have prevented genuinely low-cost operations. AirAsia by contrast has many options for keeping costs low, with bases across lower-cost Asian countries. Many sensitive nerves have been disturbed by these developments and it will take ANA some time to navigate the issues raised.
ANA still expects to be profitable in FY2011, even allowing for the impact of the March earthquake, although net profitability is expected to weaken by 14% on a year-on-year basis. This is to be driven by JPY30 billion (USD369 million) in cost reductions. Business travel has now recovered, following a marked improvement in this segment, and ANA is hoping tourists will return over the peak summer period. The longed-for arrival of the B787 will give a great morale boost to the carrier, signalling perhaps a major milestone in its history. Then, looking further ahead – perhaps even into 2012 – the inevitable rebuilding programme is expected to stimulate economic activity, as occurred after similar events in Japan's history. This is a resilient people and ANA's plans should place it in the vanguard of any recovery.