American, Delta & Hawaiian Airlines fight for a Haneda night slot – and battle looms for a day slot
Analysis
US airlines are putting up a tough and dramatic – with elements of farce – fight for a nighttime slot at Tokyo Haneda Airport. American and Hawaiian Airlines successfully convinced the US Department of Transportation (DoT) to review whether Delta's use of the Seattle-Haneda route is in the public interest after Delta significantly decreased capacity over northern winter 2014/2015. American and Hawaiian have applied for the slot to serve Haneda from Los Angeles and Kona, respectively.
The posturing reflects the limited access US carriers gained to Haneda following the "Big Bang" in 2010. Overall the slot would be nice for the airline but is a small part of its network. Yet the intense fight comes as Delta battles weakness in Japan and plans an overall capacity pull-down in the market during 2015. Nonetheless, this spat over a single nighttime slot shows how intense the competition is likely to be when two Haneda slots at far more valuable daytime hours are made available to US carriers, subject to final negotiations.
American and Hawaiian accuse Delta of 'squandering' scarce Seattle-Haneda rights
American in Oct-2014 petitioned the DoT to revoke Delta's Seattle-Haneda frequency (more commonly, although not technically correct, referred to as slots). Delta launched the service in Jun-2013 with a daily offering. Delta put in schedules that showed it was reducing its daily Seattle-Haneda service between Oct-2014 and Apr-2015 and would operate one week of service every 90 days.
This figure is significant as a route that is not flown every 90 days becomes dormant and reverts to the DoT for re-assignment. American said Delta was effectively going to "squander" the route, operating 17 days out of a possible 182.
Delta operation of Seattle-Haneda service: Oct-2014 to Mar-2015

American immediately offered to take the right and use it for Los Angeles-Tokyo Haneda service effective 15-Jan-2015. American probably would not have launched the route that quickly; more likely it wanted to give a sense of urgency and "game-on". Hawaiian joined in opposing Delta and proposed its own Kona-Haneda service.
Delta's Oct-2014 response sought to squash American and Hawaiian's suggestion there should even be consideration of Delta's service. Delta argued: "There is no question that Delta is operating its slots in full compliance with the DoT's 90-day dormancy condition...the Department's Ordering Conditions state very clearly what the dormancy requirements are, and Delta is complying with them."
Perhaps acknowledging it was barely meeting the dormancy requirement, Delta pre-emptively sought to create time for itself should the DoT change the details surrounding dormancy: "Any reexamination of Delta's SEA-HND slot allocation would require, at a minimum, notice by the Department that it intended to change the dormancy condition applicable to Haneda slots and reasonable opportunity for cure."
Delta appeared to create pressure (perhaps necessary in response to American's wish for an expedient process) that recalling the Seattle-Haneda right would become a legal challenge: "The Department has never stripped limited entry frequencies from a bona fide holder due to a temporary reduction over a single traffic season. It would be unfair, unprecedented, unlawful and bad policy to do so here".
DoT skirts the dormancy issue to focus on public benefit of Haneda slot allocation
The DoT took more than two months to respond and decided that it would not focus on the sensitive dormancy condition, which had a clearly stipulated definition, but rather public benefit, which is abstract.
"The Department does not need to decide whether Delta's current level of Seattle-Haneda service triggers the dormancy condition. Where frequency allocations are not being operated effectively, the Department has the authority to reallocate them...in a manner that promotes competition and otherwise best serves the public interest."
It was on the "public interest" component that DoT decided to commence a swiftly-moving process if the frequency should remain with Delta or allow another airline to use it. DoT did not immediately re-assign the frequency as American and Hawaiian stated they wanted done, but this was also probably a step too far on the part of the airlines.
Delta's Seattle-Haneda cuts are against the industry average
Delta argued its Seattle-Haneda service reduction was necessary for financial reasons as it builds the service up, and is consistent with seasonal adjustments. Delta showed cases in other markets of US airlines not fully utilising schedules.
American however said there was no consistency as the market is not seasonal for any other US (mainland)-Haneda service, which is maintained through the year.
US (mainland)-Haneda monthly frequencies: Jan-2014 to Mar-2015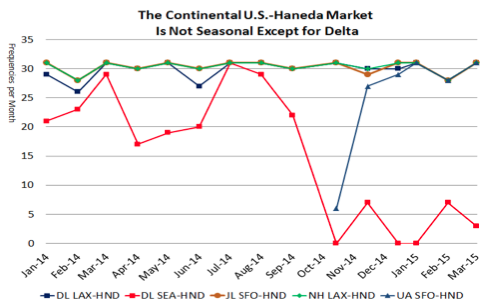 American pointed out that while Delta was claiming seasonality, Delta was not changing Seattle-Tokyo Narita frequencies, it was increasing service from other US cities to Narita and was growing Los Angeles-Tokyo Haneda while Japanese carriers increased their ASKs on Haneda services.
And even if seasonality could be claimed, American argues, that would not be enough to justify Delta's 88% Seattle-Haneda reduction, according to American's calculation.
Delta's Seattle-Narita and Seattle-Haneda service pattern: Jun-2013 to Mar-2015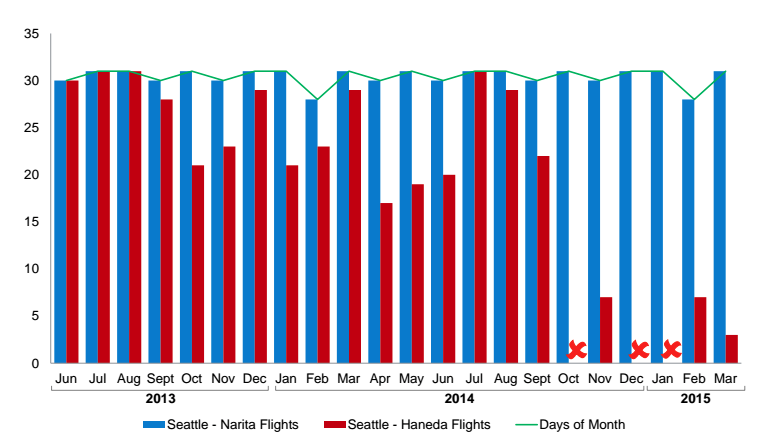 Further casting doubt on the public's benefit of Delta's Seattle-Haneda service, American notes Delta's Seattle-Haneda load factor was below the average US-Haneda load factor.
Average load factors on US-Haneda service and Delta's loads on Seattle-Haneda flights: Jun-2013 to Apr-2014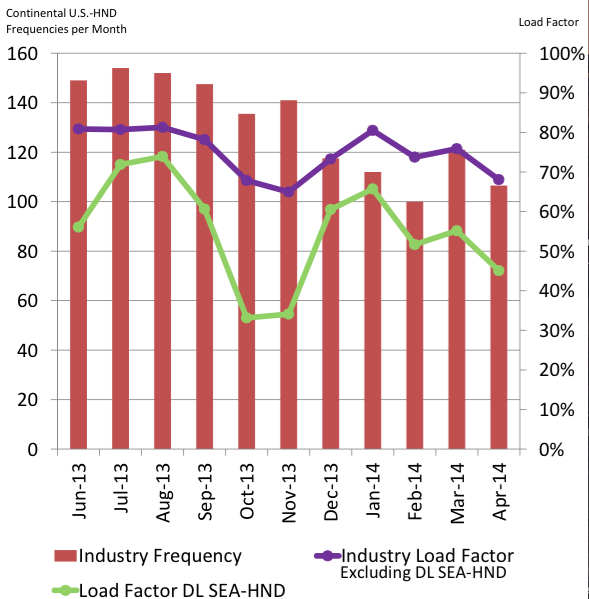 American and Hawaiian say Delta consistently over-promised and ended up 'Seatless in Seattle'
American and Hawaiian see Delta's service decrease as the latest example its Haneda strategy has not worked but Delta hoardes (or "warehouses" in Hawaiian's term) the Haneda slot. American openly notes its own Haneda service did not work and it returned the allocation to the DoT.
Delta's Seattle-Haneda service originated with DoT approval for Delta to serve Detroit-Haneda after Delta said it would use its 747-400. However, Delta used the 747-400 only for 37 days and then switched to smaller A330s and 777s before stopping the service after 314 days. Hawaiian calculates Delta ended up operating only 26% of the seats it initially proposed.
American determined the 2200-0700 window for Haneda nighttime slots made an "interior"/non-west coast US city unviable for Haneda service (as Delta found with Detroit). Having a late arrival time in Haneda or early departure time limits connections and creates ground transport challenges. Eventually the DoT awarded American's slot pair to United for flights from its San Francisco hub to Haneda.
After approximately a year of service from Detroit to Haneda (which occurred during the Mar-2011 tsunami and earthquake in Japan) Delta sought rights to transfer that service to Seattle, where it was preparing a substantial international build-up with a particular focus on Asian routes.
Delta launched the new Seattle-Haneda flights in Jun-2013. Delta had proposed A330 service but actually used a smaller 767, which combined with the route suspension meant Delta operated 32% of its promised capacity, according to Hawaiian. American says Delta will have operated the Seattle-Haneda route only 41% of the time, making Delta "Seatless in Seattle".
American calculations of Delta's flights committed versus operated from Seattle to Haneda: Jun-2013 to Mar-2015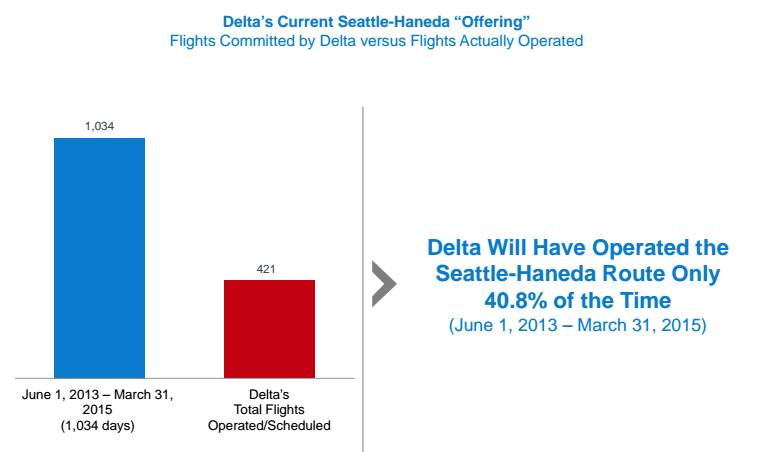 There was a similar pattern with Delta's Los Angeles-Haneda service with Delta offering 747 service but only operating the 747 on 35 days. A330s, 777s and even smaller 767s were used for the rest of the time. The down-gauge meant Delta ended up flying 51% of the seats it initially proposed, according to Hawaiian.
The "chasm" between what Delta has promised and delivered makes Delta's current arguments "disingenuous", in Hawaiian's view.
Delta's past Haneda action makes Seattle insult to injury
Also at play in the forceful language from American and Hawaiian is Delta's larger attitude towards aeropolitical negotiations with Japan. These are unlikely to affect the DoT's judgment, but do help explain the perspective of American and Hawaiian. As American said of this background story: "Delta opposed any U.S. compromise on open skies unless it would deliver complete flexibility to move Delta's entire portfolio from Narita to Haneda. Although it was clear that such a position would derail the U.S.-Japan talks, Delta garnered powerful political support for its position and brought enormous pressure on USG negotiators. Today, Delta continues to oppose efforts that would introduce new service to Haneda unless Delta's objective of moving its entire Narita hub to Haneda is ensured in any new agreement."
The number of Haneda slots Delta would need is well into the double digits (more than the four slot pairs US carriers have) and Delta would need even more hard-fought daytime slots. It is no surprise Hawaiian characterised this, perhaps too politely, as an "unattainably high hurdle". Hawaiian continued: "Delta's winter season cutbacks are just the latest indignity that it has heaped upon the Department's Haneda policy."
Delta inherited legacy Northwest's Narita hub through the merger of the two airlines. Historically, the hub was a connecting point for routes throughout Asia, but given the currency weakness that has plagued Japan during the last couple of years and increasing passenger appetite for direct services, Delta is currently undertaking a revamp of its Pacific network, that includes a 6% to 8% capacity reduction in 2015, and a 15% decrease from Japan. Delta has previously estimated that it will serve five intra-Asian routes from Narita in 2015 versus 12 in 2009.

See related report: Delta Air Lines directs the bulk of 2015 capacity growth to domestic markets and increased partners
Delta expects further capacity down-gauging in Japan and across its Pacific network by using smaller A330s and, later, A350s. Delta expects this will lead to a 15-20% reduction in seats per flight but over a 20% improvement in cost per seat (presumably compared to the 747-400, which Delta plans to exit by 2017).
Delta argues it remains disadvantaged due to a lack of a trans-Pacific JV
Obviously Delta believes DoT was incorrect to create an application process for its Seattle-Haneda slot pair, arguing that it was meeting the department's requirement that a route cannot be dormant for more than 90 days. Technically the airline is meeting that stipulation, but the department still deemed it necessary to review whether the best use of the slot pair is in that particular market.

Delta also argued that while it has been "challenging to establish Haneda service", as it has built up Seattle – it expects 100 daily Delta/Delta Connection flights from Seattle by winter 2015 – its passenger traffic and profitability in Seattle have "surged".

"Delta summer season Seattle-Haneda 2014 performance improved by an astounding 54% year-over-year. Buoyed by this unexpectedly strong summer 2014 performance, Delta has offered a full pattern of daily Seattle-Haneda service in summer 2015 and anticipates a more regular schedule next winter," the airline stated.

In its justification for retaining the slot pair, Delta also makes two points:
1) Through its immunised joint venture with oneworld partner Japan Airlines American has access to JAL's two US Haneda slot pairs (used in Honolulu and San Francisco), and that American opted not to reapply for the Haneda slot pair it relinquished from New York JFK service.
2) Since the merger with US Airways, a huge priority for the new American (whose executive suite is largely controlled by former US Airways executives) is expanding its Asian footprint, so while it seemed logical for American to re-apply, it was somewhat distracted by closing the merger and having American emerge from Chapter 11 bankruptcy restructuring.

Star partners All Nippon Airways and United also have an immunised joint venture across the Pacific, which Delta argues leaves it and SkyTeam at a disadvantage when measured by US-Japan immunised joint venture capacity slots at Haneda, by alliance.
US-Japan ASM by alliance and Haneda slot allocation by alliance: Mar-2015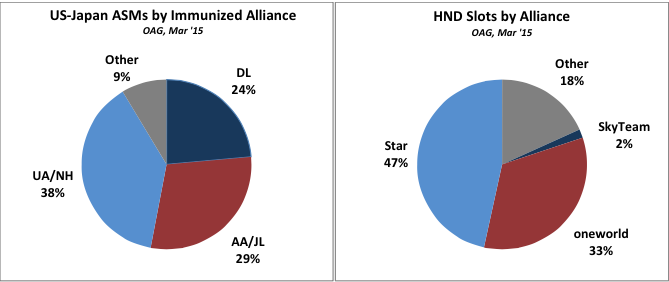 One hole in that argument is that technically oneworld has no representation specifically in the Tokyo Haneda-Los Angeles market, for which American has applied. Delta and ANA are the only two airlines operating direct flights on the route pairing.
If Los Angeles-Tokyo (including Haneda and Narita) is represented as a single market, then Delta has a 22% seat share (for the week of 5-Jan-2015 to 11-Jan-2015) while Star partners ANA and United have a 36% share and oneworld airlines American and JAL have a 23% share. How the DoT views the overall Los Angeles-Tokyo market is unclear, but this does pose an interesting question as it weighs the merits of American and Hawaiian's arguments that they are more worthy recipients of the slot pair.
Los Angeles International Airport to Tokyo Haneda Airport (seats per week, one way): 19-Sep-2011 to 14-Jun-2015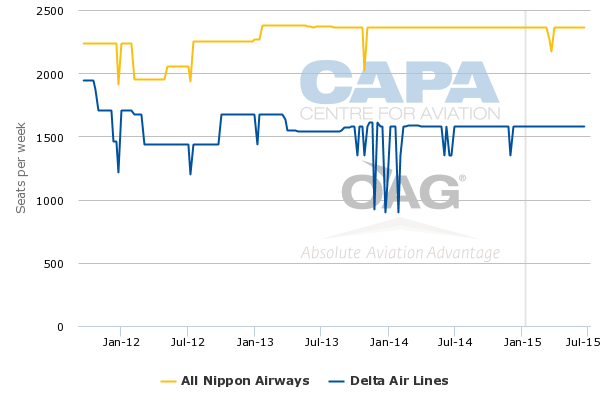 Los Angeles International Airport to Tokyo Narita Airport (seats per week, one way): 19-Sep-2011 to 14-Jun-2015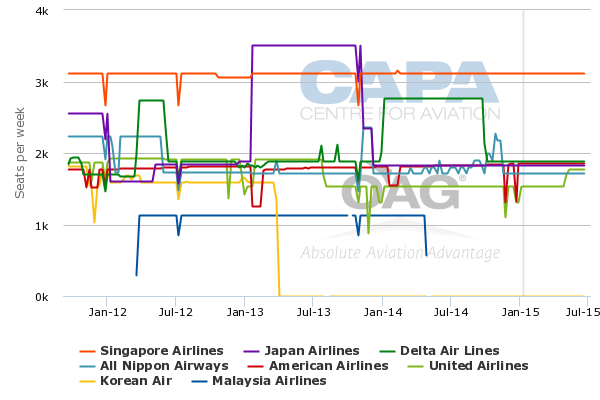 Los Angeles International Airport to Tokyo (seats per week, one way): 6-Jan-2014 and 12-Jan-2015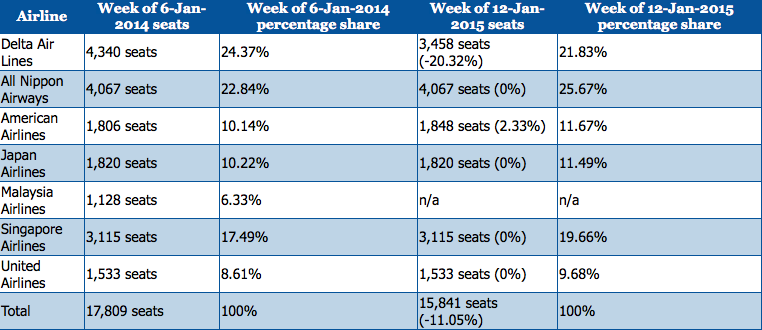 American argues that Los Angeles-Tokyo is underserved
American concludes that the Los Angeles-Tokyo market is under-served, stressing that Los Angeles is the largest market from the US to the Tokyo area, and is the largest market to Tokyo Haneda.
Weekly passenger flows from the US to Tokyo (Haneda and Narita): ending Nov-2014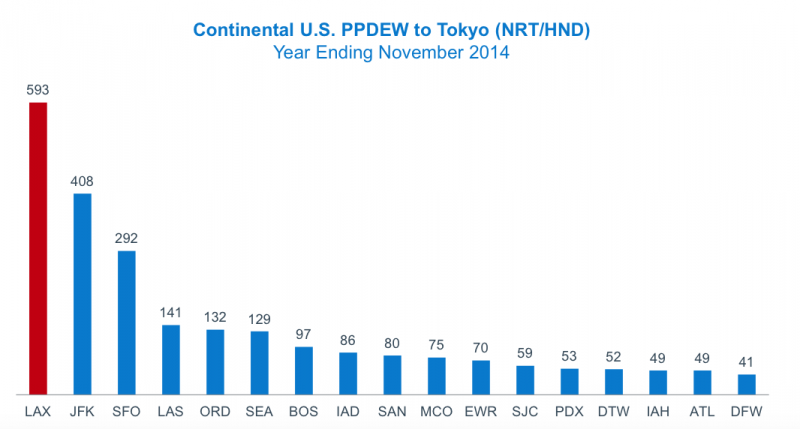 Weekly passenger flows from the US to Tokyo Haneda: Nov-2014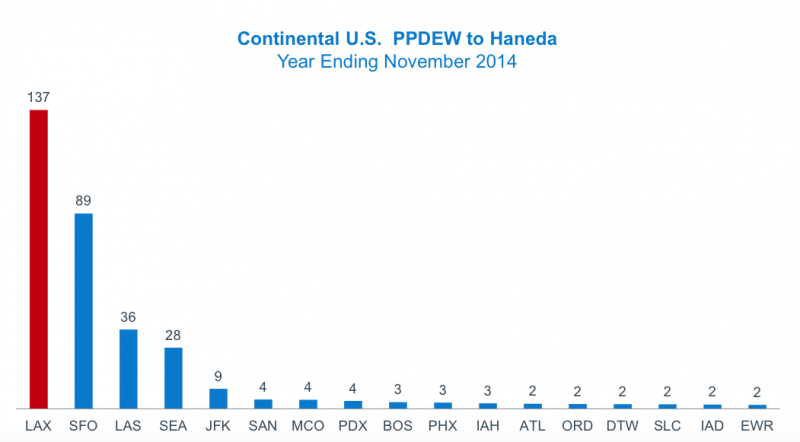 With approximately 15,800 weekly seats in the overall Tokyo-Los Angeles market, is another flight to Haneda necessary? Hawaiian unsurprisingly believes that "just as the Seattle market was not large enough to support Delta's service, the Haneda-Los Angeles market is simply not large enough to support a third carrier on the route".
Hawaiian is pressing to obtain slot pairs for flights from Kona to Haneda, a route it has opted to pursue nearly every time a slot pair was available, but Hawaiian has proved unsuccessful in convincing the DoT in the past that it should be awarded rights for service to Kona.

American stresses that in its summer schedule for the Los Angeles-Haneda flight (departing Los Angles at 1830 in the summer and 1700 in the winter and arriving in Tokyo at 2230 the next day) would offer 25 connecting American markets in the summer and 32 in the winter.
American's competitive story is potentially undermined by losing Narita-Los Angeles
Delta was right to quickly point out that American's proposed Tokyo Haneda-Los Angeles service would use the same flight numbers as American's existing Tokyo Narita-Los Angeles service.
This led Delta to speculate American is only interested in shifting its Los Angeles service from Tokyo Narita to Tokyo Haneda, which other carriers – including Japanese airlines – have done as Tokyo Haneda slots come up. American ended Tokyo Narita-New York JFK service to launch Tokyo Haneda-New York JFK service (which was later dropped).
If American does shift the Tokyo airport of its Los Angeles service then, Delta argues, "there would be no public interest benefits at all to be gained from transferring Seattle's slots to Los Angeles. By contrast, Delta plans to continue to serve NRT from Seattle, and Delta's Haneda flight represents true incremental capacity in the marketplace to the benefit of consumers."
DoT faces a complicated decision process but this will be the warm-up act
One of the ironies of US airlines pushing for and gaining slots to Haneda was the airport's proximity to Tokyo's city centre versus Narita and the benefits they could then promote to business travellers. Despite Japan's economic weakness and the reduction by some US airlines in their Japan operations, the slots remain highly sought after, reflected in the current skirmish over one of Delta's slot pairs. But the skirmish has probably been inflated to be bigger than the actual issue is.
The DoT will need to weigh public benefit, finding a way to balance market demand with whether the service is entirely new or means an airline will switch an existing Narita service to Haneda. This occurs as Japan's economic and demand profile changes quickly.
The outcome will be watched closely as the US is likely to receive two daytime slots at Tokyo Haneda, subject to final negotiation with Japan. These slots will be far more valuable. They will open more connections – domestic and international – on both sides of the service compared to existing Haneda slots. The local market will also prefer more convenient, and not late-night, times. Nighttime Haneda slots, US airlines have learned, must be used on west coast cities. But the daytime Haneda slots, with far more flexible timings, could be used at any airport.
Alas, it is almost too good to be true. Japan is sensitive about Tokyo Narita losing services to Tokyo Haneda. This was confirmed by the recent international daytime Haneda slot expansion where a number of airlines shifted their Tokyo service from Narita to Haneda. Underpinning the concern is that Narita is privately-owned, with a commercial bottom line, while Haneda is government-owned.
See related report: Tokyo Haneda slot allocations fail to generate new flights as Europeans replace Narita operations
It is understood Japan is offering the two daytime Haneda slots on the condition US airlines use them to offer entirely new services while maintaining their existing Tokyo Narita services. None of the big three US airlines has a flawless record: Delta is struggling on Seattle-Haneda, American switched New York JFK from Narita to Haneda then dropped it altogether, while United replaced one of its two daily San Francisco-Narita services with a daily San Francisco-Haneda service.
It could be argued Delta's Seattle-Haneda situation is a result of Delta being a victim of its own success. The same attitude of conservative growth and aggressive focus on profit and ROIC growth saw Delta decrease Seattle-Haneda services. Delta's competitors may have tolerated the losses.
This question of long-term growth versus short-term financial impact will be a factor as US airlines consider an application for daytime Haneda slots. Meanwhile, the dispute and the way it is playing out offers an interesting insight into some of the marginal decisions US airlines are having to make in their Asian services.