Delta Air Lines directs the bulk of 2015 capacity growth to domestic markets and increases partners
Analysis
Delta Air Lines plans to deploy the majority of its planned 2% capacity growth for 2015 into the US domestic market, where it holds a strong market share. It is a region that has performed well for Delta and all the other US airlines in 2014, and for Delta provides a counter weight to some weaker geographies, namely the Pacific. Delta is undertaking a network restructuring of its Pacific operations as well as facing higher industry capacity in the market.

Two of the airline's major focal points in the domestic market during the last couple of years – New York and Seattle appear to be performing well. Delta's stature in New York is buoyed by its joint venture with Virgin Atlantic while sceptics of its Seattle strategy are being quieted by the relative success of its rapid build-up in the market.

Delta is ending 2014 on a positive note, as projections in some of its financial metrics for 4Q2014 are higher than originally forecast, giving the airline confidence that the positive momentum will continue into 2015 even with modest economic growth.
Delta Air Lines aims to build on its domestic strength in 2015
Delta president Ed Bastian recently told investors that the airline's domestic capacity would grow roughly 3% in 2015, while international capacity would increase less than 1%.

Mr Bastian stated that Delta's planned domestic expansion in 2015 is being driven by the continued incorporation of higher gauge aircraft into its domestic operations and higher utilisation, illustrated by his calculations that Delta's departures would remain flat year-on-year with 11 fewer aircraft in the domestic fleet.

Delta is in the midst of adding seats on 110 aircraft as well as taking delivery of Boeing 737-900s, 717s and Airbus A321s to its fleet that are replacing smaller aircraft.

The airline's domestic entity has been its top performer throughout most of 2014, evidenced by increases in domestic traffic in nearly every month through Nov-2014.
Delta Air Lines domestic traffic growth: CY2012 to Nov-2014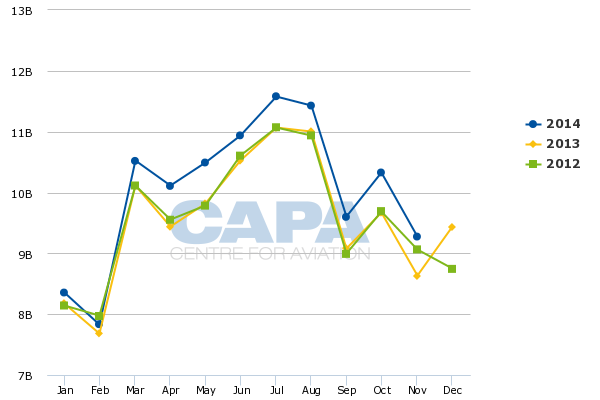 Demand has remained solid in both business and leisure segments, with Delta's corporate revenues growing 7% year-on-year through mid-Dec-2014 driven by a 14% increase in business travel sales to the financial services sector.
Delta Air Lines year-on-year change in corporate revenue by sector as of mid-Dec-2014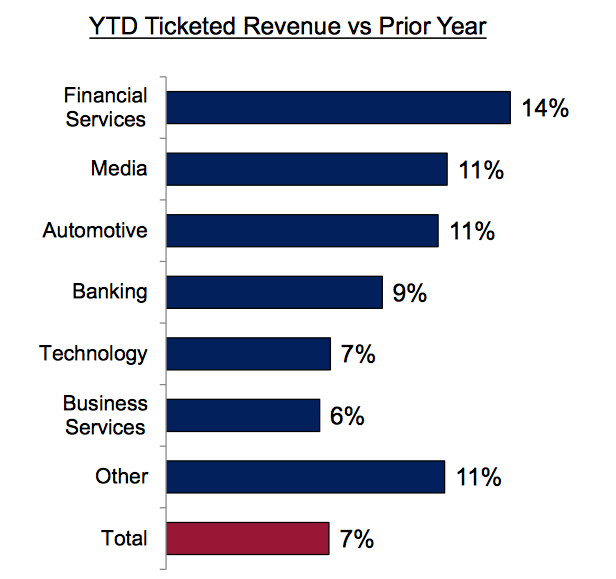 Delta undertakes a Pacific network revamp to improve the region's fortunes
Offering a general outlook for 2015, Mr Bastian remarked that capacity growth was "pretty in line" in most of Delta's geographical entities, with the exception of Asia, where capacity growth is in excess of demand.

Delta's larger exposure to Japan has been a drag on its Pacific results for much of 2014. The weakness is primarily driven by the continued devaluation of the Japanese currency. The airline is combating some of the currency fluctuation with a hedge benefit of USD145 million in 2015, but Delta is also restructuring its Pacific network to cut back on traffic flows over Tokyo Narita in lieu of offering one-stop service through one of its US Pacific gateways – Seattle or Detroit.

During 2015 Delta is reducing capacity in its Pacific network by 6% to 8% year-on-year that includes a 15% reduction from Japan. The airline estimates it will serve five intra-Asian routes from Narita in 2015 versus 12 in 2009. Part of the restructuring entails the retirement during 2014 of four 747-400 widebody aircraft used on Pacific routes and replacing the jets with smaller-gauge widebody aircraft. The remainder of its 16 747-400s are slated for retirement by 2017.

Previously Delta has stated that the 747 retirements should improve its profitability in the Pacific by USD100 million in CY2015, and the airline has a stated goal of increasing its Pacific margins by five to 10 points during the next three years.

See related report: Delta Air Lines defends its capacity increases as special items trigger a drop in 3Q2014 profits
Delta is the largest US airline operating between the US and Japan after it inherited the Narita hub during its merger with Northwest Airlines. As the JPY has steadily fallen against the USD for the better part of a year, Delta has been adjusting its capacity to Japan. Schedules in CAPA and OAG for the week of 8-Dec-2014 show that Delta's seats on offer between the US and Japan have fallen 18% year-on-year, and overall seats in the market have dropped by 10%.
United States of America to Japan (seats per week, one way): 9-Dec-2013 and 8-Dec-2014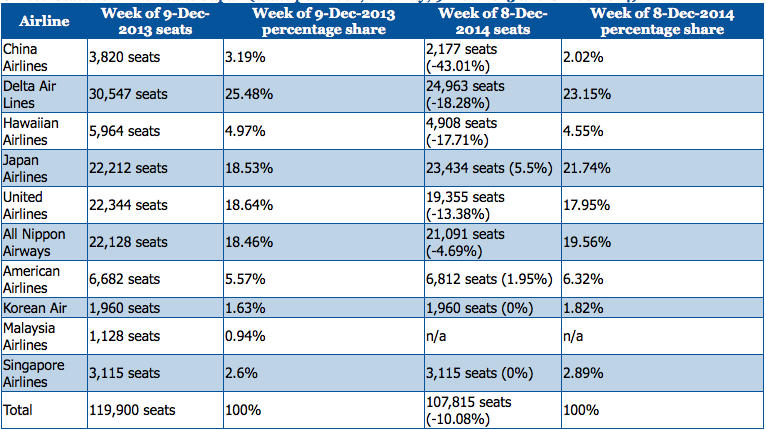 Delta leverages is Virgin Atlantic JV for trans-Atlantic growth
Delta has a relatively positive outlook for the trans-Atlantic market after some overcapacity in mid-2014 spurred a pull-down by most US airlines and their respective joint venture alliance partners. For the winter 2014/2015 time period Delta and its SkyTeam joint venture partners Air France-KLM and Alitalia have adjusted their joint increase to 1% to 3%, which is approximately half of previous projections.

Delta has zeroed in on its joint venture with Virgin Atlantic as its growth vehicle in the trans-Atlantic. In late 2012 Delta purchased a 49% stake in Virgin Atlantic for USD360 million, and Delta expects to recoup that investment in full by YE2015.

As of mid-Dec-2014 Delta estimated that unit revenues in the London Heathrow market for its joint venture with Virgin Atlantic had increased by 7%, and margins in the business agreement had grown more than 3ppts during its first year of operations on 4% capacity growth.

During 2015 the joint venture partners aim to increase their US-UK capacity by 10% to 39 peak daily round trips. Most of the growth in 2015 is on Virgin Atlantic metal, compared with Delta leading the capacity increases in 2014 with its aircraft.
Virgin Atlantic is adding frequencies from New York JFK, Atlanta, San Francisco, Los Angeles and Miami to Heathrow, and adding new service from Orlando to Glasgow and Belfast, Los Angeles to Glasgow. To support the new US destinations, Virgin Atlantic is cutting service to Mumbai, Tokyo Narita, Vancouver and Cape Town. Delta's planned new trans-Atlantic route additions in 2015 include Philadelphia to London Heathrow and JFK to Manchester.
Delta and Virgin Atlantic JV route additions and changes for 2015

Delta is more than halfway to completing its plans for Seattle
Delta's pursuit and acquisition of a stake in Virgin Atlantic was driven by its need to increase its service to London Heathrow from New York, one of the largest global corporate travel markets. Now with a more competitive schedule, Delta has improved leverage to capitalise on corporate clients, airline chief revenue officer Glen Hauenstein explained to investors.

During the last few years Delta has made numerous investments in New York, including engaging in a slot swap with US Airways to bolster its position at LaGuardia. In 3Q2014 Delta's hub in LaGuardia outperformed the system after unit revenues in the market increased by 10% year-on-year.

Seattle has been a huge growth market for Delta during the last couple of years, after the airline has opted to build out the airport as its main western gateway to the Pacific. As part of the build-up Delta has launched numerous domestic routes from Seattle during the last year, opting not to leverage its relationship with its long-term partner and Seattle's largest airline Alaska Airlines. As a result, Delta has ratcheted up competition with Alaska and injected a significant amount of capacity into the Seattle market.

Alaska has previously stated its competitive overlap with Delta should reach 50% during the summer of 2015. Mr Hauenstein admitted that there were sceptics, even some inside Delta, that were doubtful that Delta could execute its Seattle strategy against the formidable Alaska. But he stated that Seattle is profitable and recording margin expansion. In 3Q2014 Delta's unit revenues in Seattle grew by 6% on 25% rise in capacity.

Mr Hauenstein remarked that Delta will temper some of its growth in Seattle during the 2015-2016 time period, estimating that Delta is approximately 70% complete with its plans for Seattle.

See related reports:
Delta's plans to slow Latin growth as its investments in the region reach maturity
Delta more than any other US airline has adopted a strategy of filling its network gaps through taking stakes in airlines that are dominant in regions where it is lacking. It opted to pursue Virgin Atlantic for key access to Heathrow and in Latin America has taken stakes in Aeromexico and Brazil's Gol, large airlines operating in the predominant markets of Mexico and Brazil.

Queried about the return on investment, Mr Bastian remarked that the Latin geography "has done well for us". Delta has been adding an outsized amount of capacity to its Latin American markets, growing supply by 16% year-on-year in 3Q2014. Similar to other airlines, Delta also encountered headwinds triggered by the FIFA World Cup soccer tournament in Brazil as corporate demand weakened.

Delta has added a second Atlanta-Sao Paulo frequency, and Mr Hauenstein estimated that roughly 35% of Delta's traffic connects onwards to Gol's large network within Brazil.

Mr Bastian stated that Delta and Aeromexico were in discussions about creating a joint venture once a new air services agreement between the US and Mexico that eases route restrictions takes effect in 2016. "That could be a big opportunity for us," he concluded. Based on data from CAPA and OAG for the week of 8-Dec-2014, Delta and Aeromexico combined represent at 26% share of the seats on offer between the US and Mexico (Aeromexico has a 16% share and Delta has a 9% share). United is the leading airline between the two countries with 20% followed by American with a 19% share.

See related report: Mexico's airlines continue transborder push as they await a new bilateral agreement to take effect
Delta is tapering its growth to Latin America in 2015 as the spool-up in its investments in Aeromexico and Gol nears completion.
Delta sharpens its outlook for 4Q2014
With its capacity plan firmly in place for 2015, Delta has also revised some of its financial targets upwards for 4Q2014. It now expects an operating margin of 11.5% to 12.5% versus previous targets of 10% to 12%. Its unit revenue projections are now an increase of 1% to 1.5% compared with previous forecast of flat to 2% growth.
Delta Air Lines select financial projections for 4Q2014
Delta seems to be laying the foundation to compete as United and American catch up
Delta enters 2015 with relatively solid network utility, having worked to fill in the gaps by taking stakes in airlines that are prominent in regions where it was lacking scale. While there is always risk, those investments seem a reasonable gamble for the long term even as Mexico and Brazil are enduring some sluggishness in their domestic markets triggered by softening economies. Delta would be hoping it can help ease some of the weakness, and that Delta can benefit from more network breadth.

Domestically, Delta has already completed the necessary pruning at its Memphis and Cincinnati hubs, while building up its presence in Seattle, New York and Los Angeles.
For now it seems that its capacity additions are yielding favourable results. But as United and American work to achieve the same network viability, Delta's competitive advantage against its closest peers will continue to narrow. For now Delta seems to be poised to compete effectively as they catch up. They probably have another six months before the peer pressures start to tell. But the combination of lower fuel prices and an improving economy makes for a brighter outlook for those well armed to compete.