Allegiant Air faces new competition from US ULCCs as fleet and labour deals drive some cost creep
Niche US ULCC Allegiant Air should be embarking on a period of greater stability after reaching an agreement with its pilots and completing a safety review with the US FAA. The airline also recently placed its first order for new aircraft with Airbus, which will help to accelerate the retirement of its ageing MD-80s that are creating reliability challenges for Allegiant.

Although the pilot agreement and aircraft deal will drive long term benefits for Allegiant, the airline faces some cost pressure going forward from increased labour expense and inefficiencies in operating more than one fleet type. As it braces for some cost inflation, Allegiant is also facing increased competitive overlap with fellow ULCCs Frontier and Spirit, which reflects subtle changing dynamics in the US domestic market.

For the moment, the overlap between Allegiant and other ULCCs remains small. But the likelihood of increasing competition is strong as the opportunities in medium sized markets created by consolidation among the US' largest airlines continue to grow.
Allegiant faces some cost inflation from increased labour costs and slower capacity growth
Prior to reaching a deal with its pilots earlier in 2016, Allegiant spent three years in contentious negotiations with the labour group. At one point the pilots threatened to strike, and also went public with concerns over safety at the airline.

See related report: Allegiant navigates pilot unrest as it records healthy profits and works to achieve growth targets

As Allegiant was reaching a tentative agreement with its pilots the company was also in the final stages of completing a review by the US FAA that entailed 30 of the agency's inspectors conducting in depth reviews of Allegiant's operations. Allegiant's management recently explained the agency's findings were minor, and plans to issue a response to the FAA within 60 days detailing its plans to remedy the issues raised by the agency.

The new pilot deal, which took effect 1-Aug-2016, includes a 31% pay increase on top of a 5% to 7% increase the company granted to pilots in 2015. Allegiant has estimated the new agreement would cost USD44 million on a full year basis.

In 2015 Allegiant's unit cost excluding fuel was USD5.81 cents, a 12% drop from the year prior. Its guidance for 2016 is flat to an increase of 4%. The new pilot contract, capacity growth slowing to the high single digits in 2017 and 2018 and some of the cost efficiencies of operating more than one fleet type will likely result in Allegiant's non fuel unit cost growth remaining in the low single digits for 2017.
The Airbus order helps Allegiant accelerate retirement of increasingly inefficient MD-80s
With the pilot agreement ratified and the FAA review completed, Allegiant recently made an uncharacteristic move by ordering 12 current generation Airbus A320 narrowbodies directly from Airbus. Historically, Allegiant has sourced its aircraft from the used market, but as production of current generation A320s draws to a close, the company had an opportunity to forge a deal with Airbus with very good economics, Allegiant executives recently explained.
Allegiant Air fleet summary as of 18-Aug-2016
The aircraft agreement allows Allegiant to accelerate the retirement of its MD-80 fleet to 2019 from a previously planned retirement timeframe of 2020-2021. The CAPA Fleet Database shows the average age of Allegiant's MD-80s is nearly 27 years, and the older sub fleet is starting to create operational challenges for the airline.
Allegiant Air average fleet age as of 18-Aug-2016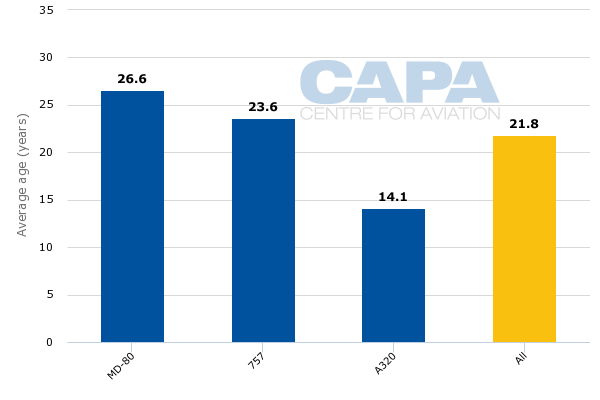 The combination of Allegiant's need to accelerate the retirement of its MD-80 fleet, along with favourable economics of buying end of production aircraft, created an opportunity for Allegiant to purchase new aircraft directly from an aircraft manufacturer.
But the company views the deal with Airbus as similar to any other spot transaction the market presents for aircraft. The message appears to be that the deal with Airbus could be a one-off agreement that augments Allegiant's purchase of used aircraft.
Competitive overlap rises between Allegiant and fellow ULCCs Spirit and Frontier
During the past three years Allegiant has added a mix of medium sized markets to its network that largely consists of linking large leisure bases such as Orlando Sanford or Las Vegas to smaller cities such as Casper, Wyoming or Billings, Montana. It has made a push from Cincinnati, Ohio and other medium sized markets that, in some cases, have lost service due to consolidation among the large US global network airlines and the merger between Southwest and AirTran.

Allegiant is one of many low cost airlines to take advantage of loosening operating restrictions at Newark Liberty International airport in 2016. The airline is adding flights from Newark to Asheville, Cincinnati, Knoxville and Cincinnati in direct competition with United Airlines. Allegiant is also adding flights from Denver to Montrose, Colorado.

See related report: Allegiant Air attacks United in New York, testing niche ULCC model in large competitive metro market
Allegiant is reaching a network milestone in late 2016 when its first flights to the Caribbean debut. The airline is launching flights from its base in Orlando Sanford to San Juan, Puerto Rico. The greater Orlando to San Juan market features service from Orlando International operated by Southwest, Spirit and jetBlue.

Allegiant's four weekly flights between Orlando's secondary airport Sanford and San Juan is a larger service pattern than most of its routes, which feature two weekly flights designed to target cost conscious travellers that are not beholden to a broader schedule.
Allegiant Air domestic routes served by frequency/week: 15-Aug-2016 to 21-Aug-2016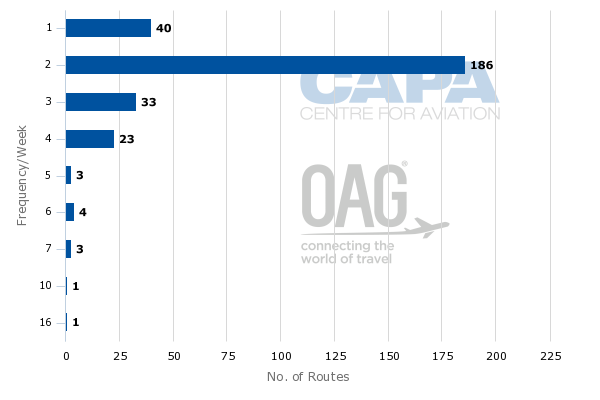 Given the competitive dynamics from Orlando to San Juan, including flights by low cost medium frills jetBlue, Southwest and ULCC Spirit, Allegiant's schedule needs to be more robust. Spirit, which offers daily service from Orlando International to San Juan, has a cost base closer to Allegiant's (Spirit's non-fuel unit cost excluding special items in 2015 were USD5.50 cents), which allows Spirit to offer fares that are similar to Allegiant's base ticket prices.

Spirit is also increasing competitive overlap with Allegiant in Akron, Ohio in 2016. Among Spirit's new routes from Akron are Fort Lauderdale and Myrtle Beach, which are presently served by Allegiant. Since a change of CEO in early 2016, Spirit has been indicating it would alter its network mix to add more medium sized markets to its roster as the large US airlines are competing more fiercely with ULCCs.

See related report: Spirit Airlines feels the sting Southwest's discounting. First signs emerge of changing network mix

Unlike Allegiant, Spirit operates at least a daily flight in most of its domestic markets, which creates interesting dynamics as the overlap between Allegiant and Spirit increases. Both airlines offer low base fares to stimulate traffic and then charge for add ons including checked bags, carry-on luggage and seat assignments.
With Spirit featuring a broader schedule, it could put pressure on Allegiant in markets where the two airlines directly compete.
Spirit Airlines domestic routes served by frequency/week: 15-Aug-2016 to 21-Aug-2016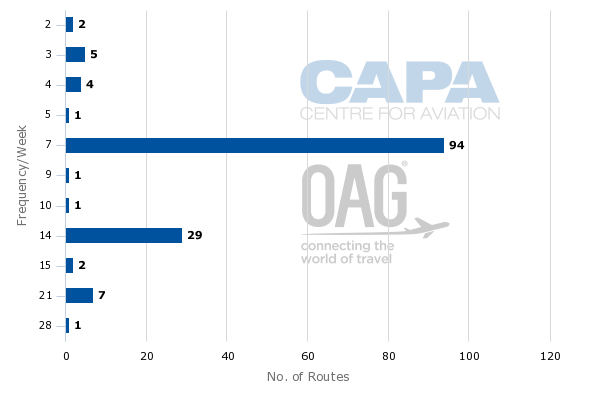 Frontier is also increasing its competition with Allegiant in 2016 with the resumption of service from Cincinnati to Fort Lauderdale and new service to Tampa. Allegiant serves the Tampa metro area at St Petersburg airport roughly 40km from Tampa.

Frontier is serving Tampa four times weekly and Fort Lauderdale three times weekly. Although Frontier typically offers more frequencies on its routes than Allegiant, in a number of markets it offers less than daily service.
Frontier Airlines domestic routes served by frequency/week: 15-Aug-2016 to 21-Aug-2016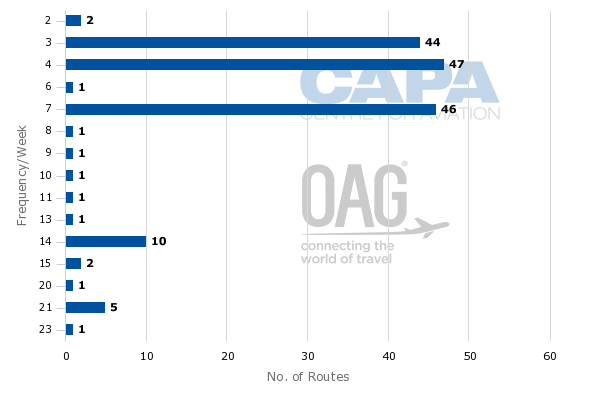 Allegiant has made its own moves to increase competition with Frontier and Spirit, including the decision to become the second ULCC serving Trenton, joining Frontier, which is the only scheduled airline operating from the airport. Allegiant is launching flights from Trenton, which is roughly 55km from Philadelphia, to Orlando Sanford, Punta Gorda and St Petersburg. Frontier operates several routes from Trenton and will overlap with Allegiant in the Orlando market (Frontier serves Orlando International) and the Tampa market (Frontier serves Tampa International). Frontier is also launching flights to Punta Gorda in late 2016.

Trenton presents a unique scenario where, in some markets, one ULCC is attempting to capture cost conscious travellers from offering flights from a secondary airport to two major airports while Allegiant is offering flights between two secondary airports. Presumably, the airlines will offer similar fares in each of the competitive markets.

Allegiant recently cited some pressure on fares in the Philadelphia to Florida market on some of its secondary airports near Philadelphia including Harrisburg, Allentown and Scranton, Pennsylvania and Hagerstown, Maryland. Trenton is closer to Philadelphia than any of those airports, but Frontier has served Trenton since 2012 and recently reached its one million passenger milestone at the airport. Frontier officials recently told news outlet NJ.com Trenton is one of the airline's most profitable airports on a margin basis. Obviously Allegiant wants to tap into a market where it can possibly stimulate traffic and post high margins.

See related report: Frontier Airlines has numerous fits and starts in its network as it remains on the selling block
The next year should offer insight into changing competitive dynamics among US ULCCs
Between Aug-2015 and Jun-2016 the number of routes where Allegiant overlapped with ULCCs grew from six to 15. The overlap will continue to increase throughout 2016 and 2017 as Spirit pivots toward medium sized markets and Frontier continues to grow.

The increased competition should offer insight into how Allegiant with its low frequency business model can compete effectively with its fellow ULCCs that offer more flights in the competitive markets. Allegiant also offers more comprehensive travel packages than its ULCC competitors, so that could create some shield against the new competition.

Allegiant is showing little concern about the increasing competition with Frontier and Spirit. Citing its schedule that focuses on peak times of day, peak days of the week and peak seasons along with closed distribution model, "it is very difficult for a competitor to come in, and over those long periods of time be successful while adversely affecting us", said Jude Bricker, SVP planning and COO of Allegiant.
Allegiant faces internal and external shifts as its niche model matures in the US market
Allegiant is in midst of some significant internal changes while adapting to increased competition from its fellow US ULCC at a time when it faces some cost inflation and the time period for its fleet transition has accelerated.

There is little reason to doubt Allegiant's ability to navigate the internal changes and shifting market dynamics it is presently encountering. In the larger context, the next two years should offer some clarity as to whether Allegiant needs to alter its niche approach as the US ULCC market place evolves. There is a sense that changes could be substantial.