Spirit Airlines feels sting of Southwest's discounting. First signs emerge of changing network mix
Analysis
Efforts by Spirit Airlines to create some pricing traction in the US domestic market during the early high travel season during 2Q2016 have been foiled, largely by Southwest Airlines. The result was continued weakening of yields for the airline, a metric that has been a mainstay for Spirit during the last couple of years. The airline's double-digit yield decline slightly worsened from 1Q2016 to 2Q2016.

Spirit is forecasting some improvement in the US revenue environment in 3Q2016 as the airline starts to lap the onset of pricing dilution in the US market that started in mid-2015, and as its own capacity slows in comparison with 2Q2016.

The airline is also making network moves in late 2016 to reflect its new strategy of adding mid-size markets that are less competitive. Spirit is making a push from a new market – Akron-Canton – and is also expanding from Orlando. At the same time, Spirit is exiting markets featuring a mix of low and high levels of competition as it works to change the structure of its network, now that larger airlines are more wilful in matching the ULCC's fares.
Aggressive pricing by Southwest poses challenges for Spirit in 2Q2016
Declines in Spirit's yields, total unit revenue, and base fares worsened slightly from 1Q2016 to 2Q2016 even as the busy travel season commenced late in the second quarter.
Declines (% decrease) in Spirit Airlines' yield, total unit revenue and average ticket revenue per flight segment: 1Q and 2Q2016
| | | | |
| --- | --- | --- | --- |
| Quarter | Yield decline | Total unit revenue decline | Average ticket revenue per flight segment decline |
| 1Q2016 | 13.6% | 13.8% | 20.5% |
| 2Q2016 | 14.7% | 14.3% | 22.6% |
Recently Spirit's executives explained that during 2Q2016 the company had pushed through several structured fare increases, having determined that the pace of its bookings implied fare levels that were suboptimal for the peak travel period. However, the benefits of the increases were diluted by aggressive pricing actions by competitors.

Southwest Airlines appeared to be the most aggressive price discounter in Spirit's markets. Company management explained that during the last two weeks of 2Q2016 it had encountered a lot of discounting – primarily from Southwest, in markets including Atlanta and Minneapolis. As a result, Spirit was forced to lower its fares.
Earlier in 2016 Spirit had estimated that it had the highest overlap with Southwest among US airlines, at 59% (covering Feb-2016). American had the second highest overlap, with Spirit at 53%.

Spirit's executives stated that the US market place appeared to be more stable in 3Q2016, and its projected total unit revenue decline year-on-year for the quarter is 9%, which is a marked improvement from the 14.3% the airline recorded in 2Q2016. Its capacity is also falling from 24% year-on-year growth in 2Q2016 to an increase of 16% in 3Q2016. The third quarter features the high peak period of July and the trough of September, which is challenging for leisure-dependent airlines such as Spirit.
Southwest recently observed that some of its competitors are offering very "hot fares" in Sep-2016, and the airline has no choice but to match those prices to sustain and grow traffic.

See related report: Alaska, jetBlue and Southwest unable to offer solutions to revenue instability in the US
Spirit feels some pressure in international markets and cuts marginal flying
Spirit also suffered pressure in some international markets during 1Q2016 as VFR routes in Latin America were affected by macroeconomic pressures. The airline has pulled some red-eye international flights from its fall schedule, including services from Houston Intercontinental to Managua, San Jose Juan Santamaria and San Salvador. Spirit's largest base, Fort Lauderdale, is its major gateway to Latin America and the Caribbean, so the cuts it is making in Houston appear to marginal flights that turn unviable as currencies weaken.

Overall, Spirit remarked that currency issues in Colombia and some other Central American countries had persisted into 2Q2016. Colombia is Spirit's second largest international market measured by the largest percent of ASM allotment.
Spirit Airlines international capacity by country (% of ASMs): 1-Aug-2016 to 7-Aug-2016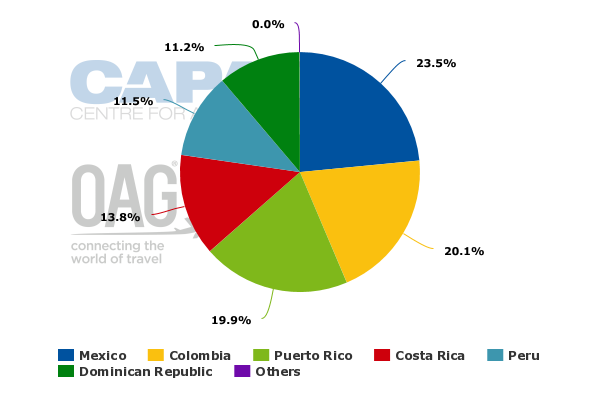 Spirit seems to be pulling a page from AirTran's playbook
Spirit's new route additions planned for autumn 2016 shed some light on the airline's plans to change its network mix to include more medium-sized markets, shielded from large US airline competitors. Those airlines are developing seemingly permanent mechanisms to match Spirit's low base fares, with segmented products slowly being rolled out in the market place.

See related report: Spirit Airlines fleet changes reflect a potential shift to smaller markets, still growing at 15-20%

The airline plans to launch flights from a new market – Akron-Canton – in late 2016 to Fort Lauderdale, Fort Myers, Myrtle Beach, Orlando International and Tampa. Prior to its merger with Southwest, AirTran had a strong presence in Akron, and AirTran's former CEO Robert Fornaro assumed that position at Spirit in early 2016.

Spirit's routes from Akron have little competition. Allegiant operates flights to Fort Lauderdale and Myrtle Beach. Southwest served Tampa until Apr-2016, according to data from CAPA and OAG, but presently no airline operates on the pairing. Spirit's competition on the service to Orlando is Southwest, although Allegiant operates flights from Akron to Orlando Sanford.

Akron's seats in 2016 are noticeably lower than 2014 and 2015, a time period when the full integration of AirTran and Southwest was completed. Spirit's CEO Mr Fornaro recently said that there had been 10 to 15 years of continuous service at Akron, combined from AirTran and Southwest, and he highlighted double-digit margins for AirTran during a decade of serving the airport.
Akron Canton Airport system-wide seats per week: 2014 through 2017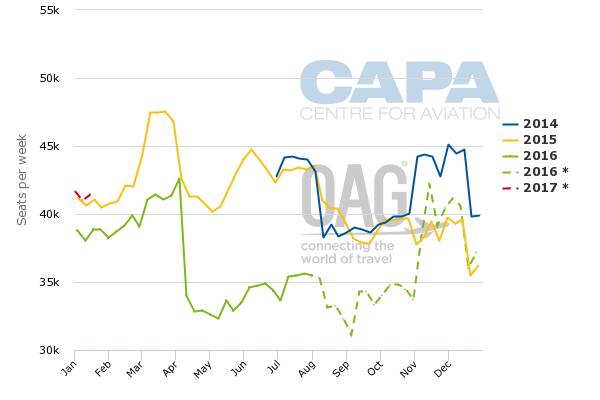 Currently (1-Aug-2016 to 7-Aug-2017) Southwest is Akron's third largest airline measured by seat deployment.
Akron Canton Airport capacity by airline (% of seats): 1-Aug-2016 to 7-Aug-2016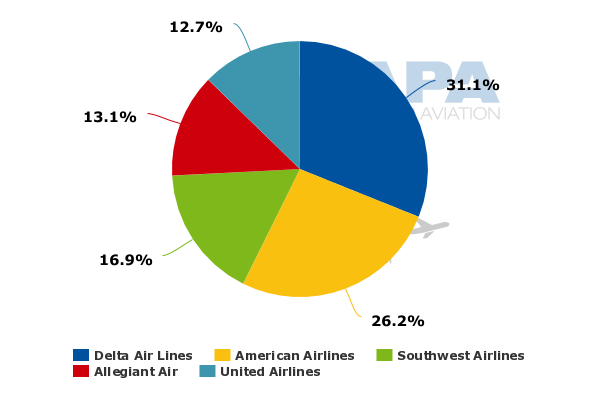 Spirit looks to exploit opportunities in Orlando, adding a mix of contested and uncontested routes
Spirit also plans to expand its presence from Orlando International airport in late 2016 with new flights to Boston, Kansas City, Philadelphia, Niagara Falls and Plattsburgh. Those flights join Spirit's existing service from Orlando to Atlanta, Atlantic City, Latrobe, Chicago O'Hare, Cleveland, Dallas Fort/Worth and Detroit.

Spirit accounts for approximately 5% of the domestic seats deployed from Orlando International, which is a major focus city for jetBlue Airways and a stronghold for Southwest. Prior to the merger with Southwest, AirTran also had a strong presence at the airport.
Orlando International Airport domestic capacity by airline (% of seats): 1-Aug-2016 to 7-Aug-2016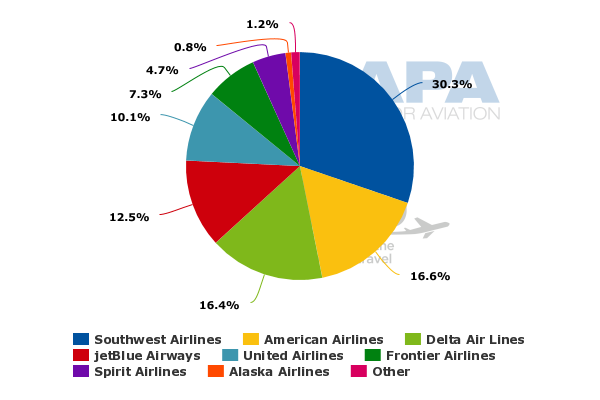 Mr Fornaro remarked that Orlando is "actually a very good place for a mid-size opportunity, and I think relative to the breadth of service we have we were probably a little smaller in Orlando than one might expect".

On its routes to Plattsburgh and Niagara Falls Spirit faces no competition. Those are border airports with Canada, and the airline is attempting to capture some winter traffic flows to Orlando. Spirit already serves Myrtle Beach and Fort Lauderdale from both Plattsburgh and Niagara Falls. It will compete with jetBlue and Delta on flights from Orlando to Boston, and Southwest, Frontier and Delta on service to Kansas City. Spirit's competitors on service from Orlando to Philadelphia are American, Frontier and Southwest.

Spirit is also taking advantage of loosening operating restrictions at Newark, and plans to launch service in late 2016 to Fort Lauderdale, Orlando and Myrtle Beach. United serves all those routes, and jetBlue operates to both Fort Lauderdale and Orlando. Southwest also offers service from Newark to Orlando.

The ULCC Allegiant is also entering the Newark market in 2016, which is atypical for the airline, but access to all the New York metro area airports is not an opportunity any airline can walk away from, even if incumbents are prepared to strike back.

See related report: Allegiant Air attacks United in New York, testing niche ULCC model in large competitive metro market
Spirit makes cuts in numerous markets as it takes a more precise approach to seasonality
Spirit also plans to exit several markets in late 2016, some of which have multiple competitors. The routes being cut where Spirit is the only operator are flights from Dallas/Fort Worth and Chicago O'Hare to Oakland.

American is Spirit's only competitor on flights that the ULCC is cutting from Dallas/Fort Worth (American's largest hub) to Cleveland and New Orleans. In 2015 American drew a line in sand, stating that it would match LCC and ULCC pricing even as it faced declining unit revenues, and the company has seldom relented on its price-matching.
The reality is that the three major US network airlines, American, Delta and United, are instituting permanent tools to compete with Spirit through their fare families. Once American debuts its segmented products it can use more sophisticated tools to match ULCCs selectively.

In other markets that Spirit plans to cut there are more competitors, and given the current pricing environment in the domestic US market it makes sense for Spirit to move capacity to other areas, where it can presumably capture more revenue.
Competitors and seat share in select markets Spirit plans to cut in 2H2016
The latest network moves reflect Spirit's decision to focus more on seasonal flows on routes with fewer competitors. "As the market remains more competitive, which we assume it will, we will be more tactical on a seasonal basis...", said Mr Fornaro.
Spirit's ultimate network mix is hard to predict. Competitive forces will shape its design
Spirit's yield and unit revenue declines have been the sharpest among US airlines during the last couple of years since falling fuel costs have changed pricing dynamics in the country's domestic market. From a network perspective, the airline is making changes to add markets that have fewer competitors and a more seasonal bent.

The airline is in the early phases of changing its network mix, which means that it will take time for any positive results from the shifts to flow into its unit revenue performance. A year from now Spirit's network could look vastly different, or could just have a small percentage of medium-sized markets.
Competitive responses will very clearly play a role in prompting the adaptable airline's evolving network composition.