Allegiant navigates pilot unrest as it records healthy profits and works to achieve growth targets
Analysis
Uncertainty over Allegiant Air's 2015 growth has become clearer now that the US FAA has ended a heightened surveillance period of the airline's operations due to labour unrest among the company's pilots. With the lifting of the heightened surveillance, Allegiant can start planned new service and add aircraft to its operating certificate.

FAA ended the extended surveillance period after Allegiant won an injunction against its pilots that prohibits flight crews from striking. Pilot discord has been simmering for a variety of reasons as it appears that little progress has been made in reaching a new collective bargaining agreement.

Obviously the injunction does little to alleviate pilot discontent. But it does give Allegiant an ability to press forward with its growth, which on an ASM basis is projected at 15% to 18% for 2015. But the threat of a strike is having a small, lingering effect on the airline's 2Q2015 unit revenues.
Allegiant's pilot dispute is complex, but mainly centres on scheduling
The dispute between Allegiant and its pilots is complex, but basically centres on the adoption of a new scheduling system in Jul-2014 that pilots believed violated "status quo" as the two sides have been negotiating a new contract. Pilots at Allegiant are represented by the International Brotherhood of Teamsters.

In Jul-2014 a court ruling concluded that while Allegiant's move to a preferential bidding system was a status quo violation, the judge allowed the airline to continue using the system after Allegiant convinced the court that switching back to the line bidding scheme would be disruptive. However, the judge ordered Allegiant to modify the system to "better respect pilot seniority and to provide greater transparency and predictability for the pilots". The court also required that Allegiant submit status reports every thirty days on the progress of the modifications.

The court recently stated that Allegiant did modify its monthly scheduling system with regard to the interface pilots use to create their bids. But pilots argued that they were not timely or sufficiently consulted about the changes, and also contend that Allegiant is in violation of the Loss-of-Medical-Certificate programme.

Allegiant pilots also are unhappy with how the airline prioritises "Must-Fly Days", according to court documents. Basically the pilots believe that the way those days are scheduled does not completely honour pilot seniority.
A strike threat is averted, but a new pilot agreement seems far off
In early Apr-2015 Allegiant's pilots threatened to strike, and the company won a temporary restraining order preventing flight crews from striking. Following the temporary restriction on striking, a court in early May issued an injunction prohibiting Allegiant' pilots taking strike action.

After the injunction was issued, FAA opted to stop a heightened period of surveillance it had initiated during the labour unrest. The lifting of the restriction now allows Allegiant to undertake new route launches and add new aircraft to its operating certificate.

But the two sides appear to remain far from reaching a new collective bargaining agreement. In Apr-2015 Allegiant CEO Maurice Gallagher stated that pilots and management had not participated in a bargaining session in roughly six months "and we obviously can't get a deal done if you're not talking". Mr Gallagher remarked that Allegiant wanted to resume bargaining.

Allegiant in Apr-2015 also said it was giving its pilots a 5% to 7% raise that would take effect on 1-May-2015. The company outlined the raises as it posted a nearly 90% jump in 1Q2015 earnings year-on-year to USD64.9 million.

On an annual basis, Allegiant has posted largely healthy profit growth since 2008, with a high of USD93 million in 2013. Its 2014 profits fell to USD86.7 million, but were still favourable. Its operating margin for 1Q2015 jumped 13.9ppt to 32.8%.
Allegiant Air's annual profits: 2008 to 2013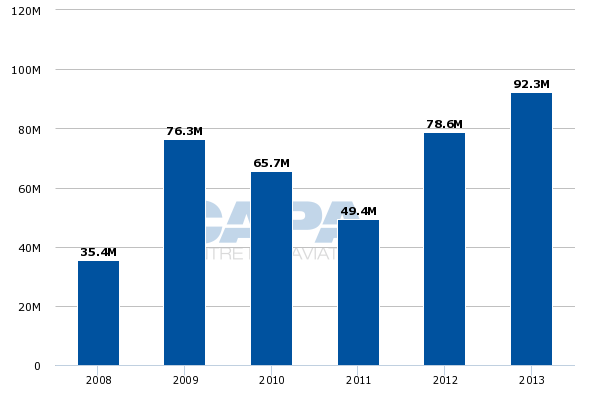 Several factors are driving down Allegiant's 2Q2015 unit revenues, including pilot issues
Although Allegiant has averted what could have been a disruptive pilot strike, the strike threat is having some lingering effects for the airline as one of the factors driving down its forecast 2Q2015 revenue performance.

Allegiant's total passenger unit revenue per available seat mile (TRASM, which includes ancillaries) was flat year-on-year in 1Q2015, and is projected to fall 8% to 10% in 2Q2015.

Company senior vice president of planning Jude Bricker stated some of the factors contributing to Allegiant's unit revenue decline have no relation to the demand environment, including the pass through for the increase in security fees that became effective in Jul-2014. Allegiant also shifted from a debit card discount to a credit card surcharge, which is neutral or accretive to its operating margin, but decreases unit revenues. Those two elements are reducing 2Q2015 unit revenues by roughly 4ppt.
Overhang from the strike is also affecting 2Q2015 unit revenues by about 1% due to some refund policies Allegiant utilised during the risk of a strike. "In a demand neutral environment, we would be down about five percentage points in TRASM," said Mr Bricker.
Allegiant plans double digit capacity growth, but remains a small player in the market
The remainder of Allegiant's 2Q2015 unit revenue decline is healthy capacity growth forecast at 16% to 20%. Mr Bricker stated that the growth is largely driven by additional aircraft in its markets and increased utilisation.

Allegiant also has a larger number of new markets ramping up in 2Q2015 versus the year prior, with roughly 11% of its ASMs stemming from markets in operation under six months compared with 2.5% in 2Q2014.

During May-2015 Allegiant is launching service from Tulsa, Raleigh-Durham, Akron-Canton and Omaha to St Petersburg/Clearwater and from Cincinnati and Akron-Canton to Savannah/Hilton Head.

The airline is also adding 11 Airbus narrowbodies in 2015 and retiring a single MD-80s and one Boeing 757 for a net addition of nine aircraft. Seven Airbus narrowbodies are scheduled for delivery in 2016 and two MD-80s are scheduled for retirement.
Allegiant's A319 fleet is growing from five as of 31-Mar-2015 to 17 at YE2016. Mr Bricker noted there was particular softness in terms of sourcing aircraft, particularly with the A319. United Airlines recently brokered a deal to lease 11 A319s from Aercap as it works to revamp its regional fleet to phase out 50-seat jets. Allegiant has also just brokered a deal to acquire three used A320s set to enter service in 3Q2015.
Allegiant Air fleet projections: YE2015 and YE2016

Allegiant is forecasting capacity growth of 15% to 18% year-on-year for 2015, and Mr Bricker concluded that long term, its fleet growth should level off to seven to eight aircraft per year, which would produce mid-teens ASM growth. It seems like hefty growth for the US market place, but Allegiant is a small, truly niche player whose business model is not a threat to the majors, or LCCs. Allegiant differs from ULCCs in that it is a low frequency airline that for now operates older aircraft and offers more comprehensive travel packages.

Although the airline is entering some larger markets such as Cincinnati and Pittsburgh. Its core business remains linking small destinations like Huntington, West Virginia with low frequency service to leisure destinations in Florida, Las Vegas and California.
Allegiant and Southwest's challenge: achieve meaningful goals in pilot talks
As CAPA has previously observed, US airlines are in an unprecedented period of profitability, increasingly provoking labour to chase its "fair share" of the success. Both Southwest and Allegiant are experiencing pilot tension with Southwest's pilots organising a strike preparedness committee.

Labour negotiations are sensitive and complex, but a strike risk is disruptive to both operations and customers. There are few if any examples where a pilot strike has led to a win-win outcome and almost as few win-lose outcomes; the norm is for lose:lose.
Most US airlines recognise that favourable labour negotiations are paramount to sustaining their profitability. The challenge is both sides feeling as if they achieve meaningful goals in negotiations, which for some airlines at the moment is not being resolved easily.

See related report: The US airlines' new era profitability offers a new basis sustainability. What will unions do?