Aircraft availability and capability continues to determine Emirates expansion plans
Analysis
One-third of the world's population, so the explanation justifying Gulf network carriers goes, lives within four hours of the big three Gulf hubs: the UAE's Abu Dhabi and Dubai, and Qatar's Doha. Two-thirds live within eight hours, but that last third live more than 12 hours away in a range difficult for fully-loaded aircraft to serve. But Emirates, as exemplified by its announcement last month to serve Dallas-Ft Worth and Seattle, is trying its best to enter the lucrative US market despite still needing to build a profile for itself.
The Dallas and Seattle routes will be some of the longest in Emirates' network, and will see the carrier serve two more of the top 15 metropolitan areas in the US after New York, Los Angeles, and San Francisco, as well as two more of the 20 largest international airports in the US. A look at which other destinations rank in this list indicates where Emirates may plant itself next in the US.
Emirates CEO Tim Clark remarked to Bloomberg at the time of the Dallas and Seattle route announcements, "We've always had fairly ambitious plans for the US and this is part of that. It's an immense market. There will be more to come, including increased frequencies and bigger planes. We have ideas for the East Coast, the north-south axis in the centre and for the west".
Mr Clark explained some plans were put on hold after the downturn following the 9/11 terrorist attacks, but equally important during that period was Emirates' lack of long-range aircraft, with only a handful of fuel-guzzling A340-500s and the B777-300ER not yet pushed to its limits the way it is today. A decade later with more long-range aircraft and better performance out of them, longer-range points open up to Emirates. But the carrier still does not have infinite capacity. Emirates vice-president for UK and Ireland Laurie Berryman told Routes that it would like to upgrade some A330 routes, but "a lot depends on when we have a Boeing B777 available to operate on the route".
The route expansion continues to place Dubai as the preeminent Gulf Middle East destination, with 41% of all US-Middle East seats ending in Dubai from Mar-2012 (including the Dallas and Seattle flights). Excluding O&D flights to Israel, Dubai's share increases to 56%. This figure includes service to Dubai from Delta and United, but it is still clear Emirates is the preeminent Gulf network carrier serving the US.
Middle East hub share of US-Middle East seats: Mar-2012 forecast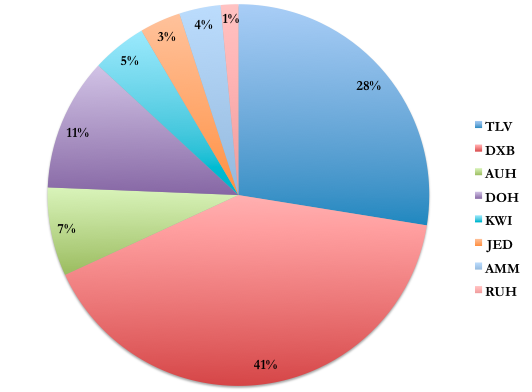 Seattle: Home to multinational companies and their corporate contracts
The Dubai-Seattle route is to commence 01-Mar-2012 with a daily B777-300ER service, adding approximately 5000 weekly one-way seats, taps into the large multinational corporate market around Seattle, including Boeing, Microsoft, Starbucks, Expedia, Amazon.com and much of the tech industry. Emirates was quick in a statement to highlight the Boeing connection, saying, "Emirates' Seattle route will help to further strengthen the airline's links with Boeing". Emirates could also expect a significant freight contract with Boeing to carry lucrative and urgent spare parts destined for other airlines.
At 7425 miles the Dubai-Seattle route will be one of Emirates' longest, although under the 8339 mile Dubai-Los Angeles route, interchangeably operated with B777-300ER equipment as well.
An end-run on Canada?
While Seattle's selection surprised some at the time, in addition to its corporate lure, Seattle's easy access from Vancouver makes it an alternative given the Canadian Government's restrictions placed not only on Emirates, but also its Gulf peers and Turkish Airlines, from further expansion. When an Emirates A380 was struck by a catering truck last year and a second A380 was brought in, the running joke was that this was the maximum number of Emirates A380s the Canadian Government would allow at any one time. Even adding the 2.5 hour drive from Vancouver, total elapsed travel time, as well as a hugely increased onwards network, will likely draw a constituency from the Vancouver region.
Borrowing second Houston flight for new service to Dallas, with incentives
The new Dubai-Dallas Ft Worth flight comes at the expense of Emirates' second daily Dubai-Houston route, which it will drop in early February to begin the Dallas service on 02-Feb-2012. The Dallas flight even has the same Dubai arrival (12:20) and departure time (02:45) as the second Houston flight.
While Emirates saw Dallas in its future, it reportedly accelerated expansion after wooing from the airport, which its 2011 fiscal year added nine destinations. The deal was sweetened by Dallas offering a USD5 million incentive package comprising free landing fees and terminal rent for two years as well as USD250,000 in marketing for the first year.
Emirates may have easily dropped the second Houston flight due to a slower uptake in a depressed market as the second daily service competed with Qatar's Houston-Doha service and further network traffic competition from Singapore Airlines, who operated from Houston to Singapore via Moscow.
B777-200LR equipment will operate the Dallas service, which at 8040 miles nears the length of the ultra long-haul Los Angeles and San Francisco services. Emirates' deployment of the -200LR and -300ER can be as much about range as it can be of capacity: the capacity difference between a -200LR and -300ER is about 65 economy seats; the first class and business class densities are the same, suggesting Emirates is understandably less bullish on the leisure sector (or cargo) out of the smaller Dallas than Los Angeles or New York.
More A380s from 2013
The batch of A380s with increased take-off weights, which Emirates will start taking delivery of in early 2013, will enable the carrier to replace its existing routes with the larger capacity aircraft. Mr Clark told Dallas News that Los Angeles and Dallas, and increased New York frequency, are all potential future A380 points. This in turn frees up capacity for new points, and Mr Clark has set his eyes on the east coast as well as the mid-west.
Where to next?
Emirates is progressively servicing the US' top metropolitan areas and airports, with only Seattle falling out of the pattern, largely due to its high proportion of multinational company bases.
Mr Clark's statement regarding a "north-south axis in the center" clearly implies that a service to Chicago, America's third largest metropolitan area, is imminent. The city is linked to the Middle East with an Etihad service to Abu Dhabi and, for less network competition, Royal Jordanian to Amman.
Ranking of largest metropolitan areas and airports in the US (population as of 2010, airports for 24-Oct-2011)
Mr Clark has mooted an eventual Philadelphia service, and with the region being the fifth largest metropolitan area – as well as short on international flights – this is very likely.
Washington DC and Atlanta
Currently, the only US carrier service to Dubai is offered from two major hubs: United from Washington and Delta from Atlanta. While both have huge networks feeding US interior points, neither has the ability to distribute traffic via a partner once in Dubai.
Should Emirates choose to challenge either carrier at their hub airport, it will have the advantage of a comprehensive distribution system across Africa, the Middle East and Australasia. The airline is already a major player in the Indian market with 10 destinations and thousands of seats per day to the sub-continent.
There is much discussion around Miami, as well as Boston, being a potential destination given all of the traffic there – it is the second largest airport in the US based on international seats. But the majority of that traffic, and business interest in the region, is for connections to Latin and South America, perhaps distorting some people's views on the market's capability.
And with more destinations, stirrings from US carriers?
US carriers have so far been mum on any effect Emirates has had on their traffic profiles, largely a result of Emirates serving the US' large cities. But the carrier's entry next year into American Airlines' fortress hub at Dallas, and stealing of network traffic otherwise carried by predominantly British Airways and Iberia, further decreasing the importance of European hubs, may start wars of words. Even if no public response is issued, airlines in the US will certainly have to think how they can increase their proposition in a market served by Emirates, or soon to be served by Emirates.