AirAsia returns to net profitability in 3Q3009; SIA and Cathay seeing improved conditions
AirAsia stated it expects a further recovery in air travel demand moving forward, with CEO, Tony Fernandes, stating that "based on the forward booking trend, the underlying passenger demand in the fourth quarter is positive". He added, "while the airline industry is facing arguably the most difficult environment in recent memory, we see vast opportunities to grow our business".
The region's largest LCC returned to net profitability in 3Q3009, traditionally the carrier's weakest quarter, with a net profit of MYR130.1 million (USD38.5 million) aided by a 86% jump in ancillary revenues to USD38 million (compared to overall revenue growth of 4.5% to USD219 million) and rising passenger numbers (combined Group passenger numbers were up 24% to 5.9 million passengers, with the Malaysian operation's traffic up 19%), which more than offset a 27% reduction in average fares (for Malaysian operations) and a 11% yield reduction.
The carrier also benefited from the Malaysian Ringgit's strengthening against the US dollar, which resulted in a translation gain of USD30 million.
Looking forward, AirAsia stated underlying passenger demand for 4Q2009 is positive, with the carrier remaining on course to achieve the Group's target of carrying 25 million guests for the full year. The carrier added that its Indonesian and Thailand operations are performing well in 4Q2009 with high passenger growth rate and "encouraging" yield trend. Both the associates are expected to "show a respectable performance in the upcoming fourth quarter".
AirAsia's share price was down 2.3% on Friday but has gained 48% since the start of the year, in line with the 45% rise in the broader market index, KLSE.
AirAsia share price growth: Jan-2009 to Nov-2009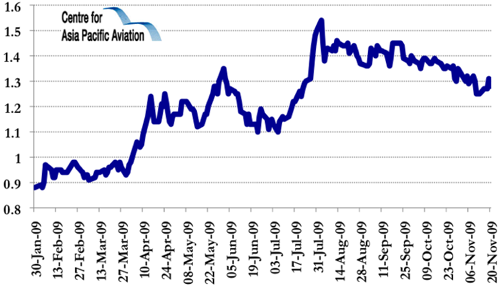 Singapore Airlines sees demand on the improve, but warns that recovery may not be sustainable
Singapore Airlines' shares were down 1.4% on Friday, as CEO, Chew Choon Seng, stated the current recovery in demand may not be sustainable. The carrier has, however, seen a pick up in cargo demand in the past two months, with the CEO adding that "as the year draws to its close, the evidence, thankfully, is that we have passed the bottom of the downturn".
Thai Airways has "stopped bleeding", but much work needed to achieve a "true recovery"
Thai Airway's shares were also down 1.6% on Friday, despite President, Piyasvasti Amranand, commenting that the carrier has "stopped bleeding". He, however, added that the carrier is "still in the critical stage, requiring us to work hard to achieve a true recovery".
MR Amranand added that the carrier is on track to achieve its cost cutting target of USD357 million for 2009, after reporting cost savings of USD310 million for the first nine months of the year. Mr Amranand stating the savings also indicate its target to achieve a 15% reduction in fuel costs is achievable. The carrier plans to continue with cost cutting plans in 2010, aiming to equal or exceed this year's target.
Cathay Pacific expects yield to take a long time to recover
In North Asia, Cathay Pacific's shares fell 1.9% on Friday, after CEO, Tony Tyler, stated he expects yields to take a long time to recover, following the global economic crisis that is continuing to negatively effect business and leisure demand.
The carrier's yields have fallen 20% this year, although the carrier stated it is seeing recovery in premium traffic and cargo. Cathay's shares have surged 55% so far in 2009.
According to Mr Tyler, "it's very unlikely that things will be as good as they were in 2007 for some time to come". He added, "at the moment we are seeing some recovery in premium travel, that is largely seasonal. The structural recovery will probably come when the world economy is on a firmer basis".
China Airlines forecasting a "small profit" in 4Q2009
In Taiwan, China Airlines President, HH Sun, forecast a "small profit" in 4Q2009, following net losses in the previous two quarters. The carrier returned to profit in Oct-2009, with results expected to improve through the quarter. The carrier also confirmed it is considering raising up to USD310 million in 2010. The carrier's share price slipped 1.0% on 20-Nov-2009.
JAL share price slumps to lowest level since relisting in 2002
Shares in JAL, which have lost more than half their value in 2009, closed down 3% on Friday, their lowest close since relisting in 2002, on reports that the carrier may have to pay approximately USD100 billion (USD1.1 billion) to settle fuel hedging derivatives transactions.
ANA expects to receive first B787 by the end of 2010
Also in Japan, All Nippon Airways' shares gained 1.3% on Friday, as the carrier confirmed that it expects to receive delivery of its first B787 by the end of 2010. However, the carrier has not yet received a delivery timetable from Boeing.
Chinese airline shares down, as currency policy change fails to materialise

Chinese airline's share prices continued to lose some of their recent gains in Hong Kong on Friday, due in part to disappointment that the Chinese Government has not given any clear public signal it may change its currency policy. It had been expected that the Yuan would be allowed to rise following President Barack Obama's recent China visit, but this failed to materialise.
China Eastern, Air China and China Southern shares were down by 6.4%, 2.6% and 0.4%, respectively. Shares of Mainland China's 'Big Three' carriers outperformed the Hang Seng Index over the last month, with speculation about Yuan appreciation contributing in part to their strong performance, as a renewed appreciation of the Yuan would make aviation turbine fuel cheaper and ease repayment of the carriers' foreign-currency loans.
HSBC Global Research added that it estimates that "every 1% appreciation of the Renminbi [Yuan] versus the US dollar will increase our estimate of Air China's end-2010 book value by 1%, [and that of] China Eastern and China Southern by 8% and 4%, respectively. They added, "if Renminbi appreciation doesn't occur while oil prices stay high, we argue the airlines could disappoint like what they did prior to 2007".
HSBC Global Research, meanwhile, downgraded Air China to neutral while retaining its underweight rating on China Eastern.
Asia Pacific selected airlines daily share price movements (% change): 20-Nov-09