AirAsia, eyeing revenue, makes strong entrance to frequent flyer programme
Analysis
Low-cost airlines dogmatic to their cost base have traditionally shunned frequent flyer programmes, seeing them as only increasing costs. So a move from AirAsia – Asia's largest LCC and which has the lowest reported cost base in the world – to venture into the FFP arena via its "Big" programme, a fully-fledged offering of flight rewards, a credit card and third-party partners, is a reminder that airline models are not inelastic and that few airlines are reaping the possible rewards of a FFP, which can be more valuable than the airline it is attached to.
As air travel becomes commoditised, airlines should be selling not a ticket but their brand, CAPA's boardroom magazine Airline Leader writes in the current feature examining how FFPs are for both love and money. Leveraging a brand can be accomplished through a FFP, and AirAsia has one of the best brands out there. But FFPs are not just a means to an end: they are a means unto themselves. In the year to 30-Jun-2011 Qantas reported a 22% increase in profit from external billings (points sold to credit card companies and other partners) of AUD202 million (USD212 million).
AirAsia is on its way to quickly transforming its embroynic FFP from a cost centre to profit centre, a process that took legacy airlines a significant amount of time and which caused LCCs, proclaiming themselves as "pure" or "true", to spurn the notion. But now LCCs have a wealth of examples to learn from, and AirAsia did its homework.
Introducing the FFP may not have come from changed management perspective but rather technology changes, namely moving AirAsia's reservation system to Naviataire's New Skies platform.
"What has changed is this new engine – the New Skies platform – and the ability to have a more robust and powerful CRM engine," AirAsia X CEO Azran Osman-Rani remarked in Aug-2010, the first hint of a forthcoming FFP. "Our success relies on our ability to find the right way of connecting and reaching out to people and being able to execute it in a very efficient way…It's about being able to create a program because you can do tailored one-on-one marketing, track purchasing patterns, histories, create deals and structures for them."
Offering a FFP enables AirAsia to better track purchasing patterns. Qantas' FFP gives the airline data analytics into customer insights and behaviour, Airline Leader said. For now there are no details on any targeted marketing from AirAsia and other advantages for the airline, but Big is planning for revenue-generating activities.
Members ("Big Shots") in Malaysia, where AirAsia first launched, can use a pre-paid Visa debit card and earn "Biggies" reward points on their purchases. Depending on reload options, there are fees, but not to an insulting amount.
AirAsia's Big rewards programme has partnerd with Visa to offer a pre-paid debit card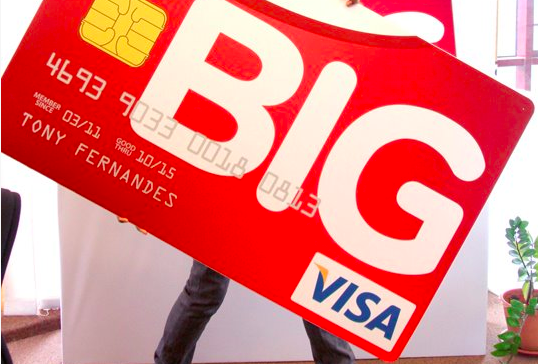 There is a membership fee of 10 ringgits, or USD3.18, to sign up, with a 5 ringgit, USD1.59, annual fee, but that is much less than Qantas' AUD82.50, USD83.70, sign-up fee.
Points can also be earned at AirAsia sister company Tune Hotels, AirAsia's online store, concert ticketing retailer, holiday package retailer and courier as well as third-party partners.
None of those involve flying, the core business of an airline, but as the Amadeus/IdeaWorks Yearbook of Ancillary Revenue notes, of the 185 billion miles American Airlines' FFP issued in 2010, 62% were sold to program participants. Groupe Aeroplan, Air Canada's spun-out FFP, told CAPA's Airline Leader that 83% of revenue is from credit cards and other partners.
The credit card partnership and third-party partnerships are smart, but the nuances get interesting when it comes to earning Biggies on flights: the amount members earn depends on amount spent, but also if ancillary add-ons are purchased – world first, as far as we're aware. Members earn 1 point for every four Malaysian rinngits (USD1.27) spent on flights without add-ons including seat selection, baggage allowance, snacks and meals, comfort kit and insurance. Add any of those and the earning rate doubles: 1 point for every two ringgits.
There are a few explanations. The early LCC coffeeshop-style FFP model of buy-ten-get-one-free weighs equally the passenger who bought their ticket six months out during a promotion where they paid $1 versus the passenger buying a ticket on the same flight a week or day before for $100. The more you spend, the more you get.
Why limit that logic to base fares? Ancillary revenue accounted for 18.7% of AirAsia's revenue, and 18.1% of sister carrier AirAsia X's revenue – feats that put them in seventh and eighth place respectively for highest ancillary revenue as a share of total 2010 revenue, according to Amadeus/IdeaWorks. In 2009, AirAsia was in tenth place with a 13.1% accomplishment. Growth will continue – Michael O'Leary, after all, envisions a day where seats are free but everything else is charged for.
Knowing that more Biggies will be earned for add-ons could push consumers to check a bag they were undeceive about or pre-purchase AirAsia's famous hot dog, the ancillary streams that in many cases mean the difference between a profit and loss on that passenger.
Earning rates, for now, seem to be based only in ringgits, meaning tickets or goods purchased in foreign currencies will have to be converted. Previously dollar-based earnings were confined to domestic FFPs where international pricing or conversion rates do not become problematic, so other LCCs, increasingly branching out of their home market, will be watching how successful AirAsia is with this formula -- or if it pursues another strategy, how it reconciles the different earning and burning rates.
Redemption opportunities include hotels, merchandise and flights. While Nectar, the UK loyalty group (now a subsidiary of Groupe Aeroplan, Air Canada's spun-out FFP) and which partners with Sainsbury's supermarket, says that easyJet flights are its most popular redemption, Groupe Aeroplan says 37% of redeemed miles by value are for Air Canada products (seats, upgrades) while 63% are for seats from other vendors as well as third-party products and services.
Flight redemptions start on 11-Nov-2011, but preliminary marketing information shows AirAsia plans to offer seats to very short-haul destinations including Singapore and Siem Reap from 500 points, Macau and Bali from 5,000 points, and Australia and Japan from 30,000 points. In the middle of the spectrum it appears AirAsia is basing point redemption partially on distance flown (and thus cost) but also popularity; Bali is 63% further from Kuala Lumpur than Siem Reap, but requires ten times the points.
Ultimately, Big Shot adds as a disclaimer, points required varies by day, season and advance purchase window – just like non-award tickets. Big Shot promises no black out dates – but expect high point redemption for peak periods – and that premium lie-flat seats are available, and that cash top-ups are possible for those short on Biggies.
Not known yet is how AirAsia will leverage its powerful social media presence – 1.2 million Facebook fans and 220,000 Twitter follows -- for its FFP, although for now both social media channels, and CEO Tony Fernandes' personal Twitter account, are plugging Big.
It should be noted AirAsia is keeping its FFP programme in house, or at least within the parent company, rather than entirely outsource it, as easyJet did with UK-based Nectar. The 17 million Nectar members can redeem points on easyJet flights, the most popular reward from Nectar. But the drawback, the Leader article noted, is that "This does little for easyJet's loyalty; they remain Nectar customers."
AirAsia's Big Shot programme sets a path for other LCCs to follow, but will not cause a rush. AirAsia has scale, both from itself, subsidiary airlines and sister companies it can link in with, but also management resolve to invest resources in a project that may not generate profits this week, month or year – a long lead time for a component of the industry many are still grappling to understand, and those that do await better returns.
The times have changed since AirAsia sent an Aug-2010 marketing e-mail lampooning FFPs in favour of its inexpensive fares: "Pardon me random rewards card. And what are you looking at Mr Buy 5 Get 1 Free Coffee Card? Throw it all aside people and go straight to your change pocket because AirAsia is here."