Air China subsidiary Dalian Airlines covers a key strategic position in northeast China
Analysis
Air China start-up Dalian Airlines commenced operations on 31-Dec-2011, marking another milestone in the flag carrier's expansion of its domestic footprint. A bastion of China Southern (following its takeover of China Northern in 2003), Dalian Airport is a key northern gateway, with strong trade links to neighbouring Japan and Korea - which feature in Dalian Airlines' future expansion plans. The focus on the north-eastern region also reflects a shift in domestic network development patterns in China in light of increasing competition from the high-speed rail (HSR) network. Shandong Airlines, Hainan Airlines and China Southern Airlines have separately stated they will increase services to/from China's north-east and north-west regions.
With the establishment of Dalian Airlines, Air China, is expanding its domestic and regional presence through a subsidiary operation. The complex ownership structure of subsidiaries is common among the 'Big Three' carriers in China, while HNA Group also has a convoluted subsidiary and ownership structure, in addition to a branch carrier network.
Air China, China Eastern and China Southern all have secondary hubs in Dalian. Dalian Airlines is expected to face fierce competition from China Southern Airlines, which has a 37% share of the Dalian air market with over 30 destinations served non-stop from the city. Air China has a much smaller 13.1% capacity (seats) share at the airport at present, with around 11 destinations served non-stop, with Shenzhen Airlines holding a 10.5% capacity share. It is not clear if Air China will transfer routes to Dalian Airlines as part of the subsidiary's expansion.
Dalian Airport capacity (seats per week) by carrier: 02-Jan-2012 to 08-Jan-2012
China Southern Airlines' Dalian branch company and Dalian Airport Group signed a strategic cooperation agreement in Aug-2011 to expand the carrier's presence at the airport. Under the agreement, the carrier will maintain an average passenger traffic growth of no less than 12% p/a at the airport over the next five years, with a target of more than 15% p/a. China Southern's Dalian branch company transported 3.6 million passengers in 2010.
Unsurprisingly, the two largest destinations served from Dalian are Beijing (38,566 weekly seats in the current week as per Innovata data) and Shanghai (34,106 seats), both with over 30,000 weekly seats. Nanking/Nanning (9332), Qingdao (8916), Shenzhen (8890), Guangzhou (8310) and Changchun (8098) are served with over 8000 weekly seats. Internationally, the largest destinations are Seoul Incheon (10,894) and Tokyo Narita (9752).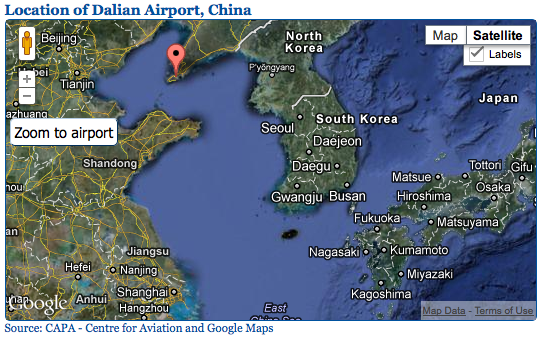 Dalian Airport is a base for China Southern Airlines and the majority of its Japanese destinations originate from Dalian. There are four operators of service between Dalian and Tokyo Narita, namely ANA, JAL, China Southern and Air China, with services also operating from Dalian to Fukuoka (Air China and China Southern), Hiroshima (Air China and China Southern), Nagoya Chubu Centrair (China Southern), Osaka Kansai (ANA, China Southern and Air China), Sapporo Chitose (China Southern) and Toyama (China Southern) in Japan. These services make the airport the second largest airport for Japan services in China after Shanghai. China Southern, Korean Air and Asiana Airlines, meanwhile, both operate on the Seoul Incheon-Dalian sector, while Jeju is also served non-stop from Dalian by China Southern. Hong Kong (Air China) and Taipei Taoyuan (UNI Airways, China Southern, China Airlines and Hainan Airlines) are also served from Dalian. North-east Asia is the airport's only international market.
At present, 22 airlines operate at the airport (not including Dalian Airlines), including Air China, All Nippon Airways, Asiana Airlines, China Airlines, China Eastern Airlines, China Express Airlines, China Southern Airlines, Grand China Air, Hainan Airlines, Japan Airlines, Juneyao Airlines, Korean Air, Kunming Airlines, Lucky Air, Okay Airways, Shandong Airlines, Shanghai Airlines, Shenzhen Airlines, Sichuan Airlines, Spring Airlines, Tianjin Airlines and Uni Airways.
Dalian Airport is China's 15th largest airport handling 12 million pax
Dalian Zhoushuizi International Airport, which handled 10.7 million passengers in 2010, reached its target of handling 12 million passengers in 2011, up 12% year-on-year, making it the 15th largest airport in China in terms of passenger traffic. The airport is also the fourth largest in Northeast China in terms of international passenger numbers.
In Oct-2011, the most recent month for traffic data, the airport handled 1.2 million passengers, a 15.6% year-on-year increase. Cargo volumes weakened 12.5% to 11,575 tonnes although aircraft movements increased 3.6% to 8595 in the month.
Dalian Airport passenger numbers: 2010 to 2012
Dalian Airport cargo volume: 2010 to 2012
Dalian Airport aircraft movements: 2010 to 2012
Dalian Airport builds for strong predicted growth
Dalian Airport is targeting annual passenger growth of more than 15% over the next five years with passenger numbers expected to reach 18-20 million by 2015. The airport is seeking to introduce at least three airlines with operating bases at the airport to operate international routes from Dalian, introduce another regional carrier to base at the airport and one freighter carrier to base at the airport.
The airport has a 3300m runway and a 65,000sqm terminal building, with a new 71,000sqm terminal building completed in Sep-2011 as part of a CNY2257 million (USD342 million) third-phase expansion project at the airport. This has increased terminal capacity at the airport to 136,000sqm to meet forecast demand over the next five to 10 years, with the airport's passenger capacity increasing to 21 million passengers and 450,000 tonnes of cargo p/a. The Phase III expansion of the airport includes the construction of the terminal building (located west of the existing terminal), a 340,000sqm apron, taxiway reconstruction and other supporting facilities.
Meanwhile, progress continues on the CNY15 billion (USD2.3 billion) new Dalian Airport project. Phase I of construction work is expected to be completed between 2014 and 2015, by which time the current Dalian Airport will have reached its capacity and will be transformed into a freight airport.
Opening of Harbin-Dalian HSR line postponed
Overall, the northern part of China has the lowest density of HSR development, while the 904km Harbin-Dalian high-speed rail (HSR) has been delayed until at least Jul-2012. Service was expected to commence in early 2012, but test operations on the line have been postponed due to quality problems, including excessive roadbed settlement near Dalian City.
As the first high-speed railway in North China region, the Harbin-Dalian line will have 24 stops, of which four stops are in Dalian including Wafangdian West Railway Station, Pulandian West Railway Station, Dalian North Railway Station and Dalian Railway Station. It will take just over one hour to cover the less than 400km between Dalian and Shenyang.
Once the high-speed line is put into service, most rail passengers will shift to the new line, relieving pressure on the existing Harbin-Dalian railway, the busiest in the region transporting goods such as coal, oil, agricultural products and lumber. According to Xinhua report, the existing line will be able to transport an additional 50 million to 60 million tonnes of cargo once the new high-speed line is operational. According to the Ministry of Railways, the line is expected to carry 37 million passengers p/a by 2020 and 51 million p/a by 2030.
Dalian International Airport deputy GM Du Zhiyuan previously stated the airport would hold talks with the Ministry of Railways to establish some sort of cooperation in light of the line development. Mr Du stated the development of the HSR network might not necessary be a bad thing for the airport adding that the rail network can bring domestic passengers to the city and the airport, through its route network, can provide onward connections for passengers to other parts of China and/or international destinations such as Japan and Korea.
Dalian Airlines becomes the first airline company based in Dalian
Dalian Airlines commenced operations with the launch of daily Dalian-Shenzhen service on 31-Dec-2011, a few days later than its previously intended 26-Dec-2011 launch date. The carrier also launched daily services from Dalian to Beijing and Sanya via Taiyuan on 01-Jan-2012 and plans to operate to Japan and South Korea in the future. The carrier is based at Dalian Zhoushuizi International Airport, China's 20th largest airport and one of the largest airports in north-east China. Dalian Airlines has become the first airline company based in Dalian.
Dalian Airlines is a JV between Air China (80%) and Dalian Baoshui Zhengtong (20%), the state-owned asset-management arm of the Dalian Government, and has a registered capital of CNY1000 million (USD156 million). Air China has invested CNY800 million (USD123 million) for its 80% stake and Dalian Baoshui Zhentong will invest CNY200 million (USD31 million) for the remaining 20% stake. Air China has appointed current Shenzhen Airlines vice president Liu Jianping as its president and current Air China flight operations vice president as Dalian Airlines VP.
The carrier is operating with three Boeing 737-800s (of which two are owned) initially, but plans to increase its fleet size to five aircraft in 1H2012 and 20 aircraft by 2015. The carrier is officially registered with ICAO and assigned the code CCD by China's Air Traffic Control. Air China, which has transferred 122 of its employees including 28 pilots to the start-up, has also agreed to allow Dalian Airlines to operate under its CA code.
Dalian Airlines' application for its Air Operator's Certificate (AOC) received preliminary approval from CAAC Northeast Regional Administration in Nov-2011 after receiving initial approval from CAAC Northeast Regional Administration to establish the carrier in Jul-2011. This follows an agreement reached between Air China and the Dalian Government in 2010. The Government of Dalian had earlier finalised a similar agreement with HNA Group to develop a Dalian-based carrier, although a disagreement between the two parties resulted in the agreement being abandoned, paving the way for the Air China agreement.
Subsidiary structure and lack of international investment features of domestic aviation market in China
Air China acquired a 51% stake in Shenzhen Airlines in Mar-2010 while it has absorbed the crew and fleet of East Star Airlines in central and south China. Air China also has an ownership position in Zhengzhou-based Henan Airlines (Henan Airlines is also 51% owned by Shenzhen Airlines). The Beijing-based carrier also has stakes in Shandong Airlines, Air Macau and Cathay Pacific. In terms of cargo coverage, Air China operates Air China Cargo under a JV with Cathay Pacific, while Shenzhen Airlines has a 51% stake in Jade Cargo International, which temporarily halted operations on 31-Dec-2011. Air China additionally has regional operations in areas including the Southwest, Zhejiang, Chongqing, Inner Mongolia, Tianjin, Shanghai, Hubei and Guizhou, and Tibet.
The establishment of subsidiaries by the Chinese majors also reflects the nature of regulation in China's domestic aviation market. Under CAAC regulations, airlines that wish to establish a new subsidiary must have a total fleet of more than 50 aircraft and more than 10 years operating experience. For every 20 aircraft added to the carrier's fleet, it will be permitted to apply to add one new subsidiary, subject to fulfilment of all other requirements.
These restrictions, and an increased focus by the CAAC to limit the number of start-ups to ease competitive pressures and improve air transport safety requirements, has resulted in recent start-up activity generally being limited to carriers linked to one of the 'Big Three'. There has been a focus on regional airline establishment, complying with the CAAC's objectives of promoting increased regional operations.
The other key subsidiary launch of 2H2011 was the 02-Aug-2011 launch of Kunming-based China Eastern Yunnan by Shanghai-based China Eastern Airlines. The JV was established with the Yunnan Provincial Government and restructured from China Eastern Airlines Yunnan branch company. China Eastern Airlines hopes to gain a 45% share of the Yunnan market through the carrier, with Kunming expected to emerge as a strong regional hub for the airline. China Eastern invested CNY2.38 billion (USD370 million) for a 65% stake in China Eastern Yunnan Airlines, with the Yunnan provincial government investing CNY1.28 billion to hold the remaining 35%. The JV is operating a sizeable fleet of 43 aircraft to link more than 70 destinations. By 2015, the venture will operate 80 aircraft covering a network of 66 domestic and 25 international destinations, according to China Eastern Airlines. The Yunnan carrier is expected to handle 17 million passengers p/a by 2015, with an average increase of 19%, and 162,000 tons of cargo, with a 12% annual increase. The carrier is currently handling 7.6 million passengers p/a.
Meanwhile, foreign ownership in Chinese carriers remains almost non-existent with a few rare exceptions, such as Lufthansa's ownership position in the now-grounded Jade Cargo International and the very important Air China-Cathay Pacific cross-ownership deal. Generally, however, foreign ownership in local carriers has been discouraged, openly or otherwise. Even so, this could change in the future, based on the increasing momentum relating to foreign investments being made in China in a wide array of other business sectors, such as hotel companies. But any developments are not expected to be imminent, given the opaque regulatory environment and influence of the 'Big Three'.
Continued growth in still-large regional markets in 2012
2012 will likely see the continued expansion of China's large and fast-growing second-tier carriers and air markets, especially in the nation's western and northern regions. Meanwhile, as the CAAC continues to cautiously monitor start-up growth in the domestic market, activity will likely be focused on subsidiaries and branch companies of the nation's larger carriers.