Aeromexico: slightly higher 2017 capacity growth as confidence of Delta JV approval remains high
Analysis
Mexico's largest airline, Aeromexico, plans slightly higher capacity growth in 2016, mostly driven by added frequencies to its long haul markets in Asia and Europe. Its preliminary guidance shows an ASK increase in the low single digits versus 8% growth in 2016. Similarly to 2016, much of Aeromexico's capacity should be deployed to international markets as the airline sheds three Boeing 777 widebodies and adds five 787-9s to its fleet.

Aeromexico and Delta continue to believe US regulators will approve their immunised cross-border joint venture by YE2016, and are planning to increase their combined daily flights between the two countries by 43% during the next two years. The joint venture is a major pillar of Aeromexico's transborder strategy going forward as Delta prepares to exert more influence over Aeromexico's strategy. Some of Aeromexico's and Delta's rivals are lobbying for the two airlines to relinquish more slots at Mexico City Juarez, which could become a factor in the government's final decision.

In the near term Aeromexico's outlook is relatively stable, despite continuing challenges from the depreciation of Mexico's currency. The airline's revenue generation for the 9M ending Sep-2016 was favourable, driven by increases in yields and load factors.
NOTE: This report was prepared before the DoT issued its decision in the Aeromexico-Delta joint venture
Aeromexico plans low double-digit capacity growth in 2017 as more widebodies arrive
Aeromexico recently offered preliminary capacity guidance of growth in the low double digits for 2017, compared with an 8% increase in 2016. Between 2013 and 2015 Aeromexico's average annual ASK growth was 9.6%.
Aeromexico Group annual ASKs: 2013 to late 2016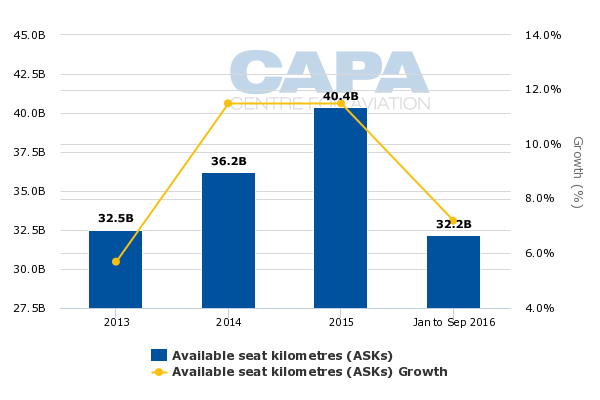 The company ended 3Q2016 with 131 aircraft and plans to grow its fleet to 140 aircraft by YE2017. Aeromexico is expanding its Boeing 787-9 widebody fleet by five aircraft and shedding three Boeing 777s as part of a fleet simplification programme. The airline plans to exit 777 operations by YE2017, or early 2018.
Aeromexico's fleet composition as of 3Q2016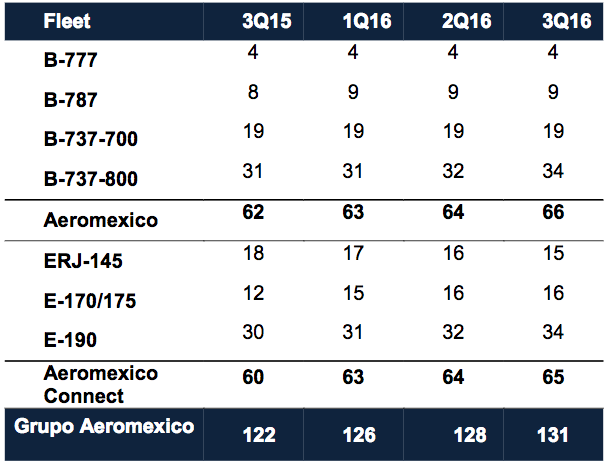 Aeromexico is not taking delivery of any narrowbody jets during 2017 before its next generation Boeing 737 Max aircraft start arriving in 2018.
Aeromexico Group projected delivery dates of all aircraft families as of 4-Nov-2016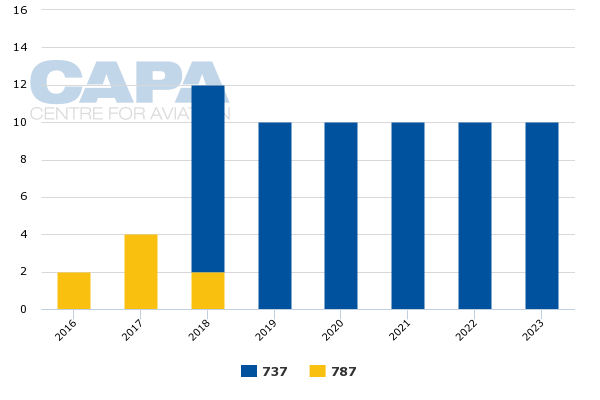 Aeromexico plans to bolster frequencies on long haul international routes in 2017
Aeromexico has estimated its domestic capacity growth should increase in the high single digits in 2017, with the bulk of its capacity being directed to international markets.

The airline plans to increase frequencies in several long haul markets to Europe and Asia, beginning in the summer of 2017. From Mexico City to London Heathrow and Amsterdam Aeromexico is increasing weekly frequencies from three to six, and adding two weekly frequencies to Madrid for a total of 12.

In Asia Aeromexico plans to grow weekly frequencies from Mexico City to Tokyo Narita from five to seven, and is increasing its weekly frequencies from Mexico's capital to Shanghai from three to five.

Aeromexico debuted long haul flights to Amsterdam and Tokyo Narita in 2016, and has served the other routes with planned frequency expansions for a number of years.

So far Aeromexico has plans to add just a single long haul market in 2017, which is three weekly flights to Seoul in the second quarter of the year. Seoul is a hub for Aeromexico's fellow SkyTeam member Korean Airlines, so presumably Aeromexico should have the capability to market beyond destinations from Seoul through a partnership with Korean.

Aeromexico has the advantage of its stature as the only Mexico-based airline offering long haul flights from Mexico to Europe and Asia, and its expansion into those regions during the past couple of years reflects the airline's efforts to create blanket network coverage.

International routes are a major driver of Aeromexico's revenue growth, and its growing long haul network is a significant component of its international revenue. During 3Q2016 Aeromexico's international revenues grew nearly 17% year-on-year, and represented 51% of the company's total revenues.
Volaris ups competition with Aeromexico on transborder routes from Mexico City in 2017
Aeromexico's planned new transborder routes for 2016 include service from Mexico City Juarez to Austin and Monterrey to Detroit – a hub for its SkyTeam partner Delta. Aeromexico is uncontested on service to Austin, and is operating alongside Delta on services between Monterrey and Detroit.

The company is the largest US transborder operator among Mexican airlines, holding a 57% passenger market share from Jan-2016 to Aug-2016.
Mexican airline international passenger market share Jan-2016 to Aug-2016
Both US and Mexican airlines are working to take advantage of a new bilateral between the two countries that lifts the restrictions on the number of airlines operating on certain routes.

Aeromexico executives were recently queried about the changing competitive dynamics due to the loosened bilateral. The company concluded that a lot of additional capacity was being deployed from leisure markets, including Cancun, Los Cabos and Puerto Vallarta.

But Aeromexico's rival Volaris is taking advantage of the new bilateral to enter into more contested transborder markets during early 2017. The ULCC plans to introduce service from Mexico City Juarez to Miami, New York JFK, Houston Intercontinental and San Francisco. Aeromexico operates in all those markets and holds a majority seat share in two – JFK and San Francisco. The Mexican hybrid airline Interjet also operates from Juarez to Miami, JFK and Houston. American operates from Juarez to Miami, United operates flights from Mexico City to its hubs in Houston, and San Francisco and Delta offers flights between Mexico City and JFK.

See related report: Mexican ULCC Volaris makes a pivot into it transborder strategy – into more contested markets

Volaris is injecting ULCC competition on those routes, and with its sub-USD6 cent unit costs excluding fuel can likely offer ultra-low fares for a long period of time, which could pressure overall fares in those markets.

Aeromexico and Delta have stated for months that they expect the US DoT to approve their proposed transborder joint venture by YE2016, and Aeromexico continues to stick to that message.
Mexico's largest airline believes the tie-up will strengthen its already strong position in the US transborder market, and plans are under way for the two airlines to grow their combined daily transborder flights from 70 to 100 in the next two years.

In order to gain approval for the joint venture from Mexican authorities, Aeromexico and Delta have agreed to relinquish eight slot pairs at Mexico City Juarez. Some US airlines, including jetBlue, have been vocal about additional concessions from the two airlines. jetBlue has asked DoT to consider requiring Aeromexico and Delta to divest 30 slot pairs at Juarez to ensure fair access to the slot-controlled airport.

See related report: Mexico-US transborder airline market Part 2: Controversy surrounds the proposed Aeromexico-Delta JV

It is not far-fetched that DoT might require some additional slot divestitures to ensure airlines looking to take advantage of the new bilateral can gain access to Mexico City Juarez, where Aeromexico holds 41% of the airport's system-wide seats. jetBlue has been critical that its slot times at Juarez for service to Orlando and Fort Lauderdale are commercially unviable.
Mexico City Juarez International Airport system capacity by airline (% of seats): 31-Oct-2016 to 6-Nov-2016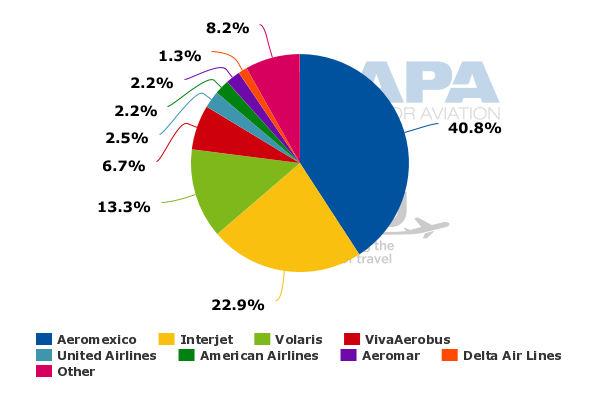 Aeromexico charts solid revenue growth, but continues to battle currency pressure
As it awaits approval for its joint venture with Delta Aeromexico has a relatively positive view of the its current operating environment. Its yields in 3Q2016 grew 2.9%, and unit revenues increased 7.3% year-on-year. Overall revenues grew 16.5% year-on-year.

Mexico's economy grew an average of 2.3% from Jan-2016 to Jul-2016, but the MXP depreciated nearly 14% agains the USD in 3Q2016. The currency depreciation resulted in Aeromexico's MXP-dominated fuel costs growing 2.4% year-on-year in 3Q2016, offsetting decreases in USD fuel prices.

The MXP has been depreciating against the USD for about 14 months, and to ease some of the pressure Aeromexico has been working to shift some point of sale to international markets. Its USD unit revenues are down year-on-year but perhaps, once the joint venture with Delta is in place, Aeromexico will have more of an opportunity to shift point of sale into additional international markets.
Aeromexico's capacity growth underpins international ambitions in long haul, and the Delta JV
Unlike most US airlines that are planning lower capacity growth in 2017 Aeromexico is planning capacity expansion, mostly into long haul international markets where, in some cases, it can feed into networks of its SkyTeam partners.

Aeromexico's transborder strategy rests on gaining approval for its joint venture with Delta, which allows for the airlines to operate essentially as a single carrier in the key transborder market.
Ultimately, in order to move forward with their plans, Aeromexico and Delta may have to concede to concessions mandated by US regulators to ensure fair access to Mexico City Juarez for airlines aiming to capitalise on the new bilateral – just as Aeromexico and Delta are hoping to do.