Aer Lingus' FY2016 outlook strong as IAG's bid nears acceptance; new era to begin for the Irish flag
Analysis
Aer Lingus suffered a slight fall in its 2Q2015 operating profit. Healthy revenue growth, driven by strong trading on the long-haul network more than offsetting a dip in short-haul revenue, was not enough to counterbalance cost increases. Currency movements inflated both revenue and cost, but the net impact was detrimental to the result.
Aer Lingus expects these currency effects to be less in 2H and says it is satisfied with forward bookings. It is prevented by stock exchange rules from issuing FY2015 profit guidance while under offer from IAG, but it says that it expects an improved operating performance for 3Q and for the full year.
Meanwhile, the IAG offer looks very close to being accepted by Aer Lingus. This could be its last set of results as an independent airline. As it continues to battle powerful local rival Ryanair, Aer Lingus can look forward to a new phase of its history as part of Europe's strongest legacy airline group.
Aer Lingus' operating profit falls 11% in 2Q2015
In 2Q2015, Aer Lingus' operating profit before exceptional items fell by 11%, compared with 2Q2014, to EUR34.5 million. The result was adversely affected by EUR21 million in currency movements. Revenue increased by EUR30 million, or 7%, while costs grew by EUR35 million, or 9%. The operating margin declined by 1.4ppts to 7.4%. Pre-tax profit fell by 32% to EUR27.8 million, additionally burdened by net exceptional items of minus EUR6.0 million (versus minus EUR1.4 million in 2Q2014).
The 1H2015 pre-exceptional operating result was a loss of EUR13.9 million, compared with a loss of EUR9.9 million in 1H2014. During 1H2015, its net cash position grew by 18% from EUR545 million at the end of Dec-2014 to EUR642 million at the end of Jun-2015. Its gross cash balance stood at EUR1.0 billion, equivalent to 230 days of trailing 12M revenue.
Aer Lingus financial highlights 2Q2015 and 1H2015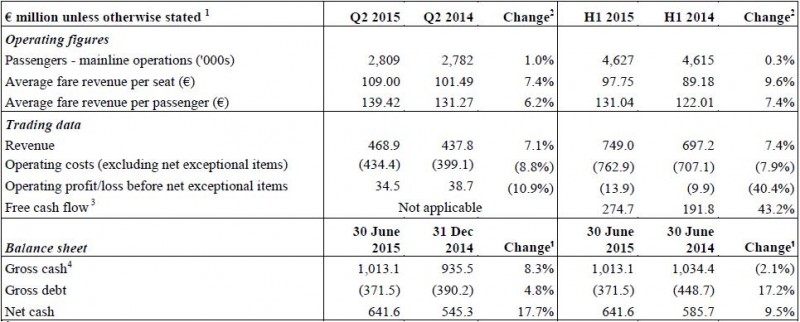 ASKs were up 2.8%, driven by long haul expansion…
Aer Lingus increased its 2Q ASK capacity by 2.8% (3.0% for 1H), while RPKs grew by 4.9% (5.9% for 1H) and passenger load factor gained 1.6 ppts to reach 81.7% (+2.2 ppts to 78.3% for 1H). The capacity growth was driven by the long haul network across the North Atlantic, where ASKs were up by 9.7% (+13.9% for 1H). Long haul load factor, at 86.2% (+0.9ppts), continued to perform better than short haul, where it was 78.3% (+1.9ppts).
Aer Lingus traffic statistics 2Q2015 and 1H2015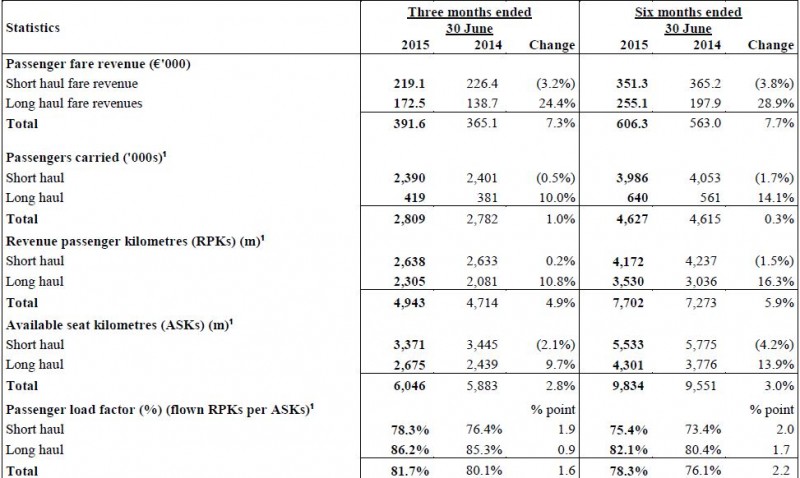 …as short haul shrinks
Aer Lingus set a target a year ago to improve its short haul load factor by 10% in the medium term (roughly five years), through building connecting traffic and codeshare opportunities. Short-haul ASKs were cut by 2.1% in 2Q (-4.2% in 2H) and Aer Lingus describes its current strategy on short haul as "demand led".
The airline referred to 1H2015 as a "transition period as the business re-positioned for selective short-haul growth." The drivers of this "selective growth", according to Aer Lingus, will be UK/Ireland economic recovery, growth in trans-Atlantic feed and the implementation of a short-haul cost reduction programme.
It seems likely that Aer Lingus is feeling the pinch on short haul from Ryanair's improvements to its customer service and network, which are now positioned closer to that of Aer Lingus than previously.
However, the senior Irish airline plans to launch a short haul premium product in 4Q2015 and this may help to differentiate it more clearly from its lower cost rival. The premium product will include features such as an empty middle seat, priority boarding and baggage, full flexibility, lounge access and complimentary food.
Aer Lingus Regional, a franchise operation performed by Stobart Air on behalf of Aer Lingus, saw a decline in passenger numbers (-11.0% for 2Q and -9.4% for 1H) after enjoying strong growth from its establishment in 2010 up to 2014.
Long haul average fares were up 13%
Average fare per passenger across the entire network grew by 6.2% in 2Q (+7.4% for 1H), driven by long haul fare per passenger growth of 13.2%, while short haul fare per passenger fell by 2.8%.
The strong long-haul average fare performance was achieved in spite of the double digit capacity growth, which included a new Washington Dulles service and additional capacity to New York and San Francisco (among others).
Aer Lingus achieves more than half of its long-haul sales in North America and the strong USD versus EUR had a positive impact on long-haul fare revenue.
Strong growth in premium traffic clearly also helped average fares on long-haul. Economy passengers increased by 13.6% on long-haul, but business class passengers increased by 21.1%. The long-haul premium product has been enhanced by a new business class cabin, launched in Apr-2015, plus a new lounge at New York JFK and lounge improvements in Dublin. Buoyed by trading on the North Atlantic, Aer Lingus is considering both new destinations and additional frequencies to existing destinations in the US.
Aer Lingus fare revenue per passenger and per seat 2Q2015 and 1H2015


Revenue was up 7.1%, driven by long haul
Revenue growth of 7.1% in 2Q2015, faster than ASK growth, was mainly driven by passenger fare revenue growth of 7.3%, while retail revenue grew at the slower rate of 5.8%. Long haul fare revenue grew by 24.4%, but short haul revenue fell by 3.2%. Cargo revenue jumped by 22.7%, driven by long haul expansion.
Other revenues fell by 8.1%, as a result of declining contract flying for Virgin Atlantic.
Aer Lingus estimates that currency movements (stronger USD and GBP versus EUR) boosted revenue by EUR25 million in the quarter.
Aer Lingus revenues, costs and EBIT 2Q2015 and 1H2015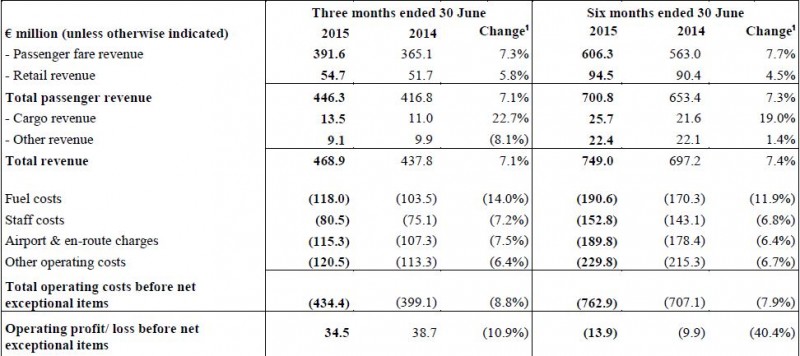 Operating costs rose 8.8%
Operating costs grew by 8.8% in 2Q2015, faster than the growth in ASKs and revenue.
Fuel costs were up by 14.0%, more than the capacity increase in spite of lower market prices for jet fuel, as a result of the EUR weakening against USD and Aer Lingus' fuel hedging programme. Although its average USD fuel price (after hedging, which locked in part of its fuel needs at last year's prices) fell by 14%, the average price in EUR increased by 8%.
Ex fuel costs increased by 7.0%, with airport and en-route charges up 7.5% and staff costs up 7.2%. Currency movements inflated operating costs by EUR46 million, more than the positive impact on revenue noted above.
IAG is now very close to acquiring Aer Lingus
Significant progress has been made in recent weeks towards the completion of IAG's bid for Aer Lingus. The Irish government has accepted the offer in respect of its 25% stake in Aer Lingus and IAG stated on 17-Jul-2015 that it had acceptances representing almost 51% of the shares.
The subsequent decision by Ryanair, holder of 30% of Aer Lingus shares, to accept the offer takes the total acceptances to more than 80%. This is close to the 90% condition imposed by IAG. The offer is open until 30-Jul-2015.
See related reports:
A crucial condition of the offer that has been met is the approval of the acquisition by the European Commission, which gave the green light on 14-Jul-2015.
In order to gain the backing of the EU authorities, IAG offered a number of remedies. As part of these remedies, it will make five daily slot pairs available to competitor airlines at London Gatwick for flights to Dublin or Belfast (two of the five to be operated to Dublin and one to Belfast). Ryanair has indicated its interest in bidding for these slots. In addition, under the remedies offered, long-haul competitors will continue to receive connecting passengers from Aer Lingus' short-haul network on normal commercial terms.
Speaking on a conference call with analysts to discuss the 2Q2015 results, Aer Lingus' CEO Stephen Kavanagh said that he was confident that the airline would be able to contribute to IAG's margin and return on capital targets.
Aer Lingus' long-haul expansion had increased its confidence over its ability to grow revenues and this would be further increased by becoming part of IAG. In addition, cost efficiencies could be achieved by taking advantage of IAG's scale, he argued. Mr Kavanagh also believed that Aer Lingus could improve its margins regardless of the IAG deal.
Integration into the oneworld North Atlantic JV is likely in 2016
Asked about the likely time frame of Aer Lingus' integration into the North Atlantic joint venture involving IAG, Finnair and American Airlines, Mr Kavanagh suggested that mid 2016 would probably be "deliverable". He expected Aer Lingus to develop codeshares with IAG airlines initially and also to join oneworld.
The IAG acquisition now appears to be virtually sealed and the 2Q2015 results could be Aer Lingus' last as an independent airline.
Aer Lingus has been consistently profitable since recovering from the global financial crisis, with an operating margin in the 4% to 5% range since 2010. This puts it comfortably above the average margin for European airlines, typically in the 1% to 2% region over this period, but short of its own 2007 peak of 6.1% and well below the double digit margins achieved by fierce local competitor Ryanair.
A strong balance sheet has enabled it to weather a number of economic storms, but it is a small player in a large consolidating market and its margins are vulnerable to any major downturn.
IAG should help Aer Lingus to make the next step up in profitability.