03-May-2012 9:28 PM
British Airways resumes Seoul service with more Asian destinations to come as BA integrates bmi
British Airways is making one of its first significant network changes following the acquisition of bmi (by parent company International Consolidated Airlines Group) with the Dec-2012 resumption of services to South Korea's Seoul, which BA last served in 1998. BA will operate six weekly Boeing 777-200 flights on the route. "British Airways is delivering on its promise to increase long haul flying to Asia following IAG's purchase of bmi," the carrier said in a statement.
Following the bmi acquisition IAG CEO Willie Walsh spoke of a number of routes BA would look to launch with the London Heathrow slots bmi would bring to IAG. Mr Walsh named South Korea, as well as Indonesia and Malaysia, as specific examples.
The Seoul-London market is growing, with Korean Air last week opening a thrice-weekly Seoul-London Gatwick service. Korean also operates a daily flight between Seoul and London Heathrow while Asiana last year upgraded its Seoul-London Heathrow service to daily. BA's entrance, with approximately 1,374 one-way seats a week, will give it a projected 21% share, with Korean Air holding 47% and Asiana 32%.
London to Seoul Incheon International Airport capacity by carrier (seats per week, one way): 19-Sep-11 to 21-Oct-12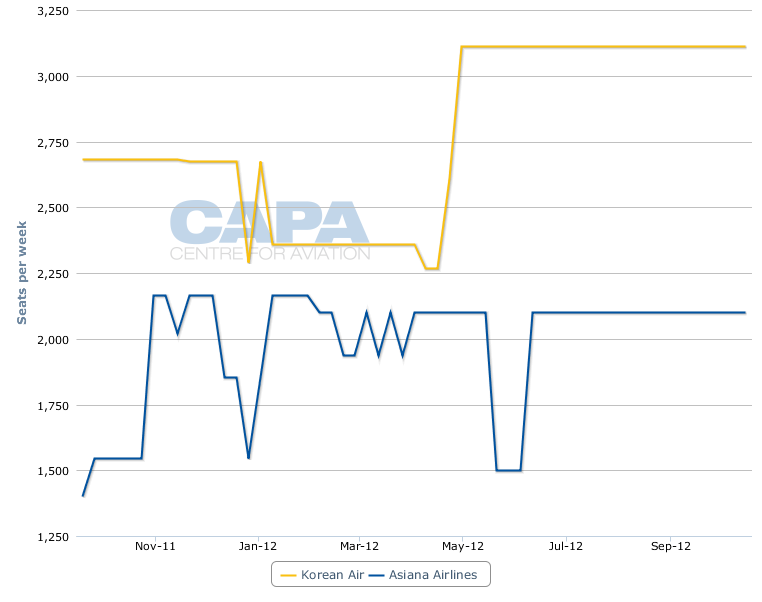 The service could be of interest to Japan Airlines, with whom BA is working on a Europe-Japan joint-venture. JAL and competitor All Nippon Airways have expressed interest in boosting their network traffic and Asian presence as their traditional domestic market becomes inunduated with low-cost carriers. Their Japanese bases, however, on the eastern fringe of Asia offer limited connecting opportunities for onward service to Europe.
JAL could codeshare with BA on the London-Seoul route. But JAL currently only serves Incheon from Tokyo Narita. In comparison, rival ANA serves Incheon from four Japanese cities. Korean Air and Asiana have even larger presences in the Korea-Japan market and currently account for 42% and 29% of capacity between the two countries, respectively, compared to only 9% for JAL.
The route will also have limited oneworld connections in Seoul as there is no oneworld carrier or hub in Korea (Asiana is a member of Star Alliance and Korean Air is in SkyTeam). The London Heathrow departure and arrival times do facilitate transfers at BA's Heathrow hub.
British Airways Seoul service schedule: 02-Dec-2012
| Flight | Route | Time | Frequency | Equipment |
| --- | --- | --- | --- | --- |
| BA17 | London Heathrow-Seoul Incheon | 1300-0855+1 | Daily except Weds | 777-200ER |
| BA18 | Seoul Incheon-London Heathrow | 1045-1400 | Daily except Thurs | 777-200ER |
More route changes to be announced in coming months, bringing profitability to bmi
The first scheduling season for bmi after the IAG takeover is winter 2012/2013, which will be progressively loaded from next month, making further likely route changes imminent.
While IAG is expected to keep bmi some routes – namely domestic UK, Ireland and lucrative services around west Asia – many existing bmi services can be consolidated with BA's network. Between London Heathrow and Manchester, for example, bmi and BA have flights within 20 minutes of each other. Consolidated schedules, in some instances with larger aircraft, will free up slots for IAG to use on more lucrative services.
IAG's transformation plan for bmi is in two-phases, with the first calling for using higher-capacity aircraft on bmi's Heathrow services (many are operated by regional aircraft), which BA calls the interim/initial period during which loss-making bmi will reach break-even, with profitability coming from long-haul services. "After that initial period, we think we'll be able to break even on bmi mainline and we will begin at the second phase which is about slot migration into the long haul," IAG Enrique Dupuy said after IAG reached a binding agreement with Lufthansa for the purchase of bmi.
See related article: British Airways plans two phases to bring bmi, and its London Heathrow slots, to profitability
IAG is limited in the speed of its transformation – the introduction of long-haul services – owning to its limited long-haul fleet. Additional aircraft, including Boeing 787s and Airbus A380s, will start to arrive in 2013. For further replacement (BA has a number of older 747-400s) and growth IAG is evaluating additional 777s, 787s and A380s as well as the 747-8, the first commercial version of which Lufthansa took delivery of this week.
Prior to Lufthansa offering bmi for sale, IAG had expected to place an aircarft order early this year. The bmi acquisition as well as wanting to seek clarity from Boeing on its 777 successor plan, a type IAG is potentially very interested in, has delayed that purchase, but it should proceed in the near future.
Asia a focus for IAG
IAG has identified Asia as a growth opportunity for it since it lags behind competing airline groups Air France-KLM and Lufthansa.
AF-KLM, IAG and Lufthansa weekly frequencies to top five Asia-Pacific countries based on GDP: Nov-2011
While the Seoul traffic will offer limited onward connections, other new routes will offer Asian feed, such as to Kuala Lumpur where oneworld member elect Malaysia Airlines in based. BA is also looking to expand its presence in Africa. Additional updates on the bmi acquisition will be made at IAG's 1Q2012 results briefing on 11-May-2012.