Will US mainline pilots cede more ground to regional airlines?
With so many labour contracts in play, one of the main objectives for US mainline carriers will be further scope clause relief, as suggested by Continental, which is at such a competitive disadvantage in being unable to operate any regional jet larger than 50 seats. Should past contract agreements be prologue, then it is highly likely that pilots will trade scope relief for gaining their top objectives ultimately by ceding mainline narrowbody flying in the US domestic market, according to MIT International Center for Air Transportation Research Engineer, Bill Swelbar. The impact could have a profound impact not only regionals, but on the aircraft now in development and coming to delivery in the next few years.
Shift of Flying to the Regional Sector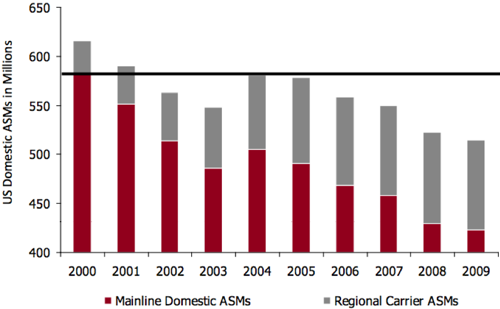 Scope, said Swelbar, effectively became currency to gain advantages in other parts of the mainline contracts. "For example, when United pilots negotiated a new agreement in the Fall of 2000, the union leveraged scope relief to demand a weighted average 23% wage increase and two subsequent 4.7% increases, as well as a number of other contract enhancements that ultimately contributed to landing the carrier in bankruptcy," he said, adding that bankruptcy spurred the increase in larger regional jets.
Those that gained scope relief easily extended the hub radius and poached traffic from scope-constrained carriers limited to the 400-mile radius served by turboprops. They then could use the jets to raid competitor's hubs since the RJs could fly further, "aggressively changing the competitive structure in the US domestic market." This, then forced further scope liberalisation.
"Labor built today's regional airline industry," he said. "But for all the wrong reasons and now the regional industry is too big. Airlines and labor have built a Ponzi scheme. The forecasts all point to aircraft in the 74- to 125-seat range for US domestic flying. The question is whether the mainline will do the flying or will it be outsourced. My guess is that the mainline pilots will not outsource the 75- to 125-seat flying and will create the necessary economics under their collective bargaining agreements. This will be the new trading currency for improvements elsewhere."
With the advent of the Bombardier CSeries and the Sukhoi Superjet, scope is one of many things that must change in major/regional relationship in the next decade if the new and developing mainline business models are to be successful. Interestingly, the success of the new, small mainliners will be short-lived, entering a sharp decline by 2019.
US/Canada/Mexico Jet Fleet Mix: 2009 vs 2019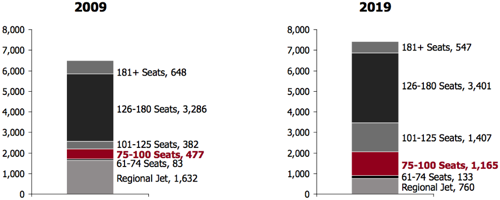 In the past year, mainline pilots – represented by the Air Line Pilots Association (ALPA) – have largely thrown their regional counterparts under a bus on safety, suggesting that outsourcing to franchises is dangerous. But, in fact, ALPA has been doing that for years. Regional pay scales that shocked so many after the Colgan accident had been set by duly negotiated contracts between regional pilots – also represented by ALPA. This did not result from some stingy, scrooge-like effort by management; it was standard operating labour procedures that used scope liberalisation as currency to wrest gains for mainline pilots, which ultimately came at the expense of their regional counterparts. With friends like that..…as the saying goes.
Inflation adjusted cents per RPM: 1978 to 2009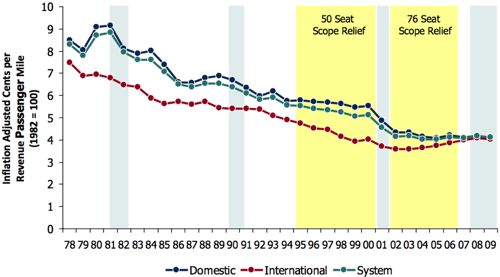 But that SOP does not service labour or management well, according to Swelbar. "I believe that this round of contract negotiations at major carriers will be the most important since deregulation, and scope will play a pivotal role as the airlines take a hard look at economics," he said during this week's FAA Forecast conference in Washington, later reiterating in Sweblog. "And mainline pilot scope agreements are all about economics."
Old practices don't fit with today's industry
One of the keenest followers of labour in the industry, Swelbar cautioned labour and management, saying this is now a different industry, one in which the gap between mainline and regional pilots have narrowed. In addition, regional/major costs will continue to narrow.
"This approach would be a mistake for management because scope relief has historically been assigned too much value in bargaining," he said. "There is value in the shift of flying from the mainline to regional partners to be sure. But the differences in labour rates between the mainline and the regional are significantly smaller than they were in 2001 before the last round of industry restructuring. Domestic revenues continue to suffer, particularly compared to the revenue environment when values were last ascribed to scope relief. And with little growth expected in US domestic flying, airlines must question where they'll find the arbitrage."
He pointed to the moves to increase regulatory oversight of regionals in the wake of Colgan, which will almost certainly increase regional airline costs. Here again, if past is prologue, Swelbar is right. Costs will rise significantly. In the last round of "single-level-of-safety" efforts effective in 1997, costs increased substantially, to the point that not only were many markets made uneconomic but created a, so far, insurmountable barrier which has most effectively blocked any new entrant regionals to replace the service lost. Consequently, Swelbar's caution is well placed.
Select scope clause limitations
Little growth expected to expand job base or ensure job security
Compound this with the post-9/11 industry restructuring as well as the restructuring in the wake of the recession and you have an interesting recipe. Swelbar noted the almost complete lack of orders designed to increase capacity. Just as indicated by speakers at this week's JP Morgan conference, airlines are largely fielding new aircraft to replace older equipment.
Airlines making do with current fleet
Perhaps the most interesting part of Swelbar's remarks came in his conclusion: that scope failed to achieve its main objective – ensuring job security. "It is safe to say that most scope clauses produced unintended consequences," he noted. "Between 2000–2008, legacy carriers reduced the number of narrow body aircraft they fly by 800, and more than 14,000 pilot jobs have disappeared. Between 2000-2009 Express ASMs jumped 178%, while mainline ASMs declined 27%. During the same period Express RPMs increased 243% while mainline dropped 16%. In addition, Express as a percent of the domestic total were 5.4% in 2000 jumping to 17.8% in 2009."
US airline industry traffic (RPMs), capacity (ASMs) and LF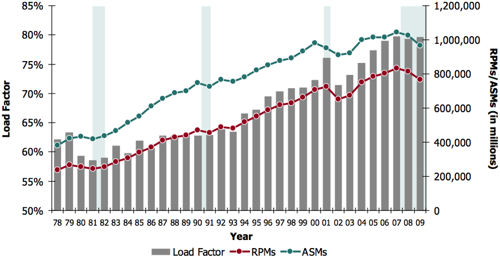 "So," he concluded, "one could argue that scope is just another example of protectionism that failed. As economist Henry George, a sharp critic of protectionist policies, once said: 'Protectionism teaches us is to do to ourselves in times of peace what enemies seek to do to us in times of war.'"
Swelbar pointed to Boyd Group International's fleet forecast that shows the only area of real growth in the 75- to 125-seat category. "Orders in other seat ranges are forecast simply as replacements from now until 2015," he noted. Ironically, 2015 is when many regional contracts expire, primarily those for 50-seat flying. These expiries could eliminate nearly 500 existing airplanes currently under contract between now and 2016; with the lion's share coming off contract in 2015. This is a conundrum for the regional industry for sure. There will be a thirst for new flying."
Industry demand outlook: 2010 to 2019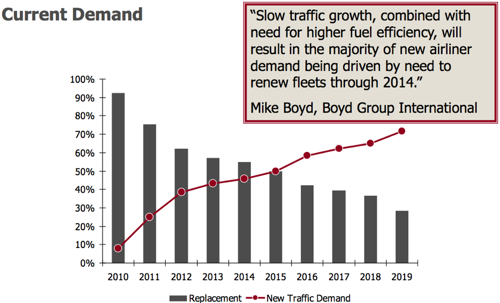 50 Seat Regional Jet Contract Expiries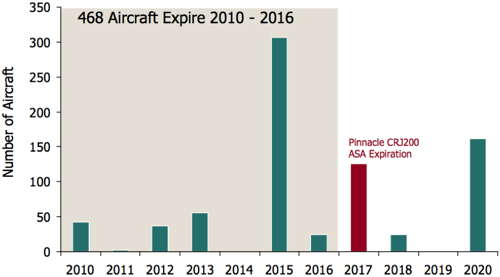 The fact that there are more than 14,000 pilots on furlough brings to mind questions raised at the JP Morgan conference, suggesting pilots may finally be facing the realisation that it is the market that will determine wage and benefits, not historical practices. See US airline outlook: Recoupling with GDP; Labour; Strikes; Pricing; Alliances; Haneda
"Perhaps a better way than scope for pilot unions to think about job protection is to find the economics that will employ the most pilots at the mainline," he said. "That challenge must acknowledge the fact that today's industry is not the industry of yesteryear. If the regional industry has been used as currency to cross-subsidise pilots at the mainline; and assuming that the trading currency is not what is was as we engage in this round of bargaining, then something has to give."
Solutions: either trade off regional flying for higher wages, or change the definition of "win"

Swelbar sees two solutions – continue trading off regional flying for higher wages, benefits and working conditions at the mainline or change the way pilots think about what constitutes a win, more furloughs with uneconomic rates or fundamental changes in contract provisions. Pilots are rightly angry that the deep concessions were largely for naught. Management may want to develop their new business model, but so much of that relies on their employees whose concessions and jobs have competed away.
The relationship in revenue to GDP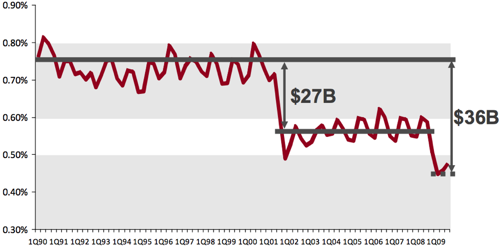 "[Labor] could embrace the absolute fact that contractual rates, work rules and benefits need to be lower for US domestic mainline flying," he said. "That type of carve out can be negotiated. Domestic market flying differentials can be the new trading currency used to adapt any pilot contract to the market realities of today. There is no way to 'perfume the pig' here; the mainline did something similar in 1984 in order to average down labour costs to facilitate growth. When it was decided that the concept was not internally healthy, mainline pilot labour made the regional industry the new vehicle for cross-subsidisation of mainline pilot terms of employment."
Labour Costs vs CPI: 1978 to 2010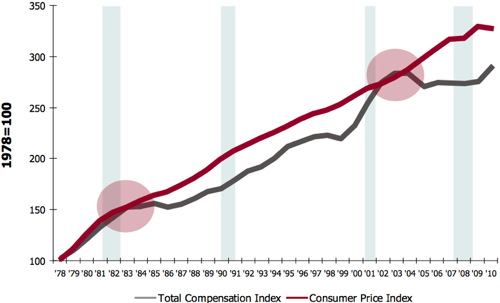 Just as United Chair Glenn Tilton signalled that management is no longer willing to go along to get along, so too must pilots. "One trend is clear: the industry's pricing structure cannot now support labor rates that keep pace with inflation," he said. "An unpopular message – yes. But there needs to be a structure in place that recognises the different conditions in the US domestic market versus international markets. This structure must recognise that not all flying is created equal, just as the airlines are coming to appreciate that a one size fits all operation is not financially sustainable. There is a tremendous opportunity to put in place something better – if only the players at the table can let go of the past and come to terms with a new era in the airline industry."
Real air fares: 1978 to 2009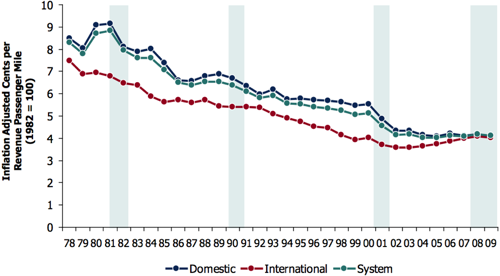 The hitch, however, is whether or not pilots can forget the past, something they are loath to do as they seek to regain lost ground in this round of negotiations. "Mainline pilots' arrogance toward regional jet flying led to their current predicament," said Swelbar. The economics of US domestic flying is simply much more difficult now for the legacy carriers. If labor can't let go of their memories of what the industry was 20 years ago to focus instead on where it's going over the next 20 years, then they will have no one to blame but themselves if they fail to help position airlines – and the pilots they represent – for success."
A critical juncture, where some things will never be the same again
He suggested taking a page from the US Airways' East Coast scope clause - only with a twist. "Just as the US Airways' East scope clause defines small, medium and large regional aircraft, it is time to define small, medium and large narrow body equipment necessary to profitably serve the domestic market," he said. "I am thinking we are at that critical juncture in an evolving situation that leads to a new and irreversible development – mainline legacy carrier pilots performing narrow body flying in the US domestic market 20 years from now – or not."
Either way, the reality is that pilots – actually, labour in general – will have to give more. This is not just a philosophical position, but a statement of fact. If the evolution of the business is successful – a big, big "if" in the airline industry – then they will ultimately benefit. What the industry is envisioning is a complete break with the past practices to form an industry – and here's a concept! – that actually consistently makes money and provides profit margins that actually work for all stakeholders.
It is a bold experiment to be sure but it is clear that past practices most decidedly do not work.