WestJet and Air Canada assume a role reversal in 2013 as Air Canada starts to rebound
After spending much of 2012 battling labour groups to forge contracts with more favourable terms, including the establishment of its new low-cost carrier Rouge, Air Canada is enjoying a more peaceful 2013, reflected most recently in its downward revision of cost guidance for the year. At the same time its stock has more than tripled during the past year as it intensifies its attempts to create a lasting business model.

After touting the highly anticipated launch of its new regional carrier Encore throughout 2012, Air Canada's rival WestJet has encountered some headwinds in 2013 as its yields and unit revenues have come under pressure and its own capacity additions and an overall increase in domestic supply in Canada have pressured its yields and unit revenue.

As both carriers march towards reporting 3Q2013 earnings, Air Canada might be beginning to get some traction in its efforts to transform its legacy business model. WestJet, meanwhile, has warned of continued unit revenue degradation during 3Q2013 as it also works to beat back the inevitable cost creep associated with a certain level of maturity.
See related report: WestJet tries to ease concern over falling unit revenues and rising capacity
Air Canada continues to refine its unit costs estimates downward
Arguably, some of Air Canada's rebound during the last year has been somewhat aided by the Canadian Government, whose arbitrator ruled in favour of the carrier's contract during 2012 after tumultuous negotiations between management and pilots and mechanics. Armed with some cost relief from those contracts and other cost cutting schemes the carrier has further refined its estimated unit costs decreases for 3Q2013.

For 3Q2013 Air Canada now projects a year-on-year unit cost reduction of 3% to 3.5% compared with a previous estimate of a drop between 1.5% and 2.5%. Its FY2013 unit cost reduction estimate is now a 1.5% to 2% reduction, which is lower than the 1% to 2% decrease the carrier stated in previous guidance.

At the same time Air Canada during 1H2013 sustained its yields year-on-year and grew unit revenues by 1.5% even as it posted a CAD283 million (USD271 million) loss. However, the carrier narrowed its loss of CAD435 million (USD417 million) recorded during the year prior by CAD152 million (USD146 million).
Air Canada select operating statistics: 2Q2013 vs 2Q2012 and 1H2013 vs 1H2012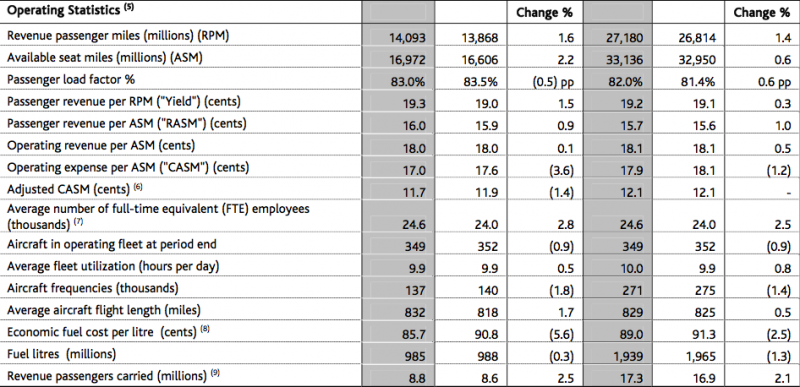 See related report: Air Canada turns a solid 2Q2013 performance as it works toward aggressive cost goals
Unions circle around as WestJet starts to experience normal growing pains
During 2012 when Air Canada had continuing skirmishes with its unions WestJet gained a ringing endorsement for the establishment of its new regional subsidiary Encore and placed an order for 20 78-seat Bombardier Q400s.
But during 2013 WestJet has encountered some discomfort with its flight attendants, who according to The Calgary Herald are considering a unionisation drive. One of WestJet's bragging rights throughout its 17-year history is that it has remained union free, and it has withstood overtures from the Canadian Union of Public Employees (CUPE) in the past.

Carrier executives have made public apologies to its flight attendants during 2013 after a soft roll-out of its premium economy that is featured in its new pricing bundles essentially left cabin crew policing the extended legroom section to ensure passengers that had not paid for upgrades did not migrate to empty seats with more legroom. Those issues were resolved with the Aug-2013 roll-out of the fare bundles, which feature a top-tier grouping that offers the 36in pitch on the carrier's Boeing 737 narrowbodies.

The slight discontent among flight attendants is a reflection of many changes underfoot at WestJet, including the establishment of crew bases in Vancouver and Toronto during 2014, the Herald reports. Those plans, the challenges that ensued in creating and executing the new premium economy section on WestJet's narrowbodies, and the creation of Encore may be creating doubts among flight attendants about the future direction of the company.
While the labour issues WestJet has faced during 2013 are not nearly as intense as the discontent among Air Canada's employees that triggered work stoppages during 2012, it does illustrate typical growing pains WestJet will continue to encounter as it continues the hybridisation of its low-cost business model.

See related report: WestJet continues its hybrid evolution, watching costs as it weighs a potential widebody operation
WestJet's unit costs decreases are not the same levels as rival Air Canada
At the same time that WestJet faces the inevitable union drives that many non-union carriers encounter (JetBlue has had similar issues with its pilots during the last couple of years), it is looking at Air Canada getting closer in its rear-view mirror in terms of narrowing the cost gap between the two carriers.

Air Canada has declared an ambitious target of reducing its unit costs by 15% in the medium term. During 1H2013 its adjusted unit costs (excluding fuel, unusual items and costs of ground packages at Air Canada Vacations) was CAD12 cents, which was flat year-on-year. For 2Q2013 its unit costs fell 1.4% year-on-year.

While WestJet still enjoys a CASK edge over its rival – CAD9 cents for 1H2013 – its unit cost for that period of time only decreased by 0.3%. And WestJet has admitted during the past year that the 30% cost advantage it has historically enjoyed over Air Canada has been halved.
Its estimated unit costs decrease of 0.5% to 1.5% for 3Q2013 is only a fraction of Air Canada's estimated reduction. Even as Air Canada has further to fall in terms of cost containment, WestJet is likely feeling pressure as some of its latest product offerings and the roll-out of Encore are making it tough to record significant unit cost reductions.
WestJet select operating statistics: 2Q2013 vs 2Q2012 and 1H2013 vs 1H2012

WestJet has launched a cost cutting scheme that entails cutting annual costs by CAD100 million (USD96 million) by 2015, and recently declared that it could reach cost savings of CAD50 million (USD48 million) to CAD75 million (USD72 million) in 2014, which follows a similar programme instituted at Air Canada during the last couple of years that has produced more than CAD530 million (USD509 million) in savings.

But in the near term WestJet is facing unit revenue pressure, recording a 4.6% drop in the metric for 2Q2013 and a 1% decline for 1H2013. The carrier's management has previously warned that its unit revenue decline in 3Q2013 will likely be similar to 2Q2013 as capacity increases, and the ramp-up of Encore and reconfigurations of its 737s with a premium economy offering are pressuring costs and revenues in the short term.

Despite those headwinds WestJet's capacity growth of 11% to 12% for 3Q2013 remained intact and for the moment its overall 4% to 6% rise in FY2014 has not changed. The carrier does have some flexibility with respect to aircraft returns, but has also argued that its record profits of CAD45 million (USD43 million) during 2Q2013, and the consistent exceeding of its 12% ROIC target, proves it is developing the business soundly.
A new competitive landscape in Canada could emerge if Air Canada sustains momentum
WestJet's challenges during 2013 are typical of an airline transitioning from a pure low cost business model to a more hybrid offering – a transition the carrier has been undertaking over recent years. Air Canada's impressive cost improvement is a sign that the now long-time rivals could perhaps be entering a new phase of competition.
Arguably, Air Canada still has a long road ahead in terms of building a sustainable business and changing a deep-seated legacy mindset among its unions and some staff categories. But its recent stock climb and its revised cost guidance are no doubt giving WestJet pause for thought.