Wayne Pearce to take reins from Peter Hill as CEO at Oman Air
Analysis
After nearly three and a half years as CEO at Oman Air, Peter Hill is due to step down this month. He will be replaced by Wayne Pearce. Mr Pearce is an Australian who has held various regional and planning positions at Qantas as well as serving as chief strategy and planning officer at Etihad Airways. He has also served as group managing director with Gold Medal Travel in the UK, which has a special focus on the Gulf region.
Mr Hill was originally due to retire in Sep-2011, but delayed his departure at the carrier until a suitable replacement could be found.
Mr Hill leaves Oman Air a radically different airline from when he joined it. When he took the top position at the carrier, Oman Air was in the first stages of a transformational programme. With the Oman Government bowing out of its part ownership in Gulf Air in 2007, it decided to focus on Oman Air as a vessel for national strategy. In late 2007, the carrier began to transition from its traditional role as a Gulf region focussed short-haul carrier into that of a fully-fledged national carrier. Unlike Emirates, Etihad and Qatar that primarily focus on network traffic, Oman Air has a large focus on driving traffic and tourism to Oman.
Incoming Oman Air CEO Wayne Pearce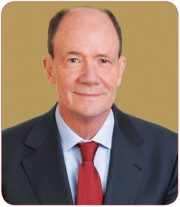 The aim was to develop a broadly distributed international network, including new long-haul routes into Europe and Asia, as well as an expanded presence in the Middle East, Africa and the Indian subcontinent. Since 2007, Oman Air has developed a small but tightly focussed long-haul network, with services to Bangkok, Kuala Lumpur, London Heathrow, Frankfurt, Paris, Munich and Milan.
Over the past few years, the carrier's fleet has also expanded. The turboprops have gradually made way for regional jets and more Boeing 737s added to the fleet. The greatest step has been A330s joining the fleet, with the airline operating three A330-300s and four A330-200s. Boeing 787s are due to start arriving in 2014, with Oman Air recently signing a deal with ALAFCO and Boeing to transfer six to the carrier.
Hand-in-hand with the network expansion, the carrier embarked on a top to bottom rebranding exercise, which Mr Hill has shaped in his time as CEO. The carrier has been repositioned as a premium-focussed airline, completely reworking its service and product on the ground and in the air. This culminated in the airline improving its Skytrax rating from three to four stars in 2011, including a five-star rating for its business class and winning the award for world's best business class seat.
In 2007, Oman Air handled 1.2 million passengers on 2.3 billion RPKs. The growth since then has been tremendous. In 2010 the airline handled 3.3 million passengers on 7 billion RPKs. Passenger traffic for 2011 is expected to near 4 million passengers, after the airline's 1H2011 passenger traffic rose 24% year-on-year.
Oman Air traffic, capacity and passenger load factor: 2001 to 2010
While developing quickly, Oman Air is still a niche player but has grown into its new role of national carrier. However, the expansion and revamp have been a costly exercise for the airline and for the Oman Government, which controls 99.825% of the carrier.
In 2007, the year prior to Mr Hill joining Oman Air, the carrier reported its fifth consecutive annual profit, with a modest net profit of USD12.5 million. With the fleet and network expansion, service enhancement and furious pace of growth, as well as the global economic downturn and the rising cost of oil, modest profit very quickly turned to heavy losses.
Between 2008 and 2010, Oman Air suffered a net loss of approximately USD480 million, including a record loss of more than USD220 million in 2010. At the start of the carrier's transformation, losses were projected for at least five years, but could stretch beyond that because of the regional unrest and the threat of high oil prices.
Oman Air net profit/loss: 2001 to 2010
2011 results have not been announced, but Mr Hill forecast in August that the result would be similar to that of 2010, thanks to the negative effects of the Arab Spring.
Mr Pearce will need to continue the qualitative transformation of Oman Air. Central to that is continuing to promote Oman as a destination in its own right. Always on the horizon are the threat of LCCs and the need to eye profitability, greater attention to which can be given now that the carrier's growth is slowing down. A consideration for Mr Pearce will be the carrier's long-haul strategy and if the 787s will supplement A330s or replace them. Central to that decision will be how much more growth Oman Air reckons will be in the market, and if the carrier – and critically the government – will want to engage in market share feuds to fend off LCCs and the Gulf network carriers, or if Oman Air will be one of the first national carriers to surrender market share in order to achieve profitability.