Virgin America reduces losses in difficult 1Q2014, now needs to leverage new slot assets
Analysis
Virgin America stands to become one of the biggest beneficiaries of US consolidation after securing slots at New York LaGuardia, Washington National and gates at Dallas Love Field. The airline's pursuit and purchase of access to those airports was made possible following a settlement between American Airlines and the US Department of Justice in order to allow American and US Airways to close their merger.

Among the carriers that gained slots at airports where American was required to divest, (Southwest at Washington National and LaGuardia, JetBlue at National), perhaps Virgin America has the most to prove with its newly acquired assets. As the airline gears up for new service launches in key business markets, it posted a loss for 1Q2014, which calls into question the viability for Virgin America's consistent profitability.

Virgin America did narrow its losses year-on-year during 1Q2014, a tough quarter for most US airlines as winter storms pummelled much of the country. But the airline recorded declines in key metrics including unit revenue and yield and increases in unit costs. Its performance in those fundamentals does not bode well for Virgin America's attempts to generate excitement for a potential initial public offering during 2014.
Southwest will hold a commanding seat share on Virgin America's Love Field routes
Virgin America is introducing service from Dallas Love Field to New York LaGuardia and Washington National (utilising slots at those airports it gained from American's divestitures) and shifting its existing service from DFW to both Los Angeles and San Francisco to Love Field.

The moves Virgin America is making in the Dallas market are designed to capture more O&D traffic rather than to compete with DFW's titan American for connecting passengers. Obviously Virgin America has a much smaller network than American, so lessening its focus on connections in Dallas could possibly help the carrier shore-up its overall revenues.

See related report: Virgin America vies to inject competition at Dallas Love Field as Southwest, Delta, Spirit line up
But Virgin America is competing with Love Field's own giant Southwest Airlines on its new service as Southwest leverages the full repeal of the Wright Amendment. Among the numerous direct flights Southwest is launching from Love is new service to Los Angeles and Washington National.

Schedules in CAPA and OAG show that Southwest will hold a commanding seat share in each market by mid-Nov-2014 once each carrier launches their respective new service on the routes. Southwest's projected share between Love and Los Angeles is 57% of the approximately 6,780 one-way weekly seats on offer, with Virgin America holding the remaining 43% share.
Dallas Love Field to Los Angeles International Airport (seats per week, one way): 13-Oct-2014 to 21-Dec-2014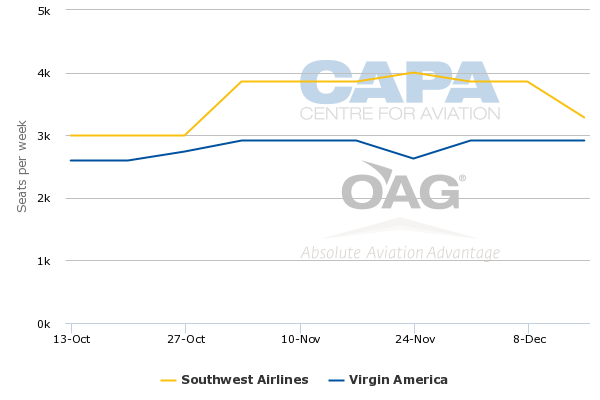 Southwest will hold a 73% share of the roughly 8,508 seats on offer between Love Field and National and Virgin America will represent 27% of the available seats.
Dallas Love Field to Washington Ronald Reagan National Airport (seats per week, one way): 13-Oct-2014 to 21-Dec-2014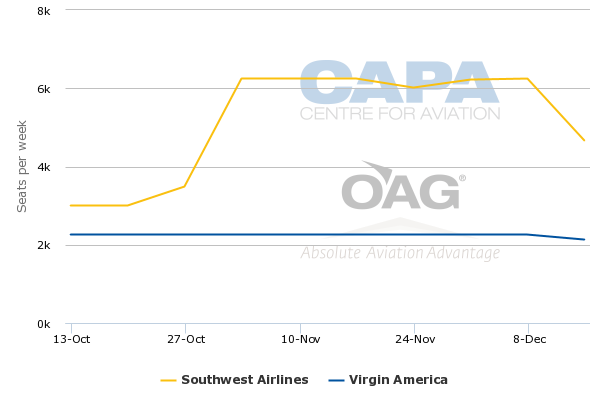 See related report: Southwest Airlines wins Love – but also new competitive forces with repeal of Wright Amendment
Virgin America aims to attract business passengers at Love - against some powerful opposition
Los Angeles is also amply served from DFW, evidenced by roughly 22,500 weekly one-way seats on offer in mid-Nov-2013. American is slated to represent a 79% share, followed by Delta at 10%, United with a 6% share and Spirit Airlines holding a 5% share.
American is also projected to offer roughly 10,700 weekly one-way seats from DFW to Washington National in mid-Nov-2014.
Dallas/Fort Worth International to Los Angeles International (seats per week, one way): 19-Sep-2011 to 21-Dec-2014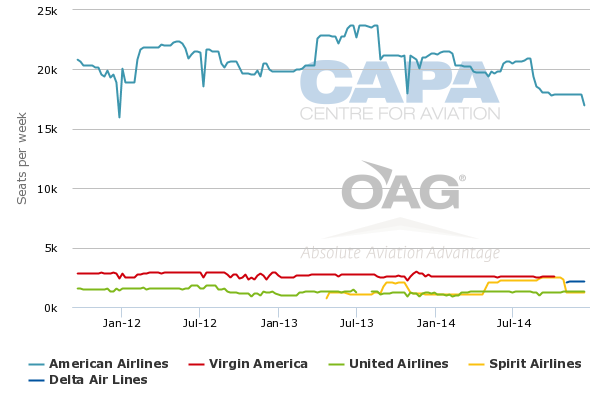 As previously reported by CAPA, Virgin America poses an interesting product proposition for Love Field passengers at a price point that is not markedly higher than Southwest's more basic offering.
During 1Q2014 Virgin America's average fare was nearly USD187 compared to USD157 at Southwest. For about USD30 more, passengers on Virgin America are granted seat assignments, some level of free in-flight entertainment and power outlets at seats.
Virgin America also has a first class that is priced lower than its legacy competitors, which could be an attraction for business travellers looking for more comfort and other amenities.

Love Field is located closer to the city centre of Dallas, which could create some opportunity for Virgin America to make inroads with business travellers looking for a little more comfort without making the extended trip to DFW. But given Southwest's larger presence measured by seats on offer from Love Field to both Los Angeles and Washington National, Virgin America's success at Love Field is far from certain.
Virgin America shifts some focus to Dallas as JetBlue creates new pressure with Mint
Just as Virgin America introduces new competition in Love Field and aims to leverage its business class offering, its product superiority is coming under pressure in transcontinental markets from New York as JetBlue recently debuted its new Mint premium business offering between JFK and Los Angeles. Mint features 16 lie-flat seats, four of which are closed-off private suites.

See related report: JetBlue faces tough challenges even as its Mint offering drives fresh innovation

Virgin America will attract some pressure from Mint. JetBlue designed the Mint product to appeal to cost-conscious corporate travellers and passengers looking for a premium experience who do not want to pay first class fares charged by legacy airlines. Those are the same passengers that Virgin America targets with its first class, which absent first class seats, appears dated in those markets.

Virgin America has no stated plans to reconfigure its aircraft. It has slowed aircraft deliveries and deferred some jets in order to cut back on capex as it works to improve its balance sheet. Its cash in hand grew to USD133 million at the end of 1Q2014 compared to USD75 million the year prior.

With a new found product supremacy, JetBlue could see some passengers jump from Virgin America, a reversal of fortunes as JetBlue lost some higher yielding passengers to Virgin America when the latter's first class out-shone JetBlue.

The heightened transcontinental competition – all the US major airlines also offer flatbed seats in their premium cabins on those routes – raises the stakes for Virgin America's experiment at Love Field as it needs to replace potential lost revenue from its transcontinental flights from New York. During 1Q2014, Virgin America estimated that roughly 30% of its revenue was generated by its New York markets. It also operates flights from JFK to San Francisco (Mint is debuting on that route on Oct-2014) and Newark to Los Angeles and San Francisco.

JetBlue and Virgin America have the lowest seat penetration between New York and Los Angeles, (16% and nearly 14%, respectively), so any competitive advantage either carrier chooses to employ threatens to shift the revenue balance between those two airlines. For Virgin America, that could mean lowering its premium fares, not a viable long term alternative if it is to achieve improved financial performance.
John F Kennedy International to Los Angeles International (seats per week, one way): 24-Jun-2013 and 23-Jun-2014

Virgin America's improved 1Q2014 performance is against key metrics trending in the wrong direction
During 2Q2014 Virgin America closed on USD40 million in financing from two banks to finance its slot acquisitions and increase its cash in hand. Those agreements followed a USD22 million loss recorded by the airline during 1Q2014 versus a USD46 million loss the year prior.
Its operating loss of USD13 million was also an improvement from USD15 million the year prior.
Virgin America's financial performance: 1Q2014 vs 1Q2013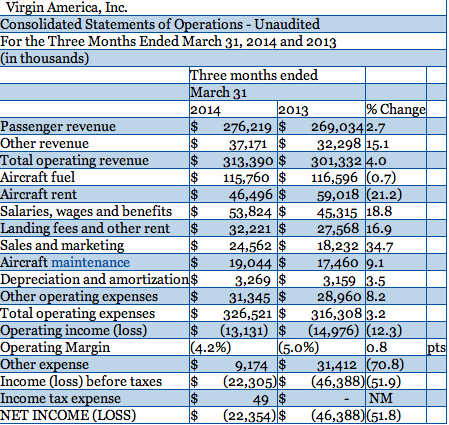 Flight cancellations due to weather and the shift of the Easter holiday to Apr-2014 pressured Virgin America's unit revenues in 1Q2014 as the airline recorded a decline in that metric of 0.3% year-on-year.
Its yields fell 2.8% as average fares declined 7%. As its revenue metrics decreased, Virgin America's unit cost excluding fuel jumped 2% year-on-year in 1Q2014. However, the airline attributed the rise was to fight cancellations and a nearly 7% fall in stage length year-on-year.
Virgin America's yield unit revenue and unit cost performance: 1Q2014 vs 1Q2013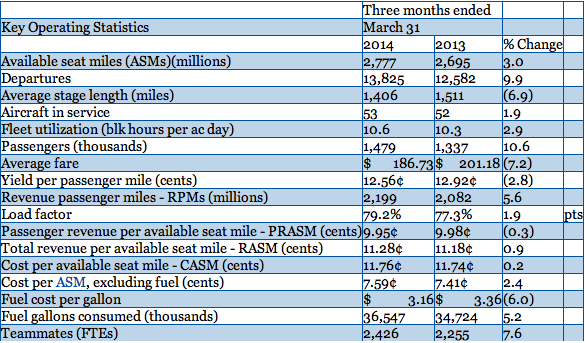 Virgin America has a lot to prove in Dallas – possibly its staying power
Virgin America has worked assiduously to capitalise on assets freed up by consolidation in the US airline industry. While attractive additions to the airline's assets, those slots are in some of the most competitive markets in the US, adding risk for an airline that has yet to engender a high level of confidence that it can consistently produce favourable financial results.

It is not clear if the carrier still intends to pursue an IPO in 2014. Virgin America's own network changes coupled with the amped up competition in some of its most lucrative markets may warrant a re-examination of the airline's schedule to access the public markets.

Another pertinent question is if Virgin America fails to achieve success in Dallas Love, what is the carrier's next move? The airline's presence in the overall Dallas market remains small; but its push from Dallas may be one of Virgin America's last chances to prove its staying power. That makes the new operations a must-win - or else.
See related reports: