US airlines seem bullish on North Atlantic corporate demand as the region shows positive momentum
Analysis
US carrier results in their Atlantic entities during 3Q2013 reflect an uptick predicted by IATA in the region at the onset of the quarter as business confidence is showing signs of improvement and economic conditions in Europe and the US are showing some positive development.

While the 16-day US Government shutdown in Oct-2013 may put a slight damper on corporate demand, most of the major US airlines believe the North Atlantic will continue to gain momentum as it seems capacity growth appears rational.

American and Delta continue to tout their respective joint venture business arrangements with their respective partners in the oneworld and SkyTeam alliances. Meanwhile US Airways' strategy to grow its corporate revenues across the Atlantic also appears to be bearing fruit. The carrier is actively pursuing corporate accounts in Europe without the benefit of joint sales included in the immunised trans-Atlantic joint ventures operated by the three large global groupings.
Delta touts Air France/KLM-Alitalia JV while using Virgin Atlantic to pounce on Heathrow.

While strength in the US domestic market was the main driver in Delta's 10% growth in corporate revenues year-on-year for 3Q2013, on a unit revenue basis, the 5.6% revenue growth in the trans-Atlantic outpaced the 1.6% increase in the carrier's Latin American markets and the 4.2% decline on Pacific routes.

Carrier president Ed Bastian concluded that despite some sluggishness in European economies, Delta recorded solid corporate revenue share gains. He also declared that its immunised trans-Atlantic joint venture with SkyTeam members Air France-KLM and Alitalia, "is model of how these alliances can be mutually beneficial".

Outlining those benefits Mr Bastian explained "we've doubled our profit within the joint venture over the past three years and quintupled it since the joint venture was implemented five years ago".

Overall, Delta had particular strength on its routes to London Heathrow, which posted 20% revenue growth year-on-year during 3Q2013. As Delta works toward its 1-Jan-2014 launch of its joint venture with Virgin Atlantic, the carrier sees more upside as the two airlines re-time some schedules to better meet customer demand, which should lay the groundwork for additional momentum in the corporate space as New York-London is one of the busiest global corporate traffic markets.
American also highlights the oneworld JV in trans-Atlantic strength
On a unit revenue basis American Airlines outpaced Delta and United in the trans-Atlantic market during 3Q2013, recording 11.4% growth in that metric year-on-year. American was the only airline among the three that actually decreased its capacity across the Atlantic during the busy summer high season as its supply declined 2.5%.
US carrier capacity increase/decrease and unit revenue growth in trans-Atlantic markets: 3Q2013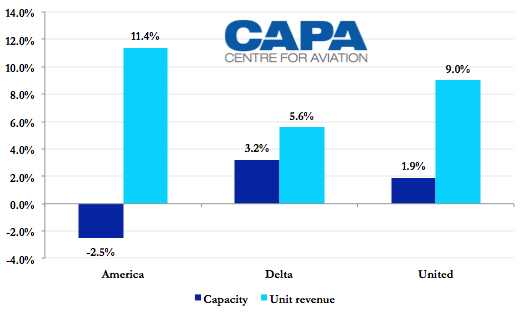 American also touted its joint venture with oneworld partners British Airways, Iberia and Finnair that is underpinned by 17 daily non-stop flights from New York area airports. The coordination is shown in American's 2 ppt drop in seat share from the New York market to London Heathrow from approximately 16% at the end of Sept-2012 to 14% as Sep-2013 came to close. BA's share was relatively stable during that time falling from 39% to 38% year-on-year.
New York to London Heathrow Airport (seats per week, one way): 19-Sep-2011 to 20-Apr-2014
The trans-Atlantic was also United's best performing entity in the high-demand period of 3Q2013 as unit revenues rose 9% on roughly 2% capacity growth. Previously, the carrier has stated it has rightsized its footprint in Europe during the last several quarters, which has led to solid performance in its trans-Atlantic markets during the last couple of quarters.

Of the three US majors participating in immunised joint ventures across the Atlantic, United seems to talk the least about the upside of its tie-up with Star partners Lufthansa and Air Canada. During 2011 United had to make payments to its partners for outperformance, and later explained the partnership was evolutionary, and that the carriers were working together to ensure the joint venture was delivering the right priced product to the market place.

United presently sits in a unique position as it is still likely attempting to restore confidence among its corporate clients after battling significant operational challenges in the high season of 2012. Since that time United has been on a path to win back some clients that fled to other carriers while battling revenue and cost challenges that have produced disappointing financial results.

See related report: United continues pledges of improvement while its lacklustre performance continues
Suddenly, an alliance is a good lever to pull when you're vying for corporate share
Delta's stake in Virgin Atlantic and the joint venture being forged between the two carriers reflects a current reality that both global alliances and the joint ventures borne from those groupings do have limitations in scope.

Delta needed to ensure it created a strong foothold in the New York-London market. Based on current schedules in Innovata (27-Oct-2013 to 2-Nov-2013), combined Delta and Virgin Atlantic represent roughly 36% of the one-way seats on offer compared with a 50% share for AA-BA.

The tie-up with Virgin Atlantic clearly gives Delta more leverage in competing for key corporate customers in the New York-London market. Where this leaves United is a bit murky. The carrier recently stated that it brings "an overall deal" from New York to a corporation from its partnership with Lufthansa and Air Canada; but its rivals can make much the same argument when they approach corporate clients in the New York market. Clearly American and Delta's tie-ups in London Heathrow with BA and Virgin Atlantic are heightening the competition in winning corporate accounts in New York.
US Airways is fairly successful in exploiting certain niches in the trans-Atlantic
As the corporate battle in the New York-London market heats up, US Airways (which is a member of Star but was not invited to join the trans-Atlantic joint venture) has recognised its limitations as having the smallest footprint among the US major carriers in the trans-Atlantic market.

But its 5% unit revenue growth in the Atlantic during 3Q2013 (which was just 1ppt lower than Delta) was driven by a 22% jump in corporate point-of-sale in Europe. Recently carrier president Scott Kirby remarked that the carrier did not really participate in corporate point-of-sale in Europe seven or eight years ago, but recognising that could serve as a viable niche the airline stepped up its efforts to secure those contracts with European companies. US Airways has also been adding trans-Atlantic service from its Charlotte hub during the past few years, which has a large banking industry and is likely helping the carrier make strides in its point-of-sale European corporate accounts.

US Airways does admit, however, that on a stand-alone basis it will never be able to compete on a level playing field with Delta and United in the corporate space, as those carriers in the long-run have the network breadth necessary to meet corporate demands. The US Department of Justice is attempting to block US Airways' merger with American, and while reports are surfacing the two parties are attempting to reach a settlement, a trial date is set for Nov-2013.
Even as the North Atlantic picks up steam, business confidence remains tenuous
Mr Bastian cited a recently completed survey by the Global Business Travel Association that shows corporate travel expenditures should rise 7% in 2014. Highlighting that data, Delta's president believes the foundation is being laid for solid corporate traffic demand.
But in some cases, it is tough to determine which class those corporate travellers are selecting, or being mandated to travel in. The latest data from IATA show that premium demand during Aug-2013 in the North Atlantic increased 5.7%, but only increased 1.1% through the first eight months of 2013. While the uptick in August was encouraging, previously IATA has explained that global business confidence was flat for the majority of 2013.
The weaker confidence levels coupled with slower world trade growth has affected growth in the premium travel sector. IATA concluded there was some modest business improvement in business sentiment during 3Q2013, which should be a positive sign for business travel growth in the months ahead. It is likely that premium traffic growth during 2013 will grow at a faster clip than the 0.6% increase recorded in 2012, but reaching the 5% increase recorded in 2010 or the 6% rise in 2011 may prove to be challenging.
North Atlantic premium traffic growth: 2008 to 2012
Global premium traffic growth: 2008 to 2012
But IATA in Aug-2013 was seeing encouraging signs of a rebound in business confidence, noting that metric was recording levels not seen since mid-2011. Export orders are also continuing to rise, which could suggest a pick-up in world trade growth. The association also concluded that the proportion of premium travel relative to total travel was at an 18-month high.
Premium passenger counts as a percentage of global totals: May-2007 to Aug-2013
Most of the US majors conclude the government shutdown should not pose any lingering threats to demand, but the recent deal to restart the government and extend its temporary borrowing authority to Feb-2014, coupled with the chaos that led to the shutdown, might be creating some jitters among corporate decision makers regarding future travel.

It is not clear if that anxiety will inevitably curtail corporate travel demand, but at times sudden macro economic shifts can cause businesses to cut their travel plans in order to build up cash reserves.

For the moment, at least, there are encouraging signs of some momentum in the premium space in the North Atlantic. It is tough to determine if the trajectory will continue, but it is reassuring higher-yielding demand is gaining steam in one of the key global premium travel markets.
About the CAPA Corporate Travel Innovation Summit
Don't miss the CAPA Corporate Travel Innovation Summit in Amsterdam on 25 November 2013.

Agenda:
09.00: Conference Welcome and Introduction
09.05: Keynote Address: Global travel, changing at the speed of sound
09.40: The Corporate Travel Outlook for 2014
Will businesses pay more for their air travel in 2014 than in 2013?
What will be the future for the NDC?
Will it get harder and harder for companies to keep their travellers compliant with corporate travel policy?
Will consolidation of airline suppliers through mergers and joint-ventures force up negotiated fares in 2014?
Will LCCs continue to increase their share of the corporate market in 2014?
10.40: Coffee

11.15: Air Procurement: The big headaches and frustrations – are they curable?
Commercial deal models: revenue vs marketshare vs segments – what's the right formula for mutual success?
Sourcing vs negotiating: are RFPs the path forward, or can ongoing dialogue and negotiation provide better results?
Alliance contracts: are they relevant and useful for both buyers and airlines?
What alternatives to traditional corporate deals are buyers exploring – LCCs, spot-purchase, cheapest available?
12.00: Innovation Roadshow: The Corporate Travel Manager's toolbox for success
12.00: Hotel Bookings – Content, Payment, Data & Integration
Are you managing 100% of your hotel spend most effectively?

12.30: Safety & Security - Now a must have on everyone's program agenda
What's new in the last 12 months that is making this easier and lowering cost to administer, and improves the confidence of your 'C' level executives who own the problem.
12.45: Travel Management Platforms/Open Bookings & Online Booking Tools
What's new in the last 12 months and what is coming? How is the innovation benefitting the Corporates/TMCs?

13.05: Reporting and Business Intelligence: Winning from 'Big Data'
What does Big Data mean in the travel industry – what is new to Corporates/TMC, and how can companies better use what data they have?
14.30: Where the Rubber meets the Rail: The high speed rail challenge (and opportunity) for airlines and corporate travel
Rail vs Air for corporate travel. In which markets is HSR decimating air travel, and how and where are airlines fighting back?
How has the industry adapted to include HSR and Air / LCC in managed travel programs. Are there still technology and efficiency gaps in distribution?
What opportunities does European HSR offer carriers based in Asia, the Middle East and North America?
15.30 Coffee
16.00: What's keeping Travel Executives awake at night?
We have representatives of a GDS, a TMC and an HBA. Will all these types of company still be here in five years and in ten years? Will travel managers and airline corporate sales teams still exist in five years and ten years?
Is managed corporate travel as we understand it today - policy, booking through GDS-powered TMCs, negotiation of discounts with suppliers etc. – dying?
Do the panelists see eachother as competitors or partners – or both?
Is the idea of using one mega-TMC in all markets and for all travel requirements becoming old-fashioned?
What would help the panel sleep better at night?
17.00: Networking Reception
Click here for more information.