US airlines increase change fees as corporate demand softens. Consumer advocates unimpressed
Analysis
All the major US airlines have followed United Airlines' lead in raising change fees on their lowest non-refundable fares at a time when higher-yielding close-in bookings remain soft and the checklist for product unbundling (and charging) is close to completion.
The positive for the airlines is in driving business travellers looking for lower-cost travel into higher fare buckets. The revenue potential is significant, but carriers now face a growing backlash against the fees amongst consumer advocates.
Close to the same time as United Airlines reported a USD325 million loss during 1Q2013 the carrier increased its booking change fees from USD150 to USD200. All of United's legacy counterparts – American, US Airways and Delta – have followed suit and matched the increase, which has not unsurprisingly spurred customer ill will as the start of the busy summer season in the northern hemisphere is just weeks away.
See related reports:
All US majors increase booking change fees as soft demand trends continue into 2Q2013
United was the only network carrier to post a 1Q2013 loss (American posted a USD8 million profit excluding reorganisation items, albeit a USD341 million loss including those factors). But all the publicly traded network airlines highlighted weak corporate trends during Apr-2013. At least part of the cause was US Government spending cuts as a result of the so-called sequester.
Delta, United and US Airways, in discussing their respective outlooks for 2Q2013 concluded that soft demand trends in the corporate sector would likely continue given the jitters caused by the sequester. Delta in particular stated it is refining revenue management in light of the current trends after biasing its inventory towards more lucrative close-in bookings at the beginning of 2013.
Once those bookings weakened, the carrier opted to backfill the inventory with lower-yielding traffic. But Delta also highlighted some weakness in leisure demand towards the end of 1Q2013. Coupled with lower yielding passengers backfilling what Delta hoped would be higher priced seats, is likely to have played a part in its decision to try to improve non-ticket revenue by matching United's rise in change fees.
US Airways expressed similar sentiments about corporate trends, noting that business demand remained volatile. However, from its vantage point leisure demand remains strong so far during 2013. But its estimates of a 3%-4% passenger unit revenue decline for Apr-2013 were spot on; its PRASM fell 4% year-over-year during the month. The carrier expects its unit revenue in Jun-2013 to be flat to down 2%.
Airlines declare the hikes in fees are necessary to preserve inventory
While the change fees likely will not prohibit a large portion of leisure travellers from taking their annual summer holidays, the hikes are doing nothing to inure airlines to the passenger segment that is holding steady in the current operating environment. The backlash has already been pretty sharp from some corners.
Online site Smarter Travel remarked that any consumer would agree airlines have to profitable during the long-term, "but that means setting reasonable price levels for all services, not gouging on fees".
Conde Nast director of consumer news and digital communication Wendy Perrin remarked in her widely-read blog that the fees would most likely hit families. Adding USD200 to other charges that include sitting together and bag fees could force some families to rethink their travel plans.
But airlines maintain the increased fees are necessary to protect against seat spoilage when travellers change their plans. During an 8-May-2013 interview with Nightly Business Report, Delta CEO Richard Anderson stated: "Essentially what the change fees do is prevent a situation where someone buys a ticket and then changes it over and over again and over again, which essentially makes it an option on any seat on any flight on any day of the week. We can't run the airline that way."
Mr Anderson remarked that like hotels and rental car companies, airlines need to be specific about "wanting you to stick with your reservation".
But airlines have enjoyed a sharp rise in change fee revenue since 2007
The reality is that change fees have steadily risen since airlines began aggressively product unbundling during 2008 when oil prices reached historical levels. Since that time change and baggage fees have helped to keep airlines profitable even as oil prices in 2011 neared the same levels reached three years prior, when many weaker airlines were wiped out.
Data compiled by the US Department of Transportation (DoT) show that change fee collections by US carriers jumped 160% between 2007 and 2011 (the last time period for full-year data). For the first three quarter of 2012 carriers collectively added USD1.9 million in change fees to their coffers, with the fees collected on a quarterly basis steadily rising 5% in 1Q2012, 8% in 2Q2012 and 8% during 3Q2012. (See background information for fees collected by each individual from 2007 to 2012.)
US Airline change fees: 2007 to 2012*
Year

Total fees collected

USD billion

2007
0.915
2008
1.7
2009
2.4
2010
2.3
2011
2.4
2012*
1.9
Year-over-year in US carrier change fee collections: 1Q2012 to 3Q2012
Amount collected

USD million

Year-over-year
% change
1Q2012 630,990
5%
2Q2012 661,214
8%
3Q20 1,2652,033
8%
Obviously the large US network carriers have benefitted the most from the rising fees as American, Delta, US Airways and United represented approximately 53% of the US domestic traffic between Feb-2012 and Jan-2013.
United States domestic traffic by carrier: Feb-2012 to Jan-2013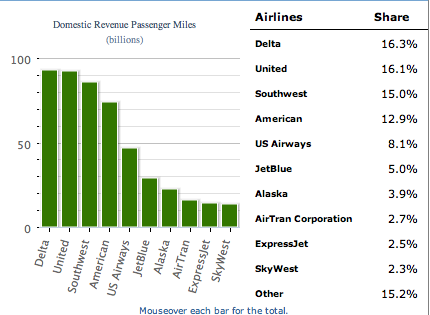 The USD50 increase in change fees to USD200 on domestic routes will no doubt contribute to a healthy rise in those fees collected during 2013 with little effort on the part of carriers to institute the change. Aside from inventory management, there is generally negligible cost involved in making the changes.
Given the timing of the rise in fees being introduced, US airlines are looking to fortify themselves against some of the demand softness among corporate travellers, and as they profess, preserve inventory.
But the reality is aircraft are nearly at full capacity, which means those seats would easily be filled - and, where the changes are late, at a higher price. With the already healthy revenues generated by change fees, carriers run a stronger risk of increasing passenger angst, which given the strong perceptions customers hold about being constantly nickel and dimed by airlines, could prove to be more damaging in the long run than trying to collect a few extra dollars from customers tired of being taken advantage of.
Some practical points: beware killing the golden goose
Consumer advocates and analysts are scant in their praise for the increases. But there is a practical point too: the income from these fees has become so substantial that they have become a staple, equivalent to most of the annual industry profit. The danger is that a fee level is reached where passengers will not pay the fee, relinquishing the tickets completely (and perhaps going to a competitor) because the value equation does not work. For late bookings, this will typically also mean that they will not be paying the higher price of a new seat, perhaps actually undermining the professed inventory management goals of the majors and leaving seats empty.
And, as travellers become more wary of the low priced, non-transferable fares, they may well change buying practices. Southwest Airlines for example does not charge change fees (although subsidiary AirTran has a USD75 charge). jetBlue, Virgin America and Alaska charge USD100; Spirit charges USD125.
There is another strategic issue too. As the industry well knows, taking on the airlines on ancillaries is a highly attractive proposition for Congressmen of all shades. Raising the bar so high on ticket change charges, with the frequent potential for consumer hard-luck stories, is tantamount to waving the red rag to Congress.
And that bull has sharp horns.
Background information
Change fees collected by US carriers: 2007, USD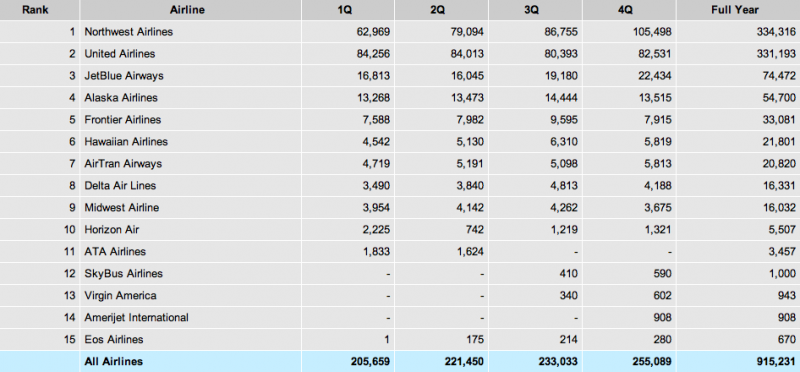 Change fees collected by US carriers: 2008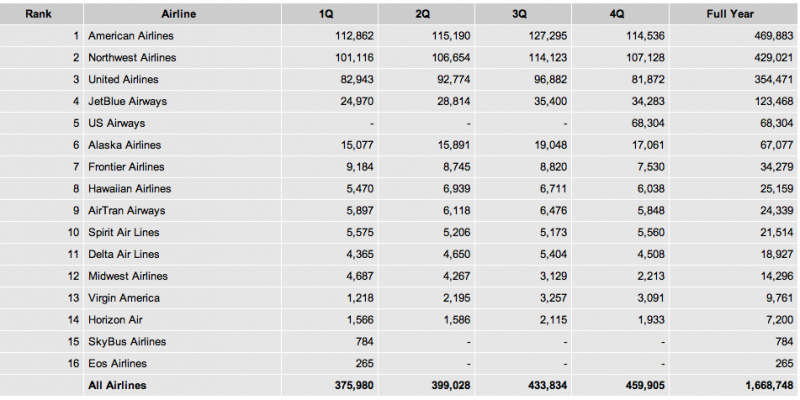 Change fees collected by US carriers: 2009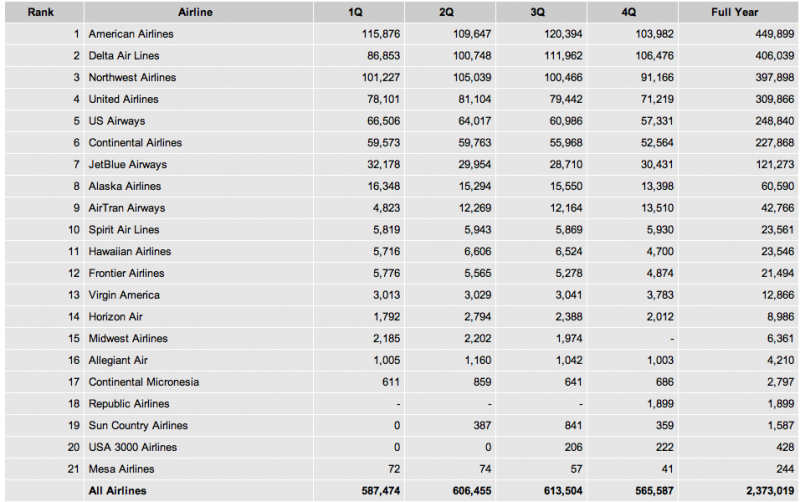 Change fees collected by US carriers: 2010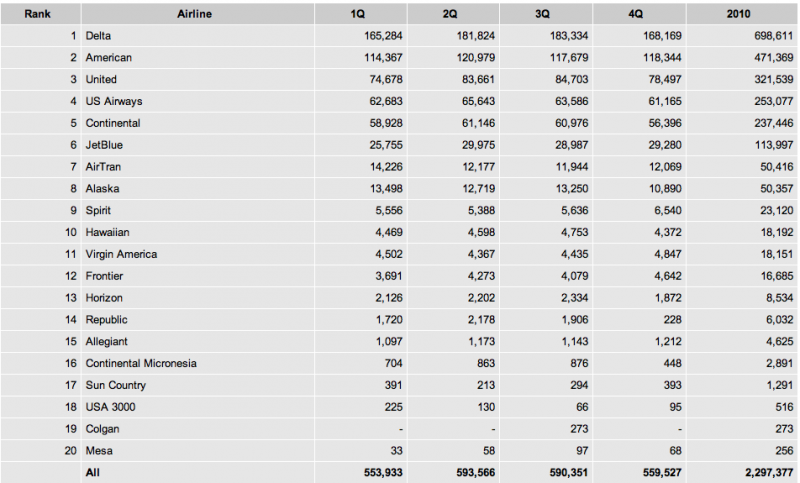 Change fees collected by US carriers: 2011
Change fees collected by US carriers: 2012 (through 3Q)