United looks to bid 2012 adieu as integration challenges start to stabilise
Analysis
United Airlines is closing out the most difficult year of its merger integration with Continental Airlines that encompassed lagging revenue performance and reliability issues that drove crucial corporate customers into the arms of other carriers. The airline has declared it has rebounded from the operational challenges it faced during the high travel season of summer 2012, but only time will tell if customers that suffered during the summer snafus are willing to give United a second chance.
At the same time United was facing reliability challenges that drove its on-time performance to a low point of 64% in Jul-2012, the carrier was also plagued throughout 2012 by a significant unit revenue under-performance relative to its US legacy peers while feeling cost pressures related to the continuing integration with Continental.
United believes many of the difficulties it has faced during 2012 are beginning fade as carrier CEO Jeff Smisek recently asserted "the road is repaired", as the carrier's on-time arrival rate in Sep-2012 reached 82%. Metaphors aside, 2013 will prove to be a pivotal year for United as labour contracts are finalised and investors look for sustained revenue improvement.
The summer of discontent
United started 2012 with the complex and daunting task of moving the passenger service systems of United and Continental into a single technological platform, the SHARES system previously used by Continental. The cutover that got underway in Mar-2012 caused serious disruptions to passenger operations as the airline moved to a single booking system. Those issues were followed by what could be deemed as the summer of discontent among United's passengers as aircraft cross-fleeting to better match gauge with specific route pairings and changes in the ways the carrier managed spare aircraft led Mr Smisek to acknowledge the carrier did not effectively execute its operations during Jul-2012 through Aug-2012.
See related article: United seeks to combat merger challenges and shore up its balance sheet
The rebound in Sep-2012 was supported by bolstering spare aircraft levels, increasing staffing levels at airports and a slowing of the aircraft re-deployment across the combined network. While United exceeded its 80% target for an average on-time arrival rate in Sep-2012, that month is considered a shoulder period in the travel cycle, when demand is less robust than busier times of the year. Based on data compiled and calculated by the US Department of Transportation, United was still an under-performer during the month of Sep-2012. Its on-time performance of the month was still among the lowest of carriers tracked by the agency, and the carrier recorded the highest level of consumer complaints between Jan-2012 and Sep-2012.
US carriers with the lowest on-time arrival rates: Sep-2012

US carrier system-wide passenger complaints: Jan-2012 to Sep-2012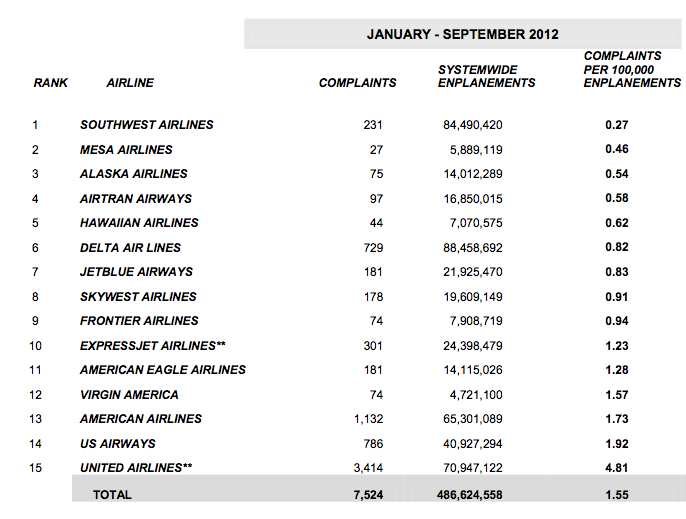 United has acknowledged that corporate book-away triggered by the carrier's lacklustre performance during 3Q2012 was significant, and the airline is taking steps to engage those customers by informing them of the improved reliability and the overall value of its network. Oct-2012 does not present a clear picture of the carrier's effectiveness in smoothing over strained relations with corporate customers. The carrier estimates at least 1ppt of the estimated flat to 1.5% improvement in unit revenue during the month was attributed to capacity reductions instituted to deal with hurricane Sandy that struck the US northeast during the month. But at the same time the fallout from the storm resulted in a USD90 million revenue hit for the carrier.
Weak revenue performance as other legacy carriers show solid gains
The fallout from the IT systems cutover and the operational disruptions has been a stumbling block in United's unit revenue performance during 2012. For the nine months ending 30-Sep-2012 United's 2% unit revenue growth year-over-year was far below the increases posted by its US legacy peers. Larger network carriers American and Delta recorded gains of 8% year-over-year. However, United's USD13.4 cent unit revenue was the second highest among those airlines behind Delta's USD13.8 cents.
US legacy carrier unit revenue performance: Jan-2012 to Sep-2012
| Carrier | Unit revenue | Year-over-year % change |
| --- | --- | --- |
| American | USD12.4 cents | 8% |
| Delta | USD13.8 cents | 8% |
| United | USD13.4 cents | (-2.1%) |
| US Airways | USD12.1 cents | 4% |
As scrutiny of its weaker unit revenue growth relative to its peers has intensified, United has countered that too much emphasis is placed on monthly unit revenue performance. Carrier management has encouraged greater study of unit revenue over a larger time span, and has stressed to investors that its unit revenue for the 12 months ending Jun-2012, adjusted for stage length, was at a premium to other airlines.
United unit revenue versus its US peers: 12 months ending Jun-2012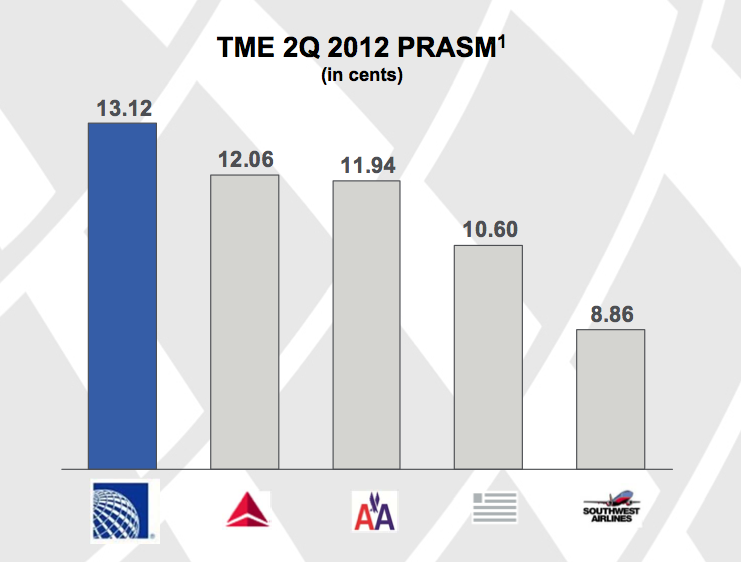 But United's under performance continued during 3Q2012 as its consolidated unit revenues fell 1.3% year-over-year compared with 3% growth at its closest rival Delta Air Lines.
See related article: Summer operational and merger challenges continue to drag down United's results
United management is now beginning to acknowledge its lagging revenue performance, and it is working hard to return to its leading industry position. The carrier remains confident that once it completes certain merger tasks, including the all-important cross-fleeting, it will attain the USD800 million to USD900 million in annual revenue synergies that it guaranteed when United and Continental set on a course to merge in 2010.
Slowly whittling away debt
One of United's undertakings that has drawn less scrutiny but carries significant weight is the airline's focus on pairing down its debt. Company CFO John Rainey recently pointed out that since the closing of the merger two years ago the carrier has paid down USD4.7 billion in debt. During 3Q2012 United focused on paying down two of its most expensive pieces of debt, which totaled USD251 million and carried a 12% interest rate.
But United's net debt levels still stand at USD12.9 billion, which is close to the USD11.9 billion debt load carried by Delta. Both carriers are focused on pairing down their debt to manageable levels; but United has warned that it has a significant amount of debt maturities and capital lease obligations totalling USD4 billion due through 2016. In attempting to continue to pair down its debt, United needs to attain its industry-leading revenue generation and improved free cash flow, which is about USD1 billion for the last trailing 12 months compared with USD2 billion for calendar year 2011, according to Morningstar.
United scheduled debt and lease payments: 2012 to 2016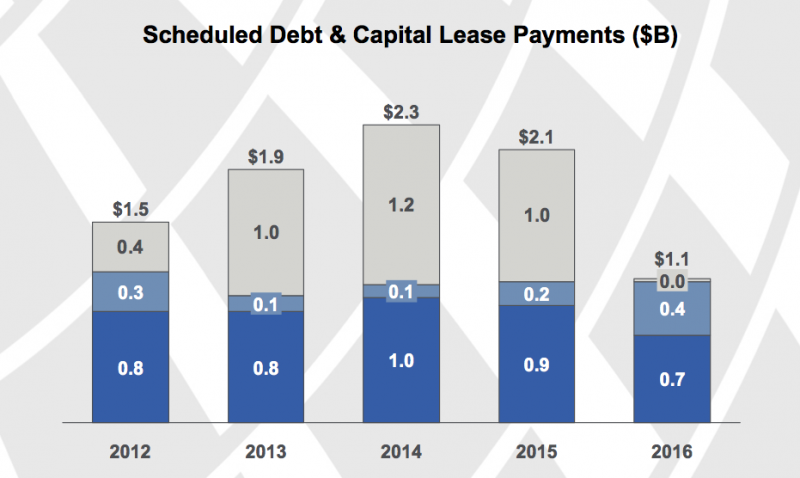 Mr Rainey assured that United has already realised a significant number of integration expenses, and expects the remaining costs should "wind down appreciably next year [2013]....definitely you would see some stronger cash flows next year as it relates to some of the one-time items".
United during the nine months ending 30-Sep-2012 recorded the highest increase in total operating expense among the US major carriers.
US legacy carrier operating expense : Jan-2012 to Sep-2012
| Carrier | Operating Expense | Year-over-year % change |
| --- | --- | --- |
| American | USD19 billion | 2.8% |
| Delta | USD26 billion | 3% |
| United | USD28 billion | 5.8% |
| US Airways | USD10 billion | 2.5% |
Rising labour expense
But at the same time Mr Rainey is warning that United will likely see some cost pressure in 2013 at it reaches joint collective bargaining agreements with the combined labour groups of United-Continental, now operating under the United brand.
During 3Q2012 United recorded a USD454 million special charge to accommodate lump sum payments related to a tentative agreement it reached with pilots during Aug-2012. The one-time payment is not in lieu of future pay increases, which means added costs in 2013 if the pilots ratify the deal.
Speculation is growing that the pilot pay scales will be close to those recently agreed to by Delta and its pilots. Delta has faced cost pressures during 2H2012 associated with the pilot contract, recording an initial round of pay raises in Jul-2012 and expects a second pay-out in Jan-2013. Even as the costs of the contract came through to Delta's expense line items almost immediately, carrier management has stressed productivity and scope flexibility that are included in the contract would produce significant returns over time.
One of the most important aspects of the contract is Delta's ability to add 70-76-seat jets to its regional operations while shedding more than 200 50-seat regional jets. Details from United's tentative deal indicate that after 01-Jan-2014 United's 70-76-seat regional jet count would be capped at 255 aircraft, with 76-seat jets limited to 130, including Bombardier Q400 turboprops. There also appears to be a cap on the United Express fleet to 455 aircraft, down from a projected year-end 2012 total of 550 aircraft. It is not clear if United will have as much flexibility as Delta to shed smaller 50-seat jets given the larger jet caps and the overall limits to the United Express fleet. But if United's scope is weaker than Delta, United could be forced to operate a larger portion of inefficient 50-seat jets.
United is also in expedited negotiations with unions representing mechanics and reservations agents to conclude new contracts and has also started talks with its flight attendants. If all those agreements produce contracts, United will continue to face pronounced cost pressure in 2013.
Facing an uphill climb in 2013
United's troubles faced during 2012 show the carrier has much to prove in 2013 in reaching the promised potential of the merger with Continental. While its network strength should eventually bring lost passengers back into the fold, United needs to deliver solid revenue and profitability in order to declare the merger a success. Three years after the 2008 merger between Delta and Northwest, Delta achieved a profit of more than USD800 million in 2011. United faces many challenges in delivering similar results in 2013 three years after its merger, given the uncertainty surrounding its labour costs, and its ability to return to industry-leading revenue generation levels.