United continues international network shifts and drops service to Accra in Ghana
Analysis
United is moving international capacity around its largest hubs in what appears to be an effort to maximise its network now that a crucial passenger service system cutover is complete. The IT system cutover allows United and Continental, whose merger is now complete, to fully utilise the combined networks and properly cross-fleet to operate optimal-sized aircraft in United's markets. One of the more prominent changes is the elimination of flights from United's Washington Dulles hub to Accra, which was the carrier's first point in Africa when the route was launched in 2010. Other changes include the seasonal elimination of flights from Washington to Moscow and from Newark to Rome.
The changes will support an overall revised capacity forecast for United this year. The carrier has refined its 2012 capacity guidance from an overall decrease of 0.5% to 1.5%, compared with a previous estimate of between growth of 0.5% and a drop of 0.5%. United's international capacity is now projected to grow this year by 0.3% to 1.3%, but some of that will be driven by new long-haul flights from Washington Dulles to Doha beginning in May, followed by Dulles to Manchester and Dublin.
United has just introduced flights from its Newark hub, which was a legacy Continental stronghold, to Buenos Aires. The new service is in essence a route transfer from United's Washington Dulles hub. Flights to Buenos Aires from Continental's legacy Houston hub, which is the carrier's gateway from Latin America, are remaining intact.
US DoT data show for 2011 United's load factor on the Washington-Buenos Aires pairing was roughly 70.5%, while the Houston flights recorded loads of 79%. The New York market is much larger than the Washington, DC metro market, so United saw an opportunity to increase passenger flows by moving the flights to Newark. It has a broader international footprint from Newark, which allows a wider breadth of passengers from Europe to connect to the Buenos Aires flights.
Feed to and from Latin America is becoming increasingly important to United and all US carriers operating to and from the region, since its performance has remained consistent while traffic to other regions has suffered due to economic uncertainty. IATA's figures show traffic growth to Latin America of 7.6% in January and 13.3% in February, though the association did warn February traffic levels where somewhat inflated due to the Brazilian carnival holiday occurring a month earlier in 2012.
United has said that Latin America was its best performing entity during the fourth quarter and full year 2011. United earlier reported that passenger unit revenue grew in Latin America by 11.7% year-over-year for 4Q2011 and 17.6% for the full year.
United capacity guidance: 2012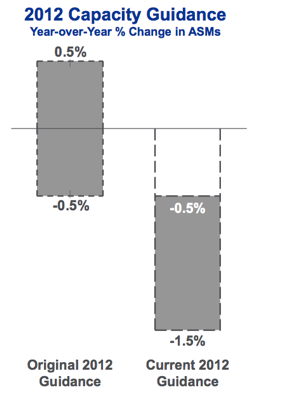 United tweaks European network
United is also making changes in its European network throughout this year via seasonal adjustments in both Newark and Washington, pulling out of flights from Newark in two markets that are amply served by other carriers.
United appears to be keeping its daily, Boeing 767-300-operated flights from Washington Dulles to Rome intact while initiating a seasonal cut from its Newark hub to Rome later this year. Current schedules show that United operates Newark-Rome five times per week with Boeing 767-400 aircraft. The New York-Rome market is dominated by SkyTeam partners Alitalia and Delta, who during September will offer a combined 5,455 weekly seats one-way in the market from New York JFK. Alitalia is also offering 1,554 weekly one-way seats from Newark during that time.
Rome Fiumicino Airport to New York John F Kennedy International Airport (seats per week, one way): 19-Sep-11 to 23-Sep-12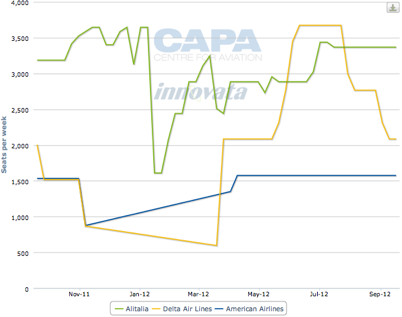 Flights operated by United from Newark to Copenhagen are also ending in September. United offers about five weekly flights from its Newark hub to Copenhagen with 172-seat Boeing 757-200s. Its Star Alliance partner SAS offers flights from Newark to Copenhagen, Stockholm and Oslo, which gives United strong feed into Scandinavia from New York. SAS also operates a daily flight from Washington Dulles to Copenhagen.
After it launches new flights from Washington to Manchester and Dublin, United plans to seasonally eliminate its flights to Moscow Domodedovo, which are currently operated three times per week with 208-seat 767-300 aircraft. United inaugurated the first flight linking the capital of the US to Russia's capital city in March of 2009, and DoT data show load factors of 76% on the pairing last year in 2011, up from 72.5% in 2010. The carrier is pulling down the capacity on the route during the winter period when demand is low and redeploying it in markets with higher demand during that time.
New daily flights being introduced by United from Washington to Dublin in June of this year are joining daily flights the carrier operates from its Newark hub with its 172-seat 757-200s. United previously served the Washington Dulles-Dublin route via a codeshare with Aer Lingus. But Aer Lingus dropped the route in late 2009.
A fair amount of capacity already exists from the US to Ireland as Aer Lingus offers two daily flights from JFK to Dublin, and three weekly flights to Shannon. Delta Air Lines offers daily flights from both JFK and its Atlanta hub to Dublin with 227-seat Boeing 767s, while American offers daily flights to Dublin from Chicago with 225-seat 767-300s.
United believes the addition of the Dulles-Dublin flight increases the options for passengers to connect to variety of different points throughout the US. Three of United's hubs – Chicago, Denver and San Francisco – are in the top 10 domestic destinations from Dulles with respect to seats offered.
United's new 757-200-operated flights from Washington Dulles to Manchester that begin in May join existing service from the carrier's Newark hub. All the other US majors offer flights to Manchester from their respective hubs, including daily flights operated by Delta with 227-seat 767s from Atlanta and daily service offered by US Airways from Philadelphia with 294-seat Airbus A330-300s. American offers flights from JFK to Manchester with 189-seat 757s and from Chicago with 227-seat 767s.
With the complimentary flights from Europe into its US east coast hubs, United is working to achieve merger synergies by expanding options for travellers from Europe, and allowing for connections between those hubs and onward to the rest of its network in the Americas. The new flights from Dulles are also being introduced in the high season, which should help United to capture satisfactory local demand from Washington if rising fuel prices do not dampen leisure travel.
United will also cut the flights from Washington to Accra, Ghana that began in Jun-2010, marking the carrier's first destination on the African continent. This is despite at the end of 2011 United remaining optimistic on its prospects in Africa after introducing its second route from Houston to Lagos in November of that year.
See related article: United Airlines eager to tap expected growth in the US-Africa market
The carrier's performance remained solid on the Dulles-Accra route, currently operated by 208-seat Boing 767-300s. DoT data show a cumulative load factor of 75% for the calendar 2011, up from 67% in 2010.
Delta also offers a daily flight to Accra, with four weekly frequencies originating in JFK and three in Atlanta. Current Innovata schedules show Delta operates 767-300s equipped with winglets on the flights. Two of the carrier's flights to Accra to continue to Abuja in Nigeria and three continue to Monrovia in Liberia, allowing Delta to depend on other African traffic and not solely Accra.
DoT data show Delta's load factor on Accra flights in 2011 was also 75%. Delta has downgauged the aircraft used on the Atlanta flights to 210-seat 767s from Airbus A330s. United also initially launched its Washington-Accra flights with larger 777-200s.
The high load factor on United's Accra service indicates a yield, and not a demand problem. Over the long-term United may see stronger profitability on the Houston-Lagos pairing, which joins two cities dominated by the oil industry. Houston is now United's largest hub, so the potential exists to possibly build up the performance on Lagos as quickly, if not faster, than the Washington-Accra route.
Delta remains the market leader in US-Africa market after launching flights to the continent in 2006. In addition to Accra, the carrier serves Dakar from JFK and Johannesburg from Atlanta. Delta remains the dominant carrier in the Ghana-US market, holding a 70% share of the current 2,094 seats in the market. With fuel prices rising and United projecting fuel costs of USD3.35 per gallon for the first quarter, the carrier possibly decided that holding its own against Delta in the Accra market did not justify keeping the flight, on which it has no connectivity behind Accra with any partners.
United States to Ghana (seats per week, one way): 19-Sep-11 to 23-Sep-12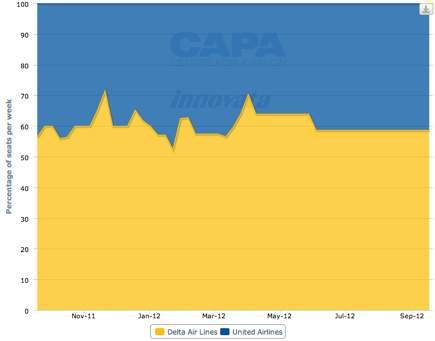 United's network adjustments are occurring against a projection of sharply falling unit revenue during 1Q2012. It expects consolidated passenger unit revenues to grow 4% to 5%, which is a significant decline from the 8.2% recorded in 4Q2011 and 9.9% growth in the 1Q2011.
The revenue growth decline is likely somewhat attributed to the carrier's passenger system cutover and the inevitable schedule disruptions caused by such a huge IT transition. United also expects both its consolidated capacity and traffic to be flat in 1Q2012, which reflects a stringent focus on supply and demand that appears to be part of the carrier's strategy for the entire year.
Background information
United capacity and traffic guidance for 1Q2012 vs 1Q2011