Tiger Airways narrows losses in FY2013 - but challenges for FY2014 remain
Analysis
Tiger Airways has narrowed its losses in the year to 31-Mar-2013 and extended its operating profit to a second consecutive quarter while forecasting a positive operating result by mid-Jul-2013 after the sale of 60% of Tiger Australia to Virgin Australia is completed.
The carrier also plans to add frequencies to high demand routes between Singapore and Malaysia and expects to take delivery of 10 A320 during the financial year, half of which will be allocated to the Singapore operation and the remainder between Tiger Australia and two associated airlines, Mandala and SEAir.
Tiger Singapore will use the aircraft to increase capacity by about 25% by the end of FY2014 and taking advantage of expanded bilateral rights between Singapore and Indonesia which will also boost Mandala. However, the group still faces significant challenges as it strives to nurture three affiliated carriers in Australia, Malaysia and the Philippines to profitability.
Tiger Airways group losses reduced by 57% as revenues grow 49%
Tiger Airways reduced its loss after tax for FY2013 by 56.5% to SGD45 million while the LCC's operating performance returned to a profit of SGD7.3 million (USD5.8 million) compared to a SGD83.4 million (USD66.4 million) loss a year earlier. Revenue for the year increased 40.1% to SGD866 million (USD689.8 million)
For the 4QFY2013 the group recorded a loss after tax of SGD15 million (USD12 million), a slight improvement on the SGD16 million (USD12.7 million) loss for the same quarter a year ago. However the result reverses the modest SGD2 million (USD1.6 million) tax paid profit in the 3QFY2013 which ended a string of seven consecutive quarterly losses.
The group however maintained its operating result with a SGD12.7 million (USD10.1 million) profit from a SGD17.2 million (USD13.7 million) loss for the comparable prior year quarter. The quarterly result backs up the 3QFY2013 SGD18 million (USD14.3 million) profit.
Revenues for the quarter increased a very substantial 49% to SGD240.6 million (USD191.7 million).
The main drivers were a 38% increase in traffic, yield growth of 7.5% and load factors increasing 4.5ppt to 84.6% in the quarter. Expenses for the quarter increased nearly 28% year-on-year - which the airline says is in line with the increase in business activity.
Aircraft utilisation in the 4QFY2013 significantly improved year-on-year from 8.5 hours per day to 11.5 hours per day.
Group CEO Mr Koay Peng Yen said: "We are extremely encouraged to have achieved a second straight quarter of operating profit, and are looking forward to delivering a sustained turnaround upon the completion of the Tiger-Virgin joint venture in mid-July."
Tiger Airways Group financial highlights: FY2012 vs FY2013
In Apr-2013 the group completed a SGD296.9 million (USD236.5 million) capital raising through a renounceable rights issue and a non-renounceable preferential offering of perpetually convertible capital securities to fund future expansion.
Singapore Airlines (SIA) has maintained its stake in Tiger Airways at 32.7%.
Tiger Singapore sees room for expansion, but is constrained by lack of aircraft
While Tiger focused on growing its new affiliates, SEAir in the Philippines and Mandala in Indonesia, it continues to see more room for growth in Singapore where it will deploy five of the 10 aircraft due for delivery in FY2014. Mr Koay said Tiger Singapore's growth is being constrained by a lack of aircraft for routes from Singapore.
This upside for growth is partially at least occasioned by the expanding ability of the "raw" Tiger low cost model to be able to carry transfer traffic using its relatively new connection product that allows passengers connecting to long-haul LCC Scoot to transit in Singapore without the need to clear immigration and re-check their bags.
In the process, the airline maintains that it will not compromise its very basic model, while still achieving some of the network benefits that go with operating through the hub airport of Singapore Changi.
See related reports:
Tiger Singapore has maintained revenue growth which gained nearly 38% to SGD166.5 million (USD132.7 million) against costs increased 13.6% resulting in an operating profit of SGD21.5 million (USD17.1 million) for 4QFY2013, turning around a SGD6.7 million (USD5.3 million) loss the previous year. Load factors grew to 84% from nearly 80% in the quarter and a 7.2% lift in yield.
Tiger Singapore is increasing frequencies from May-2013 to nine cities including Bangkok, Ho Chi Minh City, Macau, Bangalore, Penang, Taipei, Phnom Penh, Perth and Kochi.
Tiger Singapore financial highlights: Fy2012 v FY2013

Tiger Australia losses narrow as passengers and revenue increase
Tiger Australia reported a 10% narrowing of its operating profit for FY2013 to SGD69 million (USD55 million) on a 60% increase in revenues to SGD247 million (USD196.8 million).
The 4QFY2013 operating loss also improved nearly 15% to SGD15 million (USD12 million) as revenue increased 82% due to 77.5% higher passenger volumes and yield strengthening 2.5% as load factors improved 4.2ppt to 85.6%.
The revenue growth reflects Tiger Australia returning to full operations in the market. At the same time last year Tiger Australia was still rebuilding from its six week grounding on safety concerns in 2011 and operating under regulatory restrictions.
"But the fact that we are flying more and yet you have a higher passenger load factor is very encouraging," Mr Koay said.
Increasing capacity in the Australian market led to a 52% increase in operating costs for 4QFY2013 to SGD86.2 million (USD68.7 million). Tiger Australia increased its capacity by nearly 69% with the launch of new routes from its Melbourne and Sydney bases.
In the last quarter Tiger Australia has commenced services from Sydney to Coffs Harbour, Cairns, Alice Springs and from Melbourne to Sunshine Coast and Alice Springs.
Tiger Australia financial highlights: Fy2012 v FY2013

Virgin Australia's acquisition of 60% of Tiger Australia has been approved by the Australian Competition and Consumer Commission but still awaits sign off from the Foreign Investment Review Board.
See related report: Virgin Australia comes full circle with the acquisitions of Tiger Australia and SkyWest
The transaction is expected to create operating synergies and cost efficiencies for Tiger Australia, which has so far failed to turn a profit.
Virgin Australia has meanwhile issued a profit warning and is slowing its capacity growth for 1HFY2013 and into FY2014. But Mr Koay says Tiger Australia is not seeing a slowing in demand and can work its current 11 aircraft harder and expand its network beyond 16 routes.
Tiger Airways and Virgin Australia have committed as part of their deal to increasing the Tiger Australia fleet from 11 to at least 23 within five years, and potentially to 35 aircraft.
It is not yet known, how many of the remaining five unallocated aircraft arriving in FY2014 will be discussed with Virgin Australia once the acquisition of Tiger Australia is finalised. Tiger Australia's new CEO Robert Sharp is also reviewing the airline's strategy and expansion plans.
Mr Sharp told The Australian in May-2013 that a turnaround of Tiger Australia's fortunes within two years was possible, but a detailed strategic plan would need to be presented to the incoming board, to be chaired by Virgin Australia CEO John Borghetti.
"It will take the first year to get the various opportunities under way and you'll see results in the second financial year," Mr Sharp said. However, Tiger Australia would not codeshare with Virgin Australia to avoid "brand contamination".
Mandala and SEAir continue to struggle
Tiger Airways continues to see significant expansion opportunities for its two associated airlines Mandala, in Indonesia, and SEAir in the Philippines, in addition to routes added in 4QFY2013.
SEAir and Mandala have both struggled during their start up phases and are unlikely to make a profit in the foreseeable future as they carve out a position in their large but highly competitive home markets.
Mandala books a SGD24 million loss in 4QFY2013
Mandala extended its losses recorded by Tiger Airways in 4QFY2013 to SGD8.1 million (USD6.5 million) from SGD5 million (USD4 million) in 3QFY2013. This indicates that the 33% Tiger Airways-owned Mandala incurred a loss of SGD24.3 million (USD19.4 million) in the quarter. Tiger Airways says the group has an unrecognised share of cumulative losses in Mandala amounting to SGD13.3 million as at 31-Mar-2013.
Mandala, which launched services in Apr-2012, currently operates a fleet of seven aircraft, according to CAPA's Fleet Database, with more due to be added in FY2014 as the carrier builds its network.
Mandala added nine routes to its network in 4QFY2013 including Surabaya-Singapore, Surabaya-Kuala Lumpur, Jakarta-Surabaya in Jan-2013 as well as from Pekanbaru to Jakarta, Singapore, Medan and Yogyakarta in Feb-2013. Jakarta to Singapore and Denpasar were added in Mar-2013 and Jakarta-Yogyakarta commenced in May-2013.
See related reports:
SEAir losses reduce slightly, in the Philippines' highly competitive market
Tiger Airways recorded a SGD7.3 million (USD5.8 million) loss in the quarter relating to its stake in Philippine affiliate SEAir, indicating that the Philippine carrier made a SGD25.6 million (USD20.4 million) loss, slightly less than in 3QFY2013.
SEAir operates a network of 12 international and domestic routes out of Clark and Manila. It launched a new domestic service between Manila and Laoag in Apr-2013 and has commenced charter flights between Kalibo and Nanjing. Singapore Kalibo will be launched in Jul-2013 which is not currently served.
SEAir faces intense competition as it is the fifth LCC in the crowded and highly price sensitive Philippine market, which includes market leader Cebu Pacific, Philippine Airlines' (PAL) budget subsidiary AirPhil Express, Zest Airways and AirAsia Philippines.
Mr Koay said it would take time for Mandala and SEAir to become profitable as they continue to build their presence in their respective markets. Both carriers would seek to gain greater market share through network expansion and increasing distribution and payment channels.
Tiger Airways group has 27 aircraft due for delivery by the end of 2015
Tiger has orders for 27 additional A320s for delivery by the end of 2015, including the 10 aircraft slated to be delivered in FY2014.
Five of the new aircraft will be allocated to Tiger Singapore, while the remainder will be distributed among the three other brands, Tiger Australia, Mandala and SEAir. No decision has yet been made on how the aircraft will be allocated.
Another 10 A320 are due to be delivered in FY2014 which will take the total fleet to 53 aircraft. Further aircraft may also be acquired from lessors with Mandala likely to grow its fleet with leased second hand aircraft.
Tiger Airways says capacity will be added at a "measured pace" with an emphasis on increasing frequencies on high demand routes.
Tiger Airways projected delivery dates for aircraft on order being purchased directly from manufacturers* as at 20-May-2013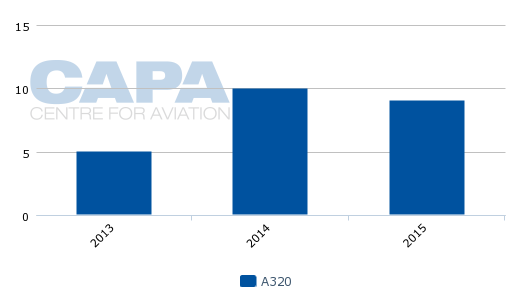 Tiger has made good gains but the road ahead remains difficult
Tiger Airways has made promising gains during the second half of FY2013 and its outlook and balance sheet will be strengthened further once the major sale of Tiger Australia to Virgin Australia is completed in Jul-2013.
However, profits from its three affiliated units are likely to be several years off.
Tiger Australia's new CEO expects it will take up to two years to make a maiden profit as the airline takes the challenge to Jetstar with the promise of considerable capacity – and as a result low yields – being added over the next five years. The picture for Mandala and SEAir is much less certain, with each trying to find their way in markets with several mature competitors.
Background information
Tiger Airways operating statistics FY2012 vs FY2013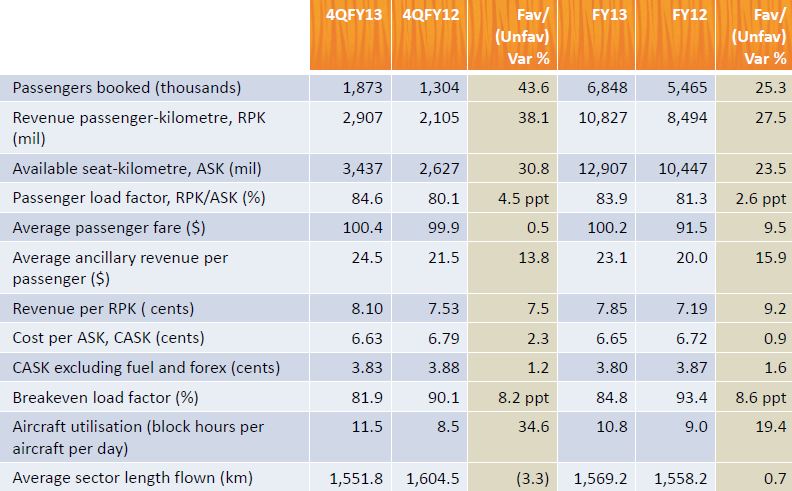 Tiger number of passengers and traffic (RPK) in 4QFY2013 year-on-year