The US Market: Competitive Nirvana?
WEEKLY REFLECTIONS WITH RON KUHLMANN & THE CENTRE. Continuing our review of hubs, with particular emphasis on the proliferation of hubs in the US, it is time to consider just how this increasing "fortress mentality" has shaped both the US market and the links between that sector and the rest of the world.
"Delta Air Lines is the world's No. 1 airline. From its hubs in Atlanta, Cincinnati, Detroit, Memphis, Minneapolis-St. Paul, New York-JFK, Salt Lake City, Paris-Charles de Gaulle, Amsterdam and Tokyo-Narita", Delta Airlines Press Release
First, two observations on that press release as a refresher of previous articles.
Delta interestingly claims Paris, Amsterdam and Tokyo as hubs. The first two attest to the increasing influence of alliances. Delta has numerous services from the US into Paris and Amsterdam and operates many routes with a joint-venture agreement in place, but the connecting flights are all operated by Air France or KLM. The Tokyo hub is a result of its acquisition of Northwest, which has held significant 5th freedom rights from Tokyo and constitutes a rare on-line foreign hub. This differs significantly from Star and oneworld, both with Japanese alliance members – though United has similar authority at Narita.
As noted last week, the vast, global networks of Air France and KLM, previously the world's largest carrier, operate from only two hubs while Delta[1] lists seven cities as hubs in the US. In lieu of its recent slot swap with US Airways, New York's LaGuardia will soon be added – more on that later. No doubt Cincinnati is delighted to remain cited as a hub despite a massive reduction in Delta's presence there.
The "world's largest"...
Over the past few decades, the "world's largest airline" has been a moving feast. For some time the title rested with Aeroflot. But because of its structural integration with the Soviet state and its reluctance to fully participate in western reporting practices, it was a breed apart. Amongst the real airlines of the world, the US has traditionally held that title; first United, then American after the TWA acquisition; followed by the Air France/KLM reign and now back in the USA with Delta.
One result of this general US dominance has been the assumption that along with being the biggest comes the position of being industry leaders. For many years that was true, but the unfortunate reality today is that almost all of the US legacy carriers continually struggle to simply remain viable. Once the arbiters of innovation and service, they now find that they have become poster children for economic weakness and poor service. The recent You Tube sensation, "United Breaks Guitars" and its viral distribution seems to epitomize the frustration and lack of attention that many consumers feel.
For many travelers, especially those living in the largest US metro areas, the battle for size and dominance has created fiefdoms in geographic regions where choices are actually rather constrained.
The shifting international sands
When airline deregulation was begun in the US in 1978, one of its goals was to open the market, making it easier for new entrants to emerge. There was also the expectation that existing carriers, given free rein, would reduce prices and broaden service across the nation.
Internationally, the market was, and remained for some time, very structured and controlled. Selected US flag carriers were allowed to compete with monolithic national carriers according to very specific and constraining rules of engagement. These foreign government entities were viewed by the privately-owned US carriers as being unduly protected and artificially maintained in their respective backyards, a claim with adequate substantiation.
Then, over time, the global marketplace underwent a number of significant changes, introducing unintended consequences!
Many foreign carriers were privatized and in doing so found their perspective and operational models changed;
Reduced entry barriers in the US did spur new entrants, the vast majority of which failed. Often, but not always, their demise was hastened by full-scale attacks by the dominant carriers;
Southwest and its new business model not only survived, but against all predictions watched the idea successfully spread to all geographic regions;
Virtually every airline either increased or established points of concentrated service. For legacy carriers these were the hubs and for the new generation carriers they became focus cities. The primary difference between the two was the degree to which scheduling was coordinated. The hubs specialized in integrated banks of flights that involved an intricate and costly dance at various daily peaks. The focus cities provided opportunity for connections, but focused far more on optimum asset utilization than minimum connecting time;
Since many of these patterns were codified in a pre-Internet age, it is easy to forget that at that time passengers booked through travel agents and an airline's availability display position was heavily influenced by the CRS bias to total travel time. Shorter connection = better display.
But the system has never been static and evolved so that in 2009 the industry structure in the US probably looks quite different than was anticipated in 1978.
From gamekeeper to poacher
One of the first observations that can be made is that the US carriers, despite their previous scorn for carrier-dominated hubs abroad, have not only adopted the model but also taken it to new heights.
In the following two graphs, we look at domestic traffic share distribution in Atlanta and Tokyo. Admittedly, there are far fewer domestic competitors in Japan than can be found in the US. Nonetheless, the two major Japanese carriers exist in a kind of equilibrium while Delta allows little room for competitors. Airtran has nearly a quarter of the capacity by virtue of its alternative business model operation but the other US legacies barely register.
Hartsfield Jackson Atlanta Airport domestic carrier capacity share (%)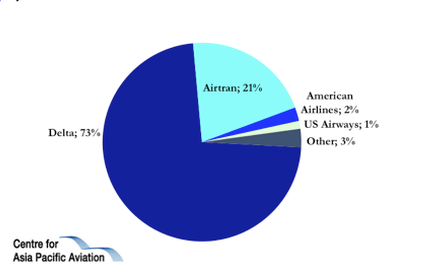 Tokyo domestic carrier capacity share (%)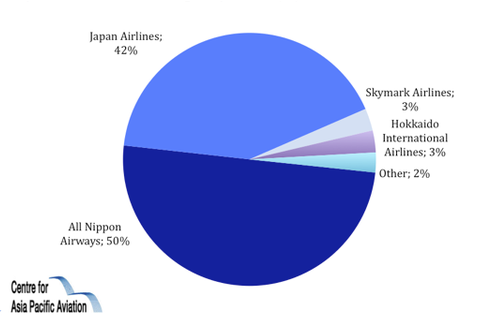 In the international sector, the service offerings are even more skewed with the once (and still, somewhat) favored national carriers together (including JALways) controlling less than half of the capacity that Delta claims in Atlanta. And those foreign flags that do exist outside the "other" realm, BA with a daily 777 and Korean with a daily 747 (shared with Delta as a Skyteam partner) hardly threaten to overwhelm Delta.
Hartsfield Jackson Atlanta Airport international carrier capacity share (%)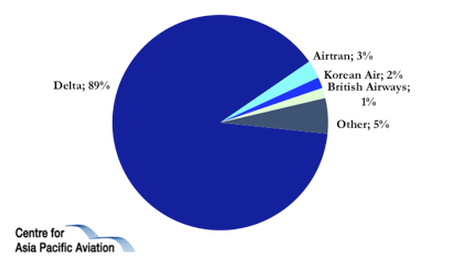 An added advantage?
Even more intriguing at Tokyo is the fact that Northwest's (now Delta) share of capacity is almost equal to that of ANA thanks to a very favorable and long-standing bilateral. In its opening claim Delta rightly asserts its claim to a Tokyo hub.
Tokyo international carrier capacity share (%)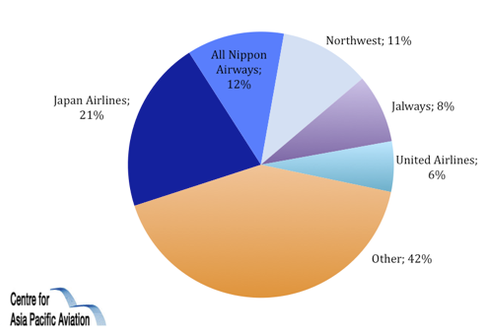 British Airways is often demonized by competitors as hogging the lion's share of precious Heathrow capacity, but the chart below reveals a very different picture. The two graphs are slightly incompatible as the LHR graph shows percentage of total capacity while the JFK chart is restricted to international distribution. I chose to do so because the domestic traffic at Heathrow, especially on BA, is negligible while the same is not true at JFK for the US operators, making any direct comparison complex.
London Heathrow Airport total carrier capacity share (%)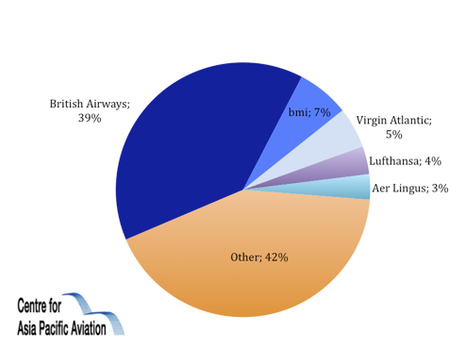 John F Kennedy Airport international carrier capacity share (%)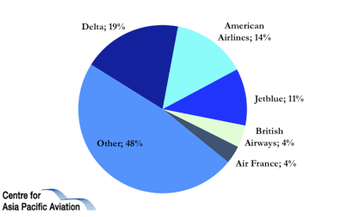 Even at this most diverse US gateway airport, the two top US operators at JFK jointly control a sizeable chunk of JFK's international capacity.
And if we look at nearby Newark and Continental's dominance, BA's presence at Heathrow is positively anemic.
I know what you are thinking, that Heathrow and Newark are different by a significant degree of magnitude, and you are correct. But remember that the focus of this article is not on absolute numbers but rather in the amount of competition that exists at any given hub. At Heathrow, one's options are far more diverse.
Newark Liberty Airport international carrier capacity share (%)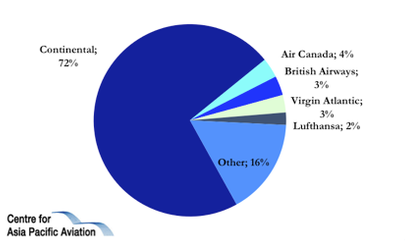 Linking capitals
Another measure might be to look at capital-to-capital traffic. At Washington's Dulles, international gateway to the US capital, United controls 41% more of the airport's capacity than is true of BA at Heathrow.
Washington Dulles Airport international carrier capacity share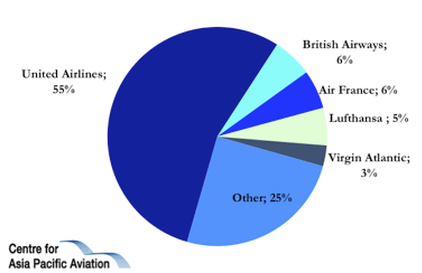 And there is the added fact that at Heathrow BA competes with other UK carriers while United's international status at IAD has no US challenger. And Lufthansa, with a 5% share, operates its flights in conjunction with United.
One final comparison. Singapore Airlines (SQ) is synonymous with the city-state and its airport. The airline has wide global name recognition and is a corporate brand that has close association to Singapore's (the place) image.
Despite all that, the chart shows that a passenger to/from Singapore has only a 40% chance of being in an SQ seat, indicating fairly stiff competition and the need to work at gaining and maintaining market share even with its reputation.
Singapore total carrier capacity share (%)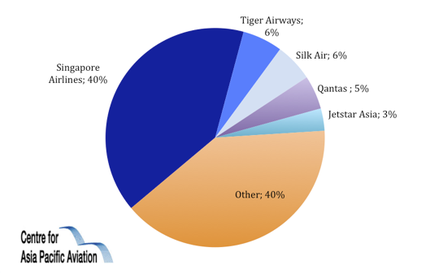 Contrast that with American's stranglehold on Miami, a market in which it controls 70 % of the capacity, significantly limiting alternative options for Miami travelers as well as visitors using this primary gateway between the Americas.
Miami total carrier capacity share (%)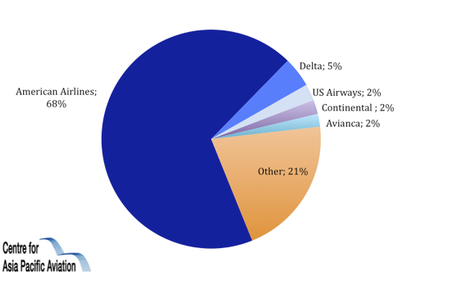 The strategy: local control

Taken in total, the US market remains brutally competitive. But few of us live in such a macro environment and our choices are defined by availability within range of our residence. There may be vast choice in the aggregate, but if you live in Minneapolis, chances are good that Delta's Northwest will garner your patronage whether or not it is your first choice.
And the carriers continue to strengthen their positions and reduce options. The recent slot swap between US Airways and Delta at LaGuardia and Washington's Reagan is a clear indication that the lust for local control is alive and well.
Delta has stated that it wants to be New York's predominant carrier and the addition of new La Guardia slots assures a dominant position both there and at JFK. It may take a bit of work given the recent headline that "Crain's New York Business Taps Continental as Leading New York Airline."
La Guardia Airport domestic carrier capacity share (%)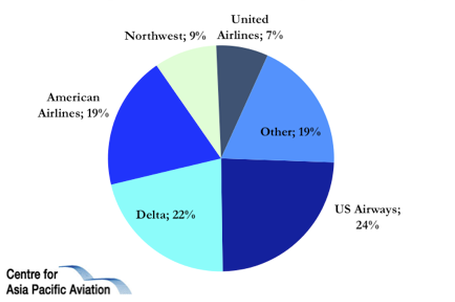 Similarly, the Reagan slots acquired by US Airways will make it by far and away the biggest player at the US capital's most convenient and congested airport.
It is increasingly hard to "vote with your feet" if walking just takes you to another counter of the same company.
This is not to demean any airline's service. According to every poll, most of the US carriers offer abysmal domestic service and the value of switching in a fit of pique is probably not going to make things a lot different – or better.
Ronald Reagan Washington Airport domestic carrier capacity share (%)
But in a nation that so prides itself on variety, choice and competition, many of its major cities display a decided lack of options in air travel. To date there is no sign of any obvious pricing advantage gained as the availability of so many alternatives is keeping the pressure on.
(Next week, the last in this series of hub discussions, we will look at a sizable part of the US geography that still is relatively free from single carrier dominance. Due to frequent flyer programs and award schemes, most regular travelers willingly align their business with a single carrier or alliance. The difference is that in some places they still have some reasonable choice).
____
[1] In the interest of simplicity, Delta will be the term used to refer to both Delta and its wholly-owned subsidiary, Northwest.