The outlook for Middle East airlines in 2009: poised to shine
Analysis
The Gulf airlines are extraordinarily well placed to be the beneficiaries of a prolonged economic downturn. In fact, although they too will suffer some pain, the timing of this reversal could hardly have been better.
They will emerge from difficult times with their global position greatly entrenched.
Strong networks and growing market access
This positive outlook is greatly helped by recent global market liberalisation. Previously, expansion opportunities were limited by restrictive access controls.
Both Emirates and Etihad - and to a lesser extent, Qatar Airways - have now developed their networks to a level where they can effectively exploit opportunities much more effectively than they could have, say, three years ago. As a result they now enjoy an extensive permutation of new city pairs each time a gateway is added.
Many of the European routes they feed have previously been heavily protected by restrictive bilateral agreements which did not allow access by sixth freedom carriers like the Gulf airlines. This means that, as the key European gateways (and many smaller ones) are opened up, their potential for network growth is higher than on more fully exploited markets.
This is a direct threat to the long haul operations of the European airlines, who understandably have long sought to influence their governments to prevent liberalised access to Gulf operators.
But, aviation being the contorted industry that it is, the fact that Emirates, Etihad, Qatar Airways and others are massive investors in the European aircraft industry helps to open doors. Each time a new Airbus order is placed, the pressure is increased on governments like the French and Germans to provide more European routes on which the new aircraft can fly - a point that has not been lost on the purchasers.
(One negative for Emirates is paradoxically the fact that it has developed a significant home market, in addition to its sixth freedom operations, as Dubai has matured as a tourism destination and business centre. The slowdown in construction and business activity and a fall in inbound tourism numbers has meant that this point-to-point combination of traffic has slowed.)
They also possess natural and operational advantages
These airlines also possess exceptional advantages: geographic centrality, the ability to access almost any point in the world non-stop with their next-generation aircraft and their integral role in a wider "Dubai Inc"-type strategy. So, as the regulatory restrictions on gateway access are removed, their upside grows exponentially. They are able to grow new markets, as well as diverting traffic from national point-to-point operators, as well as from other, longer-established sixth freedom operators.
They are economically efficient and have strong brands
Each operates a young fleet, with many more orders in line, and Etihad in particular is well supported financially. Each is well into the territory of efficiencies of scale, to the extent that is a determinant of aviation effectiveness.
Emirates in particular has invested on a massive scale over the past decade in establishing its brand across the world, largely through sports marketing. This brand, like most of the other Gulf contenders, is associated too with a high quality product.
As a consequence, premium traffic has been attracted over the Gulf connections. This is a major strength, and, even as other regions have been suffering steep downturns in premium travel, the Middle East levels have held up well. These must inevitably decline, but the signs are that they will be much more resilient than other route groups.
IATA premium traffic around Middle East: Jun-06 to Oct-08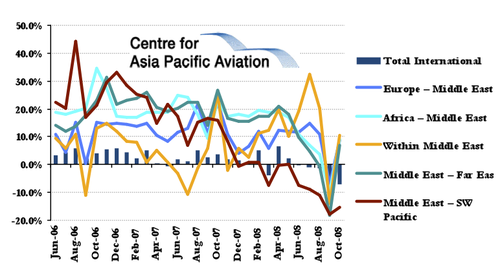 They will be growing while others are stagnating
There is a lot more capacity coming on line in the next 12-18 months. Emirates, Etihad, Qatar Airways and several other operators have large order books and, according to current reports, there is no intention to slow the delivery process.
There is only a handful of older aircraft in their fleets, some of which will probably see early retirement. But otherwise each anticipates continuing capacity growth of well above 10%.
Meanwhile, European and most Asian network airlines will either reduce capacity or remain around current levels.
Not immune to financial constraints, but well supported
This expansion will undoubtedly create some pressure on yields, but expanding route networks and significantly lower fuel prices will soften the negative impact of slowing economies.
Even if Emirates is unable to maintain its recent high levels of profitability, it remains well positioned to expand, and, with a tight cost line, to remain profitable, or near to it.
Etihad, which has a very young fleet and which is well supported financially, is at a different stage of its evolution and doesn't anticipate profitability until into the next decade.
Emirates is still dominant, but Etihad will challenge
Emirates Airline is still easily the largest operator in the region, but the high proportion of "other" airline capacity in the following chart indicates the relatively strong presence of foreign airlines under the UAE's open skies policy - much higher than it was a decade ago.
UAE international capacity share by carrier (seats per week as % of total): Week commencing 22-Dec-08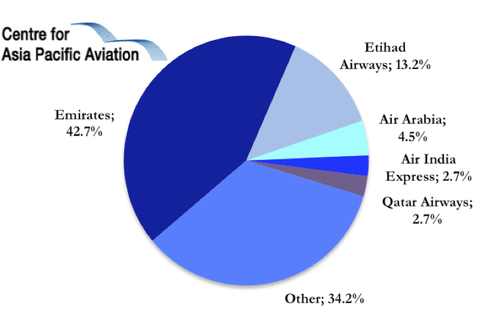 There has been a host of rumours recently, as the long-anticipated "bubble" bursts in the hot Dubai market. In reality, as Mark Twain might have said, reports of the UAE's demise are still greatly exaggerated.
Etihad, based in the UAE's capital, Abu Dhabi (which also happens to be the richest of the seven emirates) is in the early days of its upward path. Emirates, by contrast, is much longer established and without the direct financial support of the Dubai government.
Emirates is therefore seen as being more exposed to downside than its close cousin.
Whether or not this is true, merger has to be highly unlikely, although some form of coordination or cooperation in the longer term is a high probability.
But in the scheme of global aviation, the prospect of a near-term combination of the two airlines is largely irrelevant.
More importantly, the bottom line is that, between them, the airlines have the market presence and the financial security to ensure that they will continue to expand - and to entrench the UAE aviation industry as a global leader.
And if the global economy is negative for, say, a year, this will give them time to consolidate that position very effectively. Even if profitability is reduced, they will come out of this economic tunnel exercising all of their strengths: geographical, political, next generation aircraft and enjoying a liberal access regime, which allows them to expand relatively freely.
Short haul travel to boom within the Middle East
Very different conditions apply among the Middle East countries, where restrictive access rules still abound. But here too things are changing fast.
Four factors are now accelerating the expansion of short haul travel within the Middle East:
1. The growing pace of liberalisation among previously conservative Middle East states;
2. The surge of new entry and capacity expansion by locally based LCCs;
3. Growing enfranchisement of the massive under-25 demographic segment; and
4. An increasing price-consciousness among the new growth markets.
Whatever happens to the world economy, many Middle East nations contain large pockets of wealth - and this suggests that the next couple of years could witness a globally exceptional expansion of short haul travel within the region.
Liberalisation among Middle East states
But until recently, it has been impossible to unlock the travel potential of these characteristics. The major governments have been highly cautious in opening up access to airlines which might further undermine the economics of sometimes struggling and cost-heavy national flag carriers.
Yet liberalisation tends not to spawn from a vacuum. Other factors influence it. The push-effect of new LCC entry in adjacent markets has provided unavoidable evidence of the economic benefits of making air travel markets more accessible.
And an ever-hungry tourism industry adds its voice to the calls for liberalisation and the popular voice of a would-be travelling community begins to make itself felt.
The rapidly expanding Sharjah-based Air Arabia started the Middle East LCC movement, a mere five years ago. Last month, calling for faster liberalisation, its CEO, Adel Ali, stated that, for every USD100 spent on air transport, the regional economy benefits by USD325. For every 100 additional air services, the flow-on effect creates a further 610 new jobs.
He also succinctly stressed the economic realities of today's marketplace: "Air travel today is no longer a luxury but a necessity. Consider the demographics of the region where the population is one of the fastest growing, where 100 million people are under the age of 24 and millions more are expatriates - air travel is often their only option. Open-skies initiatives, signed in 2004, are a start to opening up and liberalising the air travel market in the region, giving rise to the abolition of monopolies, greater competition and potentially lower fares.
"The full adoption of open-skies policies is yet to happen; however, their partial adoption has already improved some of the region's economies, and in light of the global economic downturn and fluctuating oil prices, total open-skies initiatives are an economic must so that the industry can react commercially, without unnecessary red tape and interference."
Despite the powerful arguments in favour of liberalisation, progress is still not rapid however. But the issue is institutionalised now. The regional Arab Air Carriers' Organisation (AACO) and the regional government body, the Arab Civil Aviation Commission (ACAC), got together in Nov-08 to review key issues facing the industry.
Liberalisation was top of the list.
The "Damascus Convention on the Multilateral Liberalisation of Air Transport between the Arab Countries", is the visible sign of an intention to progress towards a more open community. It provides a banner for those states considering bilateral liberalisation, but as substantive shift towards open skies it requires a great deal of patience and imagination.
The November AACO-ACAC meeting decided to study what mechanism would be needed to implement the Convention, and to develop a "clear roadmap for the steps needed to arrive at that implementation". But they have another full year to complete the study - which would then have to be implemented.
Significant though is the changing tone of these bodies. Historically, as in most countries, there is a reluctance among the governments which own their own, usually old, flag carrier.
So it was at least of note that the joint forum agreed that "The Arab air transport industry also plays a pivotal role in tourism development which has become one of the main arteries of Arab economies".
Meanwhile, bilaterally, states are moving much more quickly now, as the combined forces of LCCs, airports, tourism authorities, and airlines build up liberalisation momentum. This is where the changes will be made - and very probably in the next year.
LCCs, new entrants and new capacity
There is a growing force of LCCs in the region, mostly based in the Gulf. Air India Express, from outside the region, is also now a substantial operator.
Most recently, the cross-border joint venture strategy has extended this to North Africa, as Air Arabia joined with Morocco's Regional Airlines to allow it to establish a base in Casablanca in early 2009.
Other home-grown LCCs, like Jazeera and the soon-to-be-launched flydubai, are ensuring that regional markets will undergo significant change too. As the long haul markets of the region's network airlines entrench the Gulf's global role in aviation, it is inevitable that short haul expansion will mirror this expansion.
Whatever happens in the remainder of the world, there are still strong indications that Middle East - and particularly Gulf-related - aviation will emerge from the current downturn as a major world force.