Taiwan's EVA banking on more cross-Straits flights
Analysis
Taiwan's EVA Air aims to focus on further expanding its cross-Straits operation as it takes delivery of new narrowbody aircraft. Expansion of EVA's relatively limited long-haul operation is unlikely as long as there is an opportunity to add capacity in the lucrative cross-Straits market.
EVA chairman, James Jeng states the carrier expects to direct most additional capacity in 2012 to mainland China routes. Speaking to CAPA along the sidelines of last week's Association of Asia Pacific Airlines (AAPA) meeting in Seoul, Mr Jeng says EVA is not planning to further expand its network in mainland China beyond the 25 destinations it will serve by the end of this year. But he says EVA hopes to increase frequencies to several existing destinations.
Capacity on existing cross-Straits flights will also increase as EVA introduces A321s. Mr Jeng says the carrier has committed to acquiring 14 A321s, with the first three to be delivered from leasing companies in late 2012. The EVA group, which includes subsidiary Uni Airways, plans to use the A321s in its cross-Straits network.
A321s acquired for cross-Straits flights
Mr Jeng says the A321 is a "good size" to meet increasing demand on cross-Straits routes as it is a high-density narrowbody. The A321 will be the largest narrowbody in EVA's group fleet. Most of the group's Taiwan-China flights are now operated with MD-90s, which are flown by both EVA and Uni.
EVA also uses widebodies, including A330s, B777-300ERs and B747-400s, to larger mainland Chinese destinations such as Beijing and Shanghai. Mr Jeng says EVA is slated to receive three additional A330s by year-end.
Mr Jeng says EVA now has 70 weekly cross-Straits flights to 19 destinations, which will increase to 105 flights to 25 destinations by year-end. These include flights operated by Uni.
EVA and Uni combined now account for 18% of total capacity on cross-Straits routes, according to CAPA's Route Analyser Tool. The two carriers combined have 37,000 seats per week to/from mainland China, but this is slated to increase to more than 41,000 seats by year-end, at which point the group will have a 20% share of the total cross-Straits market.
Taiwan to China capacity share (%) by carrier: 19-Sep-2011 to 28-Apr-2012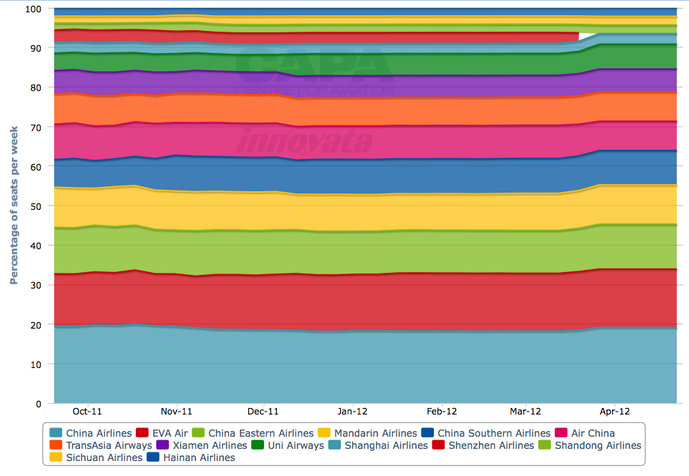 Mainland China currently accounts for 21% of all capacity at the EVA group, including almost 85% at Uni and about 17% at EVA mainline. This figure will increase to 23% by year-end and is expected to continue increasing if Taiwanese carriers have the opportunity to further expand their cross-Straits operations.
EVA also offers 17,000 seats per week to/from Hong Kong, where a large portion of passengers continue to connect to mainland China as the direct flights are insufficient to meet demand. As a result, almost 30% of the EVA group's 173,000 total system-wide seats per week are currently allocated to the overall China market.
EVA's business plan contingent on further opening up of cross-Straits market
All Taiwanese carriers are banking on further liberalisation allowing more flights between Taiwan and mainland China. But additional capacity is contingent on an expanded bilateral.
With continued weakness in the US, Europe and Japan, all of which are key markets for EVA and rival China Airlines, it is unclear where Taiwanese carriers will deploy additional aircraft should the current capacity on cross-Straits capacity not be increased. In reporting 3Q2011 earnings, EVA cited weak demand on its US routes, while stating European traffic has significantly expanded this year due to the EU adding Taiwan early this year to its visa-exemption list.
See related article: Sharp declines in profitability for China Airlines and EVA Air in 2011 but profits in 3Q
EVA currently serves six destinations in North America and four in Europe. The carrier's long-haul network, which also includes Guam and Brisbane in the South Pacific, currently only accounts for 21% of the group's total capacity (seats).
EVA's long-haul network is now served with a fleet 15 B777-300ERs. It previously looked at acquiring additional B777-300ERs, but Mr Jeng says EVA currently doesn't see a need for more long-haul aircraft. "For the long-haul it's pretty much covered," he says.
Besides the first batch of A321s, Mr Jeng says EVA will take delivery in 2012 of 10 ATR 72-600s. These will be used to replace the Dash 8s at Uni, which uses turboprops on its regional routes.