SpiceJet to increase margins by increasing fares and improving efficiency as fuel costs rise
Analysis
SpiceJet plans to adopt a two-pronged strategy – increase airfares and improve efficiency – to improve its margins in the face of rising fuel costs. The carrier also stated it would continue with its regional expansion plans despite the increased operating costs, with the Indian LCC seeing "huge opportunity" in tier II and tier III cities.
"There is some pain in the sector right now because of the oil prices, but we will continue to expand. There is huge opportunity in the tier II and the tier III cities and that is where we will be looking to expand," CEO Neil Mills said. Mr Mills stated the new regional operations will supplement the carrier's metro operations and will also be used to carry feeder traffic for international network carriers. "Low cost airlines have already taken over the feeder traffic passenger chunk for onward journeys. Legacy carriers cannot deliver at the prices at which low cost airlines can on the smaller city network," he said.
SpiceJet needs to raise fares by USD13-16 to break even
Mr Mills stated the carrier has "not decided when and by how much we will increase fares. We will be more strategic not to put all the cost burden on the passengers". "We have raised fares by a couple of hundred rupees and we are reviewing it on a daily basis," he added. However, he noted that it would need to raise fares further to offset the rising crude costs. "At current levels of crude airfares must be increased by INR600 (USD13) to INR700 (USD16) to break even," he said.
The carrier will also absorb some of the rising costs by improving operational efficiency. "USD120 per barrel (crude price) is a significant input cost. We may have to look at fares ... we will have a look at other areas of our business. We can be more efficient than we are today to keep cost down so that we don't have to pass on the full burden to the passenger," Mr Mills said.
As previously reported by CAPA, airlines in India are expected to be able to absorb the impact if crude remains in the USD85-95 range, but increases above this may affect profitability.
Jet fuel prices up 45% in six months on 13 increases
Since Oct-2010, aviation turbine fuel (ATF) prices has increased by around 45%. The three state-run oil companies - Indian Oil Corporation Limited (IOCL), Hindustan Petroleum Corporation Limited (HPCL) and Bharat Petroleum Corporation Limited (BPCL) - revise jet fuel prices on the first and 16th of every month, based on the average international price in the preceding fortnight.
Most recently, IOCL raised aviation turbine fuel (ATF) prices by 2.10% on 16-Apr-2011 to INR60,404 (USD1,360) per kilolitre in Delhi, marking the 13th consecutive ATF rate hike since Oct-2010, when international oil prices took an upward swing. Fuel accounts for around 40% of India of airlines' operating cost.
Prices in Metros (Rupees/ Kl) (for domestic airlines): Jan-2005 to Mar-2011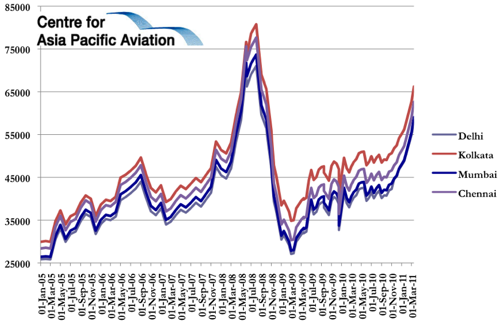 Airlines seek transparency in jet fuel pricing
As fuel costs rises, Indian airlines are lobbying for prices to be based on international benchmarks, a move that may reduce fuel costs in the long run. Some airlines are lobbying the government for a more transparent system under which the cost of jet fuel would be based on the Mean of Platts Arab Gulf (MOPAG) model. MOPAG is an international benchmark for pricing crude and products, designed by Platts, a price assessment agency.
There are two pricing models for jet fuel supply in India, the MOPAG model and the model followed by state-run oil firms, in which prices are changed every fortnight. The MOPAG model factors-in the price of crude, a supplier mark-up and a third-party fee for using common fuel supply infrastructure at airports. In the other model the three state-owned Indian suppliers – Indian Oil, Hindustan Petroleum Corp and Bharat Petroleum Corp – fix the price based on international crude prices and prevailing multiple taxes. At least 90% of jet fuel used by Indian carriers is bought from state-run firms.
The Federation of Indian Airlines secretary general, Anil Baijal, said the group is not leading the demand, "but airlines may be separately asking for it". Air India is reportedly one of the airlines lobbying for a MOPAG-based pricing system, along with other private airlines in the market.
According to IATA assistant director of corporate communications for Asia Pacific Albert Tjoeng, "between the two, the MOPAG model offers greater transparency as it is not always clear what is the basis for the price movements followed by state firms". "The MOPAG model would be most effective in airports where private sector fuel suppliers compete with state-owned suppliers. It is important that there is open access at Indian airports to ensure that private sector suppliers can enter the market and compete on a level-playing field with the state-owned fuel suppliers," he said.
Tier II, tier III city strategy a 'game-changing factor'
Meanwhile, Mr Mills stated the carrier's plans to operate services to tier II and tier III cities is a game-changing development. SpiceJet believes that the future wealth and consumption potential of the smaller cities makes for a compelling business case.
"We believe that the enormous potential in the Indian domestic market can be further tapped by enhancing regional connectivity in the country by focussing on tier II and tier III cities. We have selected the Q400 NextGen turboprop aircraft from Bombardier Inc of Canada to facilitate this objective. We see a very robust and latent demand in these under-serviced sectors and expect that the value-for-money SpiceJet offering will help grow traffic significantly from the current levels," Mr Mills said. SpiceJet CCO Samyukth Sridharan separately stated: "We are not fussed about flying international. We see massive opportunity for growth in India."
While traffic on India's hyper-competitive trunk routes has been growing at (a still strong) 7-8% p/a in recent years, traffic in "Tier 2 and Tier 3" cities has been booming, growing at over 18% p/a. Mr Sridharan has also stated there "are good signs" that the market can continue growing at a rate of about 18% in terms of passenger numbers. Mr Mills added that he expects the LCC to grow "well beyond" the industry average of 14-16% over the next 12-18 months. Load factors for the LCC are expected to have exceeded 80% in FY2010/11. SpiceJet plans to boost capacity by around 40% in 2011 focused predominantly on the domestic market.
Stronger economic growth is also forecast for these smaller regions and SpiceJet claims that the lack of connectivity, rather than lack of market potential, is actually holding back growth in these markets.
Meanwhile, India's Small and Medium Enterprises (SMEs) are also predominantly based in these regional centres and SME business activity has historically grown at faster rates than India's overall industrial sector, a trend SpiceJet expects will continue. There is also considerable dormant leisure demand in these markets, driven by the growing regional middle class. SpiceJet has seen the opportunity and, according to the airline, it is "just a matter of increasing connectivity and providing a value-based product."
SpiceJet has also stated a major advantage of its strategy is that it will pre-empt rivals in moving into these markets, allowing the airline to capture demand, build the SpiceJet brand and build sales volume. Strategically, moving first holds SpiceJet in good stead for the future, when competition on regional sectors will inevitably heat up, as recent moves by the network carriers such as Jet Airways have indicated.
The move does, however, mean that SpiceJet will break away from operating a single aircraft type as it moves into regional markets. Commercial realities dictate the use of smaller aircraft, with the markets shorter and thinner and due to infrastructure constraints that restrict the use of larger equipment. Regional aircraft open up a whole range of opportunities not afforded by the larger B737s.
In India there are 36 B737-capable airports but there are an additional 60 airports across the country that can handle only regional equipment. The less-congested nature of regional airports and the smaller size of the Q400s also allows for quicker turnarounds, even at the metro airports.
Airports Authority of India also plans to upgrade infrastructure at various secondary airports, on the back of growing regional populations and strong forecast demand. Regional aircraft also benefit from a waiver on landing charges (for aircraft with less than 80 seats) and a uniform sales tax rate on fuel of 4% (for aircraft with a maximum take-off weight of less than 40,000kg), which can otherwise reach as high as 30% in some states.
SpiceJet stated Hyderabad would be the first base for SpiceJet's operations using its new fleet of Bombardier Q400 aircraft. The aircraft will be serving 29 tier II and tier III destinations including Aurangabad, Bhubaneswar, Goa, Indore, Madurai, Mangalore, Nagpur, Nasik, Raipur, Rajahmundry, Tirupati and Vijayawada. The Q-400 operations are expected to begin in Jul-2011.
With the expansion of the network to tier II and tier III cities using the Q400 aircraft, SpiceJet plans to develop a high frequency and point-to-point network linking Hyderabad to these cities. The carrier will recruit 150 pilots and 300 cabin crew to launch the regional airline. "We will recruit a chief pilot and chief engineer for the regional operations as the aircraft is new for the Indian aviation market. These positions will be filled by the expats and we are in the process of finalising the names," Mr Mills aid.
The carrier will however face competition from Jet Airways from Hyderabad. Jet Airways has announced plans to develop Hyderabad as a "mini hub" with the introduction of 15 new flights announced in late Mar-2011. See related article: GMR Hyderabad devises three-pronged strategy to augment revenues.
Fleet to grow from 25 to 40 aircraft in 2011; and 70 aircraft by 2013
SpiceJet, with its regional expansion, will break away from one of the mainstays of the low-cost operation: the single-type fleet, as the upside of driving revenue growth and extending the brand further across India looks to outweigh the cost benefits of operating regional equipment alongside its B737s.
The Q400 is the first commercial turboprop aircraft from Bombardier to be launched in India, Bombardier VP Sales Asia Pacific Trung Ngo said. The order for the 15 Bombardier Dash 8 Q400s (plus 15 options) was firmed up in Dec-2010. Despite being the first private Indian LCC to operate internationally, SpiceJet believes that a key driver of growth will come from non-metro domestic routes.
Mr Sridharan stated the purchase of 15 Bombardier Q400s will be funded by a loan from Export Development Canada. The carrier will add the 15 Q400s to its fleet by Jul-2012. The aircraft will cost USD450 million at list price, he said. The carrier will be the first Indian airline to induct the Q400s into its fleet.
SpiceJet will increase its fleet to 40 aircraft in 2011 from 27 at present, with the carrier's fleet to almost double in size by 2013. The airline will receive 15 Bombardier Q400 turboprops in the 13 months from Jun-2011 and will add five Boeing aircraft in 2011 for a total fleet of 32 Boeings and eight Bombardiers by year end. By 2013, the carrier plans to operate around 45 Boeing aircraft and 25 Q400s, according to Mr Sridharan, covering a network of 500 daily services. Spice currently operates 153 daily services to 20 Indian cities with a fleet of 27 B737-800/900ER aircraft.
SpiceJet fleet profile: Apr-2011

KAL Airways pledges 38.4% of holding in SpiceJet
SpiceJet stated KAL Airways Pvt Ltd, the controlling shareholder in the Indian airline, in early Apr-2011 pledged 38.43% of its holding in the LCC.
KAL Airways has pledged 60.15 million of its shares, which accounts for 14.84% of the total outstanding share capital in the company. Of this, 31.2 million shares were pledged on 01-Apr-2011. As of 31-Dec-2011, KAL Airways held 38.61% of SpiceJet.
KAL Airways is privately owned by media baron and Sun TV Network Ltd founder, Kalanithi Maran. In Jun-2010, Mr Maran and KAL Airways acquired almost 38% in the carrier. Mr Maran currently holds a 38.66% stake in the airline, together with his firm - KAL Airways - and had taken over as the Chairman of the company in Nov-2010, following the completion of his acquisition of a controlling stake in the company.
Rapid expansion as SpiceJet alters operations
SpiceJet was the third fastest growing LCC globally in Apr-2011, with capacity (ASKs) growth of 39%, behind IndiGo (+45.7%) and Volaris (+44%). The expansion profile will continue as the carrier launches its regional operations and expands into the near-international market.