Southwest continues New York-Nashville push as Baltimore sees further cuts
Southwest Airlines plans to add additional flights from the New York region to Nashville, Tennessee beginning in Mar-2013 through new service from Newark Liberty International Airport. As a consequence, Baltimore Washington International Airport (BWI) is losing service currently operated by Southwest from Newark. The Newark-BWI cuts follow the elimination of service from New York LaGuardia to BWI in Jan-2013. Once the changes are complete, Southwest's service from the New York metro area to BWI will consist of flights from Islip Long Island MacArthur airport.
Another element of the carrier's planned network tweaks for the Northern Hemisphere spring schedule is the launch of Southwest-branded flights from Branson, Missouri, a small privately-owned airport where Southwest's subsidiary AirTran is the dominant carrier. Southwest's decision in Jan-2012 to retain Branson in the overall combined network of the two carriers was somewhat of a surprise, given Southwest's decision to eliminate several underperforming small markets from AirTran's network.
Southwest beginning on 09-Mar-2013 is cutting 21 weekly flights from Newark to BWI in exchange for the launch of daily service from Newark to Austin and New Orleans and twice daily service from Newark to Nashville.
The complete elimination of Southwest's flights from LaGuardia and Newark represents a significant decrease in the overall New York to Baltimore market as current Innovata schedules (26-Aug-2012 to 01-Sept-2012) show that Southwest accounts for 62% of the approximate 8,600 one-way weekly seats from the New York area airports to Baltimore. Southwest also currently offers flights from MacArthur (located 72km from LaGuardia and 103km from Newark) to BWI.
Baltimore/Washington Airport to New York capacity by carrier (seats per week, one way): 19-Sep-2011 to 17-Feb-2013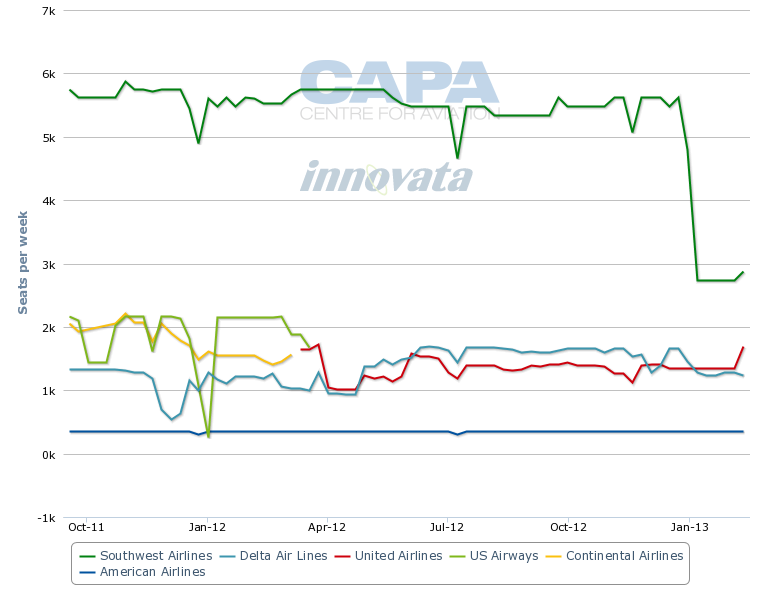 At the time Southwest outlined plans to drop its LaGuardia-BWI service and add flights from New York to Nashville, the carrier stated it would create more favourable connections for New York passengers through Nashville to the carrier's US midwestern, southern and western destinations. Given the very short distance of the Newark-BWI route (about 270km), flights between the two airports primarily cater to connecting passengers.
See related article: Southwest's latest network revamp features short-haul cuts and tweaks at LaGuardia
Southwest is BWI's largest carrier in terms of seat capacity, holding a nearly 60% share of the seats deployed to/from the airport. A majority of the airport's top domestic destinations by seating capacity are north-south destinations on the US east coast, which is one of the busiest air travel regions in the country.
Baltimore/Washington Airport capacity by carrier (% of seats): 27-Aug-2012 to 02-Sep-2012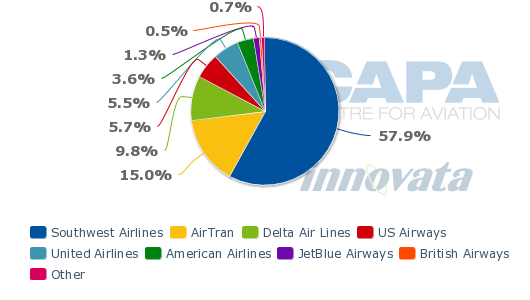 Baltimore/Washington Airport top ten domestic destinations (seats per week): 27-Aug-2012 to 02-Sep-2012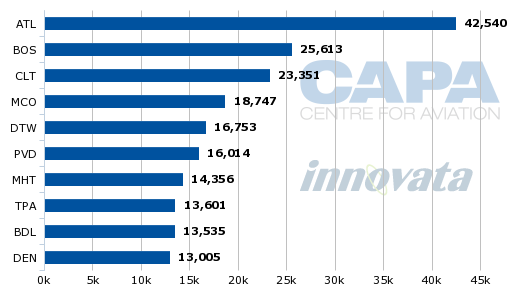 BWI is somewhat of an anomaly in Southwest's service pattern from the close-in New York airports, as it is the only east coast destination the carrier offers from LaGuardia and Newark. In addition to BWI, from Newark Southwest serves Chicago Midway, Denver, Houston, Phoenix and St Louis. From LaGuardia, Southwest offers flights to Chicago Midway, Denver, Milwaukee and St Louis in addition to its service to BWI.
Southwest appears to be more confident in bolstering revenue from better east-west connections from New York with the recent moves to Nashville, where it also holds top carrier status in terms of seats on offer, holding a 55% capacity share based on current schedules. Similar to BWI, Southwest will still face ample competition from legacy carriers on its new routes to Nashville, as American offers flights from both JFK and LaGuardia, United operates service from Newark and Delta currently operates fights from JFK and LaGuardia. But perhaps Southwest's calculus is it can better leverage its leading position in Nashville rather than BWI to fully exploit the New York market.
Nashville Metropolitan Airport capacity by carrier (% of seats): 27-Aug-2012 to 02-Sep-2012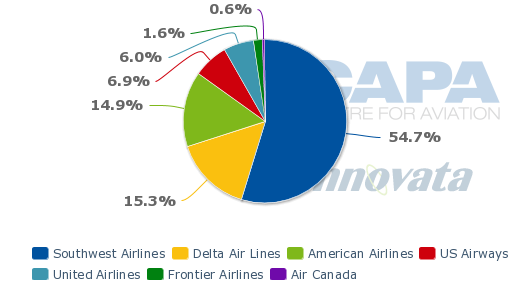 Nashville Metropolitan Airport to New York (seats per week, one way): 19-Sep-2011 to 17-Feb-2013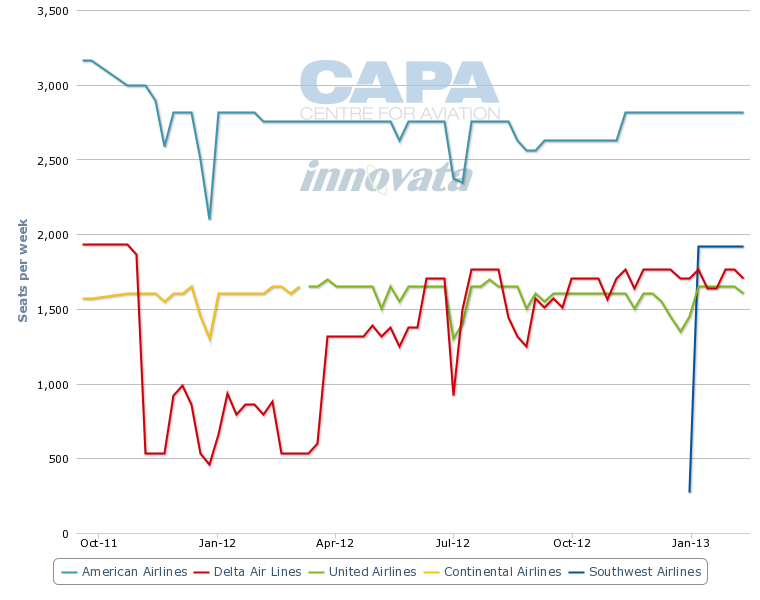 At the same time Southwest plans to focus more on east-west traffic flows from New York, the carrier is also launching daily flights from Newark to Austin and New Orleans. The new service from Newark to Austin joins Southwest's flights from Washington National to Austin that debuted in Jul-2012.
Currently United is the leader in the New York-Austin market, accounting for roughly 37% of the approximately 6,200 seats currently on offer between the two cities. United serves Austin from its Newark hub. American, Delta and JetBlue alll offer flights from JFK to the Texas capital.
Austin to New York capacity by carrier (seats per week, one way): 19-Sep-2011 to 17-Feb-2013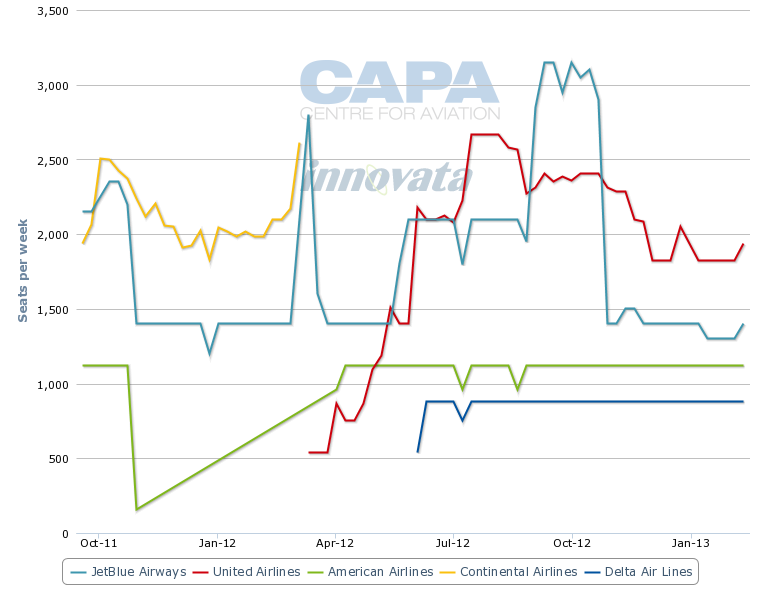 Southwest should be able to compete in the New York-Austin market fairly effectively given its stance as the leading carrier in Austin in terms of seat share. Austin is both a business and tourist destination, so Southwest should be able to stimulate and capture some leisure traffic between New York and Austin. Both cities also have strong ties to the music industry, which should also help Southwest compete in the market.
Austin-Bergstrom International Airport capacity by carrier (% of seats): 27-Aug-2012 to 02-Sep-2012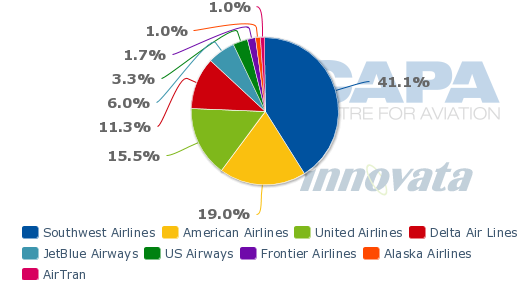 The same logic could be applied to Southwest's decision to launch flights from Newark to New Orleans, where the carrier is the largest airline at the airport with respect to seats on offer. But its lead in New Orleans is by smaller margins than in Nashville or Austin.
New Orleans Louis Armstrong International Airport capacity by carrier (% of seats): 27-Aug-2012 to 02-Sep-2012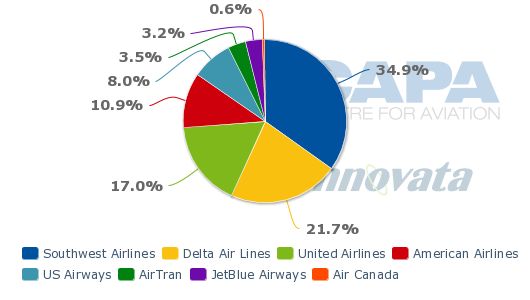 Delta serves New Orleans from both JFK and LaGuardia, and currently accounts for 46% of the approximate 2,700 total one-way seats on offer from the three New York airports. JetBlue serves New Orleans from JFK and United operates service from its Newark hub. United currently offers only about 800 one-way seats in the market, but Innovata schedules show the carrier's seat offering is scheduled to spike to about 2,400 seats on offer for the week of 07-Oct-2012 to 13-Oct-2012.
New Orleans to New York capacity by carrier (seats per week, one way): 19-Sep-2011 to 17-Feb-2013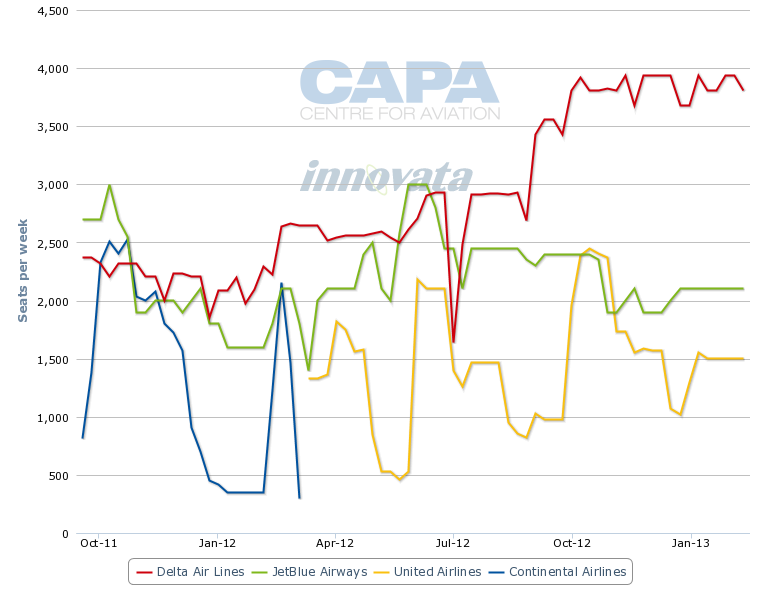 Unlike Nashville, both Austin and New Orleans are more destination oriented versus connection points. But Southwest's strong presence in both those markets should up the competitive ante in the New York market. At the same time it makes changes in Newark, Southwest is also launching service from Key West, Florida to New Orleans, and will be the only carrier offering direct flights between the two destinations. Presently, direct flights from Key West are offered to six destinations – Fort Lauderdale, Miami, Orlando and Tampa, Florida, Charlotte and Atlanta.
Retaining flights in Branson
Southwest has opted to remain in Branson, Missouri, a market AirTran entered in 2009 when the fully private airport opened for business. Since that time several carriers have come and gone from the facility, including ExpressJet, which operated charters from Branson as Branson AirExpress before being purchased by SkyWest in 2010. Minnesota-based Sun Country Airlines also has previously served the airport, but ended flights from Minneapolis in 2010.
Presently AirTran and Frontier are the only carriers offering flights to Branson. AirTran operates service from Atlanta, Chicago Midway, Houston Hobby and Orlando. Frontier offers flights between Branson and its Denver hub.
The decision by Southwest to remain in Branson is interesting given the network pruning it has carried out at AirTran since closing the acquisition of its smaller low-cost rival in May-2011. Branson was spared while other small city markets were cut including Asheville, North Carolina; Moline, Illinois; Newport News, Virginia; Knoxville, Tennessee; Bloomington, Illinois; Allentown and Harrisburg, Pennsylvania; and White Plains, New York. Those markets are larger than Branson, and there is some speculation that Southwest is receiving incentives from the airport to remain in the market. In the meantime, Allegiant and Frontier have stepped into fill some of the gaps created by AirTran's exit from those markets.
See related articles:
Southwest's decision to stay in Branson is all the more curious since AirTran's loads to Branson during 2011 were 63%, according to data from the US Department of Transportation (DoT). But AirTran did launch flights to BWI, Chicago Midway and Houston Hobby in May-2011, so those new markets were building up during 2H2011.
Starting in Mar-2013 Southwest is operating its own branded service from Branson, dropping AirTran's service from Branson to Atlanta to BWI. Southwest plans to keep flights to Chicago and Houston while adding service to Dallas and a flight on Saturdays to Orlando. Branson is a pure tourist market, featuring many performance theatres, an amusement park and shopping and retail areas.
Southwest is touting connections from Branson to 67 cities within its network, and its tripling of total weekly seats from Branson. The carrier will be operating seven weekly flights to Chicago, Dallas, Houston and Midway, and the single weekly flight to Orlando.
Branson likely offered Southwest significant incentives to remain at the airport to combat the risk of losing AirTran's service, which currently represents 78% of the seats on offer from the airport. The facility also appears to be struggling financially as outlet News-Leader.com has reported Branson's losses in 2011 were USD12 million. The airport is betting Southwest will boost its passenger numbers, but there is no guarantee the carrier will remain committed to Branson over the long-term if it cannot improve on AirTran's performance in the market.
Branson Airport capacity by carrier (% of seats): 27-Aug-2012 to 02-Sep-2012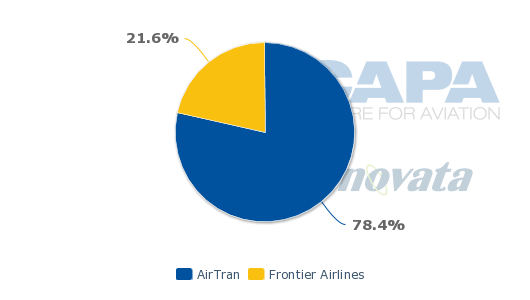 Southwest's changes to its spring 2013 schedule appear to span a range of strategies, from cutting flights in the New York-Baltimore market to bolstering Branson, where the potential for generating long-term revenue remains uncertain. While the markets it is launching from New York show promise, Branson represents a gamble. But with presumed incentives Southwest appears willing to put its age-old traffic stimulation strategy to the test, and Branson is placing a lot of faith in the carrier's passenger generating capabilities.