Southwest's latest network revamp features short-haul cuts and tweaks at LaGuardia
Southwest Airlines during winter 2013 plans to cut flights in five short-haul markets with high levels of connecting passengers and reshuffle its operations at New York LaGuardia, launching service to Nashville, Tennessee and adding flights to Chicago Midway as it cuts daily service to Baltimore. The carrier's logic behind its changes at LaGuardia is to bolster customer access to its network in the western US.
The network adjustments the carrier has outlined for its winter schedule largely focus on Southwest-operated services, and do not appear to alter many flights operated by its subsidiary AirTran, which Southwest acquired in May-2011. AirTran tweaks include converting Atlanta-Phoenix service to Southwest-branded service and the seasonal elimination of service from Buffalo to Tampa Bay and Chicago Midway to Fort Myers. Southwest also plans to convert AirTran flights from Milwaukee to New Orleans in Feb-2012 ahead of the Mardi Gras holiday.
Within its own network Southwest is cutting flights in several short-haul markets: Albuquerque-El Paso, Orlando-Fort Lauderdale, Orlando-Panama City, Tampa-West Palm Beach and Reno-Salt Lake City. With the exception of Reno-Salt Lake, each market has a total distance of less than 600km, with Tampa-West Palm beach featuring the shortest distance at 324km.
Southwest is unchallenged in three of the markets: Albuquerque-El Paso, Orlando-Panama City and Tampa-West Palm Beach, according to schedules in Innovata. Delta Air Lines is the dominant carrier on the Reno-Salt Lake pairing, accounting for 77% of the approximately 4,200 one-way seats on offer in the market.
Southwest competes with ultra low-cost carrier Spirit Airlines in the Orlando-Fort Lauderdale market, and likely opted to abandon the route rather than match Spirit's low baseline fares while operating at higher costs. Spirit has previously estimated it has 8% lower unit costs than Southwest on stage length-adjusted basis of 910 miles. Spirit accounts for 40% of the approximately 6,200 one-way weekly seats in the Orlando-Fort Lauderdale market while Southwest accounts for a 60% share.
Reno/Tahoe International Airport to Salt Lake City International Airport (seats per week, one way): 19-Sep-11 to 30-Dec-12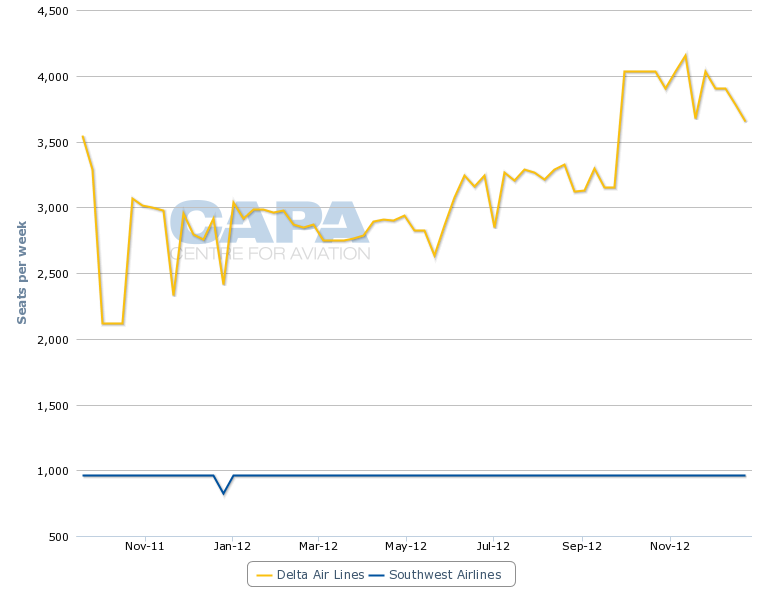 Orlando International Airport to Fort Lauderdale International Airport (seats per week, one way, 19-Sep-11 to 30-Dec-12)
Southwest's reasoning for dropping those five markets is a high percentage of long-haul connecting customers travel on those routes, and the carrier concludes it has more convenient ways of transporting those passengers to their ultimate destinations.
While the carrier continues to tout its simple point-to-point strategy, the reality is the number of connecting passengers in Southwest's network is significant. During a May-2012 presentation to investors Southwest CEO Gary Kelly explained that in 2009 Southwest had "a much more forceful push for connecting itineraries" that continued into 2010 and part of 2011. Noting the push for connecting traffic "worked very handsomely", Mr Kelly attributed part of the success to Southwest's popular policy of not charging for passengers' first two checked bags.
Conversely, some of the complexity associated with connecting itineraries resulted in Southwest toning down its push to increase connecting passengers later in 2011, with Mr Kelly remarking "we are still in the process of fine-tuning that [its connecting passenger strategy]".
Southwest is opting to shed 21 weekly flights from LaGuardia to Baltimore Washington International Airport (BWI), its third largest base by seats offered, in Jan-2013 and add flights to Nashville. Currently, Southwest serves LaGuardia from BWI and its top base of Chicago Midway. The carrier also plans to add a sixth daily LaGuardia-Midway flight as part of the changes made in its Jan-2013 schedule.
Southwest Airlines top 10 hubs/bases/stations (seats per week): 09-Jul-2012 to 15-Jul-2012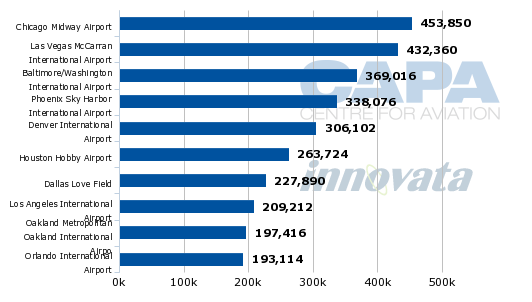 Southwest will still retain flights from the New York metropolitan area to BWI through 18 weekly flights operated from Newark Liberty International Airport. Southwest acquired slots at Newark from United and Continental in 2010 that the carriers divested in order to gain regulatory approval for their merger. Southwest now operates flights from Newark to BWI, Chicago Midway, Houston Hobby, St. Louis and Phoenix. The carrier also offers flights from the smaller Islip Long Island Airport to BWI, Fort Lauderdale, West Palm Beach, Orlando and Tampa. (It does not serve New York JFK.)
In outlining its plans to add Nashville flights and bolster frequency to Chicago Midway from LaGuardia, Southwest stated the changes allow larger access for LaGuardia passengers to the carrier's US midwestern, southern and western destinations.
Southwest is the largest carrier in Nashville in terms of capacity, accounting for approximately 56% of the weekly seats offered from the airport, although it only offers direct flights to about 11 destinations west of the Mississippi River, compared with 15 from BWI (see background information). By adding Nashville service from LaGuardia and retaining service at BWI from Newark, Southwest may be able to improve its performance in Nashville by increasing its connecting passengers at the airport while still preserving connections from New York at BWI.
Nashville Metropolitan Airport capacity by carrier (% of seats): 09-Jul-2012 to 15-Jul-2012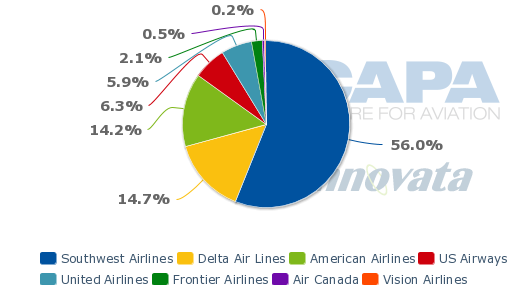 But Southwest faces ample competition on the new service from New York as both Delta and American operate from Nashville to LaGuardia and JFK and United offers flights to its Newark hub. Combined, American, United and Delta offer approximately 6,200 one-ways seats from the New York area to Nashville, with American accounting for 45%, Delta holding a 29% share and United with 27%.
Nashville Metropolitan Airport to New York La Guardia Airport (seats per week, one way): 8-Jul-12 to 14-Jul-12
Nashville Metropolitan Airport to New York John F Kennedy International Airport (seats per week, one way): 8-Jul-12 to 14-Jul-12
Nashville Metropolitan Airport to New York Newark Liberty International Airport (seats per week): 8-Jul-12 to 14-Jul-12
| Carrier | Seats | Share |
| --- | --- | --- |
| United | 1,650 | 100% |
Southwest is used to competing with the three US majors as all those airlines also operate flights in the New York-BWI market. In total American, Delta, Southwest and United offer about 8,900 weekly one-way seats on the pairing with Southwest holding a 62% share. Delta accounts for 19% of the weekly seat share, followed by United at 16% and American at a distant fourth with a mere 4% share. Southwest currently offers approximately 2,900 one-way seats from LaGuardia to BWI, so using those seating levels as a baseline, once Southwest ends flights on the pairing seating capacity in the New York-Baltimore market could fall by about 32%.
Baltimore/Washington International Airport to New York La Guardia Airport (seats per week, one way): 8-Jul-12 to 14-Jul-12
Baltimore/Washington International Airport to New York John F Kennedy International Airport (seats per week, one way): 8-Jul-12 to 14-Jul-12
Baltimore/Washington International Airport to New York Newark Liberty International Airport (seats per week, one way): 8-Jul-12 to 14-Jul-12
New seasonal service and suspensions
At the same time it is making changes at LaGuardia and cutting short-haul service, Southwest plans seasonal adjustments to its network beginning in Jan-2013. The carrier is launching flights from Fort Lauderdale to Phoenix, Nashville and Fort Myers and from Reno to Ontario, California in addition to converting AirTran's Milwaukee-New Orleans flights. Current schedules show Southwest will be uncontested in those markets, whose seasonal service is tilted toward leisure travellers.
Seasonal cuts included in Southwest's Jan-2013 schedule include flights from Albuquerque to Portland, Oregon and St. Louis, Missouri; from Las Vegas to Albany, Jacksonville and Providence; from Phoenix to Raleigh-Durham; and from Kansas City to Oakland and Seattle. Southwest has not stated specifically when those flights will resume, but says those markets are expected to regain service in future schedule updates. Southwest faces competition in only one of those markets as Alaska operates service between Kansas City and Seattle.
The first round of winter schedule changes at Southwest Airlines (with more expected in the upcoming days) are tilted heavily towards changes on the Southwest Airlines side and appear to have largely left AirTran's service intact after the pruning of 15 small markets from AirTran's network that began in 2011 and continued into this year. Southwest is using AirTran as its international growth platform until Southwest has reservation system capability to handle international flights.
In May/Jun-2012 AirTran made a push from San Antonio and Austin, Texas to Mexico and from Orange County to Cabo San Lucas and Chicago Midway to Cancun. Southwest could be keeping AirTran's schedule steady as the integration of the two carriers continues, or more changes could be in store for AirTran's network later in 2013 as Southwest turns its attention to maximising profitability at its new subsidiary.
Background information
Southwest nonstop destinations from Nashville: as of 10-Jul-2012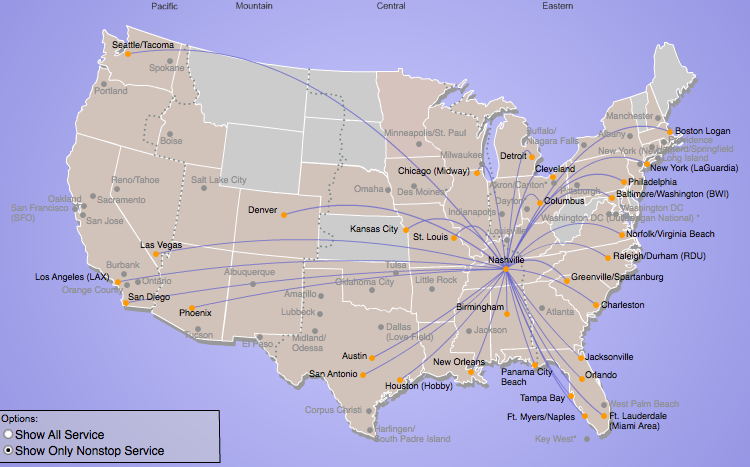 Southwest nonstop destinations from Baltimore: as of 10-Jul-2012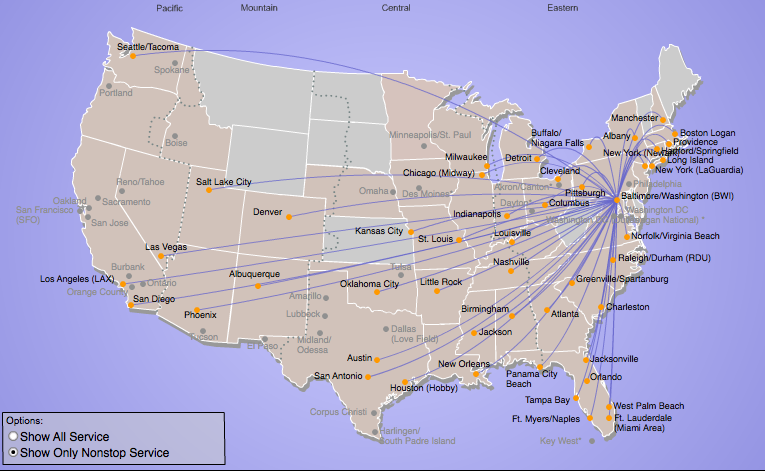 Southwest nonstop destinations from Chicago Midway as of 10-Jul-2012