Southwest Airlines SWOT: Financial strength is mainstay, but cost and culture challenges loom large
Analysis
At 43 years of age, Southwest Airlines is firmly entrenched in middle age within a mature US market place. During its more than four decades the airline has largely retained its appeal and perpetuated its renegade image, even if that perception is now more legend than reality.

As its merger integration with AirTran comes to a close, Southwest continues to exploit its domestic strength by forging a presence in key US markets while laying the groundwork to bolster its international offerings in 2015 with service from a new international terminal at its sixth largest base measured by seats deployed, Houston Hobby.

But even as it still engenders positive customer sentiment, Southwest faces numerous challenges. These include preserving its culture and finding new ways to generate revenue. At the same time it is becoming more difficult for Southwest to brandish its low fare image with the rise of ultra low-cost airlines that are fulfilling Southwest's traditional role – traffic stimulation through rock bottom fares.
1. Financial wherewithal
During 2Q2014 Southwest recorded its fifth consecutive quarter of record profits. Its consistent profitability and balance sheet strength have resulted in the airline holding the position of the only US airline to achieve investment grade status until Alaska Air Group secured that coveted position earlier in 2014.

Southwest managed to remain profitable during the financial downturn of 2008 and 2009, and its CY2013 profits of USD754 million were the highest recorded by the airline since 2008.
Southwest Airlines Co. annual net profit (loss): 2008 to 2013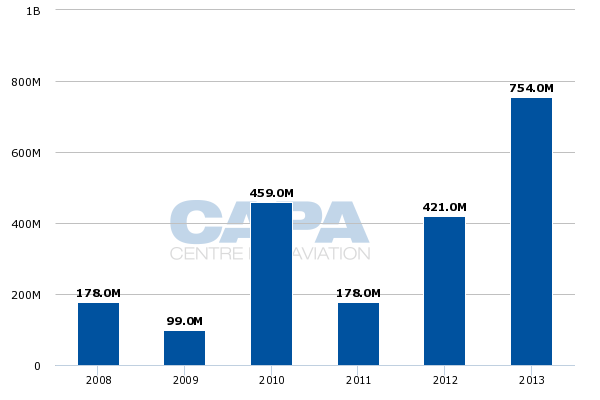 Growth of Southwest Airlines Co. annual net profit (loss): 2009 to 2013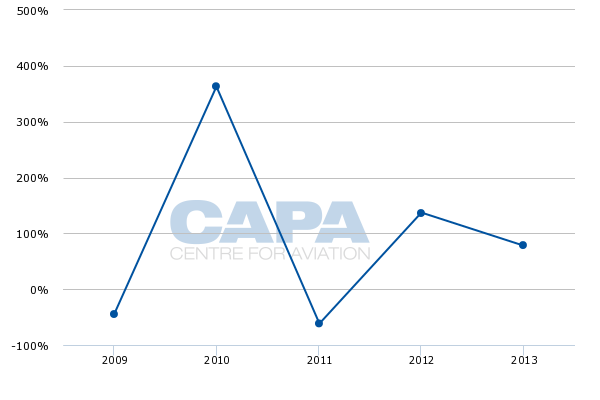 At the same time Southwest has sustained a measurably strong balance sheet. Its leverage at the end of 2Q2014 was 37%, and its cash in hand was USD4 billion. During 1H2014 it generated USD1.6 billion of free cash flow, and as of 30-Jun-2014 Southwest had reduced its debt and capital lease obligations by USD1.5 billion.
2. Southwest has an iconic brand
Southwest is one of the most recognised brands in the US, and it consistently works to exploit its heritage through advertising during high profile sporting events and in social media. It has been deemed the top travel brand and fifth overall brand by The Business Journals in the American Brand Excellence Awards.
This provides important differentiation in a commoditised industry. Standing out by not going along with the crowd and forgoing the revenue is arguably a net gain, albeit perhaps not easily accountable.
3. It maintains a robust domestic network
Presently Southwest is benefitting from strong demand within the US market place, reflected in its 8% passenger unit revenue growth in 2Q2014, the largest gain of any US airline.

Based on data from CAPA and OAG for the week of 15-Sep-2014 to 21-Sep-2014 Southwest is the second largest airline in the US domestic market measured by seat deployment. Its share is approximately 20% behind Delta's nearly 22% share.
United States of America capacity by airline (% of seats): 15-Sep-2014 to 21-Sep-2014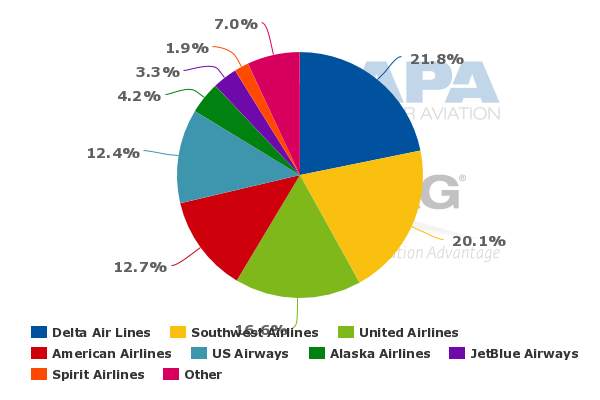 Through its acquisition of AirTran and seizing on required slot divestitures by American and US Airways in order for those airlines to move forward with their merger, Southwest has made inroads in the key US markets of Washington National and New York LaGuardia.
As a result Southwest has a relatively strong position in eight of the top 10 US cities by arrivals for the week of 15-Sep-2014 to 21-Sep-2014: Chicago (it holds an 88% seat share at Midway), Atlanta (second largest with a 7% share, Delta retains an 80% share), New York LaGuardia (fourth largest airline with an 8% share), Denver (second largest airline with a 26% share), Los Angeles (a highly fragmented market where Southwest retains a 13% seat share), Houston (a 91% seat share at Hobby), Las Vegas (Southwest holds a 43% share) and Washington (a nearly 9% share at Washington National and a 70% share at Baltimore/Washington International) (All information is based on data from CAPA and OAG.)
United States of America top 10 domestic cities by arrivals: 15-Sep-2014 to 21-Sep-2014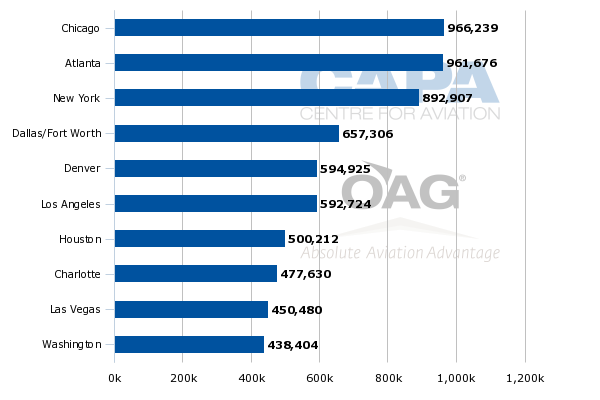 Southwest Airlines global top 10 hubs/bases/stations by seats: 15-Sep-2014 to 21-Sep-2014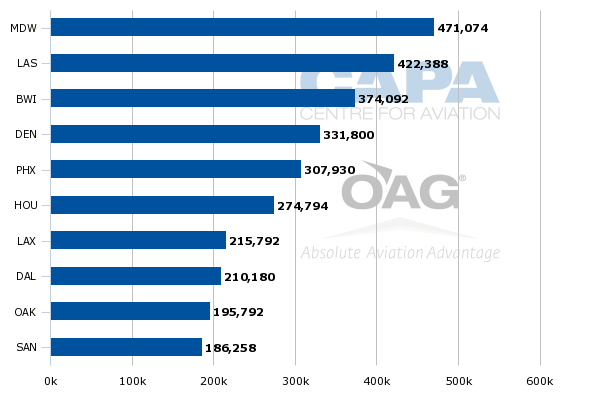 1. Minimal revenue opportunities
Southwest has rejected the product unbundling that nearly all of its US counterparts have undertaken that airlines tout is designed to allow customers to tailor their experiences. The reality is for most airlines – full service, hybrid, and ultra low-cost – ancillary revenue presents the largest opportunity to grow revenue significantly over the medium and long term.

The airline's top-line revenues increased just 3.6% year-on-year during CY2013 after peaking at 29% growth in CY2011.
Growth in Southwest Airlines Co. annual operating revenue: 2009 to 2013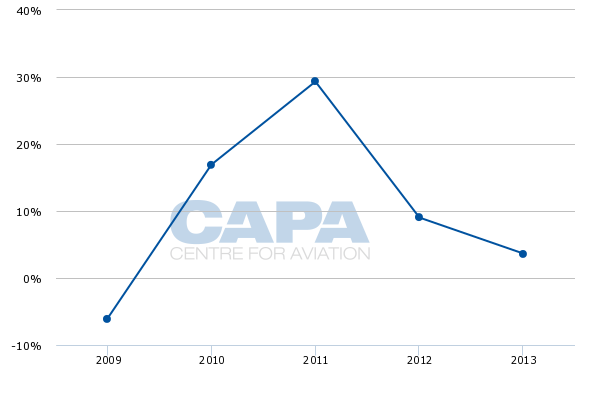 Southwest has attempted to pull some ancillary levers in its own, usually more positive way – selling select boarding positions at the gate, tightening flexibility around its most restrictive fares and increasing some other fee revenue. During 2013 the airline estimated that those changes would result in roughly USD175 million of incremental revenue on an annual basis.

See related report: Southwest Airlines plots course to meet previously missed ROIC targets

Southwest transported roughly 133 million enplaned passengers in CY2013, and its revenues outside freight and passenger operations fell 2.5% to USD815 million. US hybrid airline JetBlue carried 30 million passengers in CY2013; but recorded ancillary revenue of USD670 million in CY2013, of which USD170 million was derived from its Even More offering (extra legroom, priority boarding and in some cases expedited security clearance). Also a customer favourite, JetBlue has successfully grown its ancillary revenue through creating products customers value rather than making passengers feel nickel and dimed. It is not a stretch to conclude Southwest could create some added value for its legions of fans.
2. Its product is outdated
Southwest has the balance sheet strength to leverage new products that its customers would find appealing, and that in the medium term would generate high margin revenue.

An extended legroom offering is now the norm for numerous airlines worldwide (including many ULCCs), and offers an opportunity to drive up ancillary revenue. Southwest has actually densified its aircraft (and decreased seat pitch) during the past couple of years – another trend apparent in the US industry. But other than offering onboard Wi-Fi, its product is arguably stale, and more importantly, it could be missing an opportunity to leverage its strong brand to create new revenue opportunities.
1. Wright Amendment repeal
During Oct-2014 all restrictions on long-haul flying from Southwest's Dallas Love Field base will be dissolved, allowing Southwest to offer direct flights to many of its strongest markets without the need for connecting service.
Initially Southwest is operating service to Baltimore, Denver, Las Vegas, Orlando and Chicago Midway. Other new service includes flights to Atlanta, Fort Lauderdale, Los Angeles, Nashville, LaGuardia, San Diego, Orange County, Tampa and Washington National.

See related report: Southwest Airlines wins Love – but also new competitive forces with repeal of Wright Amendment

Given its favourable positioning in all of those markets the new direct flights from Love Field should spool up quickly and make a positive revenue contribution to the airline's already strong results.
2. New international operations
Southwest introduced its own-branded international service during 2014 after many years talking about expanding to adjacent international markets. The AirTran acquisition and a reservations system upgrade have helped accelerate the process and now Southwest offers service to Aruba, Cancun, Los Cabos, Nassau, Montego Bay and San Juan.

The airline marks an important milestone in late 2015 when it launches international flights from Houston Hobby after successfully beating back opposition from United (Houston Intercontinental's largest airline) over the construction of a new international terminal at Hobby.

The addition of international service is important network diversification for Southwest as it has arguably penetrated most of the domestic US (85 domestic destinations as of 21-Sep-2014). Its ability to offer its large passenger base access to near international leisure destinations is a natural progression, and should create some revenue upside once the markets reach maturity.
3. Potential partnerships with foreign international airlines
A recent study by CAPA identified a number of US airports which are currently underserved by foreign airlines. Southwest is frequently the dominant airline at the airport, operating only domestic services.
See related story:
787 and A350 airline operators will open up new Europe-US routes - despite some inertial resistance
There are many examples of independent LCCs and other airlines in such circumstances establishing partnerships and extensive codeshares with foreign carriers which need feed behind their initial gateway. For various reasons, including opposition from some employee groups, Southwest has not entertained such possibilities. There is substantial opportunity for enhanced traffic flows in these relationships.
1. ULCCs
Contrary to its claims, Southwest is no longer the low fare leader as Spirit Airlines, Frontier Airlines and Allegiant Air overtake the historical Southwest role of using low fares to stimulate air travel. During CY2013 its average fare increased 7%, and nearly 6% in 1H2014. Some of that was due to strong demand within the US market place; but the reality is Southwest needs to maintain certain fare levels to manage its costs.

The rise of ULCCs is arguably creating an identity crisis for Southwest. The airline is no longer really low-fare or low-cost, but does not offer any of the amenities of hybrid or full service airlines. Southwest argues that not neatly fitting into a mould is part of its renegade image. Yet staying stuck in a 43-year old mindset stifles innovation, which is something Southwest needs to focus on in order to remain relevant in the long term.
2. Costs are rising and likely to rise further
Southwest is in the midst of numerous labour negotiations that are making it tough to predict its unit cost increases in the medium to long term. For the moment its unit costs are in line with major airlines, rising 2% in 1H2014 as passenger unit revenues grew a healthy 6% during that time.

But the airline will inevitably endure some cost pressure as new contracts take effect after tense negotiations. Southwest has previously acknowledged that its labour agreements are built on an operating model it executed 10 to 15 years ago, and the airline has one of the highest pay structures in the industry. For CY2013 salaries, wages and benefits represented 31% of the airline's total top-line expenses.

See related report: Southwest Airlines: solid financial performance for FY2013, but challenges are piling up
3. A unique culture is being eroded
The push and pull of the labour negotiations has already created cracks in Southwest's favourable employee relations and its culture. In early 2014 the union representing ramp workers sued Southwest after the airline requested that employees at Chicago Midway prove they were ill during Jan-2014 after inadequate staffing and a winter storm triggered operational disruptions at the airport.

Illustrating the pressure Southwest faces in its employee relations the union representing ramp workers in early 2014 warned: "By refusing to reward employees for their contribution to our airline's success, management is taking a terrible wrong turn from Southwest Airlines' past emphasis on putting employees first and maintaining positive labor relations."
There appears to be a substantial rift emeging between employees seeing a commonality of purposes with the company and pursuing their own interests.
Outlook: Southwest's competitiveness remains solid; but cracks are starting to emerge
The strong domestic environment within the US is helping Southwest to sustain an undeniably strong financial position, and the lifting of the Wright Amendment and new international service should help keep its passenger revenues robust.

But Southwest needs to define itself for the long term in light of the rise of ULCCs and the product evolution taking place within the industry. Perhaps the most renegade change it needs is for its "family" to undertake a mindset change.