Southwest Airlines reinforces San Diego, La Guardia, adds routes, withdrawing from smaller airports
Analysis
Southwest Airlines plans to create additional pressure on Alaska Air Group during 2014 as Delta continues its raid on Alaska's Seattle hub. Just as Delta invades some of Alaska's top markets from Seattle, Southwest is upping competition with Alaska from San Diego – an airport from which Alaska has been steadily expanding during the past couple of years to support its network diversification strategy. Southwest apparently believes an opportunity exists to leverage its leading position at the airport to add both transcontinental flights and service along the US west coast during 2014. It intends to add three new markets – Orlando, Portland and Seattle – and re-launch service to New Orleans after discontinuing flights in 2005.

At the same time the carrier has also outlined plans for the additional LaGuardia slots it secured as a result of the American-US Airways merger. It plans to bolster service from the closest airport to Manhattan to its strongholds of Chicago Midway and Houston Hobby as well as Nashville and Akron-Canton.

The small market casualties resulting from Southwest's acquisition of and merger with AirTran Airways are also continuing as service from Branson, Missouri, Jackson, Mississippi and Key West, Florida is being eliminated. Other cuts include flights from Atlanta to Dayton, Norfolk and Louisville. It seems capacity in those markets is shifting to other points from Atlanta where Southwest can possibly target more local traffic.
Southwest adds service from San Diego to Alaska's main hubs
Southwest seems to be trading in service from Reno to Portland and Seattle, scheduled to end in Jun-2014, for new flights to those markets from San Diego, which are slated to begin 8-Jun-2014. It seems like a logical switch given San Diego's bigger size attracts a larger local passenger base for Southwest, which is the largest airline in San Diego, accounting for roughly 41% of the seats deployed from the airport.
San Diego International Airport capacity by carrier (% of seats): 16-Dec-2013 to 22-Dec-2013
Portland-San Diego could be a test case of passenger willingness to trade-up to slightly higher fares offered by Alaska and Southwest in exchange for free checked bags (in the case of Southwest) and other elements of the travel experience for which Spirit charges, including having a ticket agent print out a boarding pass and soft drinks and water.

Southwest and Alaska compete on numerous markets, but Southwest's entry into some of Alaska's markets from San Diego are occurring as Alaska acknowledges it needs to further close the cost gap it has relative to low-cost carriers Southwest, JetBlue and Hawaiian. Alaska had made strides in that regard during the last decade, shirking its unit cost gap with low-cost carriers from 35% to 11%. Part of Alaska's ability to close the gap with low-cost carriers results from Southwest's own costs (unit costs excluding fuel) rising 28% since 2002 while Alaska's have decreased 12%.
Alaska Air Group unit cost (including fuel) comparison with legacy and low cost carriers: 2002 and 2013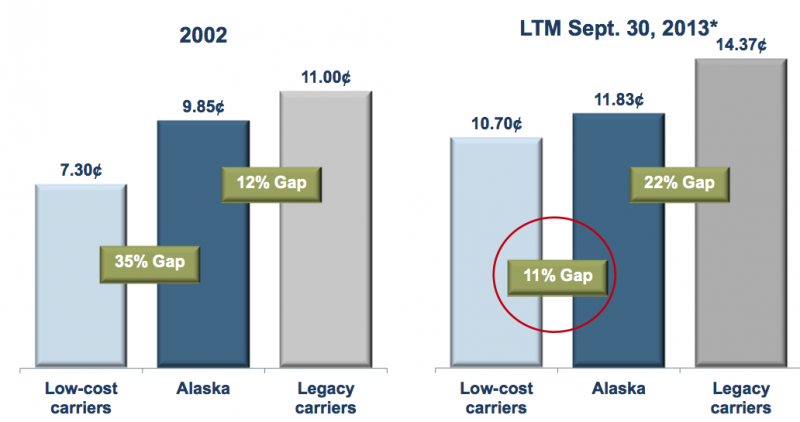 Change in mainline carrier unit costs (excluding fuel): 2002 to present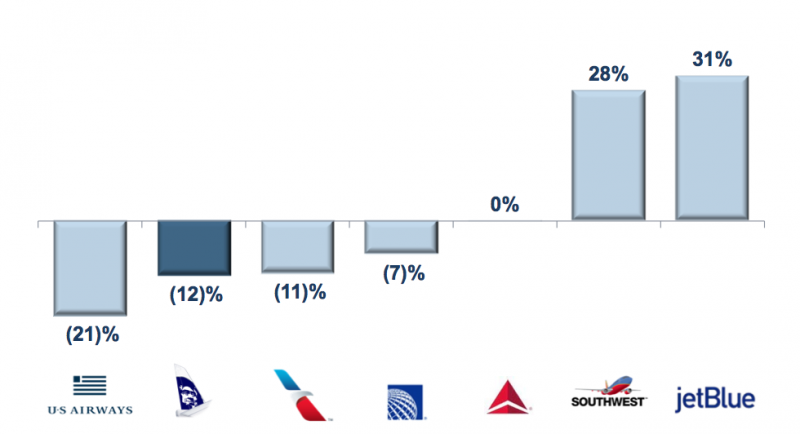 Alaska will receive a double-dose of competitive pressure in Jun-2014 on flights between Seattle and San Diego when both Southwest and Delta launch new service on the pairing, breaking Alaska's monopoly on the route. With service from two formidable competitors beginning at the same time, fares from San Diego to Seattle are almost guaranteed to fall, which means Alaska will feel double revenue pressure in the market.
Alaska's revenues will already come under pressure in Seattle during 2014 as Delta introduces a raft of new domestic services to feed its growing network to Asia. Delta is adding flights in most of Alaska's top markets from Seattle, opting to forego codesharing with Alaska, which remains a partner to Delta on some service from Tacoma International Airport.

See related report: Delta Air makes still more aggressive moves in Seattle as Alaska Airlines pledges to defend itself
Alaska introduced new service from San Diego to Orlando in Oct-2012 (followed by new flights from San Diego to Boston in Mar-2013). At the time it seemed Alaska was experimenting with transcontinental service outside its traditional hubs in Portland and Seattle, and Orlando seemed low risk as no other carrier operated flights on the pairing.

Previously Alaska has observed that there is a spool-up period in terms of the new transcontinental markets reaching profitability. But clearly Southwest sees some potential in introducing service from San Diego to Orlando – for Southwest it is a route that is strength-to-strength. In addition to holding the largest seat share in San Diego, Southwest also accounts for roughly 24% of the seats on offer in Orlando.
Given its strong presence in both markets, Southwest has a brand awareness and built-in passenger base to likely make San Diego-Orlando viable. Alaska, meanwhile, is undertaking a study of its brand in order to determine ways to boost awareness as its network spreads beyond the US Pacific northwest.
Orlando International Airport capacity by carrier (% of seats): 16-Dec-2013 to 22-Dec-2013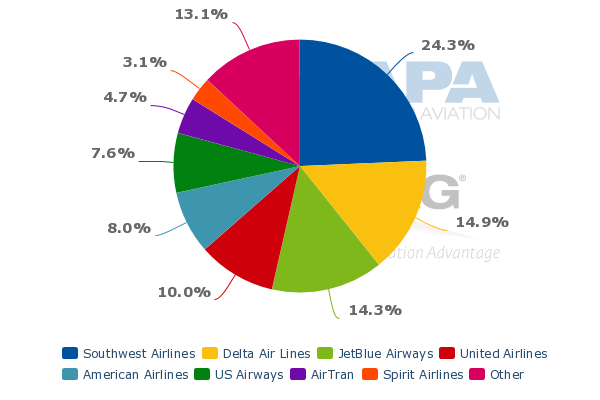 Southwest continues slashing small and unprofitable markets
Three more small markets have fallen victim to the Southwest-AirTran merger as flights to Branson, Jackson and Key West are scheduled to end in Jun-2014.

Branson is a bit of an anomaly in the combined network. It is a small market, and hosts the only privately owned airport in the United States. Southwest opted to retain service to Branson (likely with incentives) once it purchased AirTran even as it was slashing AirTran's service to other small markets including Flint, Rochester, White Plains, Asheville, Newport News, Knoxville, Allentown, Harrisburg, Bloomington, Sarasota, Huntsville, Charleston (West Virginia), Atlantic City and Lexington.
Southwest operates service to three of its strongest markets from Branson – Chicago, Houston and Dallas Love Field, but it acknowledged the local demand was not strong enough for it to turn a profit in Branson. Southwest represents 73% of Branson's seating capacity, and Frontier accounts for the remaining 27%. Once Southwest eliminates Branson, the airport will only have Fontier to Denver service.
Branson Airport capacity by carrier (% of seats): 16-Dec-2013 to 22-Dec-2013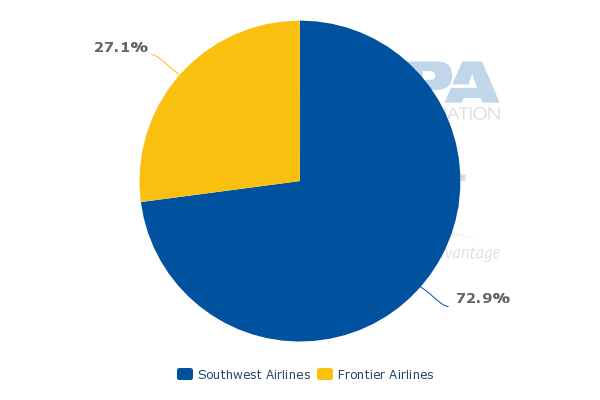 Jackson, Mississippi faces a similar service gap when Southwest ends flights to Chicago Midway, Houston Hobby and Orlando in Jun-2014. Presently, Southwest accounts for 27% of the seats deployed from the airport, but it seems Southwest has concluded its assets could be employed more profitably elsewhere. It is likely tough to fill its larger Boeing 737s from Jackson profitably, essentially a spoke for the majors to flow traffic over their hubs, evidenced by American, Delta, United and US Airways operating regional jets to deposit passengers to their various strongholds. Although connecting traffic is growing at Southwest, the economics in Jackson do not make sense for the carrier.

Key West has some of the same characteristics as Jackson. While it garners higher demand during the winter months in the US, operating 737s year round is not ideal. Presently, Southwest serves Tampa, New Orleans and Orlando from Key West. Essentially Southwest is connecting leisure passengers on either end, and attempting to fill its aircraft with lower-yielding customers during periods of softer demand does not seem like the most viable use of assets.
More tweaking for Atlanta even after de-hubbing is complete
Southwest during Jun-2014 is also cutting service from Atlanta to Norfolk, Dayton and Louisville, while bolstering service from Atlanta to Delta's hubs in Detroit and Minneapolis. It is also adding frequencies from Atlanta to Milwaukee and Pittsburgh.

Those changes reflect Southwest's de-hubbing of Atlanta as it works to bolster service where it believes it can attract more local demand. The three markets fit that profile (but interestingly, schedules in OAG show Delta serves those markets from Atlanta with a mix of larger-gauge 100-plus seat MD-88s/90s and 70-plus seat CRJ900s. It also delploys 757s on some service to Norfolk). Both Southwest and AirTran serve Atlanta-Louisville with Boeing 717s and 737s, respectively, while AirTran only serves Atlanta-Dayton with 117-seat 717s, which are being eliminated from the combined AirTran-Southwest fleet through a sublease deal with Delta.

See related report: Southwest continues de-hubbing Atlanta as ROIC targets start to look murky
Norfolk and Lousiville each handled roughly 3 million passengers in 2012 while 1.3 million passengers travelled through Dayton. Southwest is now opting to add service from Atlanta to larger markets – both Detroit and Minneapolis processed about 32 million passengers in 2012 while Pittsburgh handled 8 million customers and 7.5 million passengers travelled to Milwaukee.

While Detroit and Minneapolis are Delta hubs, combined AirTran and Southwest will operate four daily flights to each market from Atlanta, while Delta operates numerous flights daily on each route. Southwest perhaps sees an opportunity to capture some more cost-conscious passengers on those routes that are not a part of Delta's loyalty scheme.

Southwest holds a 24% seat share in Pittsburgh and a commanding 40% share in Milwaukee, so the potential to boost local demand in those two markets is perhaps greater than the smaller markets being eliminated from Atlanta.
Pittsburgh International Airport capacity by carrier (% of seats): 16-Dec-2013 to 22-Dec-2013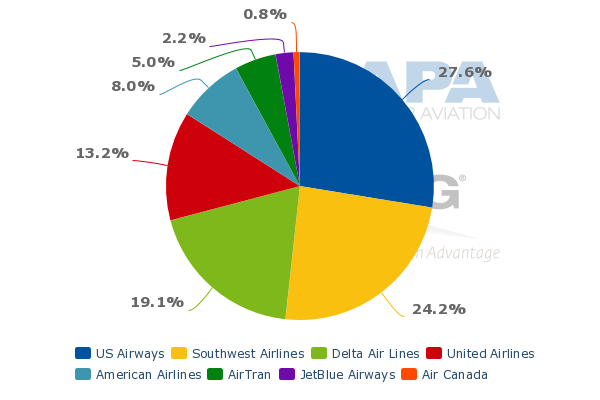 Milwaukee General Mitchell Airport capacity by carrier (% of seats): 16-Dec-2013 to 22-Dec-2013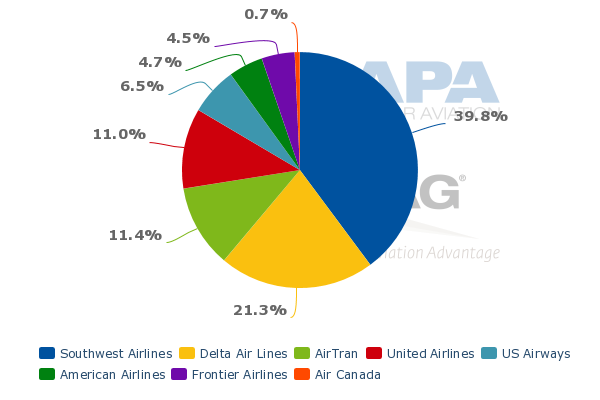 Southwest uses new LaGuardia slots to bolster existing service
As previously predicted by CAPA, Southwest is opting to use six new slot pairs it is acquiring from American at LaGuardia (a requirement to gain Justice Department approval for its merger with US Airways) to bolster frequencies to existing markets – two each to its large markets of Chicago and Houston and one each to Nashville and Akron, Ohio.
It is the largest airline in each of those markets (Akron is still an AirTran market, and the carrier holds 49% seat share at the airport). Given the value of slots at LaGuardia, it seems Southwest opted to deploy new flights into its pocket of strength, where it can offer an improved schedule for the cost-conscious business traveller it is targeting.

See related report: Virgin America faces familiar and fierce competition on potential routes from New York LaGuardia
Southwest heads into markets that are drawing each type of airline
Southwest's latest network changes reflect the carrier's continuing abandonment of small markets that cannot support its Boeing 737s, which are growing from 137 to 142 seats on its -700 models while the -800s coming online feature 175 seats. The carrier is trading smaller markets and reassigning capacity elsewhere, where it can leverage the strong Southwest brand and existing substantial base of passengers to connect the dots in more densely populated regions.
The problem, of course, is that is the game plan of essentially all US airlines, even ultra low-cost airline Spirit is connecting large population centres with its proposition of low-fare stimulation.

Obviously Southwest can no-longer boast about the stimulative "Southwest Effect" since its fares are steadily rising in tandem with a cost creep that puts its unit costs somewhere between legacy carriers and ULCCs.
While it still may be able to compete on price against network carriers, they are attempting to bring their costs down, which ultimately will level the playing field. In order to keep its edge Southwest will need to fortify its competitive arsenal and think outside the box as it evolves its product proposition.