SilkAir faces short-term challenges but upcoming product enhancement could lead to improved outlook
Analysis
SilkAir is planning to upgrade its in-flight product in 2014 as the Singapore Airlines (SIA) full-service regional subsidiary starts to transition to a Boeing 737-800 fleet. SilkAir will also continue to grow rapidly in 2014 in line with the SIA Group's increased focus on Asia.
But SilkAir has seen profitability slip in recent months as competition has intensified in the regional market within Asia. A 12% capacity increase through the first seven months of the current fiscal year has not been absorbed, resulting in a drop in load factor and clouding SilkAir's short-term outlook.
The forthcoming product upgrade is designed to further differentiate SilkAir from LCCs and cement its position as a leading full-service regional carrier in the Southeast Asia region. But SilkAir has decided against following Cathay Pacific regional subsidiary Dragonair in improving its business class seat.
SilkAir to take first 737 in early 2014
SilkAir currently operates a fleet of 18 A320s and six A319s, according to the CAPA Fleet Database. The carrier took delivery of its last A320 in Oct-2013 and in early 2014 will take the first of at least 54 new 737-800s. SilkAir completed in Nov-2012 an order for 23 current generation 737-800s and 31 737 MAX 8s, which are slated to be delivered by the end of 2021.
SilkAir fleet: as of 10-Dec-2013
SilkAir is on track to place into service its first 737-800 in Feb or Mar-2013. The carrier is planning to unveil in Jan-2014 a product upgrade that will be timed for the 737-800 entry into service and announce initial routes for the new type.
The biggest component of the product upgrade will be the introduction of an in-flight entertainment (IFE) system across both the economy and business cabins. While parent SIA has a leading IFE product with seatback monitors across all aircraft, the SilkAir in-flight product currently does not include seatback monitors and is limited to silent short videos from overhead monitors (no audio). As SilkAir now operates several medium-haul routes of four to six hours, including some routes which it serves alongside SIA, the lack of IFE has been seen as a shortcoming in the overall SIA/SilkAir product.
SilkAir will not change seat pitch or density as it transitions to 737s
SilkAir also plans to introduce several enhancements to its soft product aimed at enhancing the overall in-flight experience for passengers. But besides IFE there will be no major changes in the hard product. SilkAir has opted to stick with a similar seat pitch and seat density as it transitions from the A320 to the 737.
SilkAir's business class currently features recliner-style seats in standard two-by-two configuration with 40in seat pitch. SIA's latest regional business class product, which was introduced in 2009 on A330s, features angled lie-flat seats with 60in seat pitch.
Dragonair in early 2013 introduced a more major product upgrade designed to match the service offered by its parent Cathay Pacific. Dragonair is now in the process of reconfiguring its fleet of A320s and A330s with the same regional business class product that is offered by Cathay on its A330s.
The A320 business class cabin on Dragonair has the same two-by-two seating as SilkAir but now offers improved recline with 45in seat pitch and 12in touch-screen seatback IFE monitors. Economy cabin retrofits include new 9in touch-screen seatback IFE monitors.
The SIA Group has decided not to follow Dragonair with a similar business class seat at SilkAir but will offer other product enhancements. The yields at SilkAir are likely not sufficient to justify introducing a larger business class seat.
SilkAir traditionally has been more a leisure carrier but in recent years has started operating alongside SIA on more business routes as the SIA Group has responded to increasing competition by trying to better align capacity with demand. Without an improved business class product on SilkAir, the SIA Group could potentially lose premium passengers. But SIA likely believes the SilkAir premium product, with some soft improvements, is sufficient to keep passengers loyal.
SIA and SilkAir closely coordinate their networks and schedules but over the years have not done enough to align their products. SIA has made several major investments to upgrade its cabin products. Now SilkAir has an opportunity to also update its product. While the seat may not change, the introduction of IFE and enhancements to the soft product will help bridge the gap between SilkAir and SIA.
SilkAir product upgrade comes as profits fall
The SIA Group is keen to offer passengers connecting between SIA and SilkAir a leading product on both carriers. A majority of SilkAir traffic connects in Singapore to SIA. While many of its competitors are focused primarily on the point-to-point market, SilkAir relies heavily on sixth freedom traffic. SilkAir recognises that offering an improved product could give it a competitive advantage in targeting transit traffic with its sister carrier. SilkAir also plans to work more closely with Changi Airport in marketing its new product, recognising it can leverage Changi's status as a leading airport for transit passengers.
SilkAir needs the boost in traffic that could come with an upgraded in-flight product and new marketing campaign as its load factor and profitability has slipped in recent months.
SilkAir has been profitable for 12 consecutive years. But profits have dropped since a record SGD121 million (USD 97 million) operating profit was posted in FY2011. The carrier turned a SGD105 million (USD84 million) profit in FY2012 and a SGD95 million (USD76 million) profit in FY2013. As revenues have increased rapidly, SilkAir's margin has declined since exceeding 15% for the first time in FY2011.
SilkAir and SIA Group operating margins: FY2000 to FY2013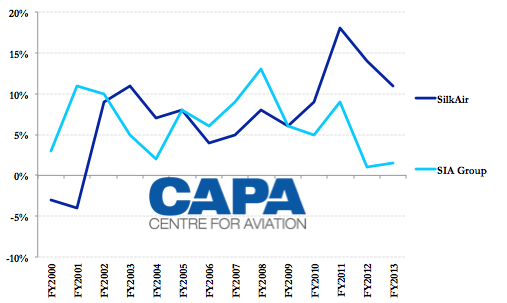 In recent years SilkAir has steadily outperformed its parent SIA and the group's low-cost affiliate Tigerair Singapore. But SilkAir has struggled to fill aircraft in FY2014, building on a negative trend which started in 2HFY2013.
SilkAir revenue as a % of SIA Group airline operation revenue: FY2000 to FY2013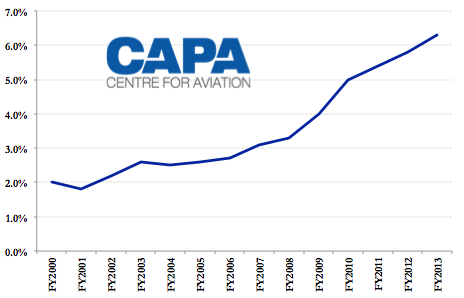 SilkAir and Tiger Singapore annual operating profit: FY2000 to FY2013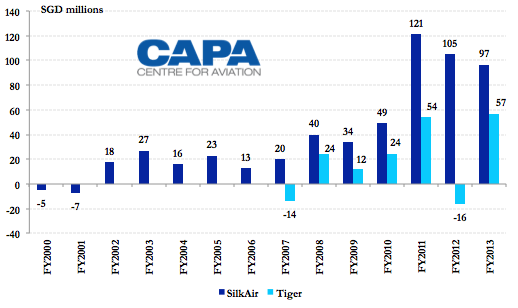 SilkAir and Tiger Singapore annual revenues: FY2000 to FY2013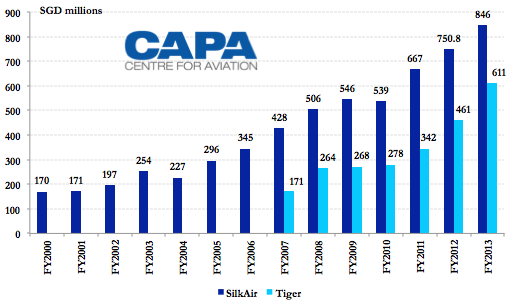 SilkAir only turned an SGD8 million (USD6 million) profit in 1HFY2014, compared to a SGD19 million (USD15 million) profit in 1HFY2013. ASKs were up 12% in the half but RPKs were up only 7%, resulting in a 3.5ppts drop in average load factor to only 69%.
SIA Group CEO Goh Choon Phong acknowledged at the group's 1HFY2014 analyst briefing in Nov-2013 that "the capacity injection for SilkAir wasn't adequately absorbed by the market". He also said SilkAir's profit figure was impacted by the accelerated depreciation of A320s ahead of the transition to 737s.
The capacity increase for FY2014 follows an even more ambitious 20% increase in FY2013, which led to a 2.1ppt drop in load factor to 73.6%.
SilkAir load factor on the decline
Market conditions for 2HFY2014 remain relatively unfavourable. While there is still strong demand for regional markets in Southeast Asia, rapid expansion by both full-service carriers and LCCs has led to over-capacity in several markets that SilkAir serves.
SilkAir has recorded year-over-year declines in load factor in 11 of the last 12 months. Its load factor was only 66.7% in Oct-2013, representing a 7.6ppt drop compared to Oct-2012.
SilkAir monthly load factor: Jan-2011 to Oct-2013
ASKs in Oct-2013 were up 13%, but RPKs and the number of passengers carried were up only 1%. SilkAir particularly struggled on routes to South Asia, which recorded an average load factor of only 59.9% in Oct-2013, a drop of 14.3ppt compared to Oct-2012. The carrier's average load factor across its larger East Asia and Australia network was 69.2%, representing a drop of 5.2ppt over the same month the year prior.
SilkAir will continue to face challenges in 2014 as competition will become even fiercer. Southeast Asia, which accounts for 73% of the carrier's current seat capacity, is the only region in the world that has a larger aircraft order book than active fleet. But SilkAir is relatively well positioned if it can succeed at leveraging its relationship with SIA and marketing its soon to be improved product.
SilkAir capacity share (% of seats) by region: 9-Dec-2013 to 15-Dec-2013
SilkAir still has a bright future
There is still room for regional full-service carriers in Asia's short-haul market, particularly carriers that can offer long-haul connections. SilkAir does compete with LCCs for some point-to-point passengers but its heavy reliance on sixth freedom traffic puts it in another category.
The SIA Group plans to continue using SilkAir to grow its presence within Asia-Pacific. More growth in secondary markets in the core markets of China and Indonesia is expected for 2014. New destinations in other Southeast Asian countries are also likely.
SilkAir has expanded significantly and improved its profitability since LCCs entered the Singapore market in the middle portion of last decade. SilkAir has added 20 destinations since the end of FY2006 for a total of 46.
The introduction of 737s in early 2014 represents a new era for SilkAir, allowing it to improve its product and pursue rapid growth. As CAPA reported in Aug-2012:
With a projected fleet of 54 737s at the end of 2021 (and possibly more if purchase rights are exercised), SilkAir is poised for several years of rapid growth. The current fleet plan would provide a net addition of 32 aircraft from 2013 through 2021, which would provide average capacity growth of roughly 16% per annum over this nine-year period.

Given SilkAir's recent success and strong position in the intra-Asia market, where demand continues to grow rapidly, such expansion is clearly feasible. While the most rapid growth within Asia has been in the budget end of the market, the top end of this market also continues to grow as a portion of Asia's population prefers not to fly budget carriers even on the shortest flights.

SilkAir's ability to offer an unmatchable range of long-haul connections (SIA has the largest European and Australian networks among Asian carriers) also gives it a competitive advantage over any other Asian full-service regional carrier. SilkAir is not a member of Star Alliance but this is largely seen as an intentional strategy from the SIA Group as passengers from Europe, North America and the South Pacific that are travelling to secondary destinations in Asia are more likely to use SIA for their long-haul flight rather than competing Star carriers because of the exclusivity of the SilkAir-SIA relationship. SilkAir has codeshare partnerships with a few carriers in the Asia-Pacific region (including Bangkok Airways, Garuda, Malaysia Airlines and Virgin Australia) but does not currently codeshare with any carrier from Europe or North America.

SilkAir codeshares on all its flights with SIA and is part of SIA's KrisFlyer frequent flyer programme. The SilkAir-KrisFlyer relationship is key in building passenger loyalty, particularly from SIA's premium passengers and members of KrisFlyer's elite tiers. While passengers flying SIA can accrue miles on any Star Alliance carrier, on SilkAir flights these passengers can only accrue miles on KrisFlyer and not on any other Star Alliance-affiliated frequent flyer programme.
See related report: Singapore Airlines regional unit SilkAir poised for rapid growth after quietly emerging as SIA's gem
SilkAir enters new era as it takes its first 737 but challenges remain
SilkAir's acquisition of 737s enables accelerated growth and will open up the opportunity for longer routes using the improved range of the new-generation 737 MAX. With the 737 SilkAir will also have the opportunity to offer an enhanced product. The new product will likely initially be used to improve the passenger experience on longer flights and on routes which are shared with SIA mainline. Eventually the new product will be offered across the board – once SilkAir transitions to an all-737 fleet. The carrier plans to operate a dual fleet for four to five years.
The first two of SilkAir's 23 A320 family aircraft will be phased out by the end of the current fiscal year in Mar-2014 (FY2014). One of the aircraft being phased out is being returned to its lessor while the other aircraft is being sold. The cost of the transition is high but offset by the incentives SilkAir is receiving as part of its package from Boeing, which was keen to switch the carrier from Airbus. Boeing is now offering similar attractive deals to other A320 operators in Southeast Asia, including Royal Brunei Airlines and Bangkok Airways.
See related report: Royal Brunei Airlines leaps forward with 787. Early A320neo or 737MAX slots to provide another boost
SilkAir faces huge challenges as the market it operates in has become extremely competitive and will continue to see a large influx of capacity. But SilkAir will continue to grow rapidly and new product should improve the long-term position of the SilkAir brand and the overall SIA Group.