San Jose Norman Y Mineta International Airport: competing in a tough San Francisco Bay environment
Analysis
San Jose's Norman Y Mineta International Airport is one of three in the San Francisco Bay Area that seek to attract custom not only from their own cities but also from neighbouring ones. San Jose itself is the leading city in what has come to be known globally as Silicon Valley, the location of thousands of businesses in the information technologies and digital industries, many of them start-ups, but also including major players such as Google and Facebook.
While it is situated in a dynamic commercial zone, passenger numbers are perhaps not as high as they might be, but local competition is tough. The airport has some direct international flights to North Asia and Mexico, but none to Europe just yet. However, it has invested in provision for general aviation functionality, even enabling the construction of what has become known as the 'Google Terminal.'
This report examines present and future growth trends at the airport, local airport statistics, how it matches up to competing airports across a range of metrics, at any construction activities and at its ownership.
San Jose is a smaller airport, with a high profile

San Jose is the third largest city by population in the whole of California, the tenth largest in the US, and the largest city within the Bay Area (comprising mainly San Francisco, Oakland and San Jose). In 2014 its airport, named after a previous Transport Secretary, Norman Y Mineta, hosted 9.4 million passengers. The main airports serving the ninth and 11th largest US cities respectively – Dallas Fort Worth and Austin, both in Texas - hosted 63.5 million and 10.7 million passengers respectively, while eighth ranked San Diego managed 20.1 million passengers.
So while San Jose can loosely be compared with Austin, there is something of a conundrum in the fact that the airport is so much smaller than those of its other two peers. Especially so when the city is at the very heart of the US's digital industries, and the airport considers that it serves a market of around four million people in the Silicon Valley/South Bay Area.
Within the Bay Area this is partly explained by the proximity of its airport to that of the city of both San Francisco - a smaller city but with long-established international clout - and that of Oakland - the main centre for low cost operations in Northern California.
The city originally served as a farming community to support Spanish military installations at San Francisco and Monterey, and was the first capital of the new state of California from 1850. It remained a small farming community for 150 years until the mid-20th century, occupying some of the last undeveloped land near San Francisco Bay. The area became rapidly populated by veterans returning from World War II and more land was annexed to cater for them.
San Jose - the home of disruptive innovation in the global digital industries
The rapid growth of the high technology and electronics industries was encouraged by the availability of inexpensive land for start up companies, as much as anything else. Centred on San Jose, the industrial region expanded throughout the Santa Clara Valley, which became known as Silicon Valley, home to the concept of disruptive innovation more than any other metropolitan area. It is the headquarters location of many Fortune 500 companies including Apple, eBay, Facebook and Google. The San Jose-Sunnyvale-Santa Clara, CA Metropolitan Statistical Area is reputed to have the most millionaires, and the most billionaires, per capita in the United States.
The table below compares San Jose Mineta International Airport (hereinafter 'San Jose') to peer and neighbouring airports in the Bay Area and in the nearby Californian state capital, Sacramento, using a variety of metrics that include aviation and population statistics. (N.B. population figures in this instance are for cities only (not metropolitan areas, since airport catchment areas overlap).
San Francisco Bay airport rankings by assorted metrics:
| | | | | | | | |
| --- | --- | --- | --- | --- | --- | --- | --- |
| Airport/metric | ASKs | Seats | Frequencies | Cargo payload | Pax 2014 (million) | City population (million) | Ratio: pax to local population 2014 |
| San Jose | 177 | 173 | 172 | 224 | 9.4 | 1*1 | 9.4 |
| | 14 | 25 | 23 | 29 | 47.2 | 0.8*1 | 59 |
| | 173 | 159 | 162 | 232 | 10.3 | 0.4*1 | 25.75 |
| | 225 | 192 | 185 | 237 | 9.6 | 0.5 | 19.2 |
This table is slightly misleading, in that while San Jose has the highest population in the Bay Area and indeed of all four cities in the table, the greater number of flights and connections at San Francisco and the conglomeration of LCC services at Oakland are likely to attract passengers from the San Jose area.
Location map of San Jose in relation to San Francisco, Oakland and Sacramento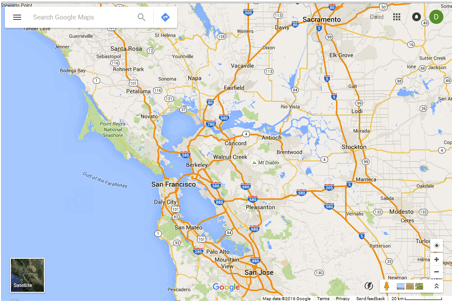 In terms of seat availability, ASKs, frequencies and cargo payload the airport that is most comparable to San Jose is Oakland, although that is a quite different facility with 83% of seat availability on LCCs, compared with 55% at San Jose.
The comparative strength of San Francisco International Airport – about 45 minutes away by car - is demonstrated by its much higher ranking across all the metrics. San Francisco is differentiated from San Jose in a number of ways, in some cases a little and in others by quite a large margin, as will become clearer later.
The three Bay Area airports cumulatively represent a 'system' of airports serving eight million people, such as is found in and around other US cities (notably New York [five], Los Angeles [five]) and Chicago (three), and outside the US - in London (six) and Moscow (three, going to four) airports. Also, to a lesser degree, Tokyo (three) and Paris (three) airports. None of the Bay Area airports is under the same ownership.
San Jose Airport Network Summary (at 25-Jan-2016)
| | |
| --- | --- |
| | 11 |
| Domestic only | 7 |
| International | 4 |
| Total non-stop passenger destinations | 31 |
| Domestic | 27 |
| | 0 |
| | 2 |
| | 0 |
| | 2 |
| | 0 |
| | 0 |
| Total non-stop freight destinations | 1 |
| Domestic | 1 |
| | 0 |
| | 0 |
| | 0 |
| | 0 |
| | 0 |
| | 0 |
San Jose Airport has international airlines, but fewer non-stop destinations than peer group airports
The table below shows how San Jose compared alongside a selection of neighbouring US airports, i.e. the ones mentioned earlier, plus the largest airports supporting the two large conurbations in southern California - Los Angeles International and San Diego.
There is equilibrium in the calculation of the airline to passenger ratio, with the three larger airports of San Francisco, Los Angeles and San Diego well out in front by this measure. San Jose is bracketed with Oakland and Sacramento and comes last in this calculation.
San Jose scores well in comparison with Sacramento on international airlines, and even with Oakland. It also has one non-stop freight destination while those other two airports have none. But it is well behind San Francisco and Los Angeles in the number of non-stop passenger destinations.
Comparison of airports by total airlines and non-stop destinations
| | | | | | | |
| --- | --- | --- | --- | --- | --- | --- |
| Airport | Total airlines | Pax traffic 2014 (million) | Airline to pax ratio | International airlines | Non-stop passenger destinations | Non-stop freight destinations |
| San Jose | 11 | 9.4 | 0.85 | 4 | 31 | 1 |
| | 42 | 47.2 | 1.12 | 34 | 110 | 8 |
| | 11 | 10.3 | 0.93 | 2 | 42 | 0 |
| | 10 | 9.6 | 0.96 | 2 | 26 | 0 |
| | 63 | 70.7 | 1.12 | 51 | 151 | 38 |
| | 18 | 20.1 | 1.11 | 7 | 56 | 0 |
The route map below shows destinations that can be reached by direct or connecting flights. Note the lack of direct flights to Europe, which is contrasted with a strong showing to and from North Asia.
That omission will be addressed by the introduction of a service by British Airways to and from London in summer 2016.
Significantly, BA already flies to San Francisco, typically using an A380. As BA says it in its advertising it 'knows the way to San Jose.'
Perhaps more foreign airlines will follow it there.
Direct and indirect (connecting) routes from San Jose International Airport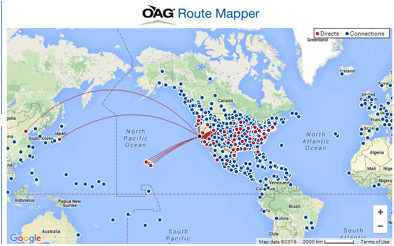 The 'heat' map below identifies the countries/regions with San Jose Airport's greatest density of international seats, and they are in Central America and North Asia.
San Jose Airport international capacity, seats by region heat map, 25-Jan-2016 to 31-Jan-2016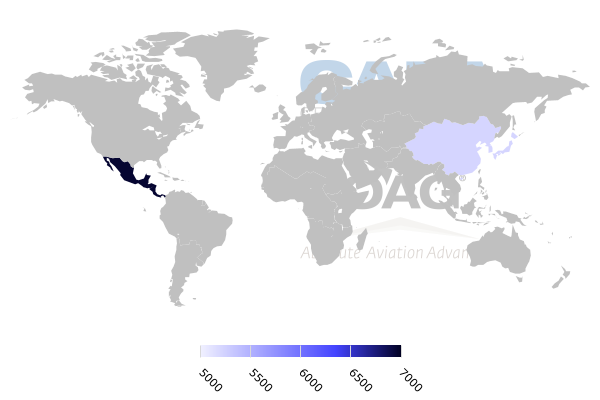 San Jose's non-stop connectivity – strong in North America, weak in Europe
On non-stop connectivity, the chart below shows how San Jose compares with the same set of peer airports, which comprise large hubs, a regional airport and a 'low cost' airport.
It is the graphic equivalent of part of the table above, and is shown here because it is immediately evident how San Jose is strong in the North American market but falls behind Los Angeles and San Francisco in overall non-stop destinations, because it is not strong in areas such as Europe.
(Another fact that emerges from this chart, but not especially confined to just San Jose alone, is that there are no direct services from any of these airports to Africa. That means there are no direct African services from the US' largest state by population, with almost 40 million people, and the state that accounts for 13% of the nation's GDP).
Non-stop connectivity values (passenger destinations). Comparison of San Jose, Sacramento, San Francisco, Oakland, Los Angeles and San Diego airports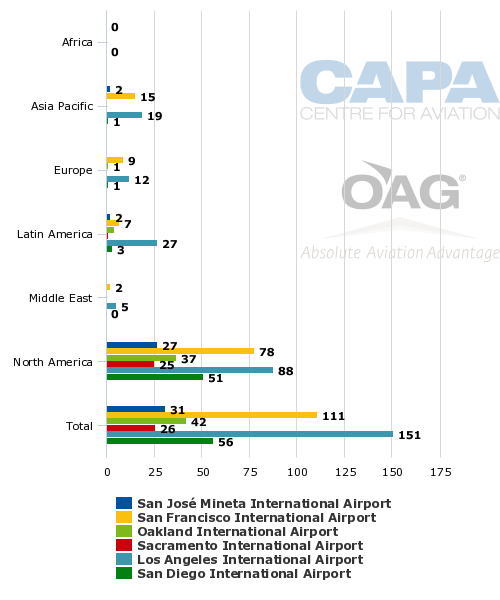 This is an important set of comparisons because, for international airlines in particular, there is an ever growing US airport choice available. That choice includes smaller secondary level airports that are seeking to attract long haul LCCs, for example, just as the LCCs are seeking them.
Using the selected criteria here (landing charges for five different aircraft types at San Jose and competing airports) San Jose has the second lowest level of charges across all the categories after San Diego. Charges are lower than at the LCC-oriented Oakland Airport.
The clear differentiation comes between San Jose and the two hub airports at San Francisco and Los Angeles and also, perhaps surprisingly, with Sacramento.
Landing Charges for San Jose Mineta International Airport, San Francisco International Airport, Oakland International Airport, Sacramento International Airport, Los Angeles International Airport, San Diego International Airport (USD) for 2014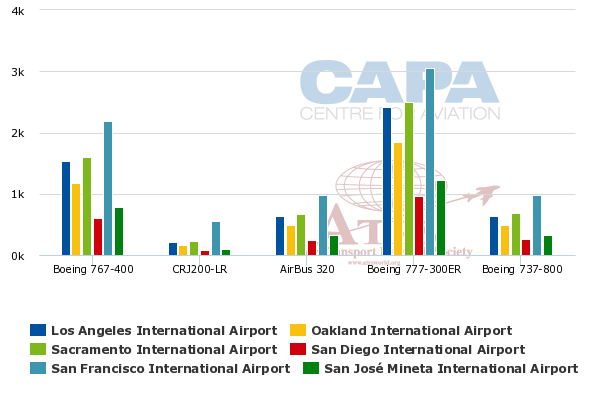 San Jose has an equal split between full service airlines and LCCs
55.1% of seats at San Jose are on low cost airlines, but all the others are on full service airlines.
San Jose International Airport capacity, seat share by airline type, 25-Jan-2016 to 31-Jan-2016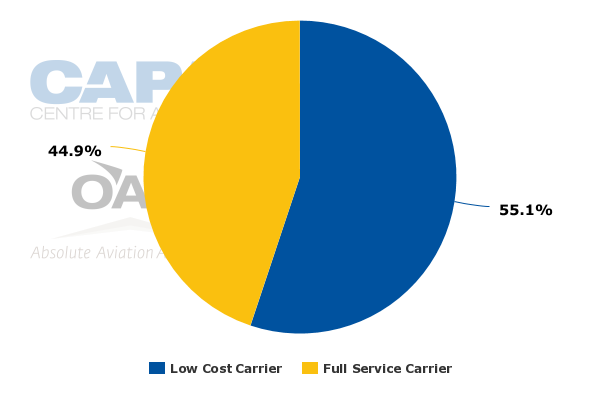 It is useful again to compare this traffic split with some of the airport's peers; once again the hub airports at Los Angeles and San Francisco, also Oakland, which attracts LCCs, Sacramento, and San Diego.
Comparison of selected airports by airline type – seat availability, 25-Jan-2016 to 31-Jan-2016
| | | | | |
| --- | --- | --- | --- | --- |
| Airport | % of seats on FSCs | % of seats on LCCs | % of seats on other modes (e.g. regional, charter airlines) | Clarification of previous column |
| San Jose | 44.9 | 55.1 | - | |
| San Francisco Intn'l | 78 | 22 | - | |
| Sacramento Intn'l | 38.2 | 61.7 | 0.1 | Regional/commuter |
| Oakland Intn'l | 16.9 | 83 | 0.1 | Charter |
| Los Angeles Intn'l | 75.7 | 24.3 | | |
| | 48.6 | 51.3 | 0.1 | Regional/commuter |
Of the airports in this particular sample, apart from San Diego San Jose has the best balance between full service and low cost flights.
The LCC impact at San Jose is driven by Southwest, which currently has over half of all seat capacity, with Alaska Airlines and Delta Air Lines also playing a role.
San Jose International Airport capacity (seats per week), by all airlines, total system, 25-Jan-2016 to 31-Jan-2016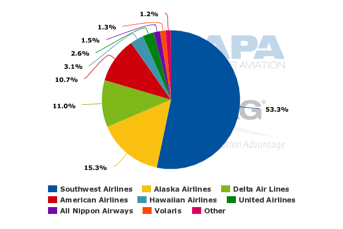 San Jose's international capacity: Mexico, Japan and China
International capacity is exclusively to Mexico, Japan and China, in the ratios shown below.
In the case of North Asia the destinations are mainly business oriented (Beijing and Tokyo), while in Mexico they are partly business (Guadalajara, Mexico's second city) and leisure (Los Cabos, at the southern tip of the Baja California peninsula).
San José Mineta International Airport international capacity seats by country, 25-Jan-2016 to 31-Jan-2016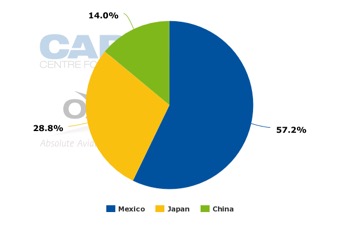 The percentage of First Class seats at San Jose is greater than the global average at this time, though that does not apply to either of the other two 'higher than Coach' classes.
San Jose International Airport schedule by class of seat - one way weekly departing seats (total system) 25-Jan-2016 to 31-Jan-2016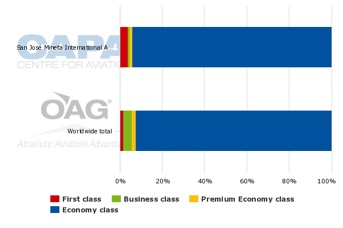 The actual figures are available online on the CAPA site but not in this representation, and they are:
Proportion of seats across classes at San Jose International
| | | | | |
| --- | --- | --- | --- | --- |
| % of seats | First | Business | Premium Economy | Economy |
| San Jose Intn'l | 3.9 | 0.6 | 1.4 | 94.0 |
| Worldwide | 1.5 | 4.2 | 1.8 | 92.5 |
San Jose is served mainly by domestic airlines, with only 3.5% of seats on foreign airlines at this time.
San Jose International Airport share of seats by local versus foreign airlines, 25 to 31-Jan-2016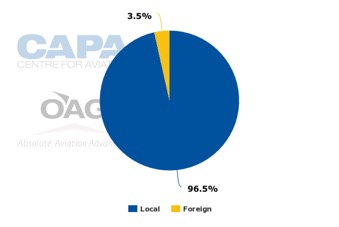 Alliance penetration is limited at San Jose Airport

Airline alliance penetration is less than might be imagined given the pan-national, international and intercontinental nature of many of the firms headquartered or represented in Silicon Valley and, as the airport points out in its own online promotional video, given the existence of a multicultural community with business and personal connections around the world.
Only a quarter of seat capacity is available presently on aligned airlines, with SkyTeam and oneworld equal. Star Alliance has a very limited presence.
San Jose International Airport capacity, seat share by alliance/unaligned, 25-Jan to 31-Jan-2016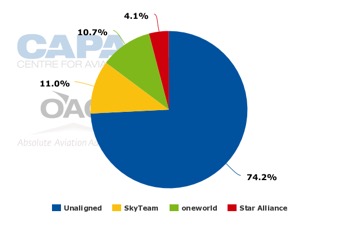 How does this compare with peer airports? The same group is used as previously. The contrast with San Francisco, where the alliance ratio is almost three quarters of seats, is immediately evident.
The only airport with fewer unaligned airline seats is Oakland.
Comparison of San Jose with selected airports by alliance penetration – seat availability, 25-Jan-2016 to 31-Jan- 2016
| | | |
| --- | --- | --- |
| Airport | % of seats on unaligned airlines | % of seats on aligned airlines |
| San Jose Intn'l | 74.2 | 25.8 |
| San Francisco Intn'l | 28.7 | 71.3 |
| Sacramento Intn'l | 71.0 | 29.0 |
| Oakland Intn'l | 92.7 | 7.3 |
| Los Angeles Intn'l | 33.2 | 66.8 |
| | 62.3 | 37.7 |
San Jose has achieved good traffic growth figures
Traffic growth has been strong during the last three years, with rates of +5.9% in 2012-13 and +6.9% in 2013-14.
San Jose International Airport annual passenger numbers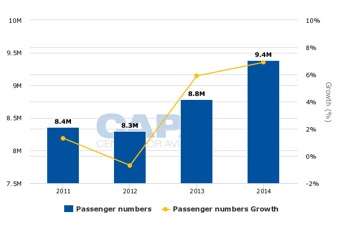 In the first seven months of 2015 (Jan-Jul, the latest independently available statistics and not on the chart above), San Jose managed average monthly passenger growth of 3.7%, which is down on the previous two (full) years' average growth. Passenger statistics on the airport's website for Aug to Oct-2015 indicate growth continuing in the same pattern and slightly increasing to +4.2% in Oct-2015.
For the purposes of this report these separate figures are aggregated to give an average growth figure year to date of +3.8%.
However, the passenger total for 2014 was still 1.6 million less then what was recorded in 2002.
When a comparison is made again with the peer airport group, San Jose is shown to be lagging all other airports in passenger traffic growth in 2015 (various measurement periods apply), apart from Los Angeles. The main location for passenger growth in the immediate region right now is Oakland Airport.
However, airlines serving the airport received a rent rebate of USD478,753 from the City of San Jose in recognition of passenger traffic growth that exceeded the national average in the previous fiscal year.
Comparative passenger traffic growth figures
Airport

Average monthly
% pax traffic growth in 2015

Period

San Jose

3.8

Jan-Oct

4.7

Jan-Jul +Oct

Sacramento Intn'l

6.8

Jan-Jul

Oakland Intn'l

8.6

Jan-Jun

San Francisco Intn'l

4.8

Jan-Jun

Los Angeles Intn'l

3.7

Jan-Jul

6.4

Jan-Jul
San Jose stage lengths – 73% of seats are on flights of up to two hours
The vast majority of seats at San Jose (73.4%) are on flights of up to two hours in length, with the remainder (26.6%) on flights of two to 14 hours.
San Jose International Airport, seats by length of flight, 25-Jan to 31-Jan-2016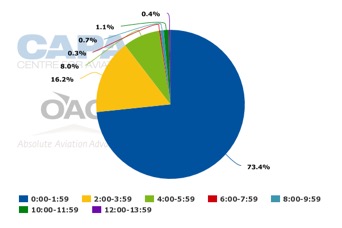 That flight duration encompasses most of the busiest routes at San Jose, which are to and from mainly West Coast cities that also have high tech clusters, and/or have hub airports. In order of popularity in 2015 they were:
| | |
| --- | --- |
| City | Pax (Oct-2014 to Sep-2015) |
| Los Angeles, California | 565,000 |
| Seattle/Tacoma, Washington | 477,000 |
| Phoenix, Arizona | 380,000 |
| San Diego, California | 349,000 |
| Las Vegas, Nevada | 335,000 |
| John Wayne. Orange County, California | 325,000 |
| Portland, Oregon | 278,000 |
| Denver, Colorado | 246,000 |
| Dallas-Fort Worth, Texas | 203,000 |
| Burbank, California | 200,000 |
The chart below also emphasises the fact that the vast majority of frequencies are actually concentrated in the 0-2 hours categories.
San Jose International Airport frequencies (25-Jan to 31-Jan-2016)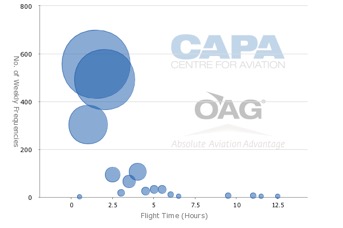 Another perspective on frequencies is represented below in the form of a bar chart of available seats (arriving and departing) by time of day. During the bulk of the day there are no obvious imbalances between arriving and departing passengers, but that is not the case at the beginning and end of the day. There are 24/7 operations but the airport does not appear to encourage night-time flights.
It is situated close to downtown, unlike the San Francisco and Oakland airports, which are built on either side of the Bay.
San Jose International Airport, seats per hour, typical day, Thursday 27-Jan-2016 (all airlines, total system, all terminals, all origins and destinations)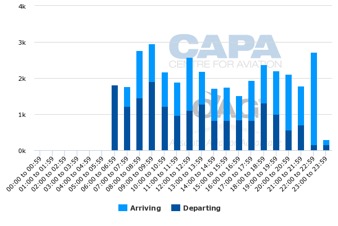 San Jose's Cargo – 88% is domestic
As might be expected in the epicentre of the global digital industries, there are parcels/courier services at San Jose, such as FedEx and UPS. There are no dedicated cargo airlines though; all freight is carried in passenger aircraft belly hold. 88% of freight is domestic.
In international cargo, the split is 68.8% Northeast Asia to 31.2% Central America.
As with the passengers, Southwest is the leading airline carrying freight, followed by Alaska Airlines, American Airlines and the fast-expanding Hawaiian Airlines. This chart also includes two foreign airlines, namely ANA of Japan and China's Hainan Airlines. As ANA has only a very limited impact on the corresponding passenger chart, and Hainan Airlines does not appear independently on it all, a reasonable assumption might be that freight is more important than passengers to both airlines, but not sufficiently so to merit cargo-only flights, assuming that either or both are able to arrange such.
San Jose International Airport total capacity per week (cargo payload) total system, by airline, 25-Jan to 31-Jan-2016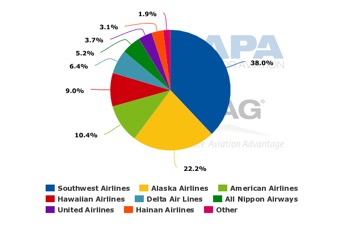 Source: CAPA - Centre for Aviation and OAG
San Jose Airport construction: terminals completed; focus has been, and is, on GA/FBO facilities
The airport has two terminals, A and B. Terminal A opened in 1990 and Terminal B in 2010. They are connected airside. The airport's original modern terminal building, which was named as Terminal C, was opened in 1965. It closed in 2010 and was then demolished, to be replaced by a short term parking lot.
San Jose International Airport terminal share (seats) by total system, 26-Jan-2016 to 31-Jan-2016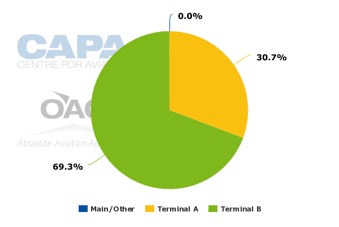 As the chart above demonstrates, Terminal B is by far the larger. Southwest is the main tenant, along with Alaska Airlines, also Hainan Airlines. United, American, Delta (which moved from Terminal B in 2012) and ANA are the main tenants of Terminal A. According to the CAPA Airport Construction Database, construction activities to the value of USD88 million are in play.
There is an anticipated completion date for this phase in 2016, under the auspices of a master plan to 2027. That master plan envisages 17 million ppa and 40 gates, which is the maximum allowed for.
Current works involve improvements to taxiways and especially those related to general aviation activity, which is considerable and concentrated on several FBOs that are located on the opposite side of the runway from Terminals A and B.
Signature Flight Support opened a new FBO facility at the airport in Nov-2015 and includes one 60,000-sq-ft building that can house a pair of Boeing 767s. Costing approximately USD82 million, the project was conducted in cooperation with the anchor tenant Blue City Holdings, the private aviation arm of Google's founders. It is the largest FBO facility to be built in a single phase in the US in the last 30 years and is known as the 'Google Terminal', although it is not exclusive to that firm.
There are plans for additional concourses, a central passenger terminal and an additional runway, at a total cost of around USD2.8 billion, a sum reduced from the original estimate. But there are limitations on expansion potential. As a downtown airport just three miles from the city's core it is surrounded by the city and has little room to grow. The proximity to downtown already prompts limits on building heights in downtown San Jose, according to FAA regulations.
San Jose's ownership – firmly in the hands of the city
While the city and surrounding area is dominated by the private sector, from crowd funding start-ups at one extreme to stock market-floated global giants at the other, the airport, as with so many others in the US, remains firmly in the public sector, in this case the City of San Jose, where it is a 'self-supporting enterprise,' meaning that airport operations and development are supported by revenues from airlines, user fees, and federal airport improvement grants (indirect central government support); not local tax funds.
Indeed, that is the case throughout California, with only the recently agreed shift in ownership of Ontario Airport in the Inland Empire of southern California away from Los Angeles World Airports to local municipalities even hinting at the possibility of future privatisation.
As far as it is known privatisation has never been seriously considered by the San Jose City council, nor have any of the IT giants that are located there proposed it.
Summary and conclusions
The city of San Jose and the surrounding area dubbed Silicon Valley is large and heavily populated, with many workers, both indigenous and foreign, highly remunerated at well above the national median;
Nevertheless, passenger totals remain at lower levels than might be expected. This is partly due to the well-established international air network at San Francisco's airport and low cost services at Oakland Airport, both of which make up the tripartite Bay Area airport network together with San Jose, and are easily accessible from the latter's catchment area;
With the completion of the two-terminal system at San Jose the focus more recently has been on structural improvements to aid the development of general aviation services;
Across most of the metrics used in this report the most comparable airport among the peer group is Oakland;
International connectivity is to and from Mexico and North Asia, with Europe (UK) to be added later in 2016. Domestically the airport is strong, with North America counting for 27 of 31 direct routes in total;
Landing charges are lower than at peer group airports with the exception of San Diego;
San Jose has the best balance between FSCs and LCCs of its peer group;
Overall, San Jose has a higher proportion of First Class seats then the global average;
But it ranks well down the peer group list in terms of airline alliance penetration;
Passenger traffic has fallen over the last decade but rallied since 2012, and rallied again towards the end of 2015. Even so, traffic growth in 2015 is lower than at any other peer group airport apart from Los Angeles;
Most seats are sold on flights of up to two hours;
There are no dedicated cargo airlines, though parcels/courier services are present. All airfreight is belly hold, and almost 90% of it is domestic;
The airport remains under the ownership and control of the City council and no change in that status is envisaged.