Russian tourism and airports: World Cup spin-off benefits
Analysis
With the FIFA Soccer World Cup Finals having entered the knock-out stage, the standard of entertainment has varied from sleep-inducing (France-Denmark, Belgium-England) to sensational (Spain-Portugal, Germany-South Korea) but has been generally attractive.
Little spectator trouble has been reported (so far); overall there has been excellent weather and media commentators have been falling over themselves to extol the virtues of cities they would never have visited otherwise.
The Soccer World Cup offers Russian cities and airports a rare opportunity to promote themselves to the outside world.
Some cities and their airports will be wondering if and how they can reap the benefit in the future. Some will benefit more than others in the medium and long term.
Summary:
The Soccer World Cup, currently in progress, offers Russian cities and airports a rare opportunity to promote themselves to the outside world.
Some destinations are no-hopers – hidden by swarms of midges or relics of a post-industrial past, and their airports are not really 'open' to foreign business.
But several of them, if they can attract the right sort of airline and if economic/political events go in their favour, are in a position to reap a World Cup dividend. This report examines four of them.
Host cities frequently roll out the red carpet for fans
There is nothing unusual in host cities doing so. Any city that hosts, say, the European Champions League final will typically roll out the red carpet for the tens of thousands of visitors it receives – usually from two countries – in the hope they will come back again as casual tourists.
From the way World Cup Finals are organised, fans get to visit cities across the host country even during the early group stage.
In Russia that could have meant crossing up to 11 time zones, but no games are being played further east than Yekaterinburg, which is two hours ahead of Moscow. That arrangement probably supports TV schedules but it can conveniently hide less attractive parts of a country from public view. Major sporting events are as much about national image as anything else. But it also means that most of Russia east of the Urals has simply lost out where the World Cup is concerned. It might as well be in another country.
Match venues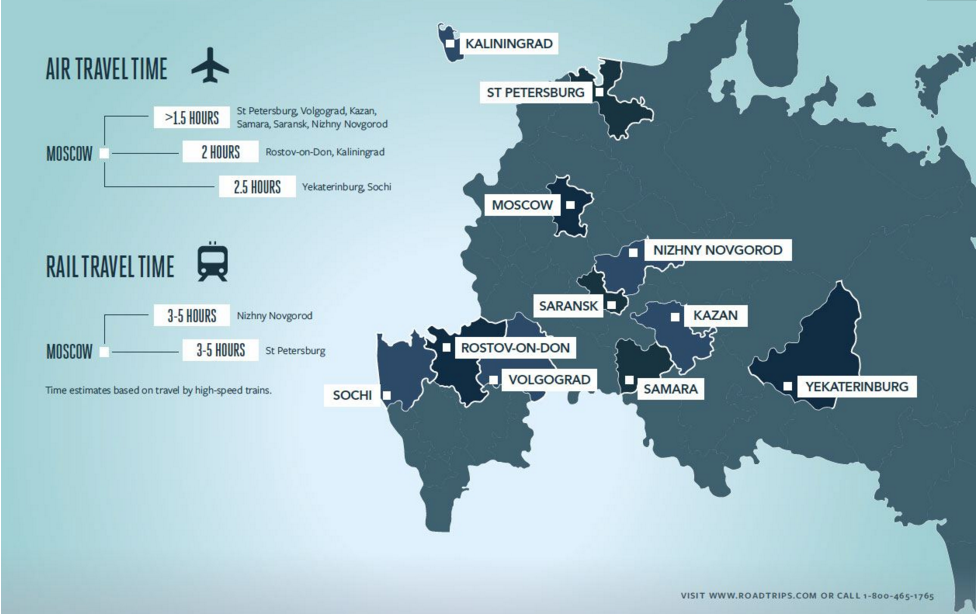 And despite the proximity of venues, by Russian standards travel between them can be difficult. There are reports of Australian fans taking over 17 hours to travel the 250 km between Kazan and Samara. There are three direct flights a week, there is no direct rail line, and the direct road was closed.
So which cities and airports are likely to gain most from the publicity they are receiving as a result of the football?
Volgograd suffered from midges and PR blunders and unlikely to gain visitors
Volgograd (previously Stalingrad – a place of historical World War II significance and bombed into the dust) is located in one of Russia's hottest areas. It is close to marshland and the stadium is situated next to the river. Both the players and the spectators were overwhelmed by millions of midges and mosquitoes during the first match, for the entire world to see. Mosquitoes suggest malaria, whether it is present or not.
The city authorities belatedly sent helicopters to spray the marshlands with pesticide, which worked for a short while, but officials asked Visit Russia to announce the PR howler of the year by saying they had "deployed chemical weapons" to rid the city of them. (Fans that brought insect repellent to the stadium actually had it confiscated.)
St Petersburg and its Baltic coastline have something for everyone
One would reasonably expect both Moscow and St Petersburg to benefit from the exposure, during the group games and the semi-finals/final, which will be played there. Moscow is well known anyway as the capital, but St Petersburg, which is the home city of President Putin and was once itself the capital, has a more impressive history. Its historic centre is a World Heritage site and it has one of the largest art museums in the world, The Hermitage.
St Petersburg is a Baltic Sea port city and it does have numerous beaches. Further afield is Repino (or Koukkala, to give it its Finnish name), 30 km to the northwest on the Gulf of Finland. Repino has become a very upmarket resort for the area, with several four and five star hotels.
A beach at Repino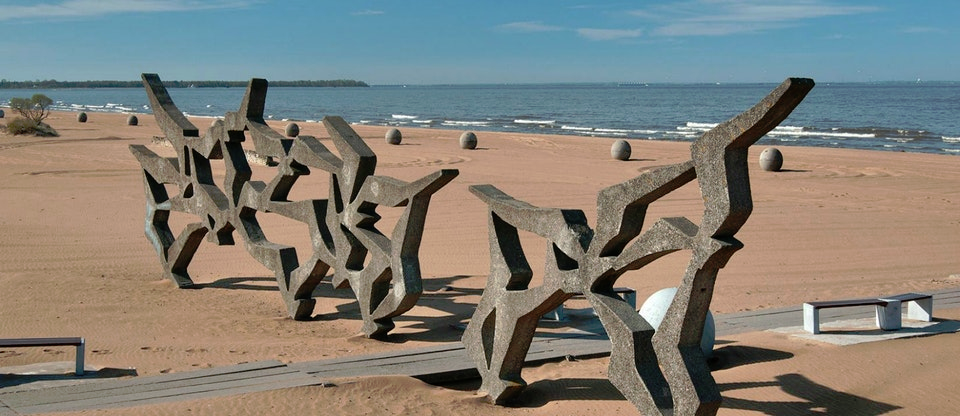 Repino is 30 miles from Pulkovo Airport, about the same as Benidorm is from Alicante Airport in Spain. Pulkovo hosted 16.1 million passengers in 2017, a fraction of the total at the Moscow airports. Currently 46% of seats are on international flights at Pulkovo, the airport is dominated by Russian carriers, and the chart of departing seats by country below strongly suggests that outbound travel to 'sun' destinations plays a large part in the airport's portfolio.
Saint Petersburg Pulkovo Airport, departing seats by country, week commencing 25-Jun-2018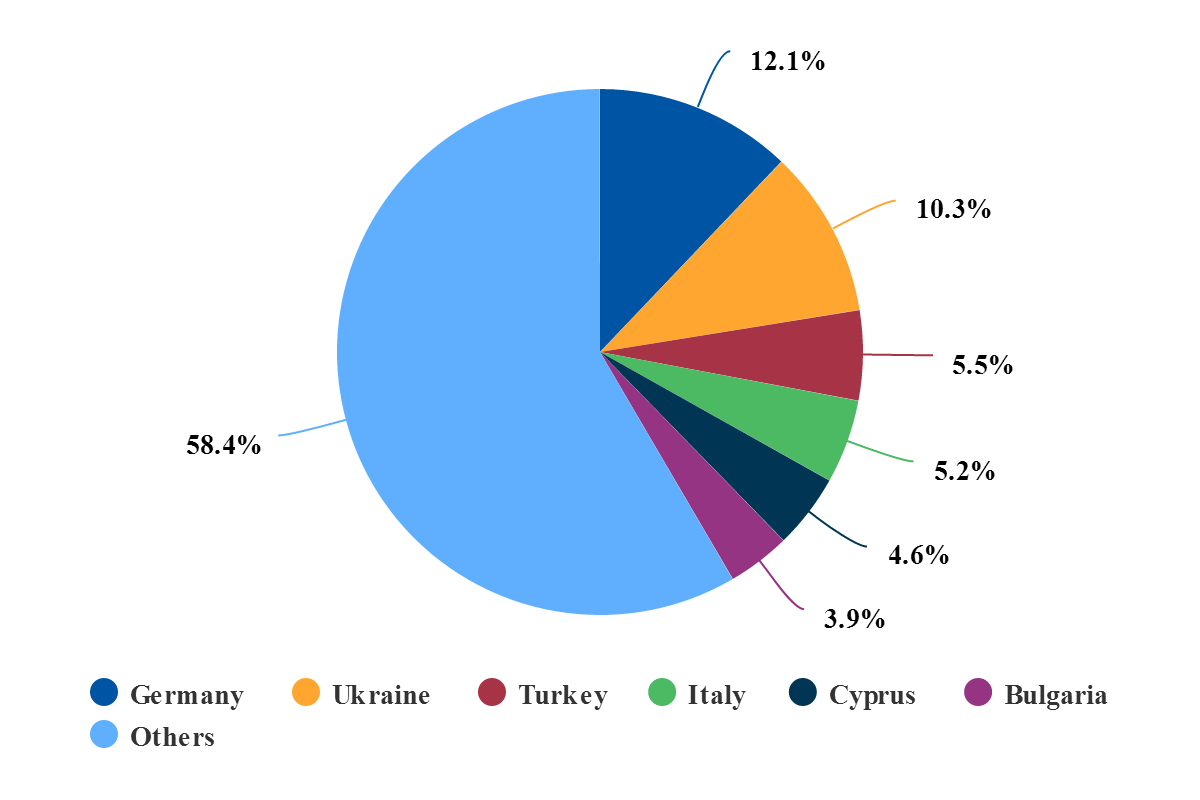 In order to benefit from the World Cup exposure foreign LCCs need to have a greater presence at Pulkovo. Right now all LCCs account for just 7.4% of seats. But that eventuality is subject to traffic rights and to economic sanctions.
Further east, the fourth largest Russian city
East of the Ural Mountains is Yekaterinburg, another city that might benefit. Known as 'the third capital of Russia', the fourth largest Russian city acts as a gateway between Europe and Asia in a similar way to Istanbul.
It is the fifth most visited city by Russians themselves, though much of that traffic is business tourism, especially for conferences. However, it has also recently ranked as the third most popular city with foreign visitors. Leisure tourism is increasing. Of primary interest is the last Russian Emperor, Nicholas II, and the royal family, who were killed by the Bolsheviks at Yekaterinburg after the 1917 October Revolution.
Koltsovo Airport at Yekaterinburg is less developed than Pulkovo, with just 5.4 million passengers in 2017. Again, there are few foreign airlines and slightly more LCC seats, but many international routes are oriented to outbound travel, rather than inbound.
A closed city is now very much open, to travel innovators
Nizhny Novgorod (Gorky until 1990) is another city that could receive the benefits of staging matches, if only because it was a closed city during the Soviet era, as a centre for the armaments industry. It was not possible to visit the city as a foreign tourist or even sometimes as a Soviet one. While much of the centre was destroyed by the Bolsheviks, there are over 600 unique architectural sites remaining. Such places inevitably attract 'first mover' and 'innovator' tourists, once they discover them.
Annual passenger numbers are close to one million. There are hardly any foreign carriers to speak of, 20% of seats are on foreign routes, and just 7.7% of seats are on budget carriers.
Kaliningrad has many attractions but is being outshone by neighbouring Lithuania
Finally, Kaliningrad, the Baltic Sea oblast (province) in the far west, separated from the mainland by Lithuania and Poland and annexed by the Soviet Union from Germany at the end of World War 2.
The oblast and city of Kaliningrad has almost become a showpiece for Russia owing to its western location, and the oblast has special economic status. The weather can be of Mediterranean standard in the summer (as is the case with nearby Klaipėda, Palanga and Nida in Lithuania), and tourism is particularly well developed along the Curonian Spit – a 100km long, curved sand-dune spit and World Heritage site which forms a lagoon separated from the Baltic Sea, and is shared by Russia and Lithuania.
Location of Kaliningrad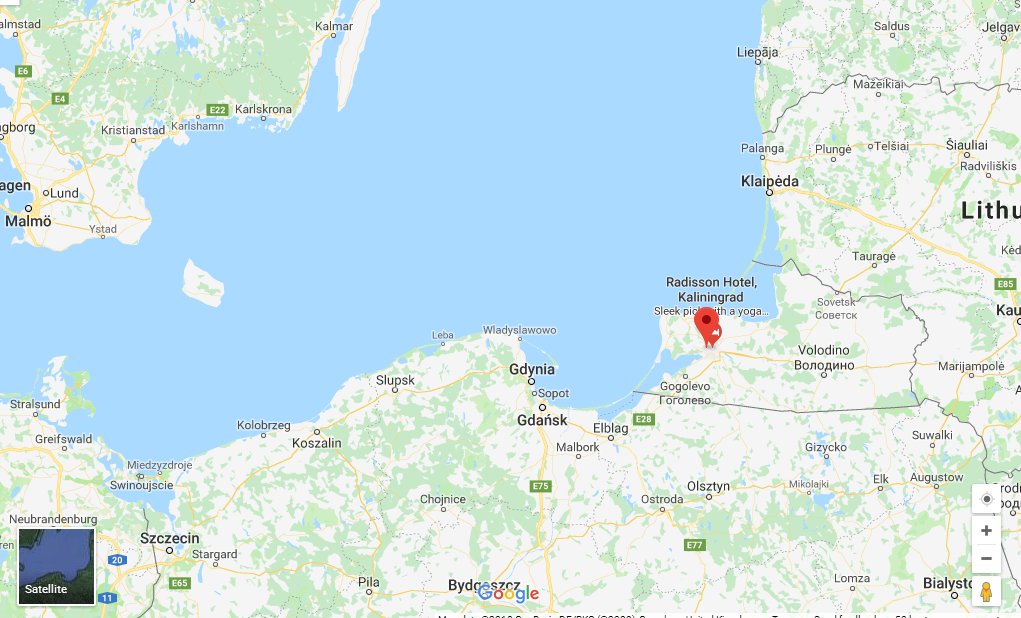 Source: Google Maps.
Considerable capital expenditure (USD240 million) has gone into the reconstruction of the runway and terminal at Kaliningrad Khrabrovo Airport, which can now handle 3.5 mppa.
In 2017 that traffic amounted to 1.78 million, so the local authorities will hope there can be a spin-off from the World Cup to match the growing foreign interest in the nearby Lithuanian resorts. But again, there is precious little foreign airline, or LCC (13.2% of seats), penetration. Kaliningrad also needs more accommodation.
Compare that with nearby (75 km) Palanga Airport in Lithuania (68.5% LCC), which even has a direct Ryanair flight from Glasgow, whose citizens usually prefer Málaga. How Khrabrovo would benefit now from the presence of KD Avia, the airline which operated a Russia/CIS/Europe hub there from 2005 to 2009.
So, four different cities which for their own reasons might benefit from the World Cup effect.
Whether or not they do will depend on some factors that are under their control and some that are not. They include: their own promotional efforts now while the competition continues, but also after it is over; also the mix of airline services at the respective airports, and economic and political factors that include how easy or difficult it is to get a visa to Russia.