Republic Airways plays it closer to the chest than usual
It has always been difficult getting information out of Republic Airways Holdings, Inc. Ask any analyst covering the company how difficult it is. That may simply be its strategy on how to handle inquiring minds. But this is a public company, one that has attracted much interest in the last few years as it loaned out millions of dollars to partners, later acquiring both Midwest and Frontier airlines and 10 ERJ 190s in return...
What happens beyond 2012?

Republic's lack of transparency just deteriorated further when it failed to webcast CEO Bryan Bedford's remarks before the Raymond James Airline Growth conference last week. Instead, it offered up the Power Point presentation, which was almost a mirror image of the presentation given in December at the NextGen conference, but not quite. See related report: Republic Airways provides clearest vision yet of consolidation strategy
Bedford revealed much about what it was doing with its growing empire in December and, last week, in a press release announced the death of Lynx Aviation – no surprise there – and the return of its Q400s which are being replaced with the ERJ 170s and 190s. The aircraft will be flying to more far flung markets than those served by the Q400s although all but two points have been dropped from the system. See related report: Q400s out of Frontier, Embraers in
But perhaps the transparency afforded in December troubled the airline enough to make it decide not to webcast the Raymond James speech. In its presentation, the company repeated that its branded network is larger in revenues at USD1.7 billion than its capacity purchase operations at USD1 billion, but noted the latter was very stable, with contracts expiring in 2012.
However, that is the near term when it comes to such deals and it may see changed remuneration on these contracts which could jeopardize its normal regional airline partner operating margin of over 8%. Even so, the 2012 contract only involves 15 of the 50-seat RJs for Continental; and the rest of the contracts stretch out until 2020.
On the To-Do list
The first half of this year is expected to be rough, given the many issues on which it much decide, including a new aircraft, completing the Midwest/Frontier synergies. It is also considering what to do about bundling or unbundling fares and fees. This would take about six to eight months because of the new technology necessitated by such a move. For now, both branded operations – which are increasingly becoming one with different liveries - have a la carte options; but only Frontier offers bundled fares.
The company must also choose a booking engine that would allow it to "harvest more synergies." Once duplicative IT facilities and back office functions are resolved in mid-2010, the company expects to save USD10 million. It is hoping to gain new job synergies in Milwaukee given the higher taxes in Denver. It is also working on moving away from GDSs in favor of the company's website and call center, a move that would realize USD8 million in distribution fees and commissions in the branded network. This will be coupled with about USD10 million in network revenue opportunity by mid-2010 as it rolls out its integration plan.
Other items on the agenda include choosing which alliance it will keep. A long time Delta connection partner, Republic must choose between Midwest's deal with Delta, originally forged with Northwest, or the minimal reservations linkage between Frontier and AirTran. The bets are leaning toward Delta - but with Republic it is anyone's guess. In the meantime, Midwest and Frontier began codesharing on 5-Jan-2010, which is expected to continue through the first half.
Aircraft economics to influence fleet decisions

The company is working with Boeing, Airbus and Bombardier – for its CSeries – on its aircraft needs and it expects to make a fleet decision in the first quarter. And, just as United took advantage of ordering aircraft at the bottom of the cycle, so, too, will Republic. Rationalizing its business as well as the number of aircraft types provides additional opportunity to improve the company's financials in 2010. It expects to save USD27 million just with fleet rationalization next year.
With the A319, Frontier has a decided cost advantage over the B737 operated by both Southwest and AirTran, which are at least in the same ballpark, according to Republic. However, its advantage over United's A319 is huge, at USD2,700 per block hour compared to United's USD3,500.
Narrowbody cost comparison: A319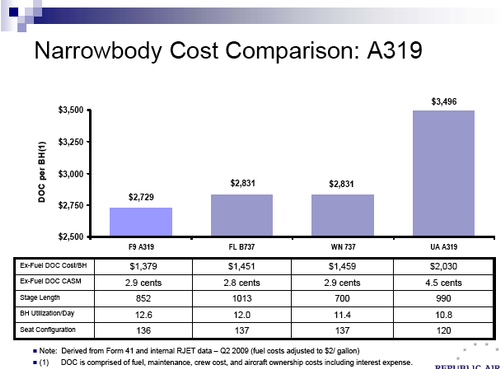 Source: Republic
It also holds a significant cost advantage over JetBlue and USAirways for the ERJ 190 and against AirTran B717s and Delta's DC9s. Its USD2,313 per block hour for the ERJ 190 compares to USAirways's USD2,817 and USDJetBlue's 2,848, according to Republic. AirTran's B717 clocks in at USD3,700 while Delta's DC9s cost a whopping USD4,127.
Narrowbody cost comparison: E190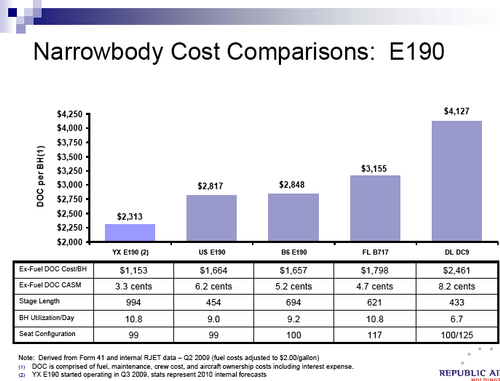 Source: Republic
The incumbent at Frontier is Airbus, a great product and customers love it, CFO Hal Cooper said last December. "Airbus has committed to lower operating costs for future deliveries and we believe it represents a long-term opportunity for any consolidation that may come in the airline industry," he said. "Boeing has also committed to improve the fuel burn of the 737-700/800 and it offers a longer range and the potential opportunity for new markets in any airline consolidation.
"Interestingly, we are evaluating the Bombardier CSeries," he continued, noting its 140-passenger capacity. "They are marketing a 15% or higher lower fuel burn, lower acquisition costs, better operating costs, better mission capability and a higher degree of passenger comfort. That is a very interesting aircraft to us and, unlike Boeing or Airbus, we can tap into some very attractive export financing through the EDC there."
Market share holding firm
Despite Air Tran's insistence that Midwest is losing market share, the airline actually gained a point since Republic first revealed the statistics in December. Midwest had a 34.1% market share as of October 2009 and that share is up to 35.1 year-end December, according to Republic. It still has a lot of building to do to get back to 53% of the market enjoyed in 2007. Making that tougher is the ambitious competition laid on by both AirTran and Southwest. Both have pointed to the Northern Illinois/Chicago market as growth opportunities.
Meanwhile, with its push in the Milwaukee market and pouring in service, AirTran's efforts resulted in building its market share to 27.2% from 8.7% in 2007. Delta's share is down by a third to 14.2 since December 2008 and only 2ppts since 2007 after a Northwest push in the market in 2008. Finally, Southwest, which wasn't in the market, now has an 8.6% market share. Other airlines have also dropped from 20% to 14% between 2007 and 2009.
Milwaukee market shares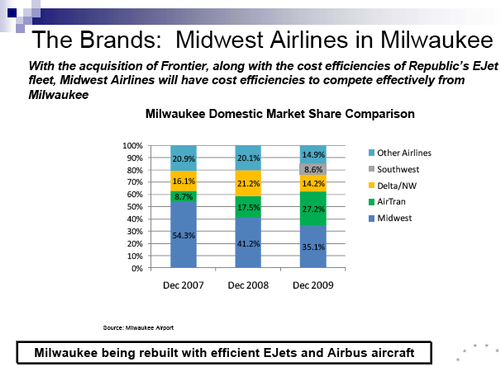 Source: Republic
Denver shows a similar story with Frontier losing market share with 22% down from its Nov-2008 high of 24.7%, still not bad given the competition. Meanwhile, it is basically holding its own against United which has dropped from 54% in Nov-2007 to 45.6% last year. United is still clearly the 900-pound gorilla in the market. But Southwest nearly tripled its share during that time from only 6% to 15.95% in Nov-2009.


Denver Airport market share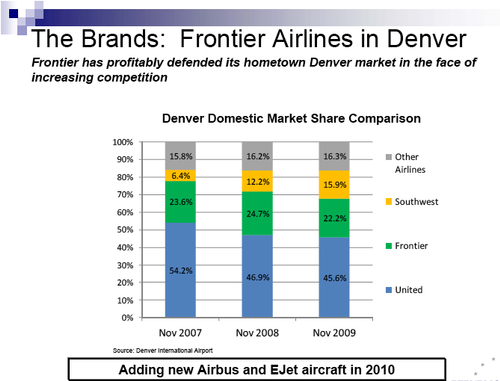 Source: Republic
Mr Cooper indicated Republic Airways Holdings would finish the year with USD325 million and USD2.7 billion in debt, with all but USD50 million, secured by aircraft. "We expect to increase our book value per share during the fourth quarter by 15% to USD16.43 per share," he said.
Cash strategy: "about 10% of trailing 12-month revenue"
Another question frequently asked of the company is how it thinks about cash and what it needs to operate the company. "For the fixed-fee business we use a metric of about 10% of trailing 12-month revenue which is about USD100 million," said Cooper. "I could argue it is lower because it is a stable business which produces a consistent cash flow. On the branded business, if you want to say 20% is a more acceptable amount of trailing revenues, that's an additional USD340 million for a total about USD450 million. That USD325 million is short of that so clearly we want to build cash revenues in 2010.
"I should point out that we have no aircraft financial obligations is 2010, no unusual debt obligations and we have a combined business that is going to produce positive cash flow," he continued. "So we don't feel compelled to go to market to raise cash. We're open to it, but we're not compelled to and we think we have enough cash to run the business. But if you look at cash on comparative basis – and it is important to look at the total cash balance – we are the only airline that has credit card hold backs of 100%. Actually we acquired two credit card processors which is good news since they are both on short-term agreements and we are negotiating a long-term agreement. Republic also has a strong record of earnings. This year you will see a significant dip as we transition the branded business to a consolidated platform with synergies improving that in 2010. It will mostly come in the second half of the year as we transition in Q1 and Q2."
Consolidation to hinder expansion; bad news for the RJs
In last week's presentation, Republic noted that growth prospects are limited by industry consolidation. It pointed out that there are fewer hubs with the reconfiguration of domestic networks. It expects more legacy consolidation in the future. And, despite enough capacity to equal the size of a US Airways having been removed from the market since 2007, much more remains to be done if airlines hope to wrest control of pricing.
Particularly vulnerable, according to Republic, is the 50-seat RJ market which is in oversupply, forcing declining margin trends. Republic agrees that future growth will come from poaching market share from other airlines rather than by organic growth opportunities. For that reason, the share gains will come at the cost of lower margins.
Republic expects to scope relief in the coming wave of labor contracts, limiting the expansion opportunities for larger RJs in the 70+-seat range.
Outlook: USD24-51 million pre-tax profit

Republic is expected to report 2009 and fourth quarter earnings in the coming weeks. Its guidance for 2010 shows flat passenger revenue per available seat mile for its branded capacity on a capacity increase of 8%-10%. Meanwhile, fixed fee capacity will drop 7%-9% with total revenues amounting to USD2.7 billion by the end of this year. It also expects a range of USD24 million to USD51 million in pre-tax income in 2010 with EPS at between USD0.42 to USD0.92, with USD0.66 coming at the midpoint. 1Q2010 it will be between 40 and 50 cents, and 20-30 cents in the second quarter.
Its business plan assumes USD2.48 per gallon all in for the year or about USD82 per barrel. It is about 25% hedged for each of the second and third quarters. Its fuel consumption will be about 238MM. For the company, each USD1 move per barrel spot price equals USD5.5 million swing in annual costs.
With declining margins, everyone is becoming highly sensitive to fuel costs.