Qatar A/W plans 10% stake in American Airlines: Qatar must win unions over for strategic victory
Analysis
Qatar Airways' mercurial CEO Akbar Al Baker is not lacking in a sense of humour. But more to the point, he is highly astute. He has led, and remarkably grown, Qatar Airways over 20 years, making His Excellency – "chief", or by his own words, "the dictator" – the longest serving top executive of a major airline.
So when Mr Al Baker, with immaculate timing, announces plans to spend USD2.4 billion for a 10% stake in American Airlines, whose CEO Doug Parker pushes back that the stake is unwanted, the odds of this surprising, bold and costly development are firmly in Mr Al Baker's favour. If, as seems likely, his vision is once again correct, and the American stake leads eventually to a joint venture, Mr Al Baker will achieve a strategic masterpiece with significant implications for airlines in the Gulf, Europe and North America.
North America is Qatar Airways' largest long-haul market, and the region is too fragmented to be served successfully without a deep partnership. Even better, regardless of the noisy rhetoric, US airlines have no interest in serving the markets that are core to Qatar and other Gulf airlines. But American Airlines' management itself and, more recently its unions, have embraced the Delta-led theatrics of the anti-Gulf airline campaign.
Despite American Airlines CEO Doug Parker's disavowal of Qatar Airways, the Gulf carrier is a recently admitted member of the oneworld alliance led by American - a membership that Mr Parker had the power to veto, but did not. Qatar will now hold "passive" significant minority shareholdings in three of oneworld's leading (and profitable) airlines: IAG, LATAM and now American. That seems to make a lot of sense.
At IATA AGM Qatar's Al Baker told American's Mr Parker about a stake; had previously floated a JV
On 22-Jun-2017 American Airlines filed a regulatory notice that Qatar Airways was planning to acquire American shares on the open market. As Qatar is a foreign company, American was obliged to give notice.
American subsequently commented that earlier in Jun-2017, at the IATA AGM in Cancun, Mr Al Baker had told American CEO Doug Parker that Qatar planned to invest in American.
At the CAPA-ACTE World Aviation Summit in Amsterdam in Oct-2016 Mr Al Baker had said that Qatar was planning two more airline investments of high calibre. Mr Al Baker added that "We are not going to collect crap".
Qatar Airways CEO Akbar Al Baker interview with CAPA TV: Oct-2016
Mr Al Baker also expressed interest in a JV with American. As CAPA observed at the time:
Since Qatar joined oneworld and partnered with American, American has expanded its relationships with both Qatar and Etihad. American has even done this while denouncing Qatar as being part of the alleged subsidised Gulf airlines that the big three US airlines rallied against. Mr Al Baker did not like American choosing a bilateral partner over a fellow oneworld member, saying: "I don't see the sense of them doing business with two airlines from the same region and diverting more traffic to Etihad, ignoring the alliance partner Qatar Airways".

As for the prospect of American and Qatar having a JV with British Airways/IAG, Mr Al Baker was opportunistic: "I'm a businessman and I would be delighted to do this with American. I think the American Airlines administration has been misled by Delta and I think in the long run they will realise that a partnership with Qatar Airways is a very robust business proposition for them".

In his opening remarks Mr Al Baker referenced how airlines long doubted Qatar Airways' growth ambitions. Having proved naysayers wrong, Qatar Airways is narrowing the gap in size between itself and Emirates. Qatar's planned next steps indicate continuing capacity growth while adding strategic growth.

Qatar Airways is increasingly becoming too big to say no to.
In a letter to employees (reproduced below) Mr Parker writes that American cannot control who buys its shares on the open market. Mr Parker writes "we aren't particularly excited about Qatar's outreach".
Thursday, June 22, 2017
A Message from Doug Parker
Dear Fellow Team Members,
As you likely know by now, American recently received notice as part of the Hart-Scott-Rodino Act (a federal process governing large purchases of stock of publicly traded companies) that Qatar Airways has indicated its desire to make an investment in American Airlines.
American Airlines is a publicly traded company, which means our stock is available for anyone to purchase on the Nasdaq Stock Market. We don't own those shares – they belong to the shareholders who own this company – and we cannot control who sells or purchases them. But this is an important development for American and one I wanted you to hear about from me directly.
While anyone can purchase our shares in the open market, we aren't particularly excited about Qatar's outreach, and we find it puzzling given our extremely public stance on the illegal subsidies that Qatar, Emirates and Etihad have all received over the years from their governments. We remain committed to that effort, and we will remain so even with this potential investment.
While today's news for some of our team may be puzzling, at best, and concerning, at worst, here's what we know for sure: We will not be discouraged or dissuaded from our full court press in Washington, D.C., to stand up to companies that are illegally subsidized by their governments. We stand for American Airlines, and we stand for all of you and the amazing work you do every day, around the globe, to take care of our customers.
If anything, this development strengthens our resolve to ensure the U.S. government enforces its trade agreements regarding fair competition with Gulf carriers, because we must make it crystal clear that no minority investment in American will ever dissuade us from doing what is right for our team members, our customers and all of our shareholders. And do not worry, per U.S. law, no foreign entity can own more than 25% of a U.S. airline, so there is no possibility that Qatar will be able to purchase enough of American to control or influence our Board, management or our strategy.
Of course, it may just be that Qatar Airways views American Airlines as a solid financial investment, because of the great work you all are doing every day. In that case, we would agree with them. Your results are earning the confidence of our customers and our shareholders every day, and it's a privilege to work with and for all of you. Thank you for making American all it is and will be in the future.
American's view is heavily shaped by its sensitive unions
In his letter to employees, Mr Parker is seemingly writing less for what is in the interest of the airline and shareholders but rather what American's unions want to hear: Qatar cannot take a majority stake and cannot control the airline.
In its regulatory filing, American states: "The proposed investment by Qatar Airways was not solicited by American Airlines and would in no way change the company's board composition, governance, management or strategic direction."
American has been consumed with quelling internal problems. Mr Parker skipped a meeting with US President Trump in order to attend an internal management event. American's discontented unions have especially been problematic and American management angered another stakeholder community – Wall Street – by giving pay rises to staff.
Having finally improved labour relations, American was not about to rock the boat by giving any signal that Qatar's investment would actually be good. Nor was American going to give the impression that the anti-Gulf campaign American has engaged (perhaps distracted) its employees with is a counter-productive effort based on lies and hypocritical statements.
See related report: American Airlines pay raises right to ignore Wall Street's myopia. But beware repeating history
Unions fear a loss of flying; Qatar replacing BA flying during strike
Aside from their vague competitive fears, American's unions need only to look at the airline's close partner British Airways to have fears stoked. British Airways is applying for permission from UK authorities to wet lease seven narrowbody aircraft from Qatar Airways to replace capacity BA will lose during a forthcoming cabin crew strike.
To unions, this gives rise to two fears: first, that their measure of a last resort – a strike – may be mitigated by bringing in capacity from elsewhere. BA has reportedly done this before but with other UK operators. Qatar Airways is not just foreign, but seen by unions as a meddlesome airline with poor labour practices.
Second is the unsubstantiated fear that wet lease flying from an airline with lower costs could be repeated, and even become something normal, displacing jobs.
Unions immediately opposed the proposed stake, with the following comments, as reported by The Street:
Allied Pilots Association spokesman Dennis Tajer: "This is an action of aggression by the Qatar government and we take strong offense to that. They are flush with cash because the government is subsidizing them. Now they want to come into our house and start buying the furniture. This has got to be stopped."
Association of Professional Flight Attendants President Bob Ross: "The intentions of Qatar Airways are clear. They are using enormous government subsidies to gain a greater foothold in U.S. markets. They're coming after our routes, which means the jobs of our members are at stake. Allowing Qatar Airways a major stake in American Airlines can only undercut our efforts to preserve good jobs for U.S. workers and maintain open travel at affordable prices for U.S consumers."
Despite the US growth of Gulf airlines and others like Norwegian in recent years, US airlines recently promoted figures showing how steeply jobs growth had recently occurred in the US industry - well above 2010 levels and well above the overall market jobs growth. No obvious signs there of any erosion of employment resulting from foreign competition. (What the figures did not point out was that, thanks largely to (arguably self inflicted) bankruptcies, employment levels are still below those of 2000. The real threats to the US airline industry are from within, not outside.)
US airline employment (full-time and part-time): year end 1990-2016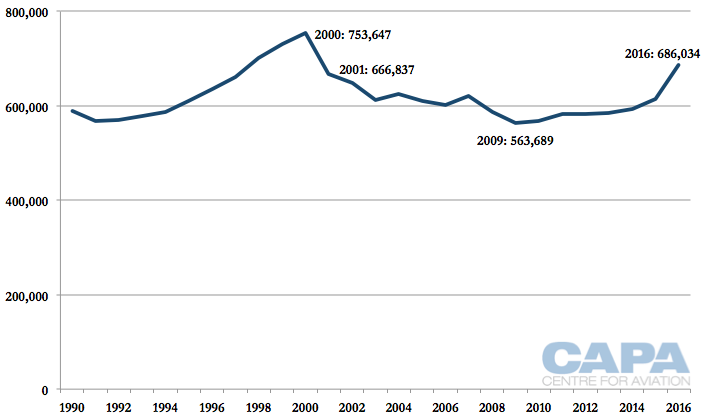 North America accounts for approximately 6% of Qatar's seat capacity and 17% of ASKs in Jun-2017, with figures adjusted to include what Qatar's network would be without the recent airspace restrictions.
The direct and indirect contribution of North America to Qatar Airways is higher: since the vast majority of passengers connect beyond Doha, North American itineraries are easily a fifth, or a quarter, of Qatar's flying.
Qatar Airways ASKs by region: week commencing 19-June-2017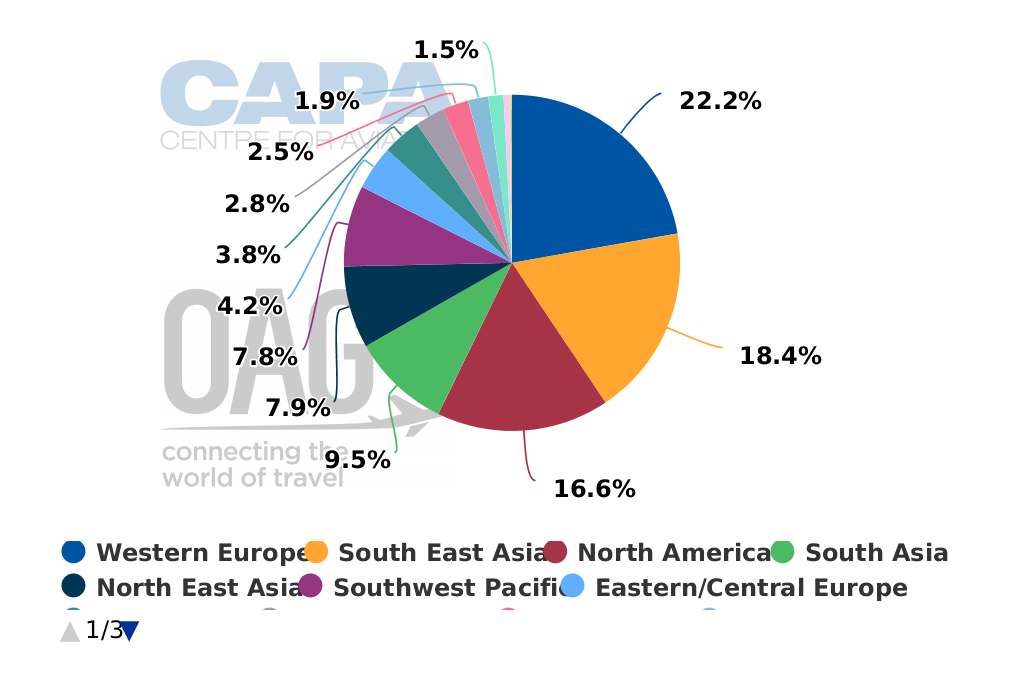 Western Europe and Southeast Asia are larger regions for Qatar and they are also entwined, since Southeast Asia is the main connecting market for Western Europe. Qatar does not have as great a need for strategic development there: firstly, Qatar Airways has a JV with International Airlines Group, IAG, which includes British Airways – the home airline of Qatar's largest European market, the UK. Secondly, Qatar Airways serves primary and secondary cities in Western Europe and Southeast Asia, giving Qatar significant online coverage.
North America is different: even with a dozen or so North American destinations and domestic US codeshares (on American Airlines), Qatar does not have a similar coverage in North America to what it has in Europe.
Loyalty programmes are strong, and although Qatar Airways has a frequent flyer relationship with American through its oneworld membership, Qatar would like more pervasive reach.
North America also offers a remarkable (mutual) opportunity. Qatar Airways connects North America with the Middle East, Africa, South Asia and Southeast Asia. These are all regions where American Airlines is absent - not because they are kept out by unfair competition, but because these distant markets cannot economically be served on their own metal. This is a different situation from the one faced by Western European airlines, which also serve the Middle East, Africa, South Asia and Southeast Asia.
American does maintain a limited virtual presence in those regions through partnerships. Unlike Delta's key partner AF-KLM, or United's Lufthansa, American's IAG partners however tend to have a smaller presence in those regions. British Airways' operation may be large in India, but given Heathrow slot constraints, BA is increasingly focusing on O&D traffic, giving fewer opportunities for American to offer connections.
There are a number of regulatory steps for Qatar Airways to navigate in order to acquire a 10% stake. Initially, Qatar will be limited by government regulation and American's shareholder rules.
An investment in American would effectively provide a link with Qatar's investments in IAG and LATAM. In buying a minority stake in American, Qatar is buying into an airline with five times as many seats and twice as many ASKs. American is the largest airline Qatar has invested in – and, indeed, the largest any airline has invested in.
See related reports:
Available seat capacity for American Airlines, IAG, LATAM and Qatar Airways including flagship airlines in groups: week commencing 03-Jul-2017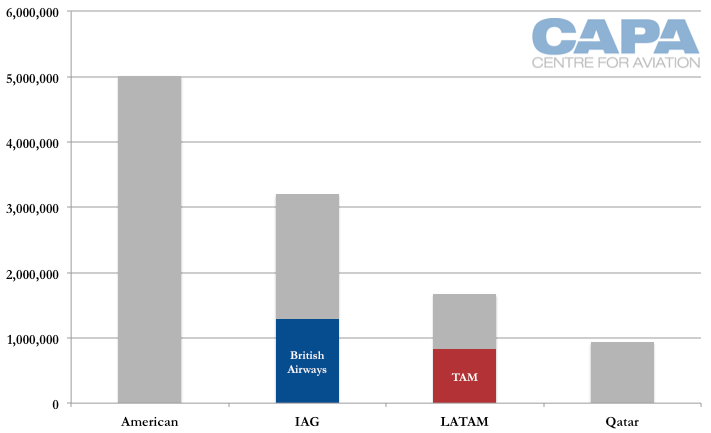 ASKs for American Airlines IAG, LATAM and Qatar Airways including flagship airlines in groups: week commencing 03-Jul-2017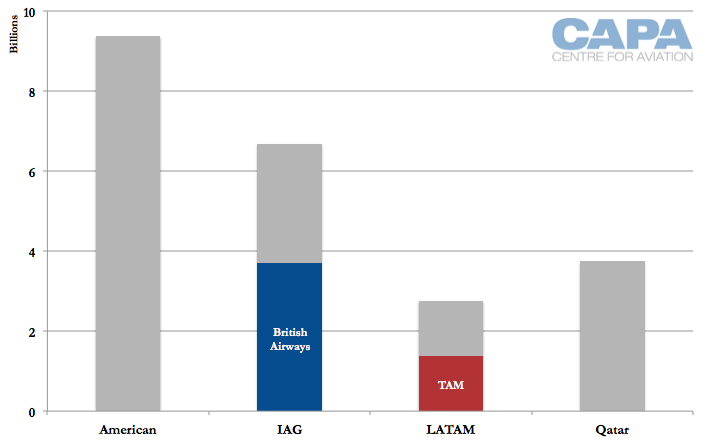 Financially, American's revenue is four times that of Qatar, with a net profit five times as much.
American, IAG, LATAM and Qatar Airways group revenue, operating profit and net profit: 2016/2017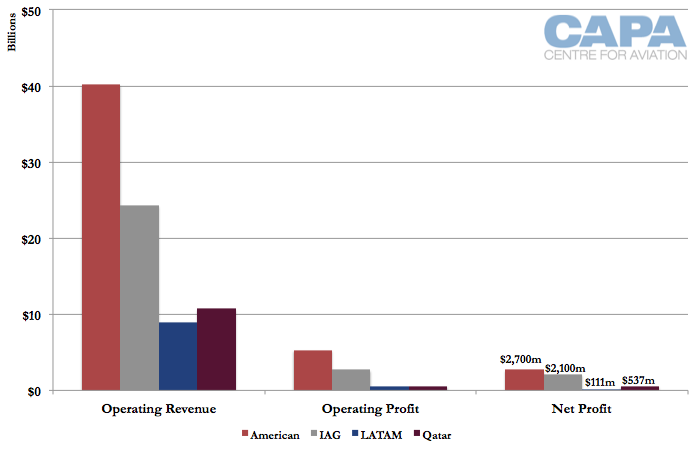 There are risks of further fragmenting the oneworld alliance
There are increasing risks that Qatar's large footprint and investments will fragment oneworld into a camp of those which partner the airline and those which don't. An American stake would give Qatar minority ownership of airlines in Europe (IAG), North America (American) and South America (LATAM).
Of other key oneworld members: Qantas and Malaysia Airlines partner with Emirates, while Cathay actually experimented and terminated a JV with Qatar. JAL's Japan geography gives it limited relevance to the Gulf (Qatar Airways has withdrawn from Osaka Kansai). Royal Jordanian has long felt pressure from Qatar, while Finnair increasingly feels pressure despite some geographical isolation and Finnair's focus on Europe-North Asia, where connections through the Gulf are far more circuitous.
The Qatar intervention adds to existing concerns about the alliance's lack of a member airline in mainland China. Cathay Pacific relies heavily on the mainland Chinese market, which often puts it at odds with fellow oneworld members who seek stronger direct ties with the mainland airlines (Cathay itself has close links to Star's Air China, through joint cross shareholdings and partnership).
Qatar's solidifying its North America presence will emphasise Emirates inability to establish a North America partnership. Emirates could probably have joined oneworld instead of Qatar, and although Emirates tried hard - with very convincing arguments - to cement a relationship with American, the timing was not right.
Emirates does have partnerships with JetBlue and Alaska Airlines. They are successful and deliver. But they are short of what American could have delivered for Emirates.
Etihad and Qatar both partner with American and have loyalty programme agreements, but Emirates does not have such an agreement with any of the three big US airlines.
American Airlines management has a tree to climb down – there doesn't need to be a barking dog
The closing of airspace and turmoil in regional politics have not prevented Qatar Airways from planning this stake, although the move was made shortly before Saudi Arabia - apparently with encouragement from President Trump - initiated the draconian overflight bans on Qatari flying. Shortly after Mr al Baker made the approach to Mr Parker in Cancun, the Qatar CEO was forced to fly home immediately to deal with the issue.
Questions have been raised about whether the stake is somehow related to geopolitical events and is meant to add further Qatari interests in US assets. But the stake was planned well beforehand: timing was a coincidence, not the light bulb.
Mr Parker's letter to employees focuses on Qatar Airways wanting to place the stake for ulterior strategic needs. Mr Parker raises the possibility that Qatar is perhaps investing strictly for financial reasons: "It may just be that Qatar Airways views American Airlines as a solid financial investment...In that case, we would agree with them".
Qatar Airways responded: "We are glad to see American Airlines' CEO Doug Parker's perspective that he agrees with Qatar Airways' belief that American Airlines is a solid financial investment".
There is some support for American's offering a financial return; Berkshire Hathaway, which invested in American, certainly thinks so.
American Airlines has much to gain - and little to risk in a Gulf airline partnership
But Qatar's stake in American is unlikely to be purely financial – such deals seldom are, in aviation. Qatar Airways is planning for a long courtship to make American Airlines its JV partner. Perhaps later, IAG can be folded in. As a minimum it probably compromises any alternative Gulf airline partnership possibility.
American has evaluated Gulf partnerships but never concluded a deal. At a time when Qatar's competitors Etihad and Emirates are re-evaluating their strategy, Qatar Airways is marking its territory. And American has been the least overtly committed to the anti-Gulf airline campaign. From a shareholder position it has a lot to gain from a partnership.
A stronger American-Qatar partnership makes a lot of sense, but logic is not a cornerstone of the airline industry.
Mr Al Baker recently described the geopolitical situation at home as being one of other countries climbing up a tree and now not knowing how to get down. The same is true for American's management and unions, although coming down this tree gives little loss of face, and in fact has tremendous potential upside for having access to a growing part of the world. This logic may not appeal to its unions but management must be well aware of the upside. They did agree codeshares with Etihad and Qatar and expanded codeshare access, with significant revenue benefits to American.
They are also aware of the limited downside; unlike Delta and United, whose European partners feel more threatened by the Gulf carriers, American's partner British Airways was responsible for inviting Qatar into the tent. There would be little opposition there and British Airways' codeshares in the North Atlantic JV could be very effectively supplemented by Qatar's.
While the parties are up in the tree, there is no need for shouting from below. Mr Al Baker is better known for achievements through force and quips, but he is a shrewd operator who now begins a long journey convincing American management and unions of his airline's benefits.
After all, even the mighty Lufthansa, the champion of anti-Gulf tactics on a par with Delta, is partnering with Etihad and letting its unions warm up to the former devil.
Sooner or later the American board and the airline's investors must surely recognise the wisdom of a broader partnership (and in the financial benefits of concluding it before someone else does).
But overcoming the now ageing rhetoric against the Gulf carriers and its inherent nationalism is not a challenge to be dismissed lightly. American's unions, now much better educated in airline management issues than in the past, must also be well aware of the logic of this path. Whether they can disentangle themselves from the interests of other national union prejudices and pursue a course that is in American's own interests will partly depend on management's ability to navigate that new direction.
As far as Mr Al Baker is concerned, a closer relationship with American is now only a matter of time. It is, simply, an inevitable outcome. In any rational business it would have happened long ago.