10-Sep-2009 12:05 PM
Qantas needs large profits to fund fleet acquisitions; AirArabia to launch Egyptian LCC
Qantas' shares gained 3.7% yesterday in a solid local session. Following the market close, CEO, Alan Joyce, warned that the carrier may require new loans or may be forced to reduce its cash reserves if profitability does not improve, to fund the AUD19 billion (USD16.4 million) of planned aircraft acquisitions over the next ten years.
According to Mr Joyce, "This was a poor year, but we still achieved AUD1.1 billion in cashflow. Assuming we achieve the same result in the year ahead, we still have a massive shortfall before us. And in two years' time, another meagre profit won't be enough for Qantas to be able to afford the fleet we have on order. Our current calculations would mean that we would have to produce a profit of USD2 billion to actually fund the fleet on order in that year. We can only do this by either generating more revenue or being more efficient."
Mr Joyce stated his remarks were designed to convince pilots of the need to boost the airline's profitability.
Asia Pacific selected airlines daily share price movements (% change): 09-Sep-09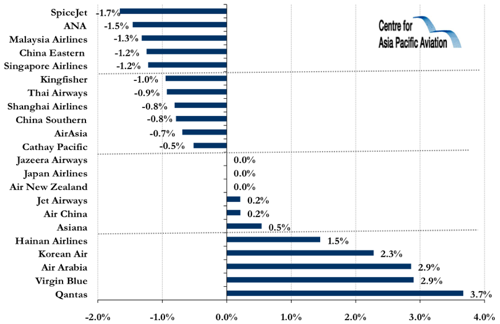 Air Arabia to launch LCC in Egypt with Travco Group
Air Arabia shares gained 2.9% yesterday, on the same day the LCC signed a JV agreement with Travco Group to launch a new LCC in Egypt. The new carrier will serve Europe, the Middle East and Africa and will be Air Arabia's third hub after the UAE and Morocco. The new carrier reportedly has start-up capital of USD50 million and will operate A320 aircraft, which will be allocated from Air Arabia's order for a 44 A320s.
See related article: Air Arabia to launch LCC in Egypt with Travco Group; the Middle East's seventh LCC
China Southern sees double digit passenger and cargo growth in Aug-2009

China Southern Airlines shares slipped 0.8% yesterday. The carrier reported a 33% increase in passenger numbers in Aug-2009, with growth across the board coming off last year's weak (Olympics security-related) base. Cargo volume rose 16%, due to double-digit domestic and international growth (comparatively, Hong Kong/Macau cargo volumes were down by 20%). Passenger load factors were also up, by 5.7 ppts to 77.4%, with growth across domestic, regional and international operations.
Jet Airways shares unaffected by second day of flight interruptions
Jet Airways' shares remained unaffected by the second day of flight interruptions by the carrier's pilots. A total of 163 pilots and 198 first officers have reported sick, representing 40% of the carrier's pilots and causing 260 flight cancellations yesterday, including 174 domestic services and 32 international services.