Production to increase as Boeing posts increased profits on lower revenues
Boeing is moving forward with plans to ramp-up production by 40% over the next three years to alleviate its backlog of more than 3400 aircraft and growing customer demand, said the company during its earnings call yesterday. It announced it beat analysts' expectations by posting net profit of USD586 million for the first quarter, up 13% from 1Q2010. The profit came on revenues of USD14.9 billion, down 2%.
The company was quick to assuage production fears following the Japanese earthquake.
"Let me quickly touch on our assessment of the impact of the situation in Japan and the unrest in the Middle East," said CEO Jim McNerney. "These events in Japan have not had a significant impact on our operations. Our major partners there are managing challenges with electric power availability and stressed infrastructure and transportation systems, but they are generally performing well. We have had no significant delays in parts deliveries. Certain sub-tier suppliers did sustain damage during the events, and we will continue to monitor that situation in the weeks ahead. We've also closely monitored events in the Middle East but at this time, don't expect a significant impact on our business."
However, it seemed no further along in making its narrowbody decision by repeating it prefers a new product over a re-engined B737. Indeed, it is pushing back the decision from mid-year to the end of the year. Instead, the company is biased to keeping the 737NG line "fresh with updates", according to CFO James Bell, while it develops the new narrowbody programme, expected to enter service about 2019/20 compared to the neo in 2015. But none of the options are off the table including doing a re-engine and clear-sheet programme, although Mr McNerney called that highly unlikely.
"The A320neo will not seriously erode our customer base if there's a new airplane out there three or four years after they introduce the re-engining," said Mr McNerney. "Part of the judgment is deciding that that's true. I think my personal view is that we're not going to lose customers for a few years with a significantly better airplane in the offing and a continually improved airplane in their fleet today. So just to jump to a new aircraft engine type, I mean that doesn't make sense if you're an operator. But that's the judgment we have to validate as we go through this."
The company is awaiting the end of the year before making a decision when "it will have a sharper view of new airplane versus re-engine", Mr Bell said in response to analysts questions during the earnings call early Wednesday morning. "As you know, most of the data and customer feedback is suggesting to us that a new airplane option is the most favourable but we'll get to that decision on a timely basis."
New B737 an orderly transition
Mr McNerney indicated the timeframe seemed to be what the market wants given it will deliver new technologies that may eclipse what Airbus is offering with the neo. "We see a plane that will be sort of an orderly transition from the heart of the market today," he added, "maybe a slight upgrading in terms of capacity of the airplane."
A slight upgrade in seat count is music to Bombardier's ears since it signals that Boeing and Airbus are both leaving the below-150-seat market to the Canadian manufacturer's CSeries. However, McNerney indicated that the neo "seems to have done a good job fending off the Canadians in the Airbus customer base". Even so, Mr Bell's comments about addressing the "heart of the market", defined as the 145 to 185-seat range seemed to push Bombardier's top markets. He also suggested that Boeing will be addressing the B757 space in some way but did not detail how. However, he seemed to indicate it would be part of the new aircraft package.
"The real story about the airplane will be much more economical, much more efficient for customers to use," said Mr Bell. "That's what that market segment needs and we're in the definition process. Airbus hopes to close the gap they've got with us with cash-on-cash cost with their re-engining and we hope to stay ahead of that gap-closing activity so we're not standing still over the next nine years at all. The re-engining option is still being looked at, but I'd be less than candid if I didn't say the leader in the clubhouse is the all-new airplane."
He didn't rule out a B737 re-engine, as usual, and responded to a question saying it was not probable.
"I think the logic goes if you're offering a new plane just a few years after your competitor is offering a re-engined plane and you're already continually improving what you've got, that step does not need to be taken," he concluded. "But all options remain on the table. I've given you the bias as to where the data is pushing us right now. But, you know, that is one of the options that we're looking at."
The executives also addressed the suspected manufacturing issues uncovered as the result of the Southwest fuselage tear on April 1. "It think we're still sorting through it," he told analysts. "There is not a final conclusion. I think the initial data we are seeing is suggesting a possible workmanship issue rather than a design issue across the fleet. In any case we want to get to the truth as quickly as possible and support the inspect and any re-work that's needed to make sure that the flying public is as safe as possible."
Pricing has stabilised
They also had an interesting exchange with analysts on competitive pricing and Mr McNerney said pricing has stabilised.
"I don't think we see a world where pricing is going to head the way it did in the late '90s, early 2000s where just massive competition on every deal and price deterioration, significant across the industry," he said. "On the other hand, we don't see this wonderful world where we're going to be able to raise price everywhere either. I think we see a pretty even environment with a lot of smart strategy around customer and around product, is going to produce an environment where we can hold on to our margins."
First quarter revenues and earnings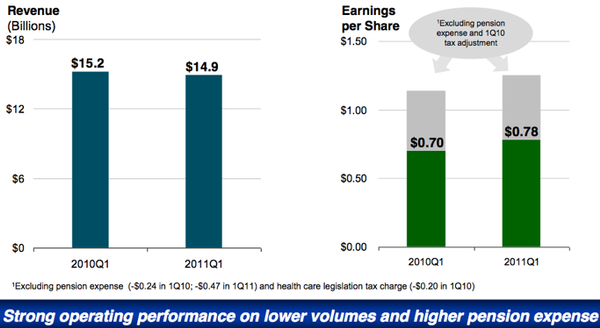 The company reported strong orders for the quarters taking in net orders of USD23 billion adding to is USD329 billion backlog.
Mr McNerney echoed his airline customers in reporting the strengthening economy although there are some regional uncertainties – the Middle East and Japan, for instance. However, growth rates have moderated after reaching peak levels last year. He indicated utilisation rates are improving for both single and twin-aisles.
First quarter revenues for Boeing Commercial Airplanes dropped 5% to USD7.1 billion on lower B777 deliveries. It posted a 7.2% operating margin reflecting lower deliveries and higher R&D.
The first delivery for the 787 is expected to ANA in the first quarter, having surpassed 3500 hours on 1250 flights. Firm orders total 835 from 56 customers.
Commercial Airplanes booked 153 gross orders during the quarter while 47 orders were removed resulting from the cancellation from Dubai Aerospace Enterprises, bringing net orders to 106, up from the year-ago period when net orders were 83 aircraft. Backlog remains strong with over 3400 aircraft valued at USD263 billion.
"Notwithstanding the recent elevated oil prices, which we continue to monitor, the current combination of strong economic fundamentals, continued air traffic growth and increasing utilisation is generating high demand for both growth and replacement airplanes," said Mr McNerney. "Widebody interest has been especially strong as highlighted by the dramatic increase in orders we have taken so far this year on the 777, 46 to be exact, with more expected to follow."
He reported the completion of 95% of 787 flight test points for the Rolls-Royce engines with 75% complete for the GE engines resulting in the retirement of significant high-risk test conditions. "The remaining flight test points consist primarily of function and reliability and ETOPS," he said. "Our internal testing has validated the majority of the remaining flight test conditions, and we are working closely with the FAA, as these final test points are completed for certification."
He assured analysts the company was managing the change incorporation process on 787s already built.
"We have dedicated resources in place and are using a modified production line approach to address this statement of work," he explained. "As we've noted previously on these calls, the delivery schedule is composed of a mix of airplanes coming off the production line and airplanes completing the change incorporation process."
Mr Bell reported Boeing Capital continues to perform well as it reported USD52 million of pre-tax earnings in the quarter. The portfolio balance at quarter end was USD4.5 billion, down on normal runoff and modest asset sales, with no volume for new aircraft. Other segment expenses were USD22 million, while unallocated expenses were USD210 million, up from last year, driven by higher pension expense.
Boeing ended the quarter with USD7.8 billion in cash and marketable securities. Our cash and debt balances reflect the first quarter repayment of USD786 million of Boeing capital debt.
"We are maintaining our earnings per share guidance at between USD3.80 and USD4 per share and our commercial deliveries forecast at between 485 and 500 airplanes," he said. "Our forecast continues to include a combined 25-to-40 787s and 747-8 deliveries, split roughly equally between the two programmes.