Pilots aim to join the profit party; Hawaiian Airlines in tough pilot talks as profits improve
Analysis
The record profits that US airlines are enjoying from lower fuel costs are being shaded by weaker passenger unit revenues and labour discontent as work groups at various airlines strive for market rates that are on an upward slope.
Some of the higher-profile negotiations include pilot collective bargaining at Delta and Southwest. Pilot groups at each airline have rejected contract proposals during the past year, and are currently requesting wage increases that they believe will put them on par with the industry average; an average which has been growing due to contracts brokered by their competitors, American and United.
Even airlines that have typically enjoyed positive pilot relations are encountering higher levels of turbulence in their latest round of talks. Hawaiian Airlines' pilots have been especially vocal during the current round of negotiations, the pilots voicing their frustration over lower rates of pay versus the airline's competitors.
Recent pilot deals move rates to the right. Delta and Southwest remain embroiled in talks
It is not surprising that pilots at US airlines are becoming more vocal as profits soar and shareholder returns swell. In late 2015 pilots at Southwest Airlines rejected a contract that included wage increases of 17.6%, and are now asking for a 33% compounded raise over seven years. Pilots are also seeking an 18% increase in pay rates upon contract ratification to cover the negotiation period in which pilots did not receive pay increases. Contract talks between the two parties have lasted four years.

Under the Southwest pilot proposal a 12-years' seniority Southwest captain would receive USD289.44 per hour – compared with USD245.80 at United, USD234.67 at American and USD235.56 under a tentative deal rejected by Delta in 2015. (All the rates are calculated for 12-year captains on similar 737 aircraft)

See related reports:
Delta's pilots rejected a contract offer in 2015 that featured a 21% pay increase over three years, but which also significantly altered the airline's profit-sharing formula. Now Delta pilots are seeking a 40% raise over a three-year period, but stress that increase would restore compensation to pre-Chapter 11 levels.

American Airlines raised the competitive bar in labour negotiations in 2015 when it concluded a pilot contract containing a 42.5% raise over a five-year period. In early 2016 United forged a two-year contract extension with its pilots which – according to the Chicago Tribune – entails a 13% raise in 2016, followed by a 3% increase in 2017 and a 2% rise in 2018.
Hawaiian pilots become vocal about earnings parity with their peers
Hawaiian Airlines' contract with its pilots became amendable in Sep-2015, and contract talks started before the amendment date. Recently company COO, Peter Ingram, explained that early in the negotiating process the Air Line Pilots Association (ALPA) had expressed an interest in filing for a mediator, and the two sides had jointly sought mediation. ALPA stated that the management asked pilots to "buy back" pay increases for other items, "which is a non-starter for the pilot group". As a result, said ALPA, pilots and the company sought mediation in Oct-2015.

Negotiations between Hawaiian's management and pilots got under way just as market rates in the industry were beginning to shift. In the ensuing months Hawaiian's pilots have become more vocal about the pay disparity. "Both the company and public should know that there's no reason why Hawaiian pilots should earn 35% to 45% less than our fellow airline pilots", ALPA has recently stated.

Hawaiian's pilots have carried out picketing, and have also voted in favour of a strike if contract negotiations fail. Strike votes are often more symbolic, and intended to increase pressure on both sides to reach an agreement.

The arguments put forward by Hawaiian's pilots are familiar echoes of sentiments expressed by other pilot groups. ALPA has cited a 500% jump in the airline's stock during the last few years, its record profits and increased cash reserves.
Hawaiian's profits jumped 165% year-on-year in 2015 – driven in part by fuel expenses that fell 38.%.
Hawaiian Airlines annual net profit (loss): 2008 to 2015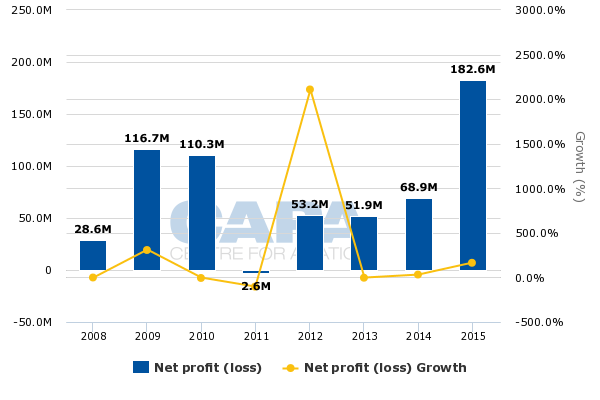 Hawaiian's total wages and benefits have been growing during the last few years, and they increased 11.6% year-on-year in 2015.
Hawaiian airlines annual wages and benefits expense: 2008 to 2015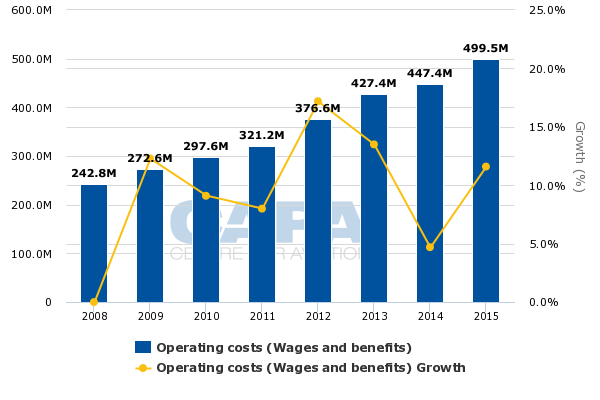 Hawaiian realises that a pilot deal will raise unit costs, but is eager to conclude a new contract
Hawaiian's pilots have asked for a 52% raise during the first year of a new contract, which is valued at USD74 million according to the Associated Press. Mr Ingram stated that Hawaiian had seen "public comment about what the ask is from on the union on this. It is unsurprising given some of the agreements that have been signed, particularly by network airlines".

Mr Ingram acknowledged that the market had moved with respect to pay rates, and "there is probably going to be a CASM increase of some magnitude associated with singing a new contract". However, he stressed: "that is not an incentive for us to delay getting it done".

Data from the CAPA CASK Database show that in 2014 (the latest full year data available across the industry), Hawaiian's all-in unit costs (including fuel) were USD7.53 cents. That compares with USD7.32 cents for jetBlue, USD7.58 cents for Alaska and USD7.76 cents for Southwest.
Among those airlines, Hawaiian has the longest average stage length, driven by its geographical position.
Hawaiian's unit costs versus select industry peers: 2014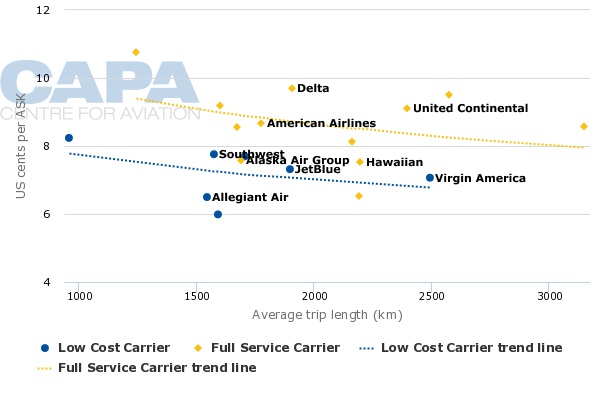 Also, Hawaiian – unlike most of the US low cost, hybrid airlines – operates a larger fleet of widebody aircraft, comprising approximately 50% of its total operating fleet of 49 aircraft.
Hawaiian Airlines operating fleet as of 11-Jun-2016
Hawaiian believes its employee culture remains favourable, despite pilot dissent
Mr Ingram has explained that Hawaiian and its negotiators aim to discuss pilot compensation on a more holistic basis with respect to issues such as scope, work rules and benefits. "Truly, some elements of the current contract were above market as opposed to below market...and we want to look at the whole structure", he stated.

However, Mr Ingram has stressed that Hawaiian's management was keen to complete a contract agreement with its pilots, stating: "I think having our employees under contract and aligned with the objectives of the management team is important". Queried about any amount of distrust between Hawaiian's management and pilots, he highlighted that the airline's unique structure compared with other airlines.
Mr Ingram said that more than 80% of Hawaiian's employees are based in Hawaii. The company's single pilot base and its largest flight attendant base are both located in Honolulu, and he stated that this creates an advantage in keeping contract issues separate from other elements of the business. Hawaiian's COO remarked that there may be some members of ALPA that could lack trust in management, but Mr Ingram does not believe that sentiment represents the pilot group as a whole.
The latest US airline contract talks are complex, but labour argues they deserve equitable pay
The latest round of US airline labour negotiations is proving particularly complex as market rates continue to move to the right and other elements such as profit-sharing and work rules remain important to both negotiating parties.

In many cases airline employees have agreed to some form of give-backs over the past decade and, as market conditions improve, have now decided it is time to recoup the sacrifices that they've agreed to in the past – as airline profits soar and shareholder returns continue to grow.

Employees reasonably argue they deserve to be compensated fairly, and should be enjoying the benefits of a transformed industry. The challenge for both management and labour lies in concluding contracts that employees deem fair while also ensuring that productivity is aligned with the cost increases resulting from new labour contracts.
It is not an easy scenario to navigate; the persistent message from labour groups is that they have no plans to settle for raises below the current market rates.