Delta, United and Southwest Airlines navigate vital labour talks as profits surge
Analysis
US carriers Southwest Airlines, Delta and United Airlines are at various stages in important labour negotiations with large work groups as some airlines are attempting to create a shift in profit sharing mentality. In some cases, those efforts have not won a ringing endorsement from some unionised labour groups.

Southwest pilots are preparing to vote on a tentative agreement recently reached between management and negotiators after a prolonged three year negotiating period that entailed the aid of a federal mediator. Delta, meanwhile, is heading back to the bargaining table with its pilots after the labour group rejected a tentative deal in Jul-2015. Proposed changes in the profit sharing formula were part of the reason the agreement failed win endorsement from the pilot group.

After the abrupt exit of United's former CEO the airline's flight attendants and mechanics are looking to the new chief executive to inject fresh thinking into negotiations stagnated by animosity towards the previous airline leadership. It is a formidable task to bargain with labour groups that have a deep sense of mistrust toward management.
Southwest pilots prepare to vote on tentative agreement after a lengthy bargaining period
Voting by Southwest pilots on a tentative agreement is scheduled in end in early Nove-2015. The negotiations have arguably been some of the toughest Southwest has faced as it continues to post record profits and exceeds its return targets.

See related report: Labour unrest grows stronger as Southwest Airlines continues to exceed most financial metrics

Negotiations have dragged on for more than three years, and in late 2014 the pilots filed for mediation with the National Mediation Board, the third group at the airline that has sought a mediator in collective bargaining.
During the negotiating process the Southwest Airlines Pilots Association (SWAPA) has highlighted sacrifices it has made during the last four years to help Southwest meet its financial goals. During 2014 Southwest's quarterly profits grew strongly year-on-year and its quarterly performance YTD in 2015 has also been record breaking.
Southwest Airlines Quarterly Net Income, Profit or Loss: 2011 through 1Q2015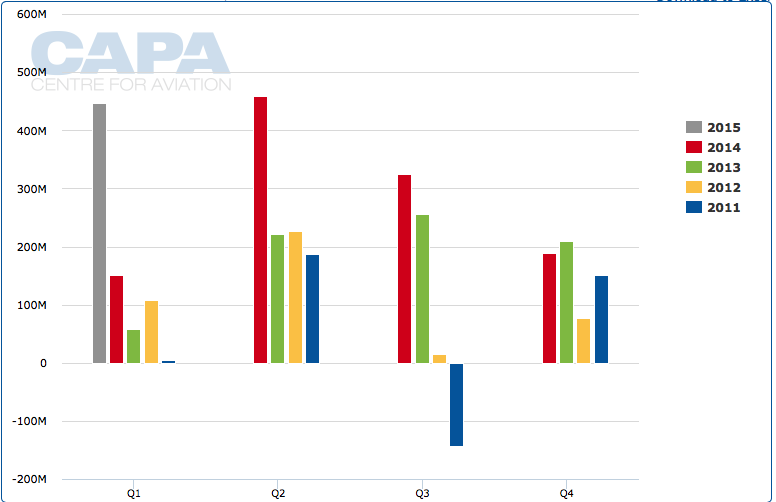 Southwest pilots have previously stated that the company had not come forward with an economic offer that could have brought both sides to an agreement. The agreement that pilots are currently evaluating entails a 17.6% pay raise during a four year period. According to the Fort Worth Star Telegram, the union's board of directors did not endorse or reject the tentative agreement. The publication spoke with the union's president Paul Jackson who explained that the board felt that the agreement has value, but does have some givebacks and relaxations on elements important to the pilot group such as codesharing.

Southwest's pilots have generally held a negative sentiment toward codesharing, which has greatly inhibited management's strategic flexibility internationally. When Southwest forged a partnership with Mexican airline Volaris in the 2008 to 2010 time period, pilots at Southwest insisted the company was risking brand dilution by associating with an unknown airline.

Since that time Southwest has acquired AirTran and launched its own international destinations. Under the terms of the new tentative agreement, Southwest is allowed to interline with foreign airlines provided at least one connecting flight is operated by Southwest. Interlining on international flights within the Americas is permitted by the pilots, but with a limit on passengers per day each way (PDEW). If that limit is exceeded, Southwest is required to end the interline or reduce it below the PDEW cap.

There is also a provision for long haul international flights that allows interlining with certain PDEW limits.

The union president told the Fort Worth Star Telegram that the pilots maintained profit sharing, and that as part of the negotiations the pilots were able to bring profit sharing in the contract for the first time. Mr Jackson told the publication that there is going to be more pressure from shareholders to "push out the profit sharing across the industry".
Delta faces challenges with pilots in attempting to alter profit sharing calculations
In 2014 Delta had seemingly established the benchmark in rewarding employees in the new era of profitability. But changes in Delta's profit sharing formula were a significant driver in the rejection of a tentative deal by that airline's pilots in Jul-2015, according to the Wall Street Journal.
Under the previously proposed agreement, the profit sharing changes included a 20% profit share above a pretax profit of USD6 billion and a 10% share for profits below that level. The current structure is 10% of pretax income up to USD2.5 billion and a 20% payout for profits above that amount, the WSJ stated.

It is easy to understand that Delta aims to make changes to the profit sharing formula in light of its favourable financial performance. On a rolling 12M basis Delta's pretax profit jumped 54% year-on-year at the end of 1Q2015 to USD4.7 billion.
Percent change in Delta Air Lines' pretax income: 12M1Q2014 to 12M1Q2015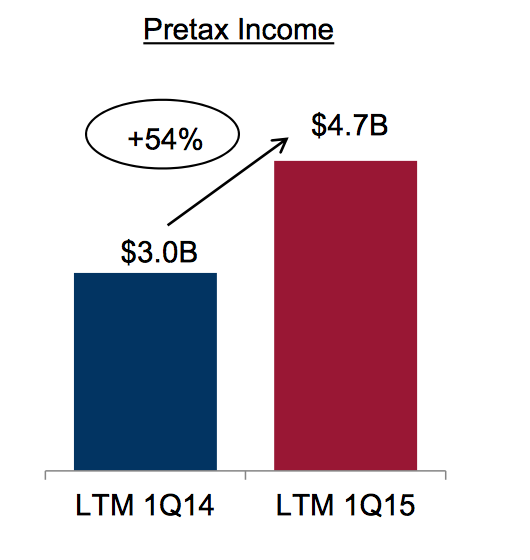 Pilots are the only unionised work group at Delta, and following the rejection of the tentative agreement, Delta announced a 14.5% pay increase for non union employees. But the profit sharing formula for those employees has also changed. Delta explained that for payouts in 2017 and beyond, employee profit share is 10% until the airline matches its prior year profitability. When that occurs, employees receive 20% of profits.

Profit sharing has come under scrutiny during 2015 as American has opted not to include profit sharing provisions in the labour deals it has struck with employee groups. Proposed changes to profit sharing schemes are occurring as US airlines are on track to post record profits in 2015, so the shift is no doubt raising some questions among employee groups.

American has taken the position that the notion of profit sharing is essentially outdated in the current operating environment, as CEO Doug Parker argued that during the last decade that airlines offered profit sharing only to make up for wage cuts.

Although American's pilots ratified the agreement without profit sharing, it is clear that pilots at Southwest and Delta want to ensure that profit sharing remains in place at their respective airlines.

There is a new head of Delta's unit of the Air Line Pilots Association who recently pledged to "remind Delta of the unparalleled sacrifices the Delta pilots have made to the stellar performance and unprecedented profitability of Delta Air Lines".

Comments by Southwest union leadership and Delta's pilots views on profit sharing reflect the resistance some airlines face as they work to devise the right profit sharing formula in the current era of sustained profitability. There is no doubt that changes are underway in airline employee compensation. It seems that employees need to determine if they prefer larger base pay that is more predictable, or would rather share in growing airline profitability.

See related report: The US airlines' new era of profitability offers a new basis for sustainability. What will unions do?
Two of United's major unions hope to start afresh with the airline's new CEO
Labour negotiations at United are in a sense hitting a restart button after the sudden departure of CEO Jeff Smisek in Sep-2015. His successor, Oscar Munoz, embarks on the new job with a top task of reaching joint contracts with the airline's flight attendants and mechanics five years after the United-Continental merger.

Labour groups regularly voiced their discontent with Mr Smisek, and the Association of Flight Attendants-CWA wasted no time in declaring that a fresh perspective would be healthy for the company in all ways, "especially where labor relations languished under previous leadership".

The negotiations with Mr Munoz are occurring against the backdrop of the evaluation of a change in profit sharing philosophy, and more broadly, the direction that the relationship between airlines unions and management takes as sustained profits became the norm rather than the exception. But before those discussions take place, Mr Munoz obviously needs to engender goodwill among the airline's labour groups; a task that will prove to be one of the most challenging for United's new CEO.
US airlines must work to reach favourable contracts with unions as profits continue to grow
As most US airlines work on delivering consistent returns to shareholders amidst a backdrop of sustained, and in some cases, record profits, the relationships between unions and management teams will no doubt evolve.
Many unions understand the importance of shareholder interest, and in some cases, meet with Wall Street representatives to determine if they are seeking reasonable terms in contract negotiations.
As three of the large US major airlines are in varying stages of labour negotiations, the stage is set to determine how those relationships evolve in the new era of profitability. With the prospect of precedents being set there will be a belief on all sides that there is more to any agreement than just the current round.

See related report: The Big 3 US airlines, American, Delta and United, increase 3Q2015 profits despite lower unit revenue